Caught In The Crossfire Of Gang Violence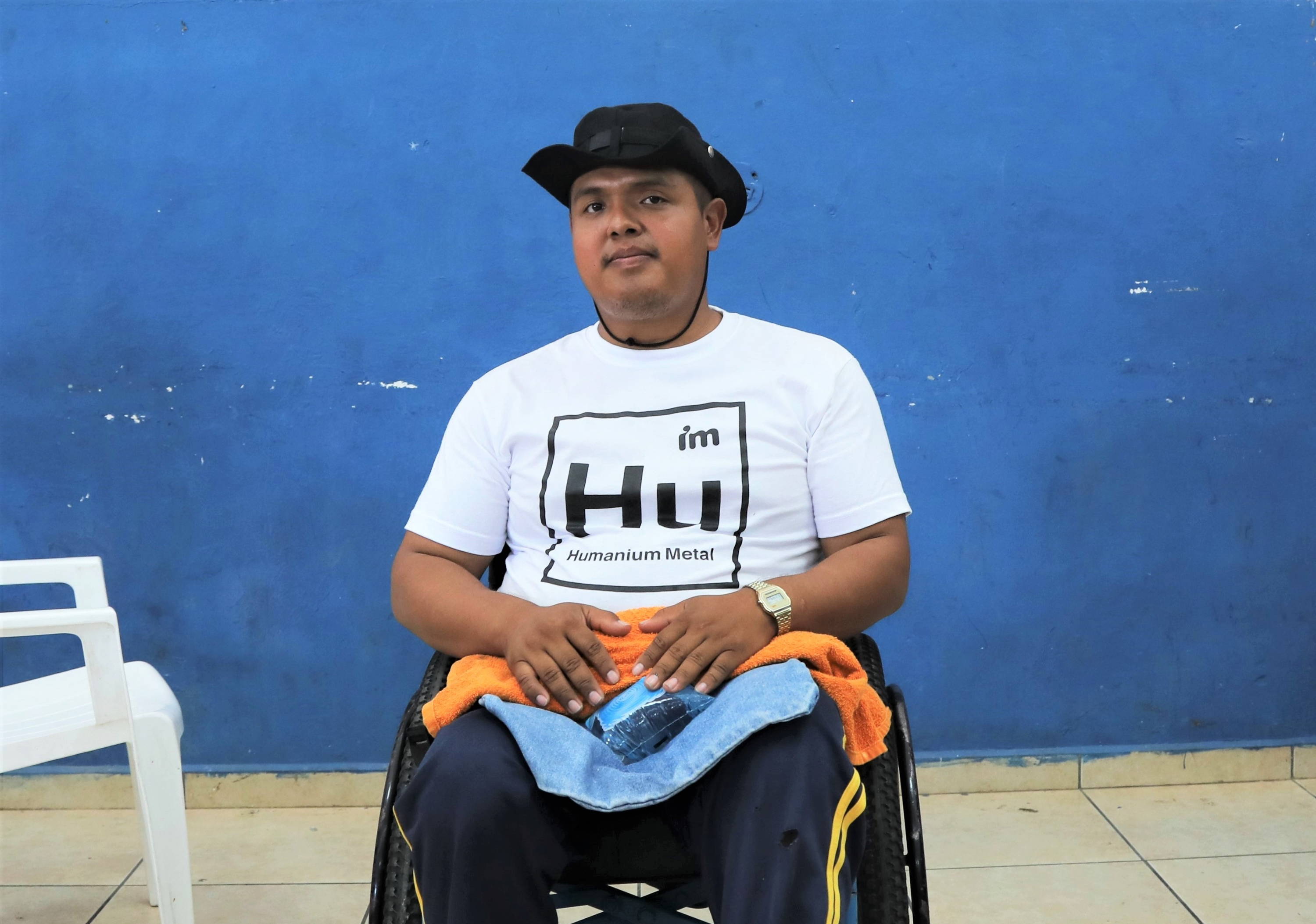 When we interviewed IM's Central America Regional Director, Kristina Jannerbo, she spoke of David Ernesto Caceres Castro (pictured), a young man in El Salvador who has benefited directly from the projects that sales of Humanium Metal supports. Here, she tells his story.
David was an 18 year-old student when, on his way to work, and he got caught in a crossfire of gangs. He was shot in the back and in the head. When he woke up in the hospital, he had to face that he was paralysed, that he would never be able to walk again and that he couldn't keep his job. In El Salvador the healthcare is very weak. To face this situation - learning how to use a wheelchair, not being able to go to the bathroom - and then also not to get the right healthcare is a big crisis for a person.
When he was in hospital he was visited by Amilcar Duran, the director of Fundación Red de Sobrevivientes, which is one of the two NGOs that IM Humanium Metal partners with. Amilcar has a similar backstory to David; he went to work one morning with his friend and he was robbed. His friend was killed and he got a gunshot in his back and since then he has been in a wheelchair. Now, he's the director of Fundación Red de Sobrevivientes, an organisation that helps people with disabilities, and around one quarter of those people are victims of gun violence. Part of his job is to identify the people that need help, which was what he was doing when he met David.
When you are visited by someone who has been through the same thing and you can see that you can have a life, it's very powerful. Amilcar has played basketball for El Salvador in the Paralympics, he can drive, he's independent, he can look after himself. So this first meeting for David was important to give him hope. He went through the rehabilitation process but when he went home he was totally dependent on his mother. However, because Fundación Red de Sobrevivientes worked with and supported him, 7 years later he now has his own wheelchair, and he has built a table that he can put on his lap. He goes to his local market every morning and sells toothbrushes, toothpaste and soap from his wheelchair. He says that now he's earning enough money to buy his own clothes and help his mother to pay for the rent and food.
David was crying when he was telling me this, because he never thought that he would be able to have a job and to contribute as he does now. He has created this store for himself and he is so independent, and so proud. The support given to him was marginal - he was maybe receiving $100 a month for two years - and that changed his whole life, his whole self conception. With so little help you can really change lives.
As well as this economic empowerment, Fundación Red de Sobrevivientes also works with personal empowerment and demanding human rights. David is now part of a local group and is slowly becoming a leader himself, to represent other people with disabilities to claim rights to work, municipalities and everything they need to be independent. It's so inspiring to meet people like David who have faced such hard things. Life has been so difficult and you see that they are grateful and positive, simply by being given a means of independence.
You can help with Peace, Justice and Strong Institutions by buying a Goal 16 #TOGETHERBAND. Proceeds from sales of the bands go directly to projects that support the Goal, and every #TOGETHERBAND features a clasp made from Humanium Metal.