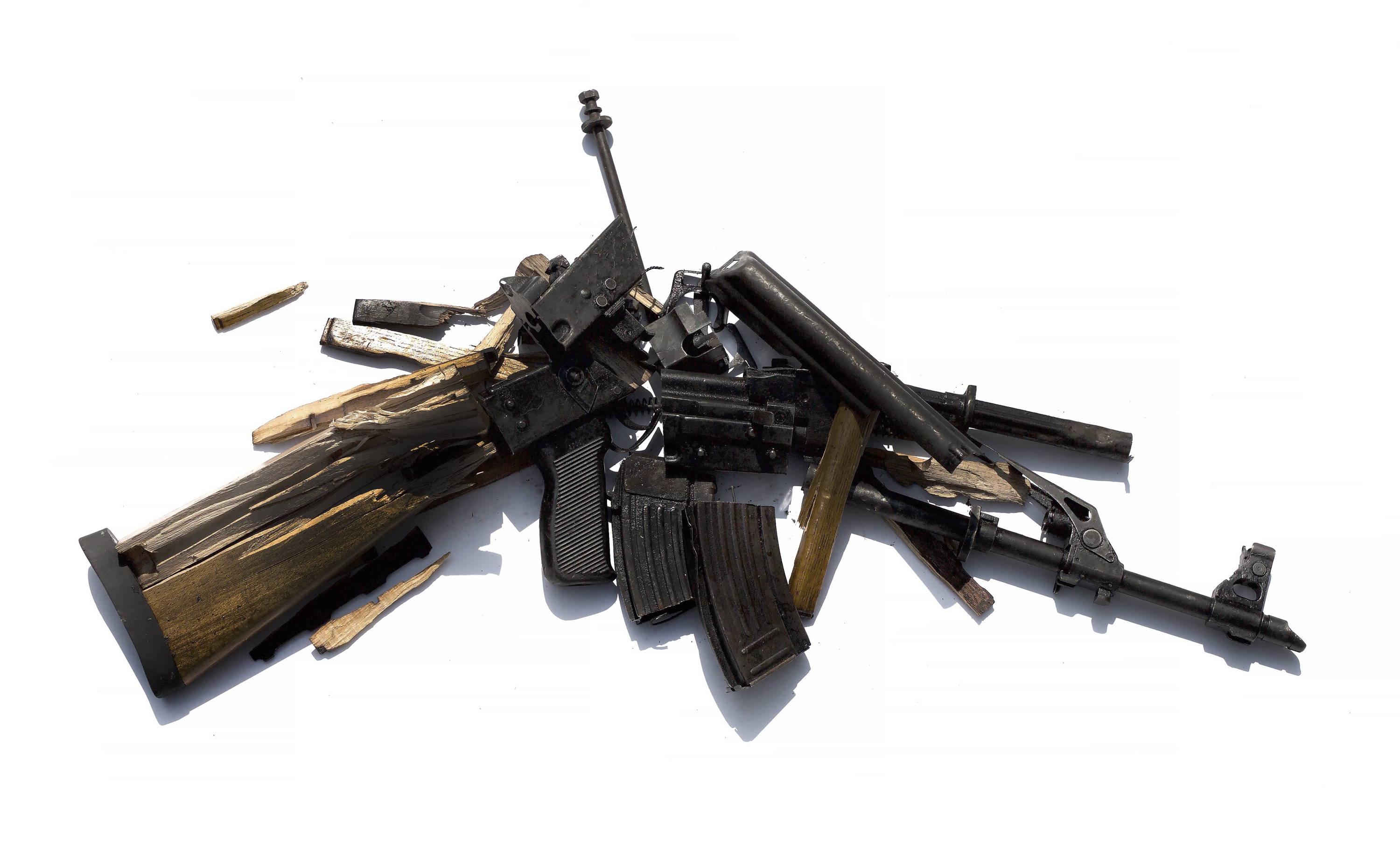 Kristina Jannerbo is the Regional Director in Central America of IM, the Swedish company that makes Humanium Metal. It's what is used to make the clasps of all our #TOGETHERBANDs and has an inspiring story behind it, which flips the notion of the word 'value' on its head. Its real worth comes from the fact that it is made from decommissioned illegal firearms, and proceeds from sales of Humanium Metal go directly to projects that help victims of armed violence in Central America. We caught up with Kristina on the phone from El Salvador to hear all about it.
Where did the idea for Humanium Metal originally come from?
The founders of IM, Johan Pihl and Peter Brune, started thinking about how to control violence in the Central American regions. They had this crazy idea of trying to put melted weapons into the production chain, not as social corporate responsibility but as part of their actual product.
How and why did you get involved?
I started to work with IM in 2015 when the idea was first formed. They contacted me to see if Central America could be the pilot. I have a long history in Latin America - I have lived in Mexico and Columbia, and now here in El Salvador. When you see a violent country out of context it's very scary and hard to understand how people survive and have an everyday life, but when you see it from the inside it's so gratifying to see people fighting and being positive with so much hope and energy. I have to admit, though, that I wasn't sure it was going to work at first. The idea is beautiful but to make it work in practice you have so many obstacles to overcome.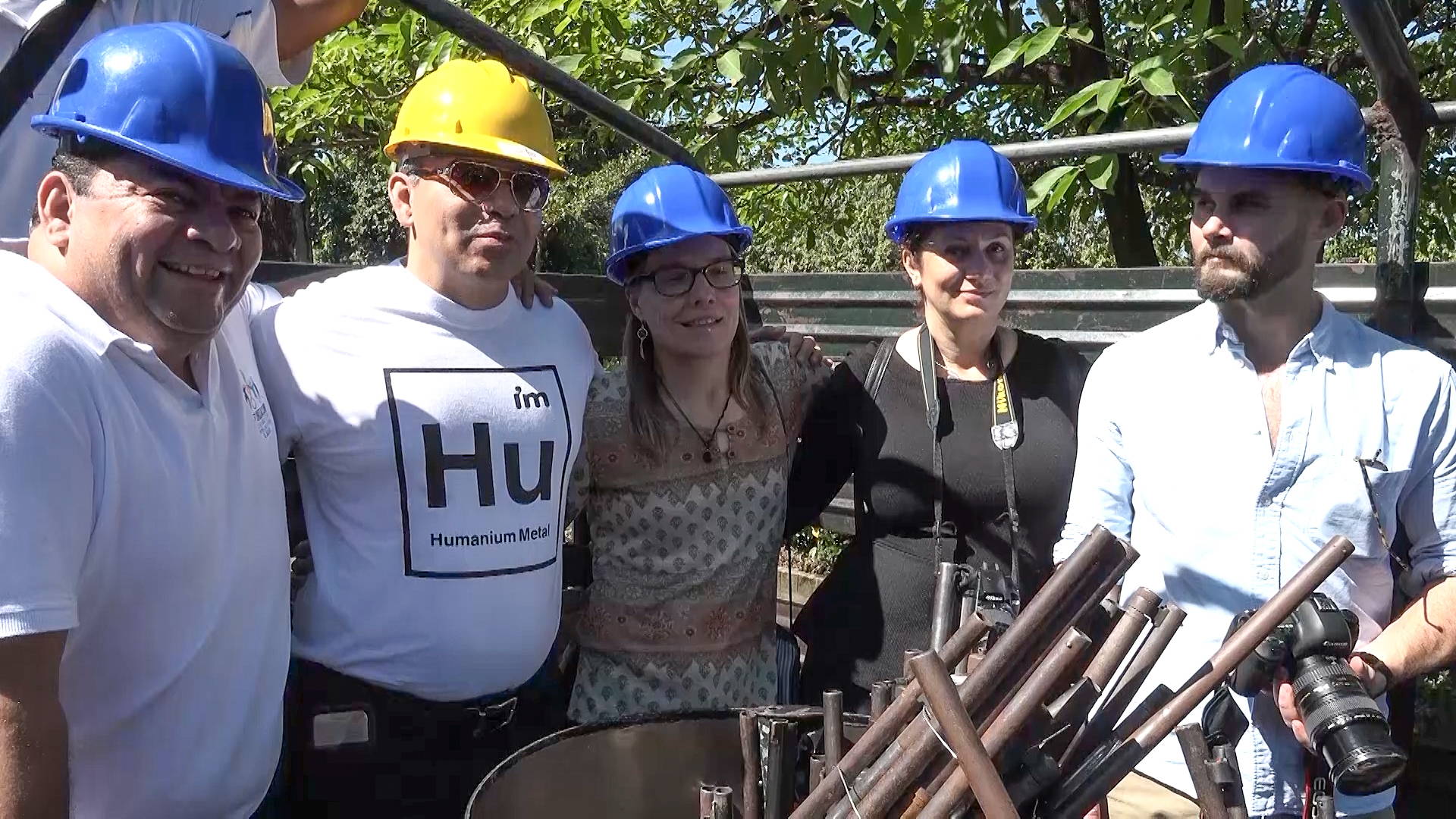 Kristina, pictured centre, with some decommissioned firearms destined to become Humanium Metal
Why El Salvador?
El Salvador is one of the most violent countries in the world. It is also the only country in the region that actually destroys weapons. The majority of the population lives with armed gangs in their neighbourhoods. This means that there are social controls and communities are divided. For example, you could have different gangs on each side of one street, and if the soccer field is on one side of the street, the kids from the other side cannot play soccer.
Who is most affected by the gang violence?
As the main members of gangs, young men are a really vulnerable group. Being a part of the violent structures gives them an identity and some kind of income, but a lot of them die young. But then there's young women as well. Sometimes they are active gang members, but there are also high levels of domestic violence as part of gang structure that is very hard on young women. For many families the worst case scenario is that the gang leader falls in love with their daughter because generally the only option is to take her out of the community, otherwise she will become a possession of the gang member. And the gangs are more present in poor areas where people are fighting for an income because of extortion from these violent groups.
Can you explain how the extortion works?
In El Salvador one woman might have 50 chickens which she sells to her neighbours. Then, maybe five women get together and have 250 chickens between them. But that's too visible and as a consequence the gangs start being extortionists. When you have a very small scale initiative it's OK but when you open a store you have pressure from the armed groups. Many times the most successful economic initiatives have to close down because it's too dangerous.
How did El Salvador become so violent in the first place?
It's a complex question with a lot of different answers. There is a weak state without control of the whole territory. There is an issue with poverty - a real situation where people don't go to school, and if they do go to school they don't have job opportunities afterwards. It's very hard, especially for young men, to get a job that will provide a decent income. And then historically gang culture is part of a failed peace process where weapons were supposed to be taken care of and it wasn't done correctly. The government started to negotiate with gang leaders in prisons but a lot of people argue that by negotiating with them in the way they did they gave them too much power.
Can you explain how the guns go from the streets to being a new metal?
The firearms are confiscated by authorities - police or military - according to national legislation and then they are destroyed once a year. This is done in controlled conditions, with military forces guarding the arms at every step. They are taken to a foundry owned by a private company, and in an agreement between them and the Ministry of Defence, they shut down their activities for one day to receive the weapons. This is done as part of social corporate responsibility, so they don't charge anything. IM and Humanium has negotiated to only pay the administrative fee for this process.
Can you explain why Humanium Metal is so precious?
The biggest value of the metal is symbolic - taking weapons from the streets and creating a more peaceful society. It's amazing that from destroyed weapons we are able to enter into a chain where a watch is produced. If you had asked me in 2015 I would have said it will never work but the most important part for me is that this watch creates hope. We use the concept 'it's time for peace'.
What is the most rewarding part of your job?
The look on the faces of people when they see you can transform this metal of death to a metal of life and the dreams and ambitions that creates - that's what has affected me most. The importance for people to have hope, to have something to strive for. People don't want charity, they don't want to receive money. They want to work, to have a dignified life and to have an income where they can make decisions about their own lives. With Humanium, they see a possibility where that could actually be the result.
You can help with Goal 16: Peace, Justice and Strong Institutions by buying a #TOGETHERBAND. Proceeds from sales of the bands go directly to projects that support the Goal, and every #TOGETHERBAND features a clasp made from Humanium Metal.