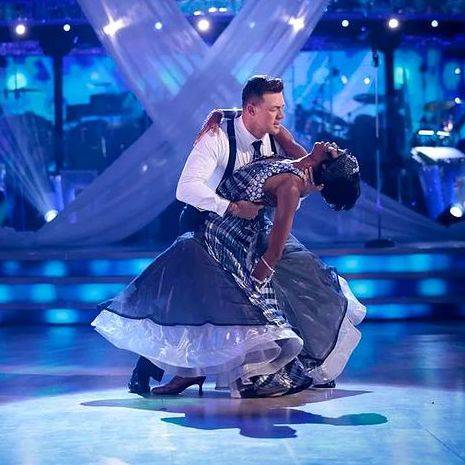 Goal 10: Reduced Inequalities
This Year's Strictly Final is The Most Diverse Ever
We spoke to Lydia Amoah, a diversity consultant and #TOGETHERBAND Ambassador, to find out why representation on primetime TV is so important
interview by hannah rochell
16 december 2021
This year's Strictly Come Dancing final is the most diverse in the show's history, with Black contestant AJ Odudu, same sex couple John Whaite and Johannes Radebe, and the current favourite, deaf contestant Rose Ayling-Ellis all in Saturday's final. Rose has been cited as the reason that there has been a spike in people wanting to learn sign language, with one company that offers classes saying that their enrolments have gone up by 2,000% since she started on the show. Following her performance that included sign language in the choreography, Google searches for 'learn sign language' skyrocketed by 1,011%.
Earlier in the series, we spoke to Lydia Amoah FRSA, CEO of BACKLIGHT, the cultural change agency, and Founder of The Black Pound Report, which explores the economic value of the UK's Black, Asian and multi-ethnic population (she's also a huge fan of Strictly). Here, she tells us why it is so important that prime time TV shows include a diverse range of presenters, judges and contestants, and why she's enjoying this year's line-up so much.
We now hear the term and hashtag 'representation matters' in the media but I cannot overstate the importance of seeing yourself in mainstream media. The confident woman I am today, isn't the person I was growing up. I remember from the age of 14 up until I was 20, I felt like parts of me were dual. I knew that I was confident and I knew I had things to offer, but there was this other side to me that didn't believe in myself. The lack of representation of successful dark-skinned Black women in the media definitely had a part to play in that - and I'm not alone. The first edition of The Black Pound Report that I self-funded and commissioned found that 66% of the Black, Asian and Multi-Ethnic respondents were not fully satisfied with the current ethnic representation on UK mainstream TV, including adverts. And this was in 2019. This proves that while progress has been made since I was a child, there is still a long way to go.
Fair representation not only affects the way that people from every background feel about themselves, but also affects the way the nation thinks, feels and behaves towards Black, Asian and Multi-Ethnic groups. More fair representation not only educates, it positively informs and shapes how people from every background including the indigenous western population - so that in future little girls who look like me will begin to see themselves in a positive light with potential.
On the audience voting track record
It's no secret that Black women specifically face higher levels of public scrutiny than almost any other demographic and the impact of this negative bias manifests in many ways for us. In a professional setting this might come down to scrutinising our appearance and presentation, leadership style or tone policing. Unfortunately, facing a vote from the British public can amplify this experience for Black contestants in competition shows. We've seen the same on every season of Love Island, The Apprentice and Strictly is not exempt (a 2016 Guardian study found that a Black woman is 83% more likely to end up in the bottom two than her white counterpart).
Most people have an unconscious positive bias towards people with whom they perceive a shared experience with; so naturally when we see ourselves we become interested and invested (and more likely to vote for a contestant!). We mustn't forget that, according to the last census, Black people make up just 3% of the UK population as a whole so statistically it is always unlikely that they'll rack up 'easy' votes. In my opinion, until we normalise seeing Black people in popular media and hear more diverse stories from them, a British audience won't see past the differences to the similarities. When stories are communicated responsibly; people from every background can identify with them.
I am thrilled to see more Black professionals being given the opportunity to perform on a platform as visible as Strictly, especially as many of the dances are so intrinsically linked with Black culture. Educating the public on the roots of the dances is so important. We are in the middle of Black History Month UK, and it serves as a reminder that Black history is about so much more than slavery, and our contribution to culture deserves to recognised and celebrated all year round. However, any positive effect is negated if the individuals are not properly supported and protected from online abuse.
Unfortunately, POC in the public eye have come to expect racist abuse while online, but it is not something that they should be expected to accept as 'part of the job'.I myself was the target of an online 'hate hack' in 2020 in front of an audience of over 100 industry peers. They singled me out and I was subjected to racially motivated verbal abuse, and highly disturbing and triggering imagery onscreen – I felt attacked, upset, and had nowhere to turn.
After speaking to the police and the CEO of Zoom it became clear that there was no clear policy for how to deal with this kind of online hate crime, nor was there any guidance on how witnesses should deal with these incidents and support victims. That is why we at BACKLIGHT created the STOPIT Protocol policy to stop racism and hate hacks in the workplace and made it available to everyone, completely free of charge. It is encouraging to see that policy has been adopted by many large organisations across industries including the NHS, Hearst UK, and Wolf Olins.
On this series of Strictly
I have been watching this series in particular, and was pleasantly surprised by the representation on screen, in fact I sat back and pinched myself whilst observing the variety of inclusivity on our screens. The connection amongst all of the participants is beautiful to witness.
This article was originally published on 14 October 2021 and has since been updated.
100% of profits from the sales of #TOGETHER products go to charities that advance the Sustainable Development Goals. Find out more here.