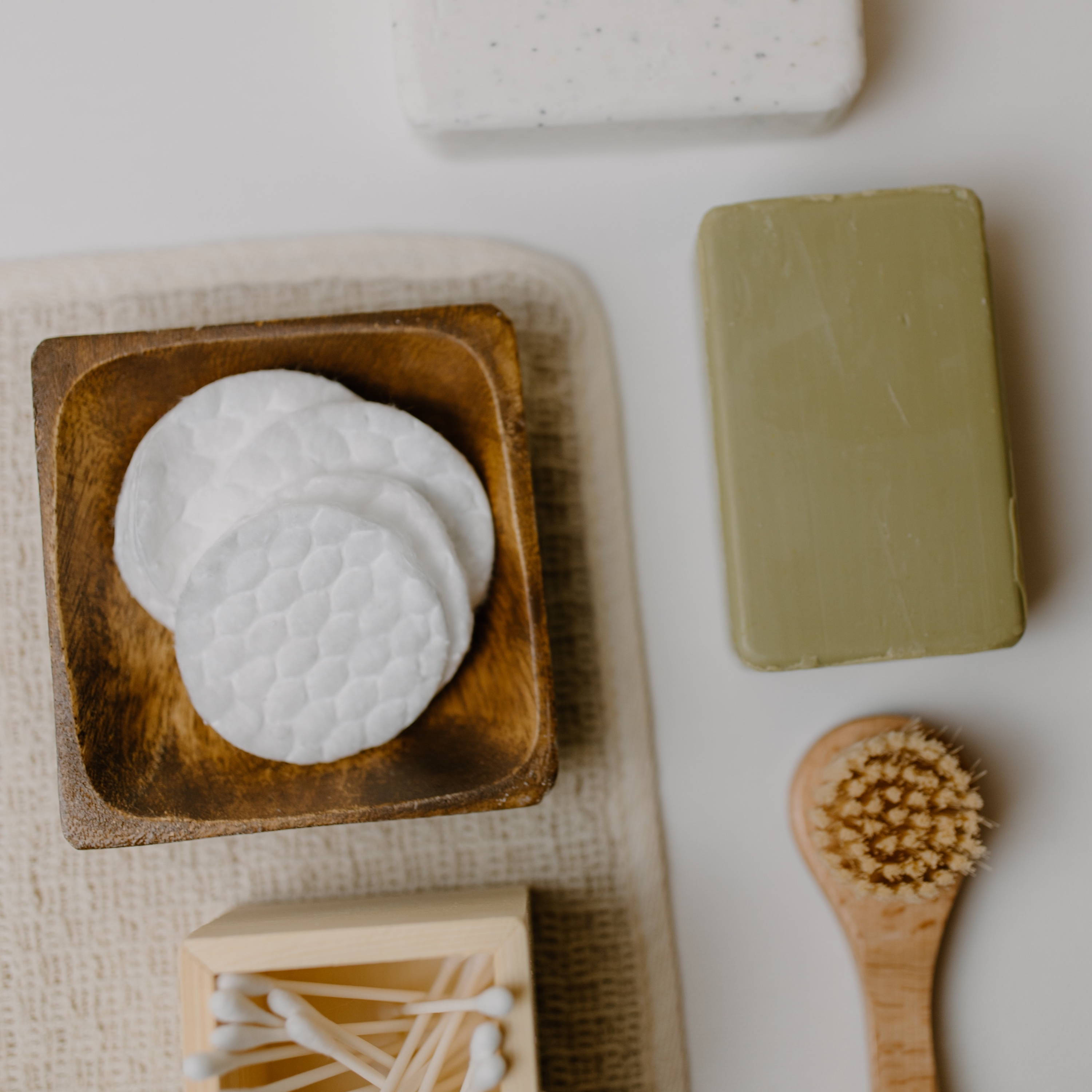 Goal 12: Responsible Consumption and Production
Easy Peasy Sustainable Beauty Swaps
From ditching single-use items to adding a recycling bin to your bathroom, these simple changes to your beauty routine can make a big difference.
By Jessica Jurkschat
11 february 2021
By 2026, the beauty industry is estimated to be worth a whopping $438.38 billion. It's one of the biggest industries in the world, and also one of the biggest polluters. Each year our oceans are littered with over eight million tonnes of plastics and the cosmetics industry plays a massive role in this. The industry relies heavily on harmful ingredients that often find their way into our oceans and endanger our marine biodiversity, polluting our environment and putting everyone's health at risk. Not only that, according to Zero Waste Europe, the industry produces over 120 billion units of packaging each year, much of which is not recyclable.
There's still a lot of work to be done but thankfully beauty brands and consumers are starting to take the right steps to reduce the industry's impact on our environment. From ditching single-use items to adding a recycling bin to your bathroom, these simple changes to your beauty routine can make a big difference.
Swap disposables for reusables
Swapping your single-use items for reusable alternatives is one of the easiest ways to make the switch to a sustainable lifestyle. Plus, you'll save money in the long-run and won't have to worry about running out.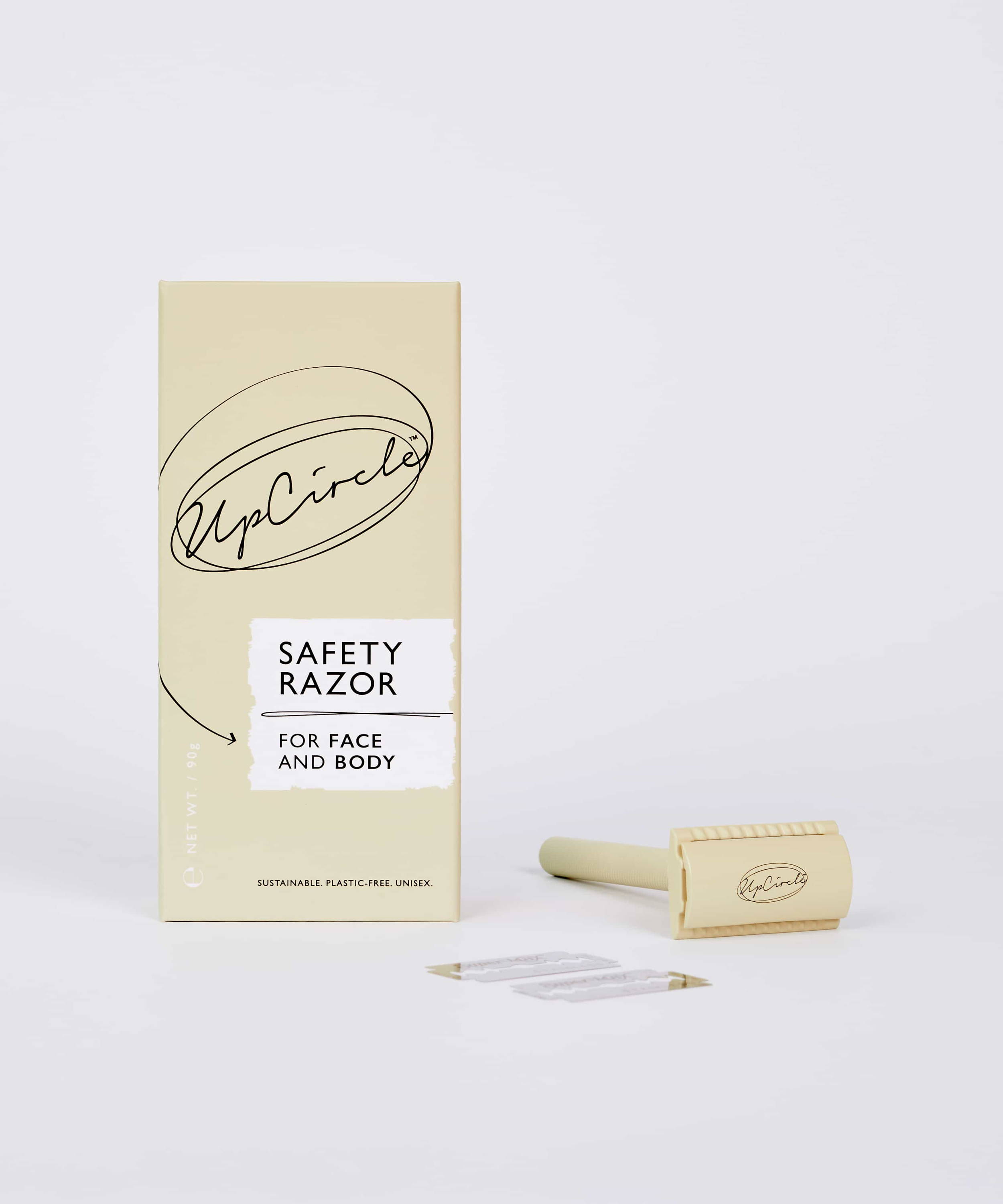 The UpCircle Beauty plastic-free safety razor comes with two complimentary blades and can be used on your face and body. Not only can you send back your old razors to UpCircle for safe disposal, you'll also get £1 off your blade refill for every 5 blades returned.

£24.99, upcirclebeauty.com
My EcoPanda Makeup Remover Pads
EcoPanda's double layered makeup remover pads are made using 100% organic bamboo. They can be washed and reused, and even come with a plastic-free laundry bag and cute bamboo jar to store them in!
£20.90, myecopanda.com
LastObject Reusable Earwash
LastObject's reusable cotton swab is made of silicone and meant to replace 1000(!) single-use cotton swabs. Use it like any other cotton swab, then rinse it off with soap and water. It even comes with a cute carrying case (made of recycled ocean plastics) for safekeeping.
£9.00, lastobject.com
Swap minis for refillables
Zero waste shops are on the rise and offer more than just beauty products. Grab some old containers and find one near you to stock up on just about everything.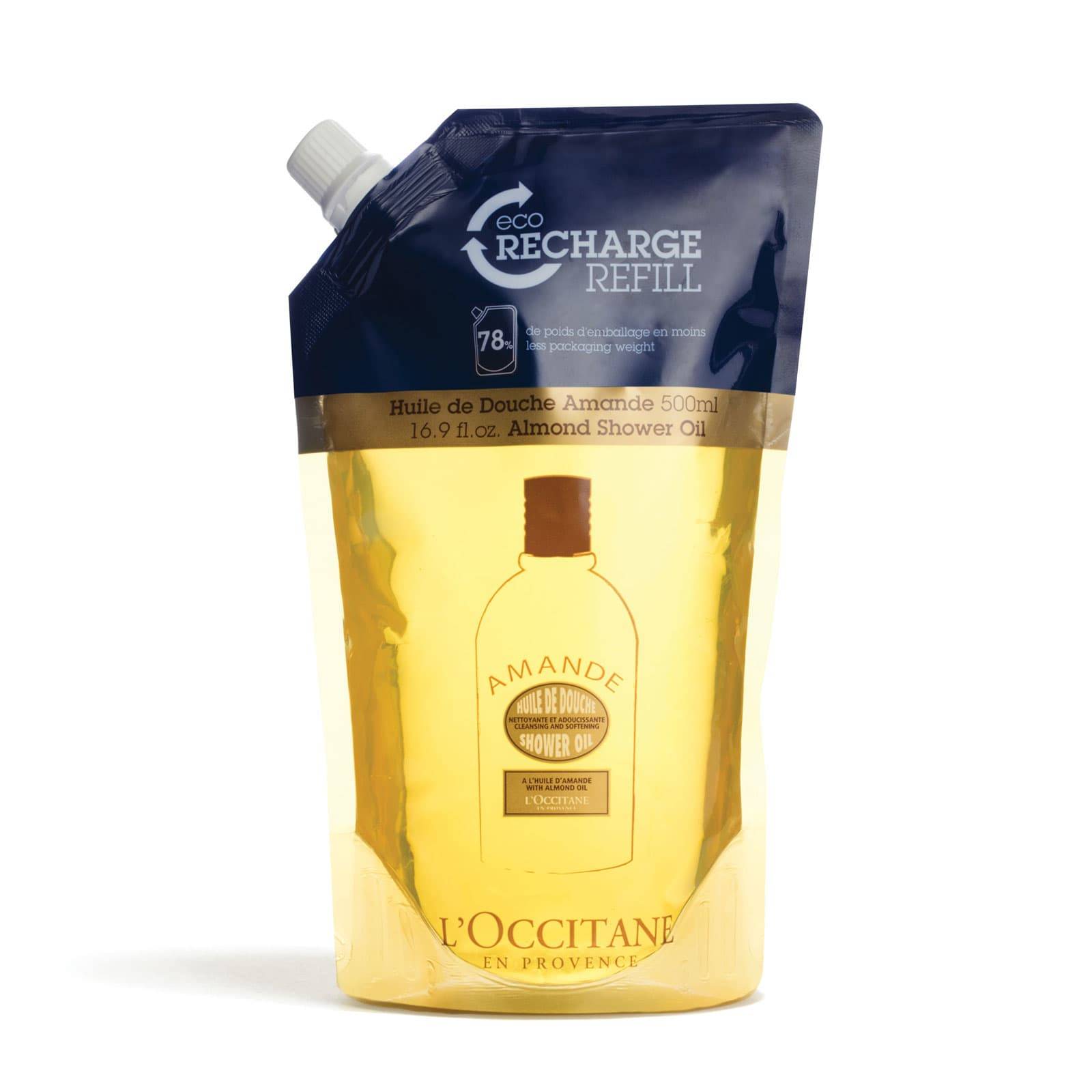 L'Occitane was one of the first high street brands to offer refillable options. In 2008 they launched their eco-refill pouches in 2008 and now offer nearly 40 products, including their infamous almond shower oil.

£28.00, uk.loccitane.com
Faith in Nature is committed to affordable options that are made using the best natural ingredients. Their 5L refills will last you ages, and once you're done, you can send back the bottle (for free) to be reused, or save it for your next visit to the zero waste shop.
£45.20, faithinnature.co.uk
Isle of Paradise Self-Tanning Water Refill
Great news if you're a fan of self-tanning! Isle of Paradise started selling refill pouches for their best-selling tanning water, reducing plastic by over 80% when switching from their usual spray bottles.
£14.95, theisleofparadise.com
If your favourite product doesn't come in refillable packaging, buy in bulk to avoid unnecessary packaging.
Swap plastic packaging for glass or aluminum
When it comes to the beauty industry, packaging is everything. In an ideal world, cosmetics would be package-free - but unfortunately 'naked packaging' isn't always possible. Luckily there are many companies that have replaced plastic packaging with more eco-friendly materials. On top of being aesthetically pleasing, glass and aluminium can be infinitely recycled, meaning they can be recycled over and over again without ever losing their quality. Aluminium also has the added bonus of being more lightweight, which uses less energy than heavier items to ship.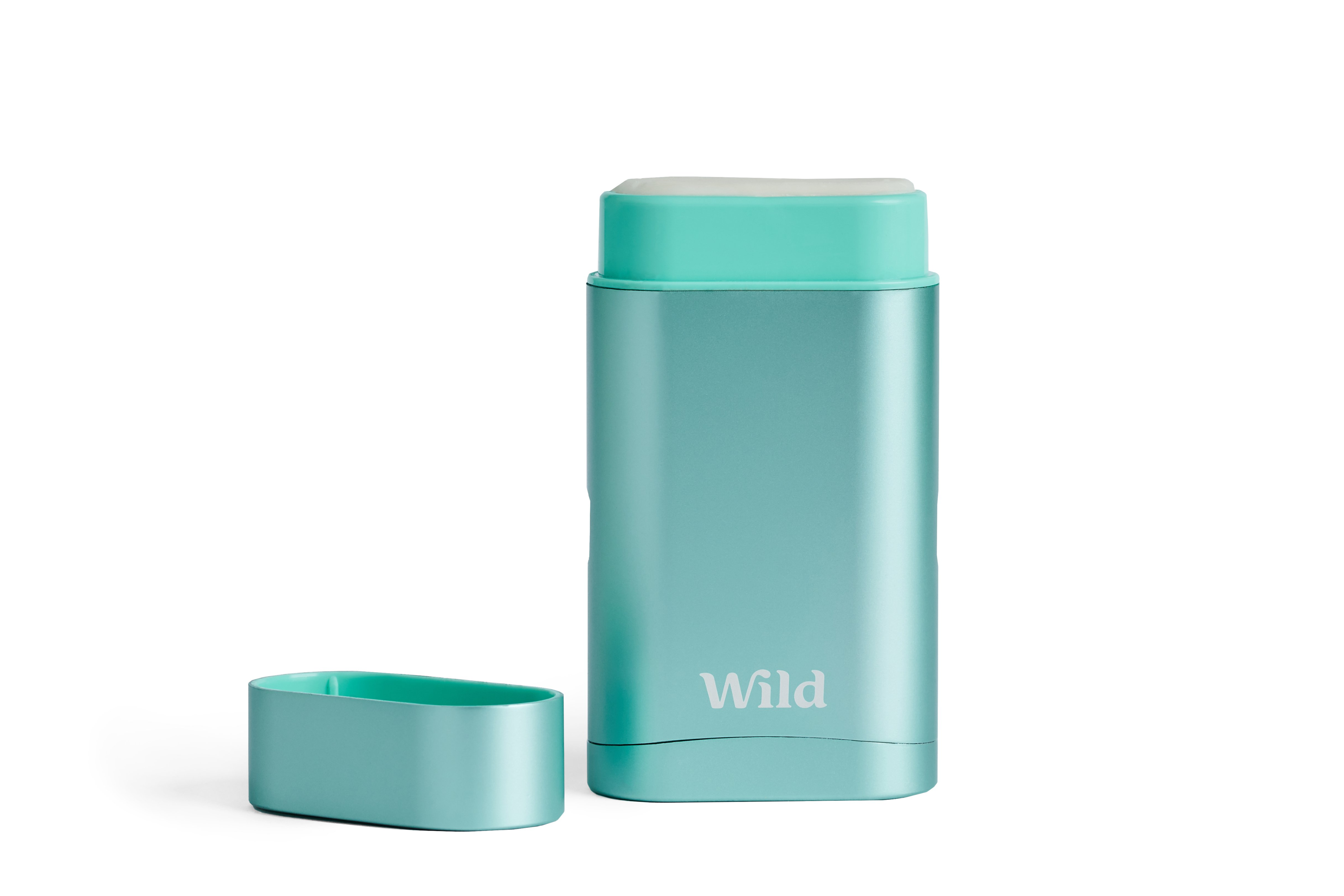 Wild deodorants are free from nasties, meaning they don't contain any synthetic chemicals, aluminium, parabens or sulphates. They come in an aluminium case and the refills (available in six different scents) can be bought on a one-off or subscription basis.

£12.00, wearewild.com
Beauty Kitchen makes vegan body washes that are cruelty free and packed with organic coconut and sunflower oils to keep you extra hydrated. Plus, they've pioneered a return, refill, repeat programme so you can return your packaging to them so it can be reused again and again.
£8.00, beautykitchen.co.uk
Fulfilled shampoos are vegan, plant based, and made from 100% naturally derived ingredients and combine 5 essential oils to help promote healthy hair growth. Plus it's free of sulphates, parabens and palm oil.
£26.00, wearefulfilled.co
Swap your liquids for solids
Switching to solid beauty products is one of the easiest ways to turn your beauty routine plastic-free. From face wash to body soap and shampoo, switching to solid products are beneficial in so many ways. In addition to being more affordable, they're also more concentrated - meaning solid products last approximately 2-5 times longer than their liquid equivalents. Plus, they're so much easier to travel with (whenever that time comes!)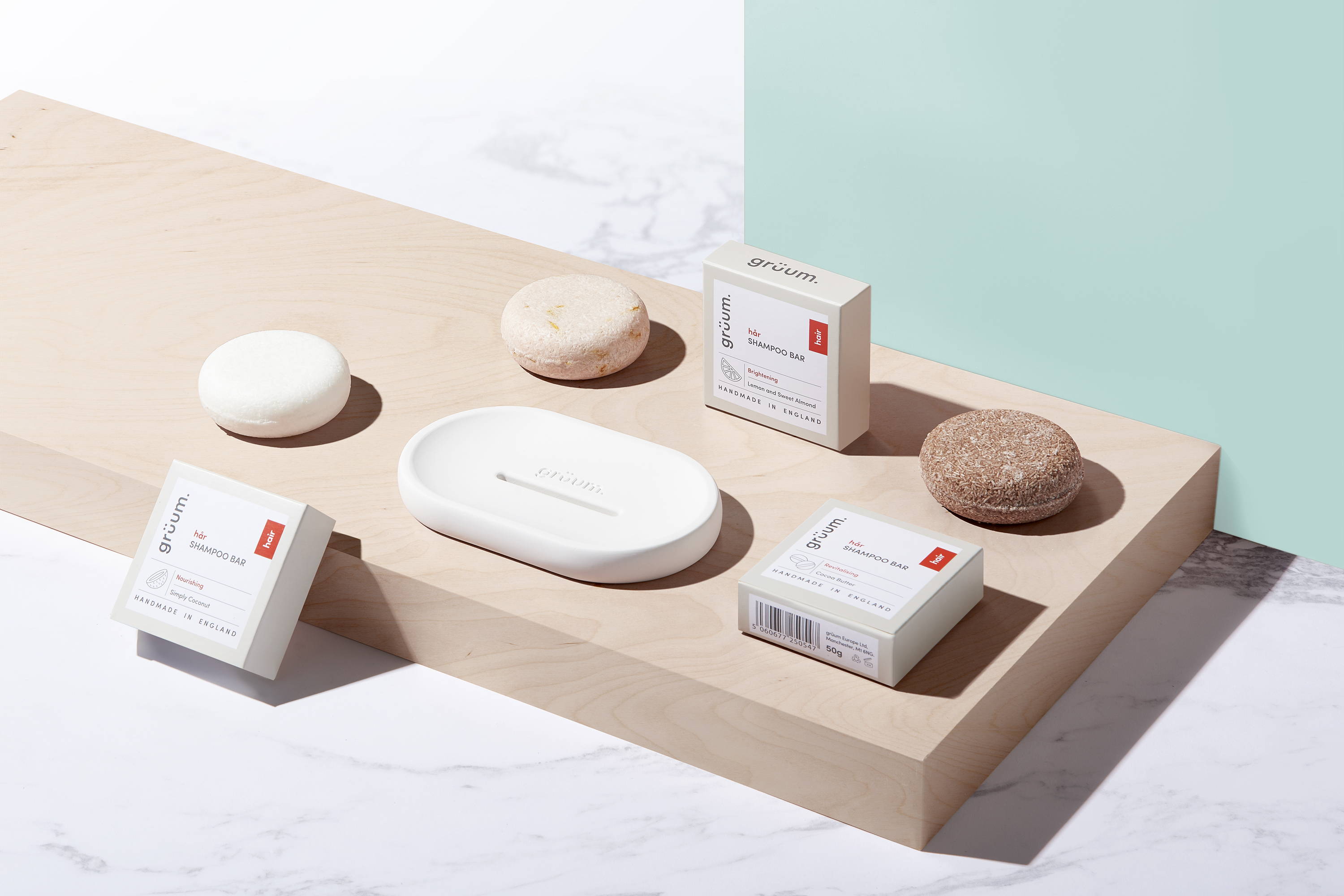 grüum makes cruelty-free, vegan shampoo bars using zero-waste packaging that last up to 60 washes per bar. Their shampoo bar trio makes it easy to find the best fit for your hair type.

£29.00, gruum.com
Friendly soap bars are made of all natural vegan ingredients (they even use poppy seeds and hemp bran instead of microbeads), cruelty-free and biodegradable. Not only that, each product is poured, cut, stamped and packed by hand in the UK - ticking all the ethical boxes.

£2.25, friendlysoap.co.uk
Herbivore is committed to natural ingredients and recyclable and reusable packaging. Their blue clay cleansing bar soap works to improve overall tone and texture and can also be doubled up and used as a body wash. Bye bye body acne!
£8.69, herbivorebotanicals.com
From empty bottles to boxes and loo roll tubes, our bathrooms are FILLED with packaging that could easily be recycled, yet a recent study by Garnier shows that over 55% of Brits don't recycle their bathroom products. Adding a second waste bin to your bathroom can serve as a constant reminder to sort your empties. If you don't have the room, opt for a bin with split compartments or simply hang a reusable bag on the bathroom door so you can bring your empty recyclables straight into the recycling bin!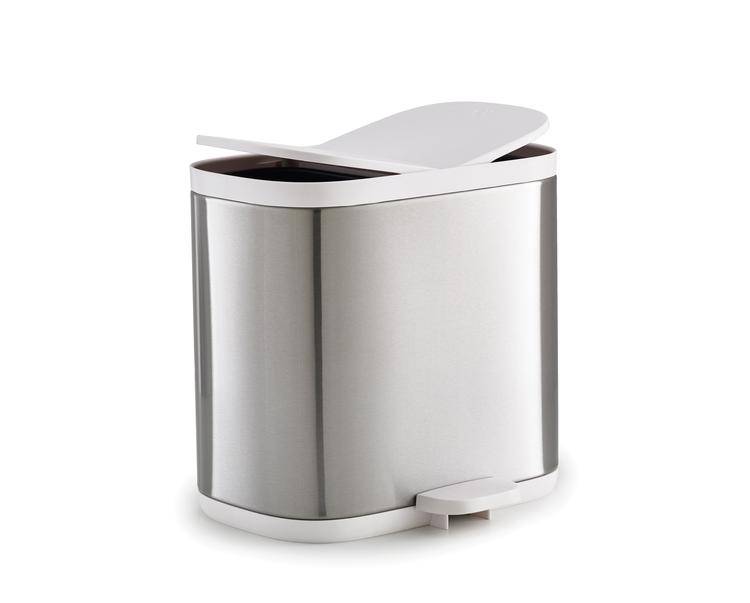 This sleek and stylish Joseph Joseph waste and recycling bin has two compartments so you can easily separate your waste and recycling. Bonus points - the inner buckets are made from recycled plastics.

£35.00, josephjoseph.com
Heart & Parcel's eco-friendly waste paper bin is made from recycled materials and available in four colours (made using eco-friendly dyes) to easily match your living space.
£17.95, notonthehighstreet.com
Cute and durable. This waste bin by Green Stationary is made of zero-deforestation bamboo and sourced only from mature bamboo forests to ensure the protection of surrounding wildlife.
£29.94, greenstat.co.uk
Making small changes to save the planet don't have to stop with your beauty routine. If you're looking for inspiration, here are another 33 swaps you can make to help end climate change.