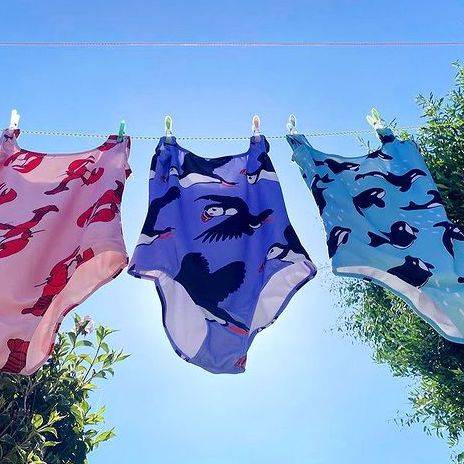 Goal 12: Responsible Consumption and Production
Make a planet-friendly splash
The best in sustainable swimwear, plus post-swim eco essentials
By hannah rochell
24 june 2021
Swimwear is a tricky one to get right, sustainability-wise, because it's stretchy, so it means it's more often than not made from a man made fibre, and that usually means some form of plastic. But I for one also want to feel confident when I'm on the beach or in the sea, so I'm not going to resort to the biodegradable knitted swimwear that was popular within the living memory of my parents!
But between me and some friends I've got some first hand experience of a few of the brands below, and I've thrown in some more I like the look of for good measure too. Most use a fabric called ECONYL, which is made from recycled fishing nets and other types of marine plastic. So by supporting the brands, and rather than opting for virgin nylon, you'll also be helping clean up the oceans. Note: I've found that it can be slightly less stretchy than your regular swimwear, so it's always worth checking the measurements before assuming you'll want your usual size.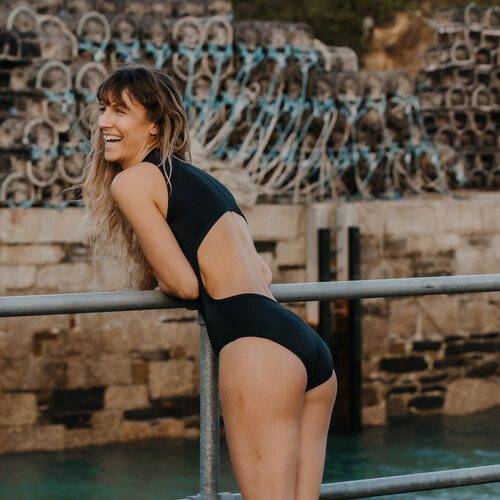 I love this brand! And I highly recommend following on Instagram if you, like me, fancy taking up year-round sea swimming, because everyone featured makes it look like an absolute joy. It's this longing that drew me to invest in a long sleeve swim top, and to persuade my mum to do the same (you always need a swim buddy).
What I really like is that everything is designed by a woman who actually does swim in the sea, so it has practicality in mind as well as shapes and designs that are really flattering. This cut out swimsuit, for example, is sexy but provides good coverage, and the super high briefs are a great idea. Available in classic colours that will never go out of style.
From £60, davyj.org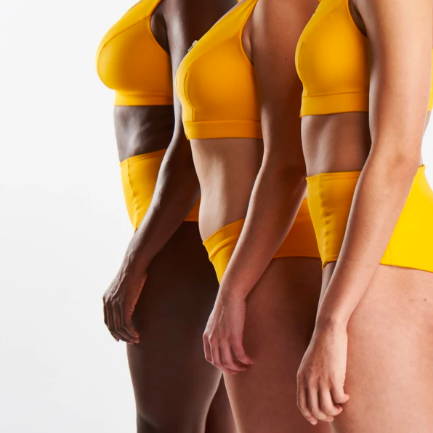 Until last summer, I hadn't bought any swimwear for years. But moving back to the Isle of Wight meant a lot more swimming, and one tatty old Speedo suit wasn't going to cut it if I was going to have the luxury of putting on something dry every day. So I splashed out on a very me sunshine yellow two-piece from Deakin and Blue (nothing to do with the 1980s band Deacon Blue) which is made from that aforementioned fabric ECONYL.
What I especially like about Deakin and Blue is the way they design the same suit or bikini for three different body types depending on your cup size, and have loads of examples on the website and Instagram page of women of all shapes, sizes and ages wearing them, so you get a great idea of what it might look like on you. There are a few of the styles I have left in the sale (it's the 'Swimcrop' in mango), but I also love the 'Plunge' bikini and swimsuit and the 'X Back' one piece.
From £70, deakinandblue.com
I spent much of last summer admiring my friend Maria's Finsterre swimsuit. This Cornish brand has been doing sustainable since its inception, so it's no surprise that its swimwear is also made from ECONYL. The sporty designs are right up my street, and the classic colours and prints have real longevity.
You can also pick up other useful items from Finisterre, such as board shorts, dry robes and waterproof bags – the perfect one-stop shop for cold water swimmers, paddle boarders and kite surfers everywhere!
From £35, finisterre.com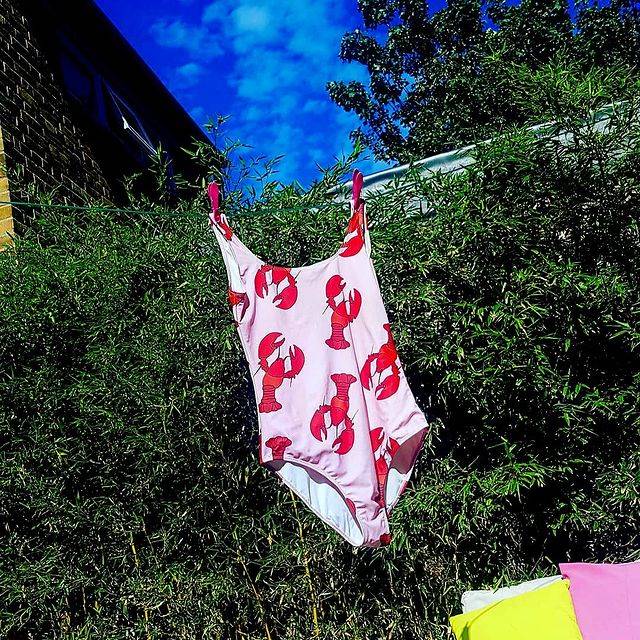 You might have seen Batoko's joyful printed swimsuits on Instagram if, like me, you follow accounts that advocate for cold water and wild swimming. They seem very popular with that crowd! As well as floral prints you'll find sea creatures like narwhal, sharks and orca decorating these costumes, and the adorable puffin print is well worth a look. They are vegan, made from recycled materials and are carbon offset.
Perhaps the most delightful print in the collection – the lobster – comes with the added bonus that for every suit sold, a baby lobster is reared and released back into the wild, thanks to a collaboration with the National Lobster Hatchery in Padstow, Cornwall. Cute.
£50, batoko.com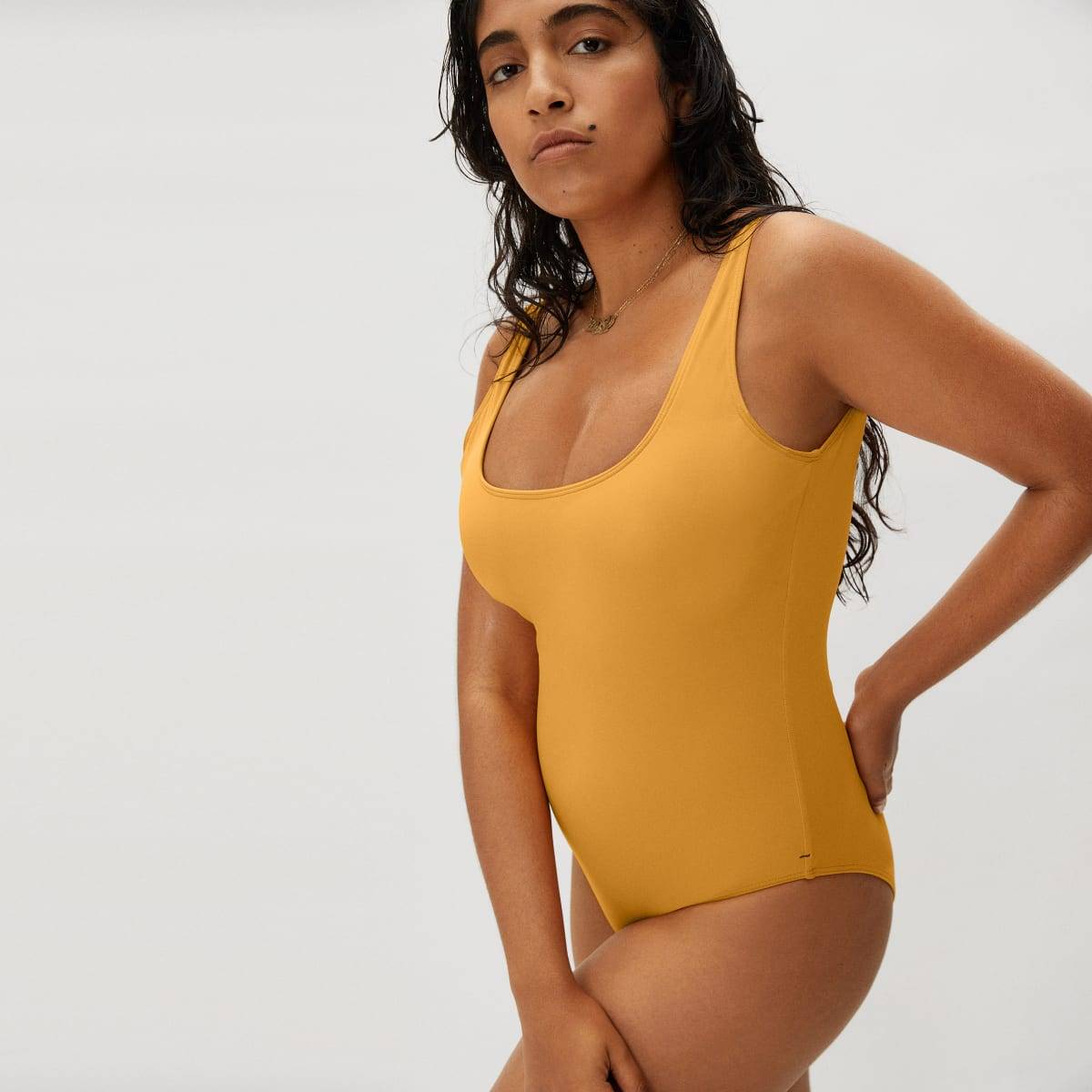 Cult eco label Everlane has just launched a swimwear range and it's lovely. What's brilliant is that they tested the styles on over a 100 women to make sure they had not only the right fit, but that the swimwear moved well on different bodies, too.
Choose from square or v-neck one pieces, or three shapes of bikini tops and two styles of bottoms. The bikinis are available to mix and match, too, so you can pick the shapes that work best for you and have fun with the colours. From £28, everlane.com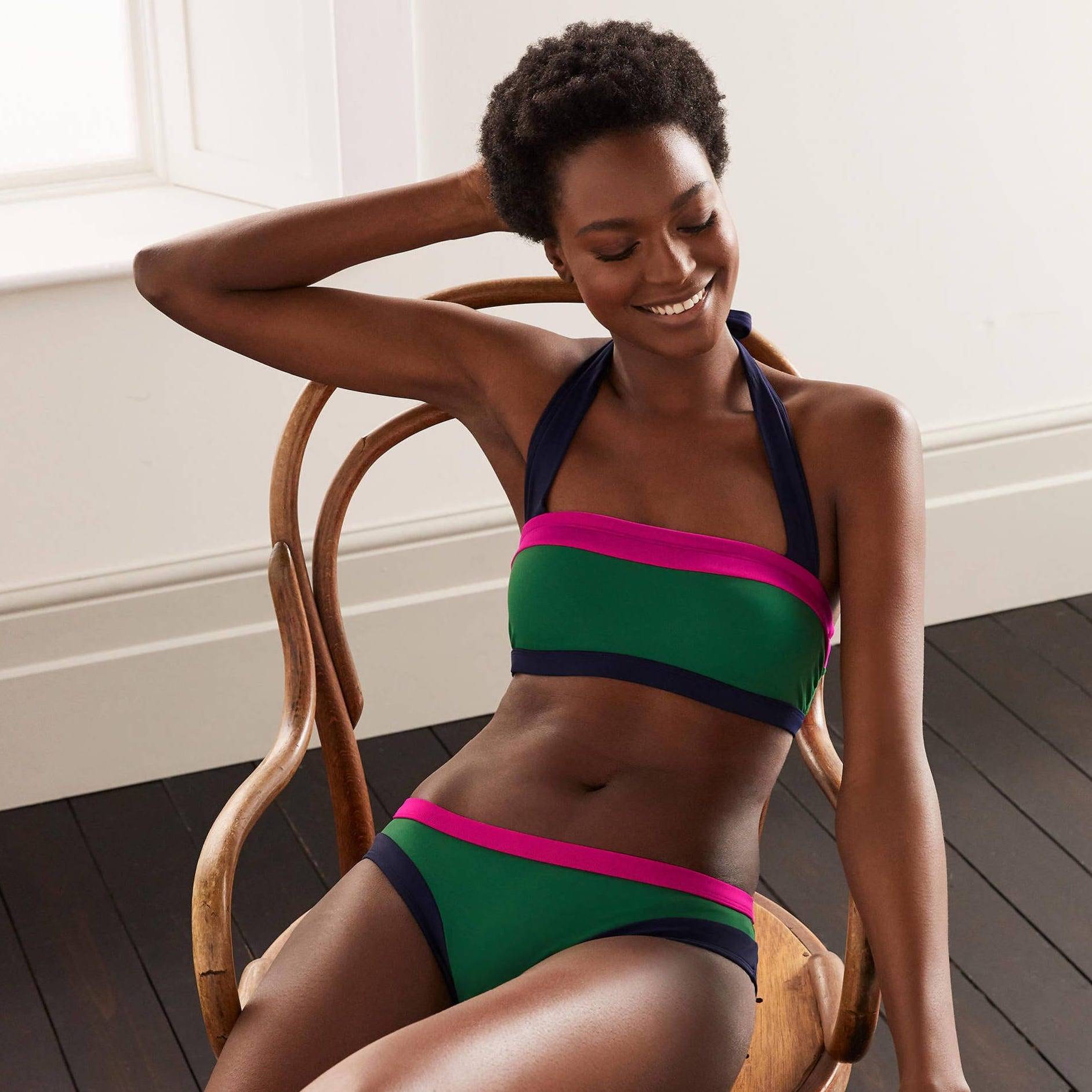 There are also plenty of brands you might not expect that are using recycled materials for their swimwear. They're not necessarily specialists, so might be better for your summer swimwear than anything that might make you brave the water out of season, but the prices are often a little more affordable and there's a lot of choice.
Be sure to double check as often not all of their swimwear range will be recycled. Try Fat Face, White Stuff, Speedo, and Boden (pictured, above); the latter's entire swimwear range is listed as 'planet friendly' and uses recycled nylon and polyester.
OTHER SUSTAINABLE SWIM STUFF YOU MIGHT LIKE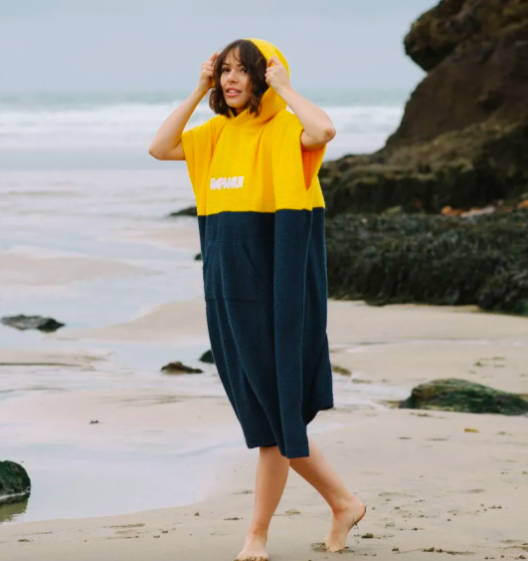 Rapanui organic cotton towelling robes (pictured, above) – I wouldn't have been without mine last summer. £40, rapanui.com
Silicone swim hats from Cool Bathing – this brand is working in conjunction with Sea and Stream on a goggles and swimming hats recycling scheme. £16, coolbathing.co.uk
A recycled changing jacket from Voited. My sister-in-law already has a poncho, but I'm planning to invest in the slightly sturdier jacket with long sleeves so I can swim later in the year and have something warm to put on afterwards. £129, voited.co.uk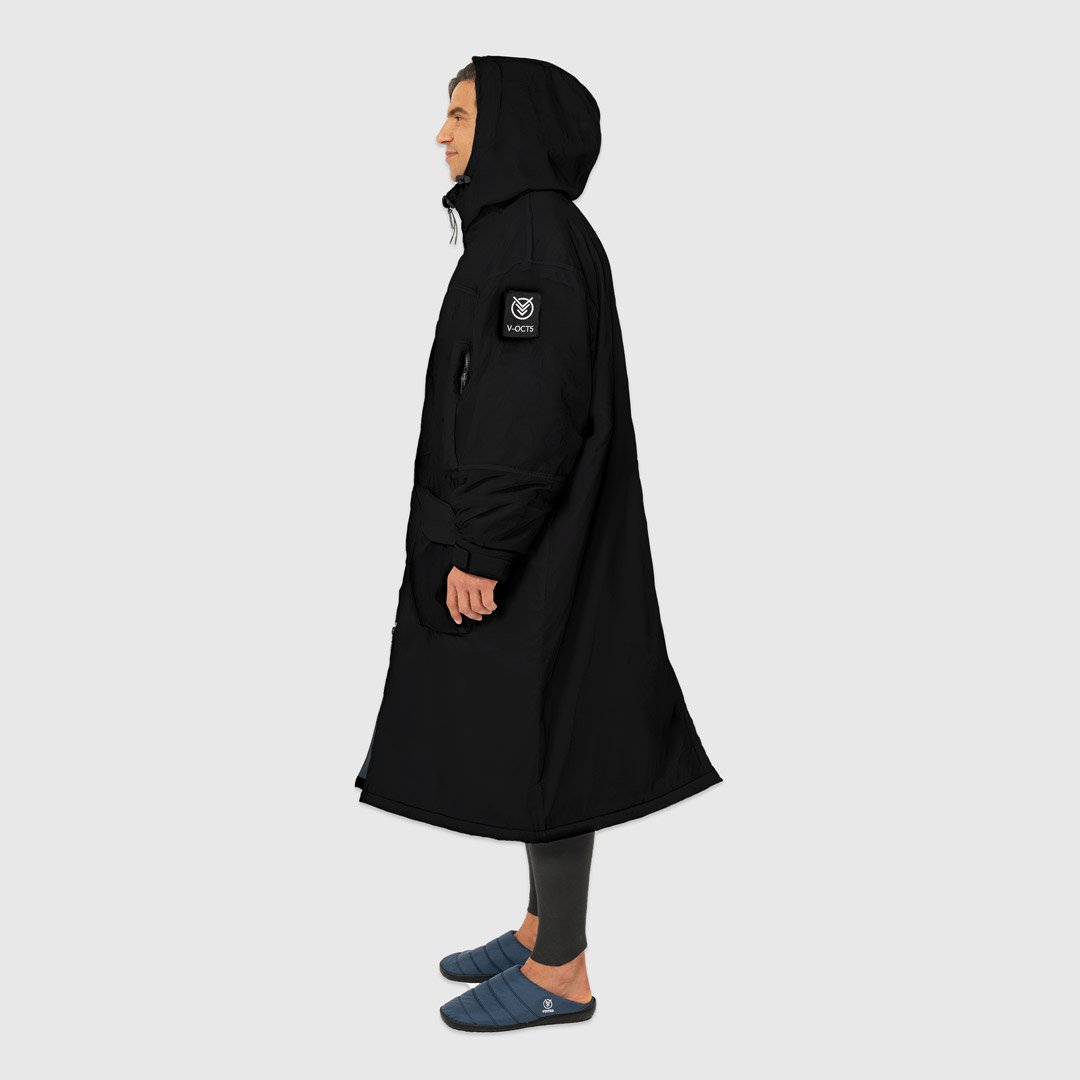 An organic jersey throw-over dress from People Tree – I have something similar that is years old, and it's perfect to wear over swimwear. £49, peopletree.co.uk
Water-friendly recycled sandals from Teva – one of my favourite classics, from 2020, 100% of its trademark straps have been made from recycled plastic. £45, teva-eu.com
This article was originally published on Hannah's sustainable fashion blog enbrogue.com
100% of profits from the sales of #TOGETHER products go to charities that advance the Sustainable Development Goals. Find out more here.