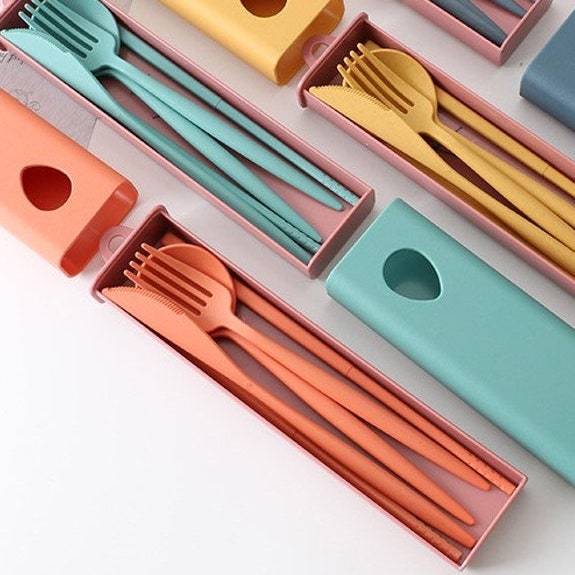 The Best Single-use Plastic Swaps
From reusable 'handbag cutlery' made from wheat to bamboo and silicone 'cotton buds', meet our favourite stylish alternatives to help protect the planet
By hannah rochell
25 january 2022
When a 5p plastic bag charge was introduced in the UK in 2015, there was a 55% drop in the number of them found on UK beaches. In fact, the move was so successful that the charge rose to 10p in 2021, and just goes to show that a simple change in our day-to-day habits can have a huge effect on the health of our environment. Plastic straws were banned in the UK 2020, and the government now has plans to phase out single-use plastic plates, cutlery, and food and drink containers, too.
And while it's imperative that single-use plastic is dealt with at a policy level where it can have the biggest impact, as consumers, it's crucial that we too identify the worst offenders and, where possible, use alternatives now to speed up the process. While we haven't been able to find replacements for some of the worst offending single-use plastic polluters other than simply giving them up (we're looking at you, cigarette butts), here are some of our favourites to replace the most common items washed up on our shores. They're so good, we reckon you'll never want to throw them away.
The alternative to cotton buds: bamboo and silicone sticks
It is estimated that in the UK alone, we use 1.8 million cotton buds every year. Most of them have a plastic stem, which is the obvious bit of the issue, especially when they are flushed down the loo into the water system instead of being put in the bin. But the cotton bud itself isn't without its own issues, because cotton is one of the thirstiest and neediest crops on the planet to grow, so unless it's organic and Fair Trade, we prefer to avoid it altogether.
Which is what makes these reusable bamboo and silicone buds a brilliant buy, as they negate the need for either plastic or cotton. They're great for make-up application and are safe to be used for your ears, too (though doctors usually advise not doing this for the sake of your ear drums!). Simply wash with soap and allow to dry thoroughly before popping them back in the bamboo case.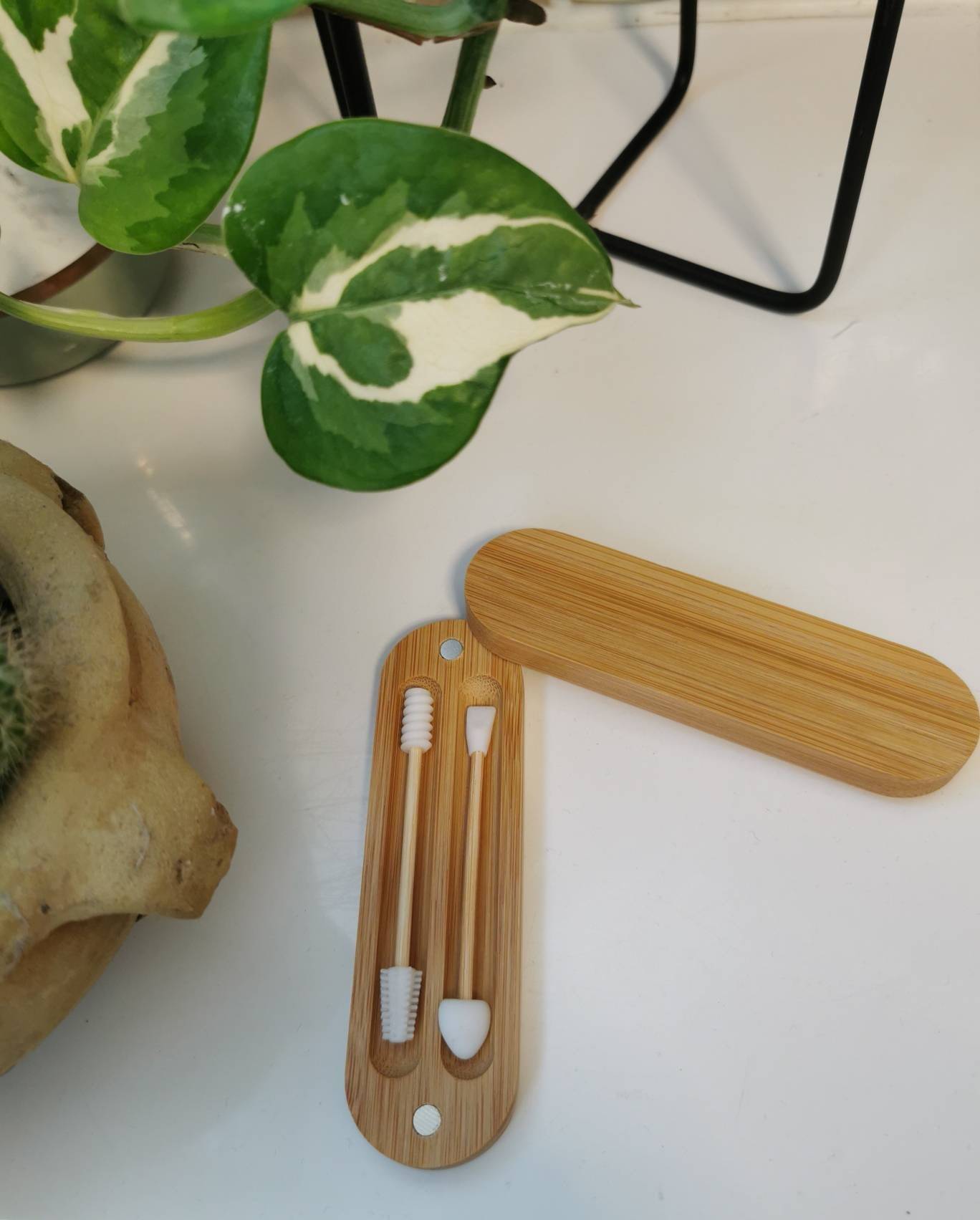 The alternative to plastic cutlery: portable wheat-based sets
While we appreciate that many food retailers have switched from single-use plastic to wooden cutlery, we're not keen on the way it feels to eat with. And it's obviously all-round much better for the environment to reuse forks and spoons than it is to make them from trees, use them once and then throw them away.
So if your metal utensils are weighing you down on your commute, this lightweight option could be for you. Made from wheat and available in four smart colours, the set contains a fork, knife, spoon and chopsticks, and comes in a matching box so you won't besmirch the inside of your bag.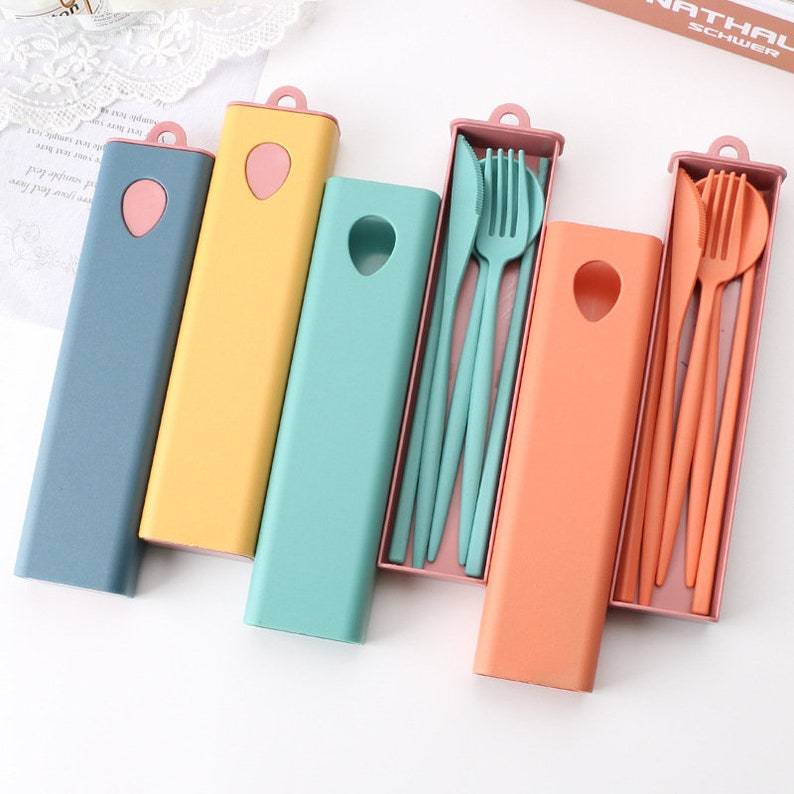 The alternative to crisp packets: compostable bags
See also, sweet wrappers. Our insatiable appetite for salty and sugary snacks comes at the cost of not only our health if we over consume them, but the health of the ocean and its inhabitants as we litter them. It is possible to recycle crisp packets using schemes like terracycle, and thanks to amazing projects like The Crisp Packet Project, they can even be made into blankets for the homeless.
However, thanks to innovative new materials, crisps can now come packaged in compostable paper, rather than plastic. British potato experts Two Farmers make six flavours of crisps in Herefordshire, including three vegan options. They're only available to buy in bulk at the moment, but here's hoping they soon roll out to your local pub and corner shop.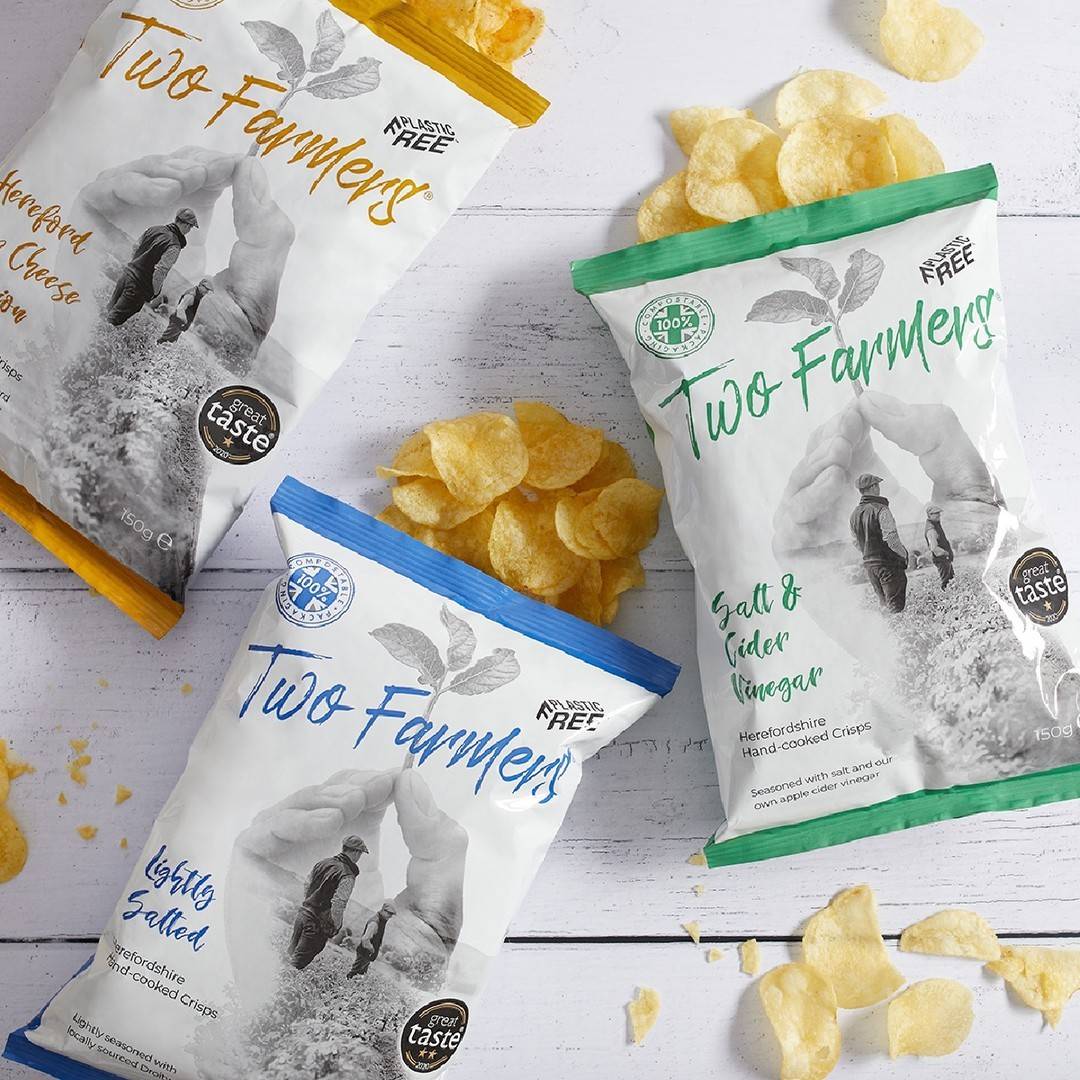 The alternative to plastic bottles: Ocean Bottle
We use recycled polyester made from post-consumer waste plastic bottles in some of our #TOGETHER products, but the ideal situation would be for us not to have to do that anymore. We would be thrilled if, as a society, we managed to design plastic waste out of our lives. Unlike aluminium and glass, plastic isn't infinitely recyclable and can't always be recycled into the same or similar products, so stopping using it for single-use items really is the best option.
Choosing a reusable bottle is an easy first step, and Ocean Bottle is one of the best designs around, with a handy cup and carry loop, and it's dishwasher safe. Not only does it keep cold drinks cold for 18 hours and hot ones toasty for 9, but the sale of each one funds the collection of 1000 ocean-bound plastic bottles, too.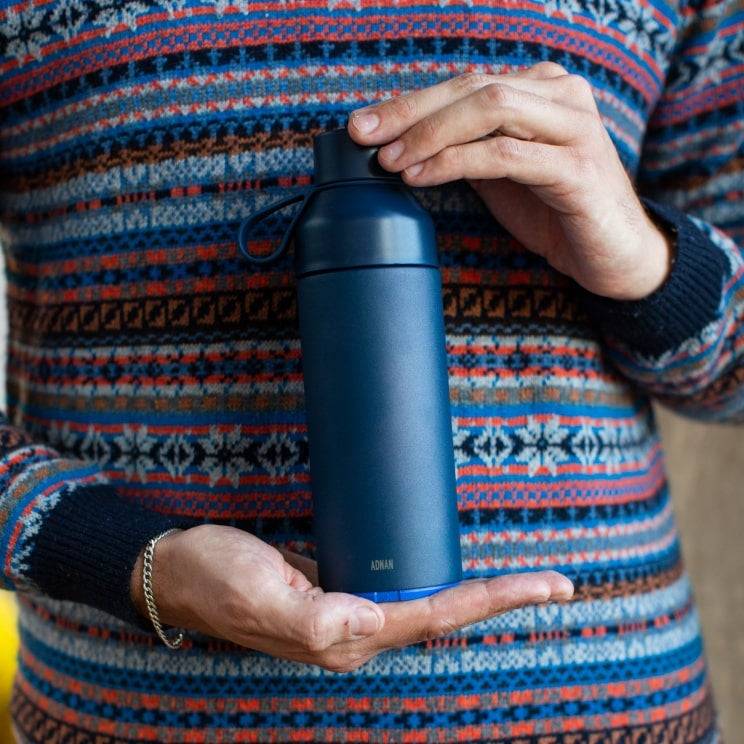 The alternative to plastic period products: reusable pants, applicators and cups
Sanitary products are the fifth most common item found on the beaches of Europe, but more and more people who menstruate are finding the joy and convenience of reusable period products. Not only do they cut down on plastic pollution, but after the initial outlay, they end up being cheaper long-term as well. And in some cases, they're even more comfortable!
The type of product you choose to use is very personal, so head to our dedicated blog post to read about some of our favourite tried and tested plastic-free period products.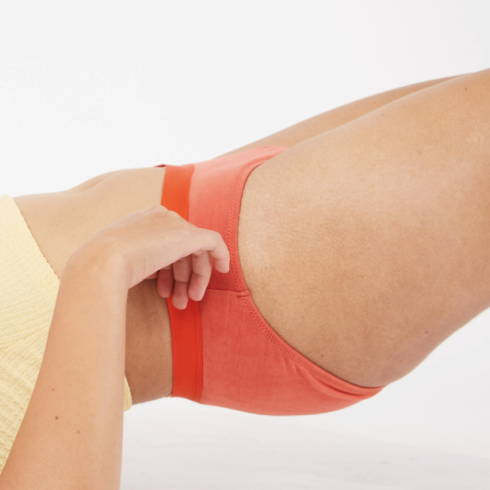 The alternative to plastic bags: reusable totes
We're pretty sure you're already well on board with this one, especially if you live in a country that charges a fee for single-use plastic bags, but in the rare instance that you're only just switching to reusable totes for your groceries - welcome to the club!
Sustainable shopping bag pioneer Anya Hindmarch first brought out her iconic 'I Am Not A Plastic Bag' bags in 2007, and this winter launched roomy smiley face totes in British supermarkets Sainsbury's and Waitrose to counter the problem of most 10p plastic bags still ending up in the bin rather than being reused. And we love our roomy #TOGETHER Totes - a great way of spreading the word about your chosen Sustainable Development Goal as well as transporting your fruit and veg home.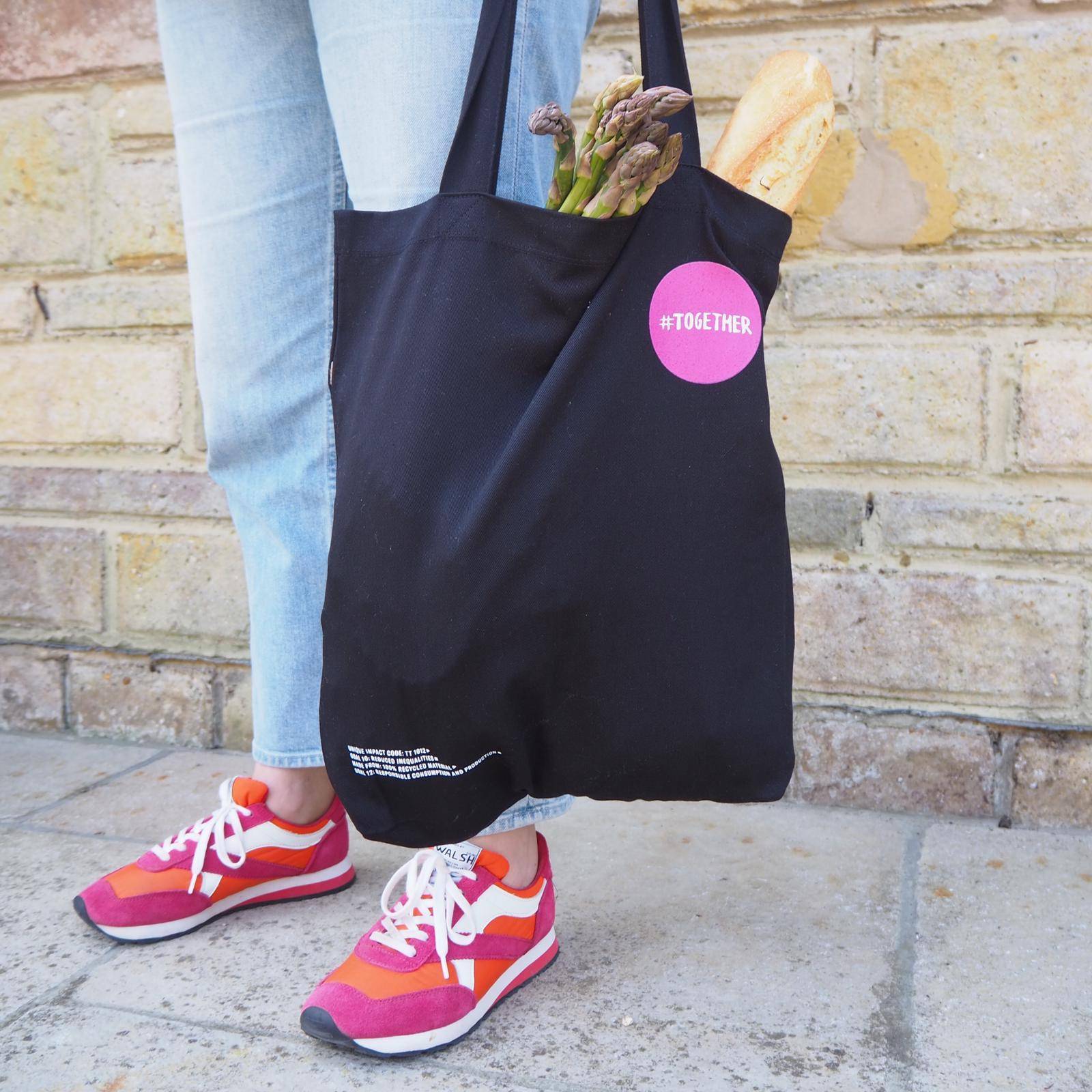 The alternative to disposable coffee cups: insulated reusable cups
All reusable cups are better than single-use ones, but if you have one that drips, or that is too hot to hold once filled with coffee, the chances are you won't love it for as long as you'd hoped. The best investment is a reusable cup designed brilliantly, because you will use it more and keep it for longer.
Chilly's Series 2 coffee cup is exactly that, with an ergonomic design, secure sipping (no drips!) and double-walled technology to protect your hands from the heat. It's available in 12 shades, and you can even mix-and-match the body, head and lid for your own cool colour combo.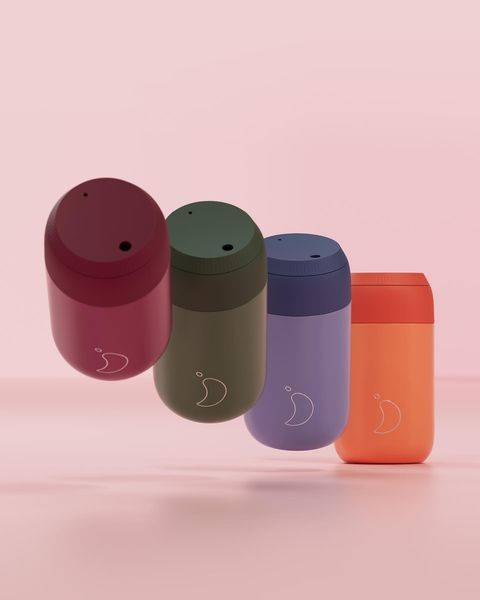 The alternative to balloons: paper balloons
We hate to be party poopers, but balloons are up there in the top ten of single-use plastic items found on our shorelines. Even balloons labelled as biodegradable (made from natural latex) are a problem, because they can take up to four years to break down, and that's long enough to cause serious damage. Balloons are especially dangerous for marine animals like turtles, dolphins and whales, which can mistake them for food; once eaten, they get lodged in their stomachs and cause a slow, painful death by starvation.
Originally designed in Japan in the 1920s, paper balloons are a brilliant decoration to use instead, especially when they are shaped like whimsical animals like these. Flat packed in a compostable bag, the balloons themselves will decompose naturally, but you can also deflate them and use them again at a later date.
100% of profits from the sales of #TOGETHER products go to charities that advance the Sustainable Development Goals. Find out more here.