This Model Is Exposing The Ugly Truth Of The Fashion Industry
There are estimated to be over 13,500 models working in the fashion industry today. It's big business, but it's not as glamorous as you might think. The models - some as young as 14 - are often scouted from the street before being whisked away to work in a country that doesn't speak their native language with no preparation, training or advice. Many end up in debt and in vulnerable positions without support or help.
It was concern over these issues that inspired Ekaterina Ozhiganova to found Model Law in 2017 - a non-profit organisation that offers career education and legal advice for models in France. As a model herself, she became aware that many of her contemporaries were being exploited, and she couldn't just sit back and watch, even though she knew that speaking up might be detrimental to her career. We caught up with her to find out more about how she's supporting Goal 8: Decent Work and Economic Growth in the fashion industry.
Did you start Model Law because of your own personal bad experience?
Luckily not, but I've seen a lot of models who had bad experiences and didn't have the language to express it, or were scared to speak about it. You see the same people regularly because you work on the same jobs and travel together. We started to discuss things like financial abuse, and I felt that something was very wrong.
Can you explain a bit more about how a model can get into debt so quickly?
You never know exactly how much money you are going to get from a job or how much will be deducted from your rate because nobody explains anything to you. At fashion week for example, you either have to pay for everything yourself up front or the agency will advance the money, but they will never discuss how much, what kind of accommodation you are going to get, or what kind of transportation they are going to get you, so there's no accountability whatsoever. Some agencies just say 'our cab will take you to 10 castings', but models don't know that the cab is not paid for by the agency, and it's a personal private driver for one week, so it's expensive. Eventually the model will have to pay the cost back.
Not only that, the professional life of a model is so short that sometimes you basically have time to make some debt and then you're finished. There is no real time for any evolution.
Why do you think the fashion industry is so bad at protecting models?
I think that the fashion industry has a long history of financial, psychological, and physical abuse of young underage men and women, as well as exploitation, with very little recourse to trade unions and legislation. A large number of international fashion models - often underage people - are sourced in my home country of Russia, in ex-USSR, in Latin America, in Africa, and there is a serious lack of access to information relating to the modelling industry in general. They receive no training whatsoever; no preparation for potentially dangerous working environments.

Ekaterina Ozhiganova, Founding President of Model Law, wearing Goal 8 #TOGETHERBANDs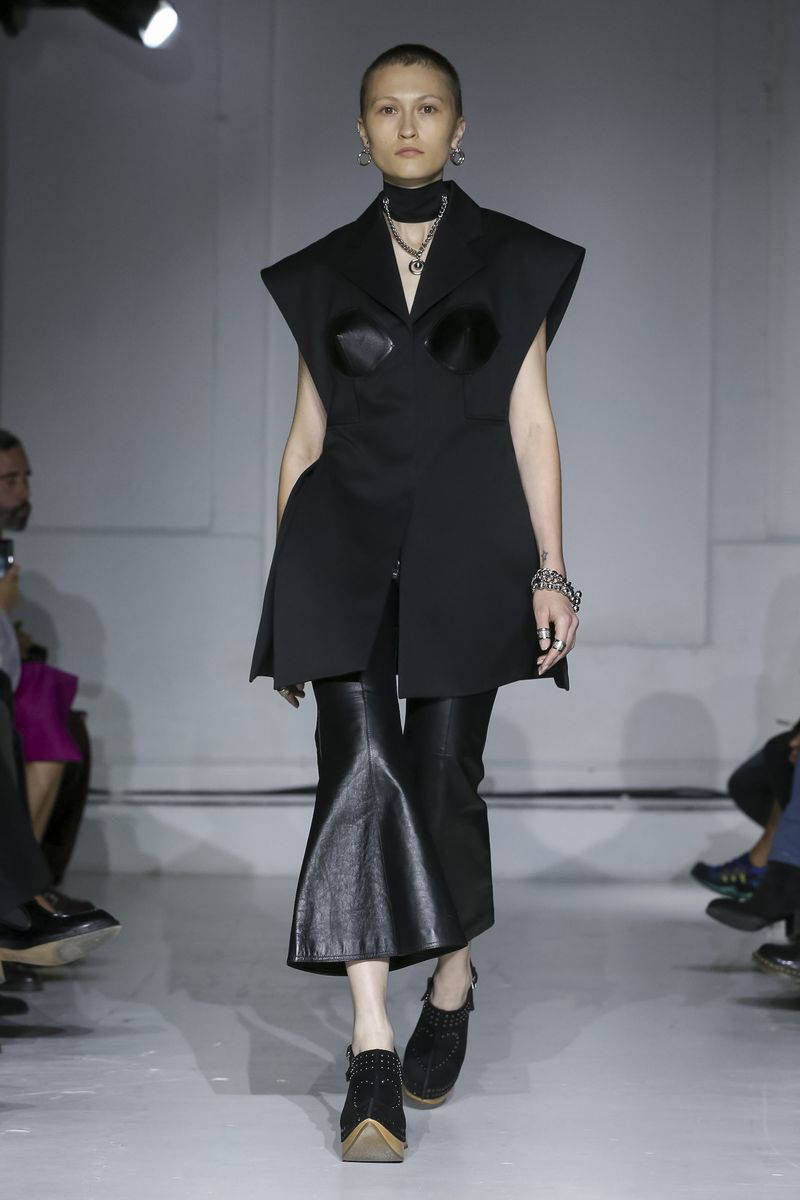 Above: Ekaterina on the catwalk at Paris Fashion Week; below: Ekaterina shot by Aurelien Nobecourt-Arras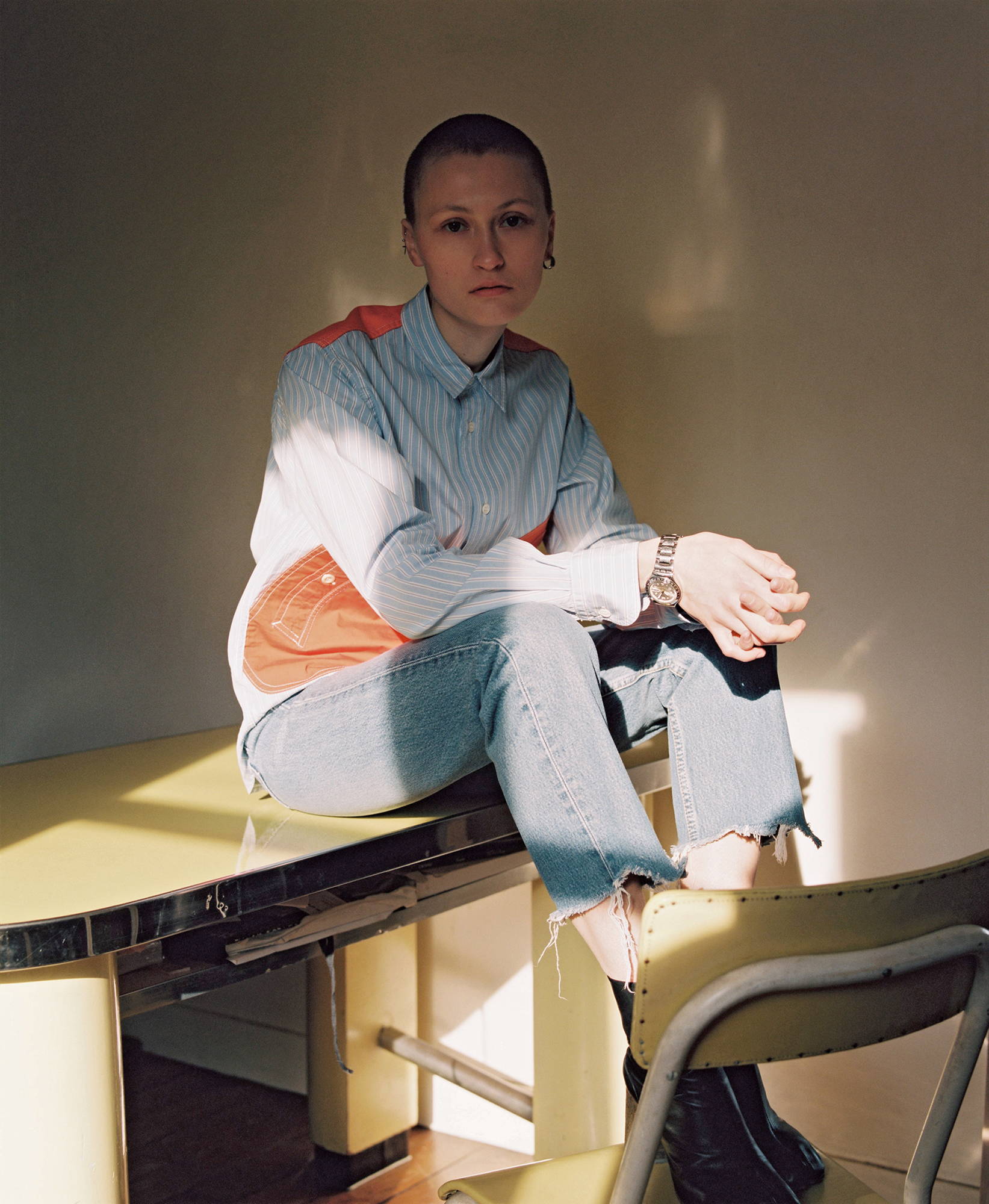 Do models still feel pressure to stay ultra thin? And if so, how can their health be protected?
Ultra thinness is closely related to the fact that models have got younger and younger in the last twenty years. I think the age limit should be 18. It's a hard physical job most of the time; it's like physical labour. Plus you have travel, you have to be very well organised, you have to keep track of your body, keep track of your health, be pleasant to everyone. It's not a job for a child.
Post #metoo, are models any better protected from sexual exploitation at work?
I still think that at the core of it all, of the sexual exploitation and psychological abuse, is financial exploitation, because it leads to everything else. I know that a lot of live performers, dancers and actors also face the same kind of issues because it's a very fine line when you work with your body - what can you do with it, and where do you stop? If a casting director or photographer asks you something that seems not OK, what should you do? Models are normally just not aware of what they are doing because they were never trained how he or she should behave in a situation like that.
How does Model Law help with these issues?
We have a large scope of activities. They range from educating industry professionals and models and raising awareness of modelling issues in the media, to helping models with legal advice (I'm not a lawyer myself). We do research and analysis of the market, as well as running conferences and seminars at fashion schools. We are also looking to develop some educational resources for models; we would love to create a proper hub in the legal system in France that will deal with legal issues connected with the modelling industry. Also, we would love to expand in different countries, notably as I'm Russian I'm trying to work towards this in Russia because so many models are sourced there.
How has Model Law been received?
Obviously the agencies were very aggressive at the beginning, especially in Paris. I don't work with any Paris based agencies anymore, but I knew what I was in for. We have a lot of make-up artists, photographers and stylists who support Model Law because they recognise the same kind of abuses - the problem with the fashion industry is that it's very individual and there is no sense of unity. We've had a lot of support from lawyers as well because we help models to address anything from tax returns and image rights to employment rights, particularly employment rights for foreigners because it's an industry of foreigners. Because your work takes you everywhere, some day you will certainly be a foreigner somewhere.
Tell us why you're supporting Goal 8: Decent Work and Economic Growth
I think that every young professional has the right to enter the employment market and be assured that there is work out there, and that any work merits a salary, and that any worker merits respect and knowing their rights. Being able to protect themselves and to know that there is help which can be sought if needed.
And who are you sharing your second #TOGETHERBAND with?
I'm sharing my band with my partner Alexandre Miraut Korobov, an illustrator and part of Model Law team.

Ekaterina Ozhiganova is the Founding President of Model Law - learn more about the Model Law manifesto here. You can support Goal 8: Decent Work and Economic with a #TOGETHERBAND. You'll receive one to wear and one to share with a friend to help spread the message about the Global Goals.