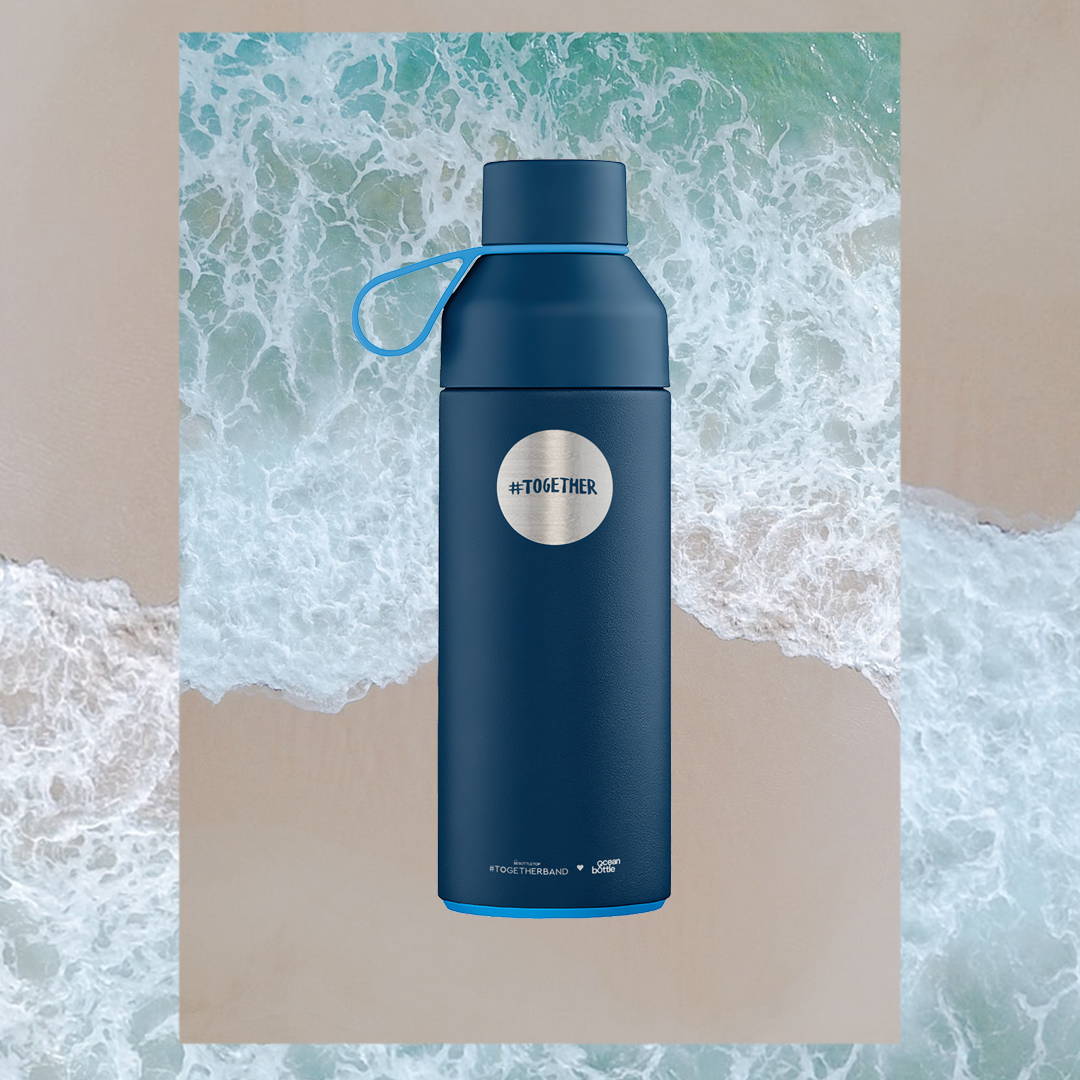 Goal 13: Life Below Water
#TOGETHERBAND ❤ OCEAN BOTTLE
Small bottle, big impact: meet
our new recycled and reusable #TOGETHERBOTTLE
By hannah rochell
26 october 2020
We've been fans of Ocean Bottle's stainless steel and recycled ocean plastic bottles since they launched at the beginning of this year, so we're thrilled to have partnered with them on our exclusive #TOGETHERBOTTLE. To find out more, we caught up with Ocean Bottle's co-founders Will Pearson and Nick Doman to chat sustainability, spare parts and sauna workshops.
Ocean Bottle's co-founders
Will and Nick met at London Business School, where their passion for solving the plastic crisis reached a tipping point and they decided to join forces to find a tangible solution.
'The bottle was a lightbulb moment,' Will tells us. 'For us it made perfect sense because it's a product that anyone can have and use every day, and it directly connects them to the impact they're creating.' Designed in Oslo (Will is half Norwegian), the bottle took a year to perfect and included months agonising over exactly the right shade of orange, discovering that 68mm was the ideal bottle width, and jumping into a fjord after a brainstorming session in a sauna.
'It took forever,' Nick remembers. 'But whenever we take forever on something it's worth it.'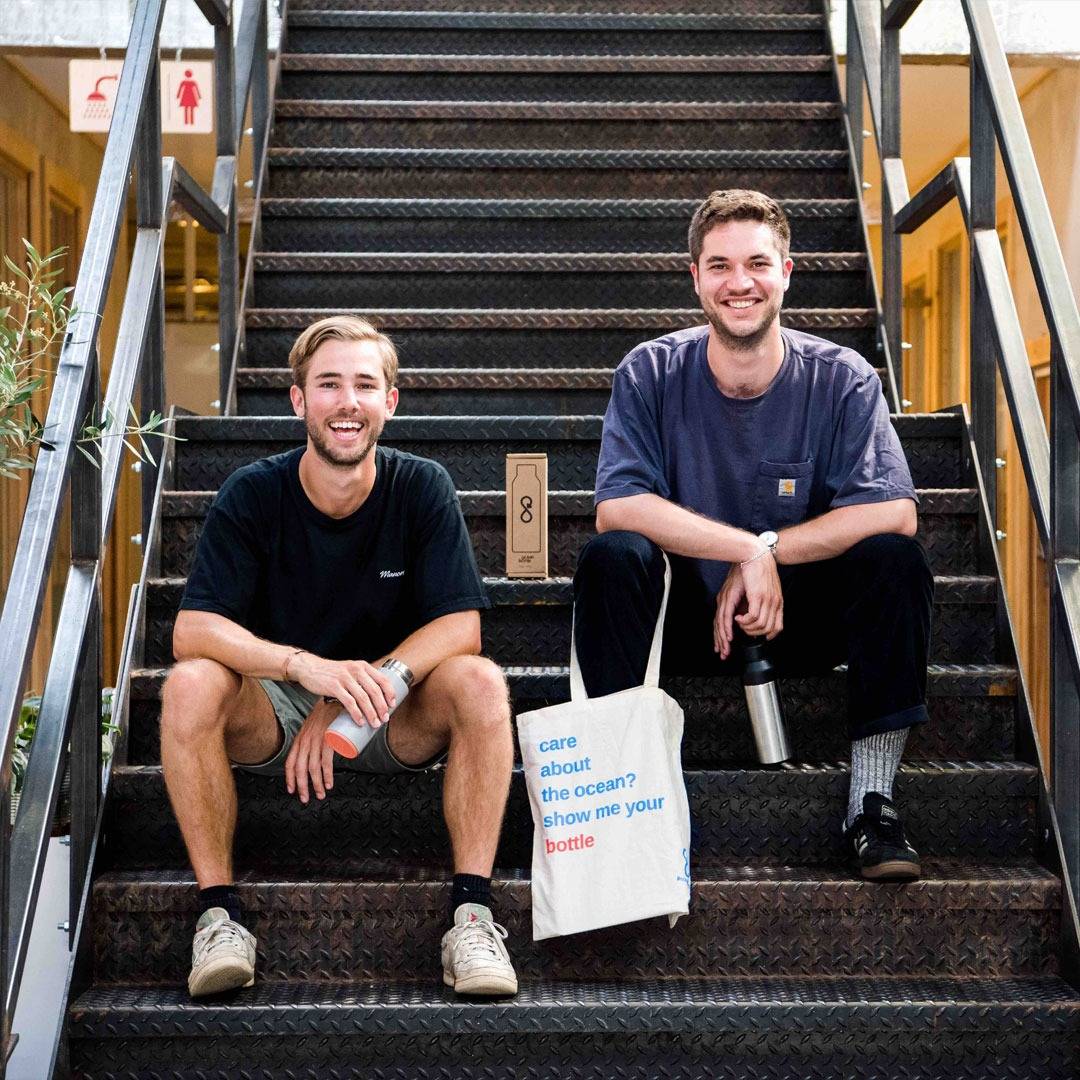 Ocean Bottle's founders Will Pearson (left) and Nick Doman (right)
1000 bottles saved from entering
the ocean with every purchase
Every Ocean Bottle sold funds the collection of 1000 plastic bottles - that's 11. 4 kg of plastic that will no longer be destined to clog up our seas. With plastic pollution reaching a critical point: (22 million kgs of plastic flows into our oceans each day - that's an estimated 12.7 million tonnes every year), these bottles really do make a big difference.
'Over the next decade ocean plastic is expected to double in weight so that's what we're up against,' says Will. 'Our goal that we've set ourselves for 2025 is to try and collect the equivalent of 7 billion plastic bottles and stop that from going into the ocean.'
'We really stuck to our guns right from the get go,' continues Nick. 'We both felt that 1000 plastic bottles in weight actually was going to make a real difference. Profit for profit's sake doesn't align with millennials and Gen Zs in the slightest. Will and I want to make our stand and prove that a purpose over profit business model can really stand on its own two feet and compete and be profitable.'
'Ocean plastic is not going to be solved overnight but we can do it. We just need to crack on.' - Will
People-powered waste management
Ocean Bottle is investing in people-powered waste management to stop plastic from entering our oceans whilst reducing poverty at the same time. Plastic collectors are paid above market rates to work in heavily plastic polluted areas, and to develop recycling infrastructures in Indonesia, Philippines, Brazil and Haiti.
'We've worked with just over 2,400 collectors to date and they're all set up in the Plastic Bank app and able to earn rewards, it's fantastic,' Will explains. 'One of the really key things is that it's a really disruptive solution, so it means that you're taking away any middle men. Previously in the waste sector, the people wouldn't get anything worthwhile for their plastic waste, whereas now all the value is being transferred directly to the collectors.'
This recycled ocean plastic is then combined with stainless steel, silicone rubber and BPA-free and recyclable plastic to create a durable and far more stylish alternative to single use plastic bottles.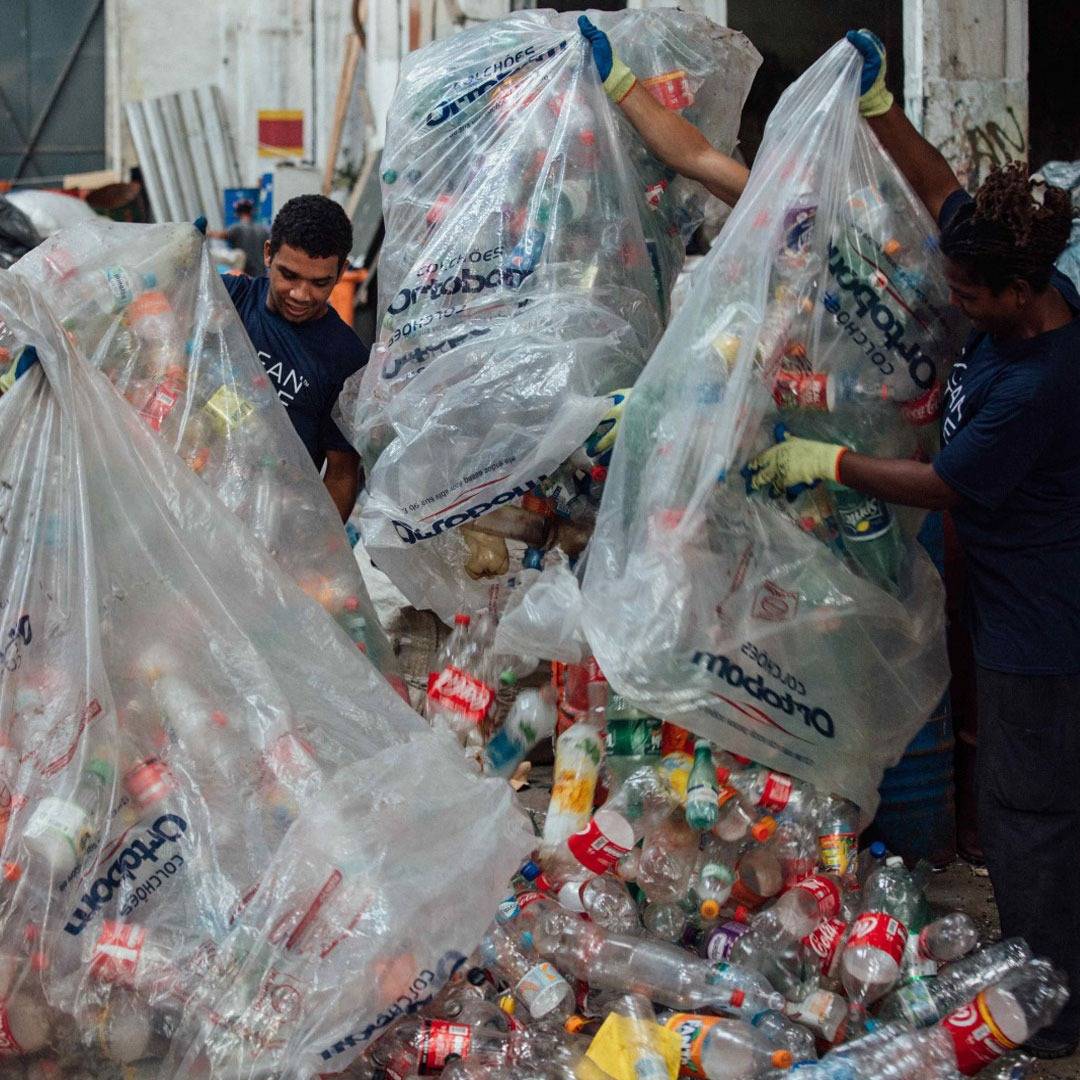 So how does an Ocean Bottle differ from other bottles on the market? As well as being a cool addition to your everyday reusables, it boasts loads of brilliant features. Its clever insulation keeps liquids cold for 18 hours and hot for 9 hours, it has an anti-leak seal and the easy-carry loop means you'll never leave home without it. And that's just for starters; back to Will.
'It's not just a bottle, that was always the intent. You're actually part of something bigger than just buying a product. And the people who join us are not just like "here's your bottle, goodbye", they're part of that journey from start to hopefully the inflection of ocean plastic and the end of it. We have literally taken the reusable bottle to the next level.'
'It's about trying to be about that buy better mentality that's so prevalent these days,' adds Nick. 'Buy quality rather than quantity - we really wanted to make sure that these bottles last at least 10 years, if not longer. We will even send you free spare parts.'
Solving the plastic problem together
As we do here at #TOGETHERBAND, Ocean Bottle believes in companies working together to affect change. 'These huge challenges are so enormous that there's no way that we can possibly fix them alone as a company without collaboration with other brands, companies and individuals getting stuck in everywhere,' says Will, who wears a Goal 14: Life Below Water band.
'#TOGETHERBAND stands for everything that we want to see happen over the next decade. The implementation of the sustainable development goals, actually seeing real progress on them and getting the world behind them is so important. We love it, it's super super cool for us to be part of it.'