How #TOGETHERBAND and Gerando Falcões are helping hungry families in Brazil
By hannah rochell
may 27 2021
Here at #TOGETHERBAND and BOTTLETOP, we've always had a close relationship with Brazil. Our BOTTLETOP bags are made at our own atelier just outside Salvador, and our #TOGETHERLIVE concert last year with Brazilian superstar Seu Jorge raised funds and awareness around Goal 6: Clean Water and Sanitation. So for our launch of Goal 2: Zero Hunger, we're proud to be collaborating with the incredible Brazilian charity Gerando Falcões (GF) to help donate meals to families in need in Brazil.
Last year as COVID spread rapidly across the country impacting people's jobs and livelihoods, GF realised they had to do something quickly to people who were sick or out of work. It came up with a plan to provide free gift cards with which people could buy food and household staples. Not only did it help alleviate the hunger crisis but it boosted the local economy too.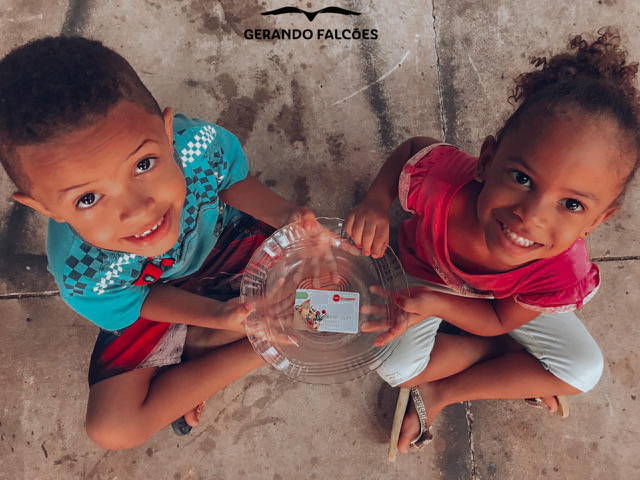 This campaign - named 'Corona no Paredão' - was a huge success. It raised over $5 million dollars and impacted an estimated 2.5 million people. When the second wave of cases hit Brazil in March 2021, GF started the gift card scheme up again, helping millions more people affected by the pandemic. So far, a grand total of seven million dollars has been raised.
Founded in 2011 by Brazilian social entrepreneur Edu Lyra, Gerando Falcões started as a network of projects dedicated to equipping socially and financially vulnerable Brazilians with leadership and entrepreneurial skills, as well as sport and cultural initiatives in slums and deprived areas in the country. Edu has become a widely known figure in Brazil celebrated for his determined outlook on poverty.
'We want to send the poverty seen in favelas to the museum before Elon Musk colonises Mars' - Edu Lyra
As part of our Goal 2: Zero Hunger activation, #TOGETHERBAND is working with this dynamic organisation to help us reach our global target of at least 5000 meals in our #TOGETHERMEALS initiative. We will be donating meals for every product we sell throughout the summer to both Gerando Falcões and ROKPA Soup Kitchen, which is run by the same Nepalese women's group who make our Classic #TOGETHERBANDs.
Let's end hunger #together.
100% of profits from the sales of #TOGETHER products go to charities that advance the Sustainable Development Goals. Find out more here.