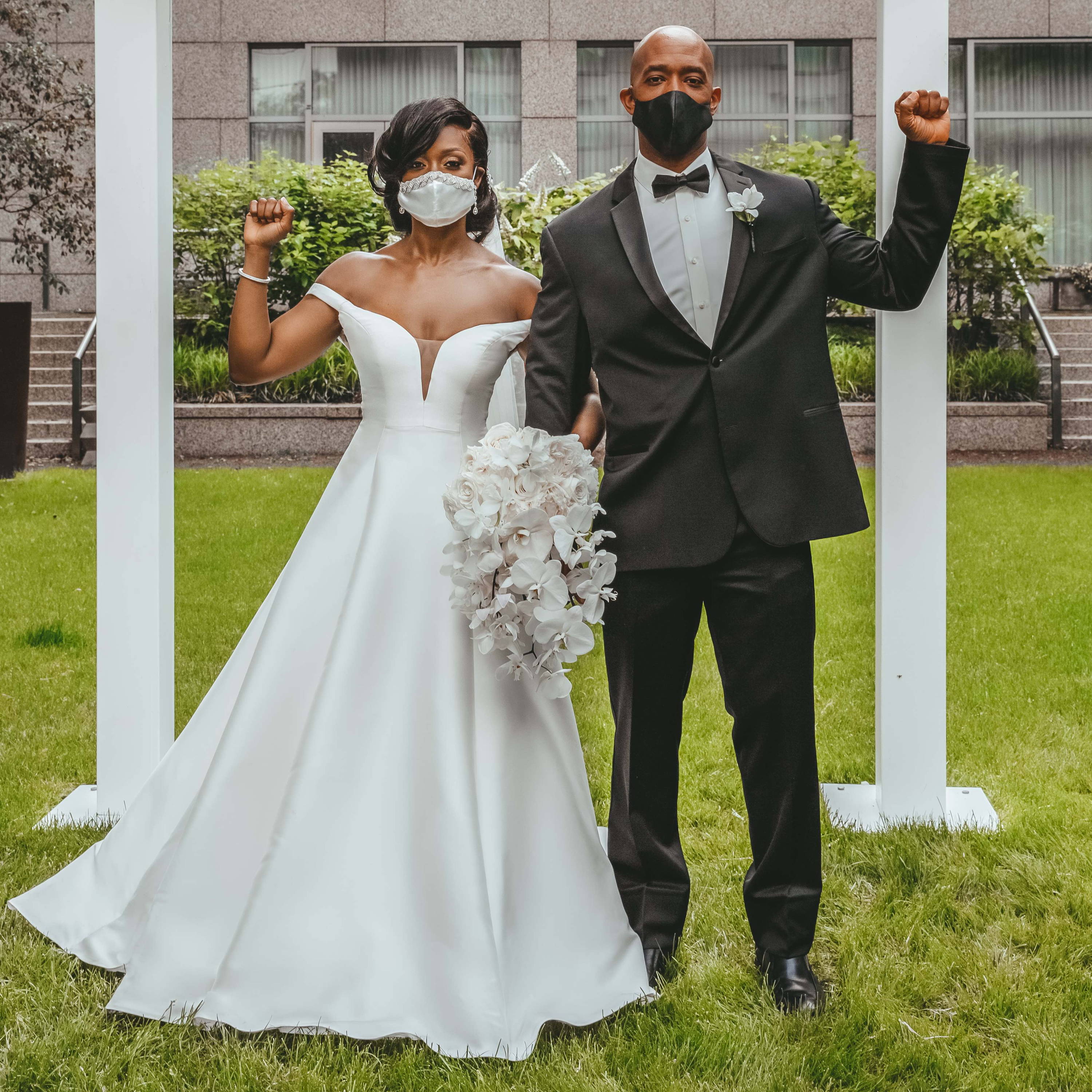 Dr Kerry-Anne Gordon and
her husband Michael
on their wedding day
Goal 10: Reduced Inequalities
THE WEDDING THAT BECAME A SYMBOL OF HOPE FOR BLACK LIVES MATTER
#TOGETHERBAND ambassador Denise Bowen meets Dr. Kerry-Anne Gordon
By Denise Bowen
21 august 2020
On June 6th 2020 in Philadelphia, Dr. Kerry-Anne Gordon's marriage to her husband Michael went viral. Why? It happened in the middle of a Black Lives Matter protest.
Kerry-Anne had carefully planned her wedding since her engagement in 2019. As a busy obstetrician, she had to fit it around her tight work schedule. But when COVID-19 hit the country, it soon became clear that the couple would need to change their plans. Not only was their large wedding in a castle now impossible, but her mother and three other family-members also became ill with the coronavirus (thankfully, they have since recovered). The wedding was postponed to 2021, but, keen to get on with the next exciting stage of their lives, Kerry-Anne and Michael decided to have a small, private ceremony with 21 family and friends in June.
Kerry-Anne and the Black Lives Matter protesters
It was only two days before the event that they found out the Black Lives Matter protest would be marching straight past their wedding venue, the front lawn of The Logan Hotel, Philadelphia. They decided to go ahead regardless, carefully coordinating their guests to arrive before the roads were closed. But Kerry-Anne accidentally left her bouquet inside the hotel and while waiting for it to arrive, the BLM protesters began to march down the street. Delighted at the sight of a bride, they began chanting "Black love matters", and pictures of her and Michael surrounded by these peaceful protesters began to circulate the internet, offering a powerful message of hope in deeply uncertain times.
To find out more about this inspirational woman - a Jamaican-born obstetrician and captain in the U.S. army reserves - we asked #TOGETHERBAND ambassador Denise Bowen, a podcaster and sustainability consultant, to speak to Kerry-Anne about the vital issues highlighted by Goal 10: Reduced Inequalities.

Watching your viral wedding video, I felt it was a monumental moment. It was so uplifting and it gave hope to the movement, showing Black love wins. Tell me how it happened and how it felt to become a symbol of hope...
The pandemic was pivotal in this movement as it opened the floor to exposing the world's darkest secrets and skeletons in the closet with regards to the inequalities that many face daily, especially in the United States of America. The dark and painful truths of racism blossomed in this time of uncertainty, with people feeling scared of what the future would hold politically, socially, economically and racially. While the largest protest was going on in Philadelphia, people wanted to be heard, they wanted change, they wanted peace and love. The special moment we shared in the protest was so powerful because a wedding is a symbol of love, happiness, peace, hope, prosperity and unity. This symbol brought light to the hearts of many when it was so desperately needed.
With many Black families' lives being shattered across America due to police brutality, there is a growing call to defund the police. How do you think we can tackle police brutality? Is defunding the answer?
As a nation, we need to restructure the establishment of our government both locally and nationally to reflect the inherent value of every person's life. The statistics are there, the videos are there and the stories are there. Police brutality has taken the lives of too many Black men, targeted too many others and left countless families struggling with single parent households. [A 2019 U.S. study by the National Academy of Sciences found that Black men were 2.5 times more likely to be killed by police than white men.] However, defunding the police may not be the solution. Instead, redistributing funds combined with eliminating the use of lethal force and defensive tactics from law enforcement training could change the trajectory of Black lives.
Black women in the U.S. are up to three times more likely to die from pregnancy-related causes than white women. As a doctor, what are your thoughts on reducing racial and ethnic disparities in healthcare in the U.S.? What are the solutions?
The racial and ethnic disparities in the U.S. healthcare system reflect systemic racism. The Black maternal death rate is similar to the rate that Black men die at the hands of law enforcement. Black women are up to three times more likely to die of pregnancy-related conditions including cardiac issues and haemorrhage and this does not change based on income, education or location. The risk is the same for all Black women. We need to keep better data of the factors that contribute to these numbers, especially those deaths that are preventable. We also need to educate Black women of the signs and symptoms of high-risk conditions, and increase the communication between healthcare teams.
What are your thoughts on Black mothers raising children in the midst of racial and social injustice?
It's scary! Mothers, in general, have the challenging task and lifelong responsibility to nurture and train children to be obedient, respectful, loving, law-abiding citizens. A Black mother has the additional task of bringing awareness of the reality of race and teaching her children techniques of how to best interact with law enforcement so that they may 'live'. As a child growing up in Jamaica, I didn't know about race. I knew we were all one people, living without political or social barriers due to the colour of our skin. When I moved to the United States, I was up for a rude awakening. If all parents - Black, white, brown - would teach their children to love everyone and open up their hearts and homes to people of other races and cultures, the long-term effect in generations to come would be a world where our eyes don't first perceive colour.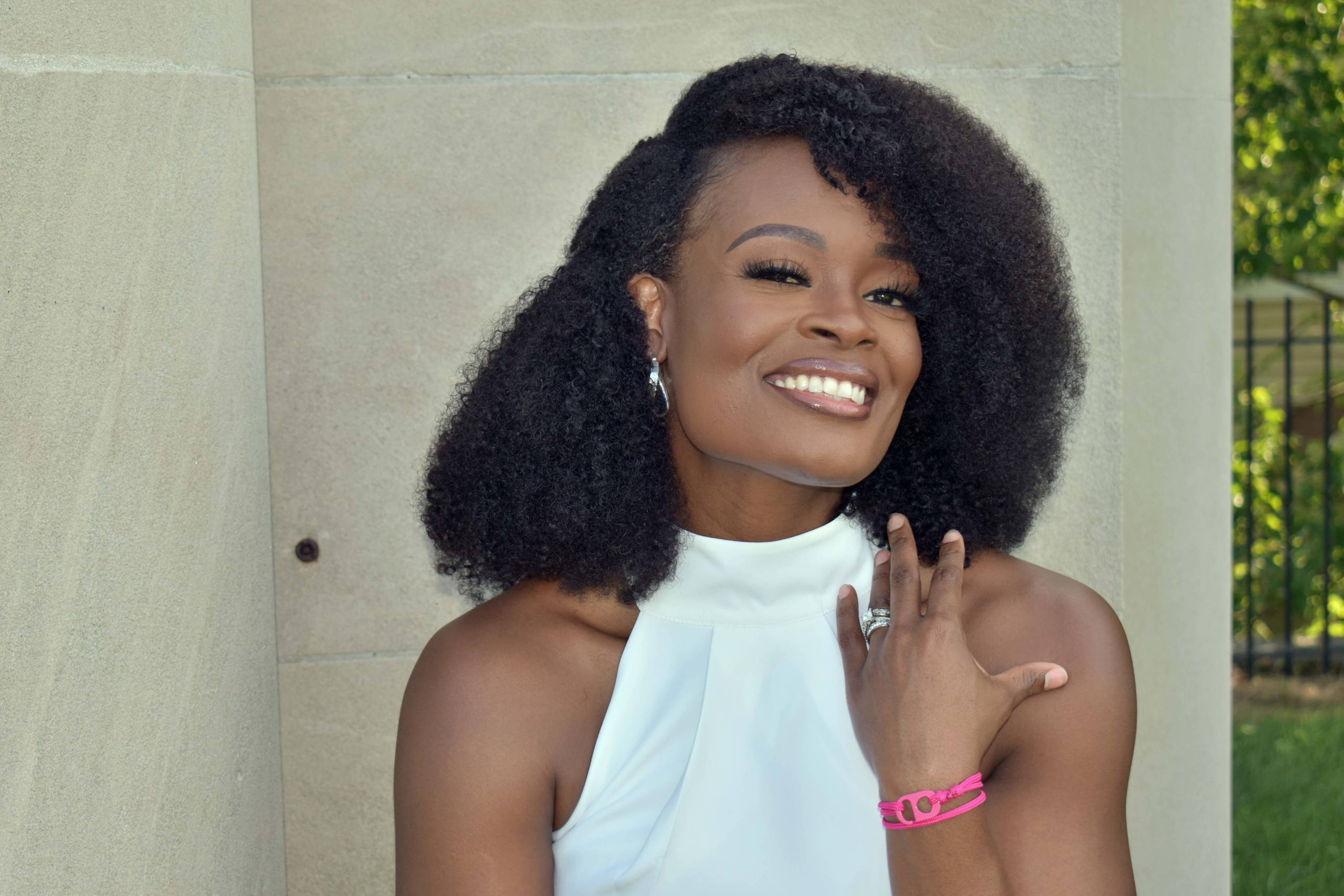 Kerry-Anne wearing her Goal 10: Reduced Inequalities #TOGETHERBAND
Leading U.K. divorce lawyer Baroness Fiona Shackleton predicted in parliament that there will be a rise in divorce rates because of confinement during COVID-19. As a newly married woman, how does this make you feel? And what's the key to a successful relationship?
I used to think openness and communication are of the utmost importance, however it turns out reciprocation is - discovering somebody who has a similar vitality for you that you have for them. In light of the confinement from the pandemic, self-care is essential, and it isn't simply drinking water, exercising or resting early. Self-care is also permitting yourself to cry and requesting help from everyone around you, including your partner, is a healthy way to save a relationship.
You're a #TOGETHERBAND ambassador for Goal 10: Reduced Inequalities. Are you involved in any projects that relate to the Goal and what objectives have you set to achieve in 2021?
I'm a champion of equality through education. I'm promoting equality by spreading awareness of social and racial disparities so that we're motivated to make small changes in our communities one person at a time. In my role as an obstetrician, I'm committed to educating minorities about their bodies and enabling them to communicate with their doctors. The more they know, the better advocates they'll be. They can then pass the knowledge on to their family and friends, thereby starting a cycle of self-advocacy.
100% of profits from the sales of #TOGETHER products go to charities that advance the Sustainable Development Goals. Find out more here.