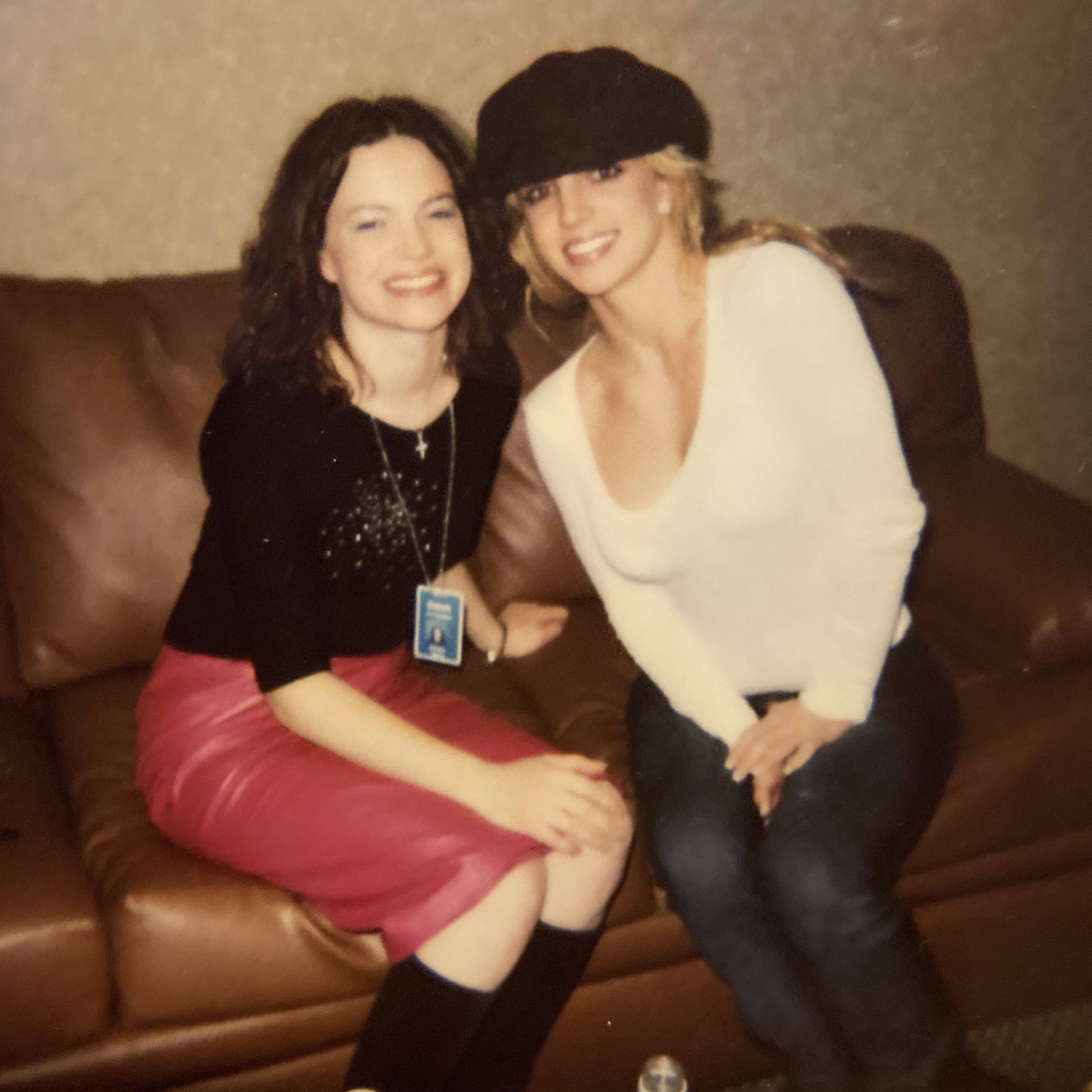 Emma with Britney Spears

in Colorado, December 2001
Goal 3: Good Health and Well-being
why our apology to britney is too little, too late
When Emma Elms met Britney Spears 20 years ago, the star said she was determined to protect her mental health. Why was everyone so cruel?
By emma elms
16 february 2021
Tonight's the night! Finally, UK viewers will get to watch the controversial TV documentary Framing Britney Spears, which led to the hashtag #WeAreSorryBritney trending on twitter and an outpouring of public apologies. The 90-minute film, made by the New York Times and first shown in the US on 5th February, is a powerful exploration of how the super-star was annihilated by the press, especially after her high-profile breakdown in 2007 when she famously shaved her head and went to hospital for a short time to recover.
Back then, Britney's struggles were gleefully pounced on by the press, but in a post-Caroline Flack era where the public has greater understanding of mental health issues, I like to hope she'd be treated with more empathy and respect if it happened now.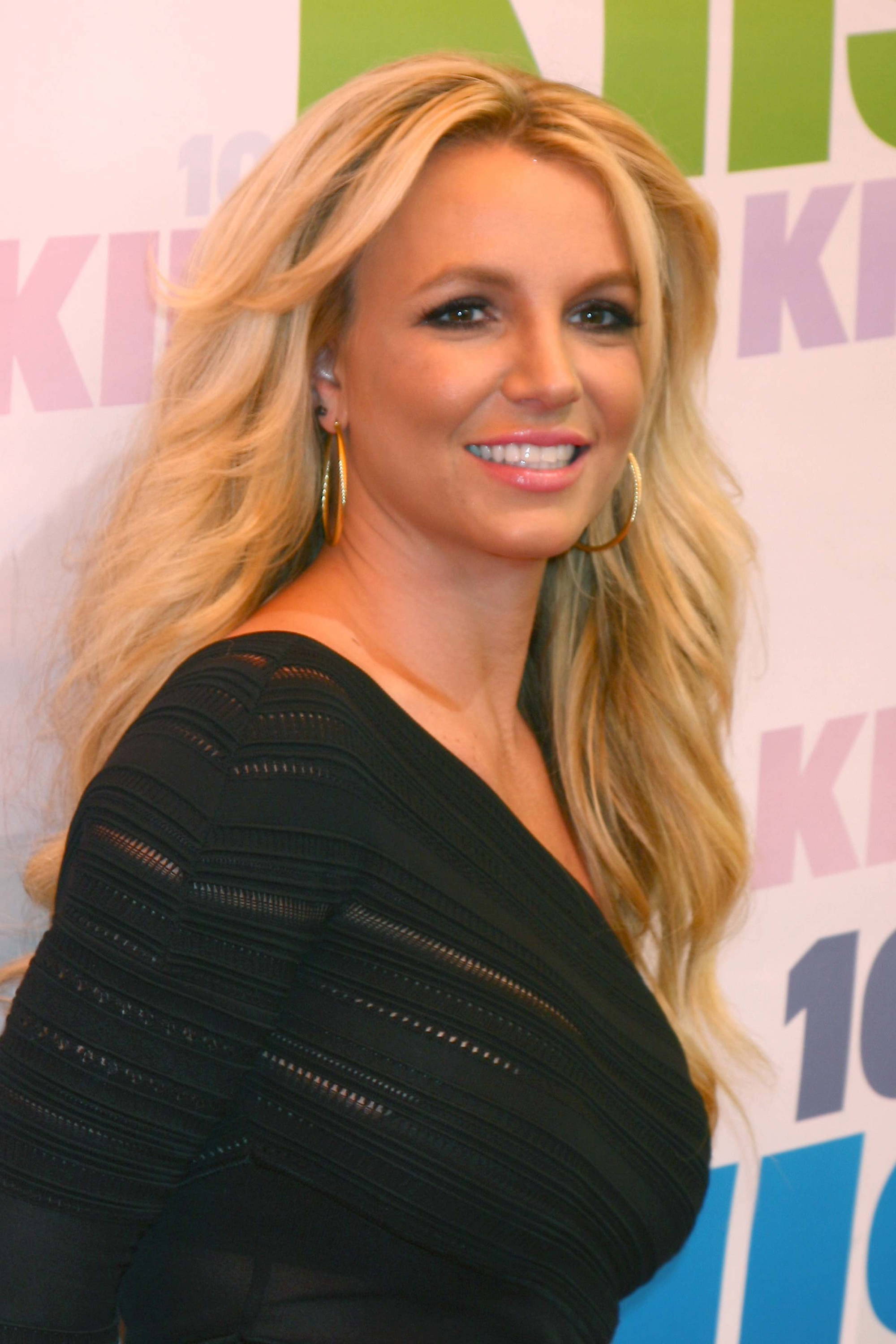 When I met Britney and her family back in 2001, I was struck by the kind, sweet, energetic 20-year-old who was charming throughout our 45-minute interview and afterwards when she introduced me to her mum Lynne and little sister Jamie Lynn, then 12. As a writer on Cosmopolitan, I was thrilled to land the job of flying to Denver, Colorado to meet mega-star Britney on tour. After making my way through ultra-tight security, including a bodyguard who was as wide as he was tall, I was delighted to be greeted warmly by Britney.
Her publicist had requested beforehand, 'Just don't ask about her virginity. She's 20 now, and it's always the same old question.' Looking back, it seems weird they had to specifically warn me, but at the time, 'Are you a virgin? Have you had a boob job?' were standard questions from the tabloids. Not surprisingly, she'd already had enough of them.
Earlier that year fellow star Mariah Carey had had a high-profile 'physical and emotional breakdown' after suffering from 'extreme exhaustion'. At the time Britney was in the middle of a 31-date American tour and had just filmed a movie called Crossroads. Given her hectic schedule, I asked her how she looked after herself, to avoid burnout.
She was full of sympathy and genuine concern for her fellow singer Mariah, telling me, 'Well I think, bless her heart, she just needed to slow down. You need to learn to listen to your body. Her problem was she didn't get enough sleep, but in my family, seriously we require twelve hours a night.'
She went on to explain that when touring she'd typically go to bed at 1am, then sleep on until 1pm or 2pm. 'You have to take care of your body, go to spas, relax, do your work, but always make sure you have fun.'
Life was good and Britney was flying high. She said her close family ties helped keep her grounded and she was also deeply in love with Justin Timberlake at the time, telling me the only downside of fame was being apart from him. She told me she'd since 'put my foot down' with her management to build more time with him into her schedule.
I remember her habit of widening her eyes as I spoke, giving her an air of girlish innocence. Her face came alive when she told me about her love for Justin. 'Sometimes you just know…' she confided, almost in a whisper. 'When you're in a room together, it's like you're magnets and you just come together.' She clasped her hands to illustrate the point. 'Even when we were 12 years old we liked each other.'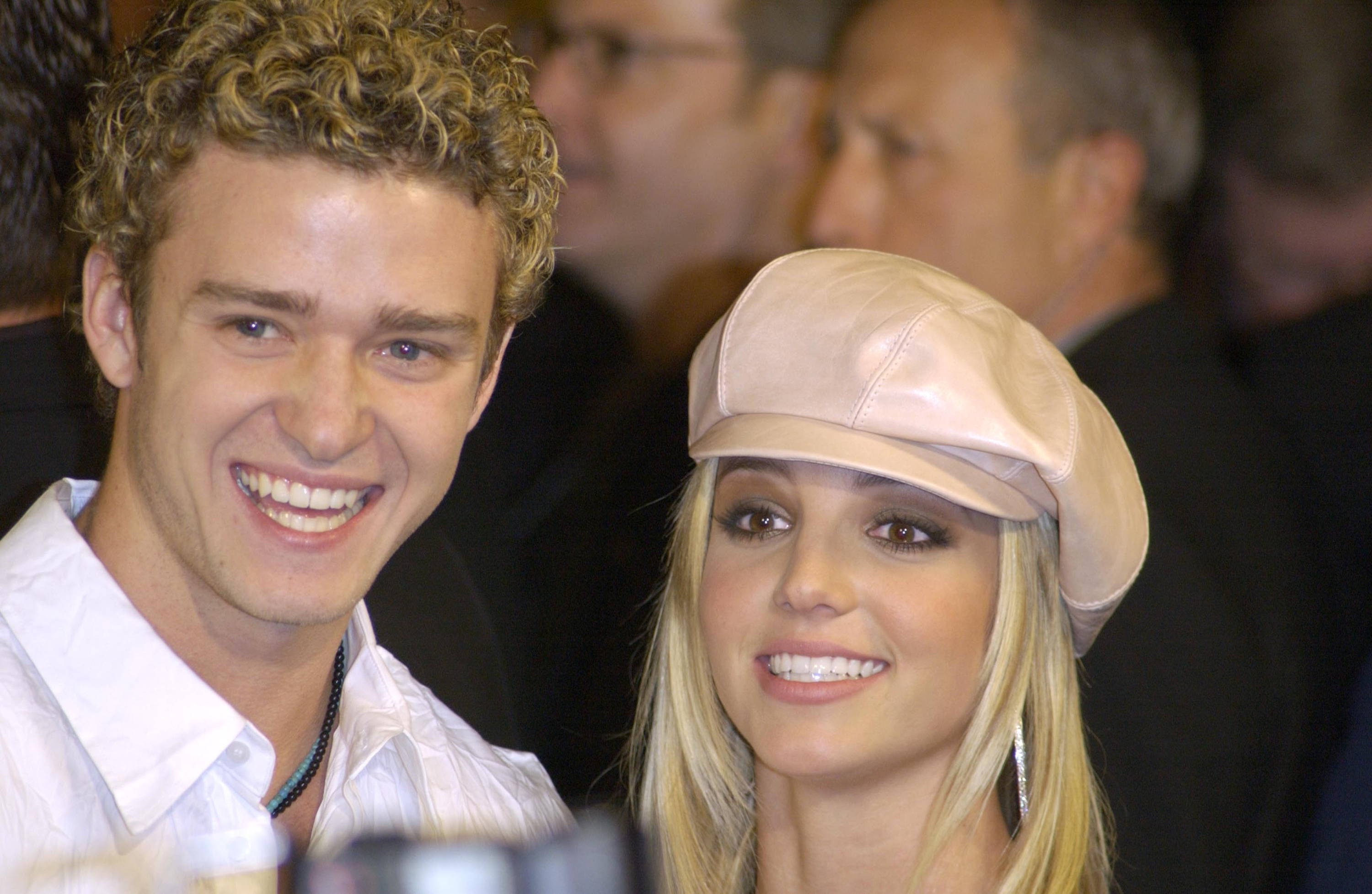 Britney and Justin in February 2002 shortly before they split
Image: Shutterstock
It seems all the more poignant that just three months after our interview, they split up. Despite their four-year relationship, Britney's childhood sweetheart cruelly capitalised on her fame. As the new documentary shows, Justin later betrayed her by sharing details of their sex life in interviews and portraying her as an adulterous villain in his music video for Cry Me A River, which included a Britney lookalike cheating on him.
Since the film aired in the US he's taken to Instagram to publicly apologise to Britney – and to Janet Jackson (after failing to support Janet over her infamous Super Bowl performance when he accidentally exposed her breast). He admitted he is 'deeply sorry' and that 'everyone involved deserves better'.
The film also sheds light on the uncomfortable issue of Britney being placed under a 'legal conservatorship' that granted her father Jamie Spears control over her finances, career and wellbeing. As the documentary makes clear, a conservatorship is usually only given to people with diminished capacity who aren't capable of making their own decisions, such as those with dementia.
After Britney was very unwell back in 2007, it doesn't seem unreasonable that her father briefly stepped in to protect her fortune and safeguard her health, fearing her judgement could be briefly clouded. But what's clearly a worrying abuse of power is that 13 years later – mother-of-two Britney – still isn't being allowed to regain control of her estate and career, despite her wishes.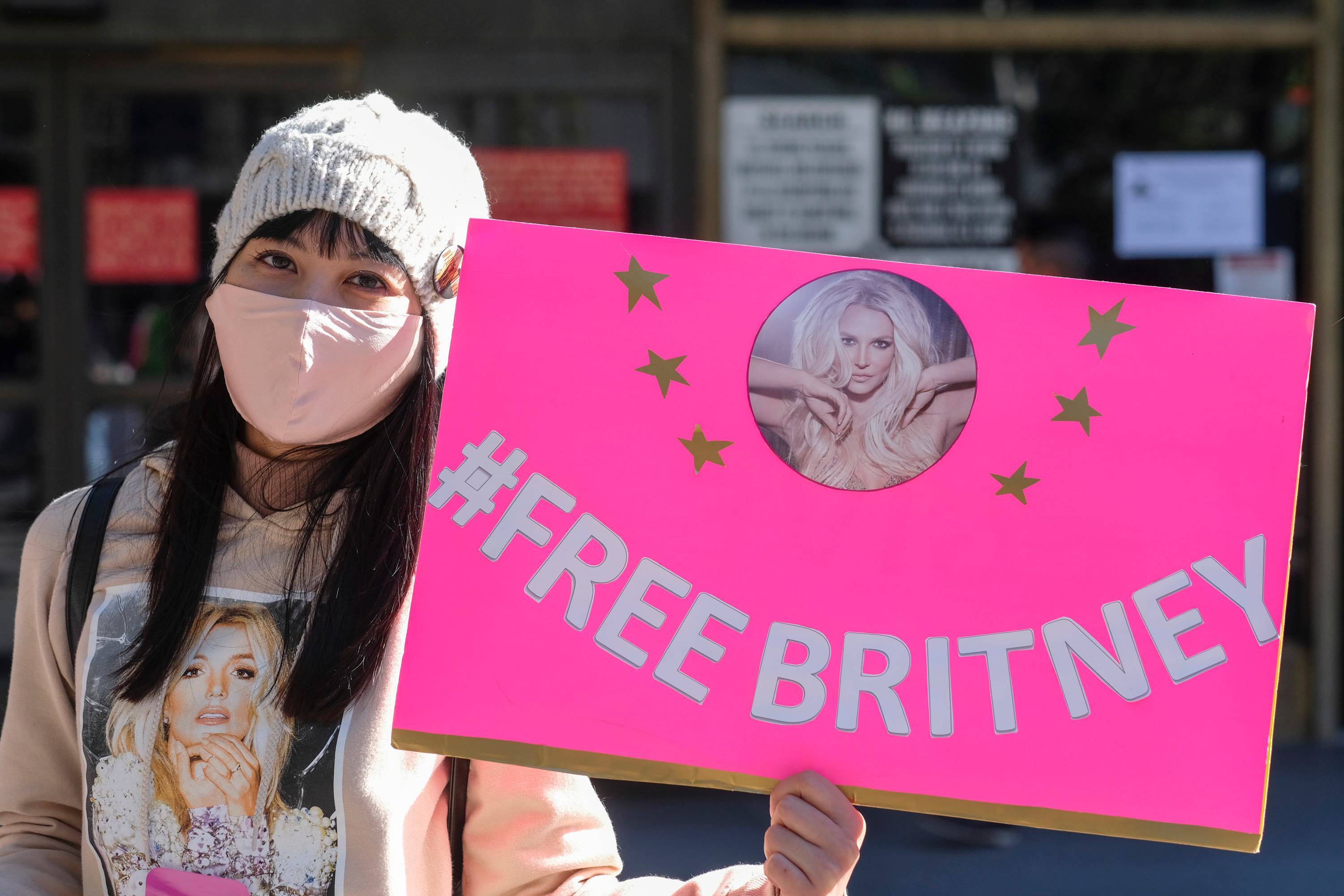 One of Britney's supporters
Image: Shutterstock
Her outraged fans have launched the #FreeBritney campaign, claiming she's effectively a prisoner in her own life. If she was healthy enough to handle a four-year residency in Vegas, of course she's able to manage her own life and money.
Britney's lawyers filed for her dad to be removed as 'conservator' last November, arguing in LA court that she was 'afraid of her father', but at the time the judge refused, instead adding the Bessemer Trust as a co-conservator. Jamie's attorney welcomed the new arrangement, saying, 'My client looks forward to working with Bessemer to continue an investment strategy in the best interests of his daughter.' The next hearing is scheduled for 17 March.
And how does Britney feel in the aftermath of the documentary and the court case? She recently posted a clip from her number one hit Toxic on Instagram, with the caption, 'Can't believe this performance of Toxic is from 3 years ago! I'll always love being on stage… but I am taking the time to learn and be a normal person… I love simply enjoying the basics of every day life!... Remember, no matter what we think we know about a person's life it is nothing compared to the actual person living behind the lens!'
Whoever the real Britney is, I wish her well and hope the bright, gentle woman I met is given the chance to 'take care of herself' how she wanted to all those years ago.
Watch Framing Britney Spears on Sky Documentaries and NOW TV.