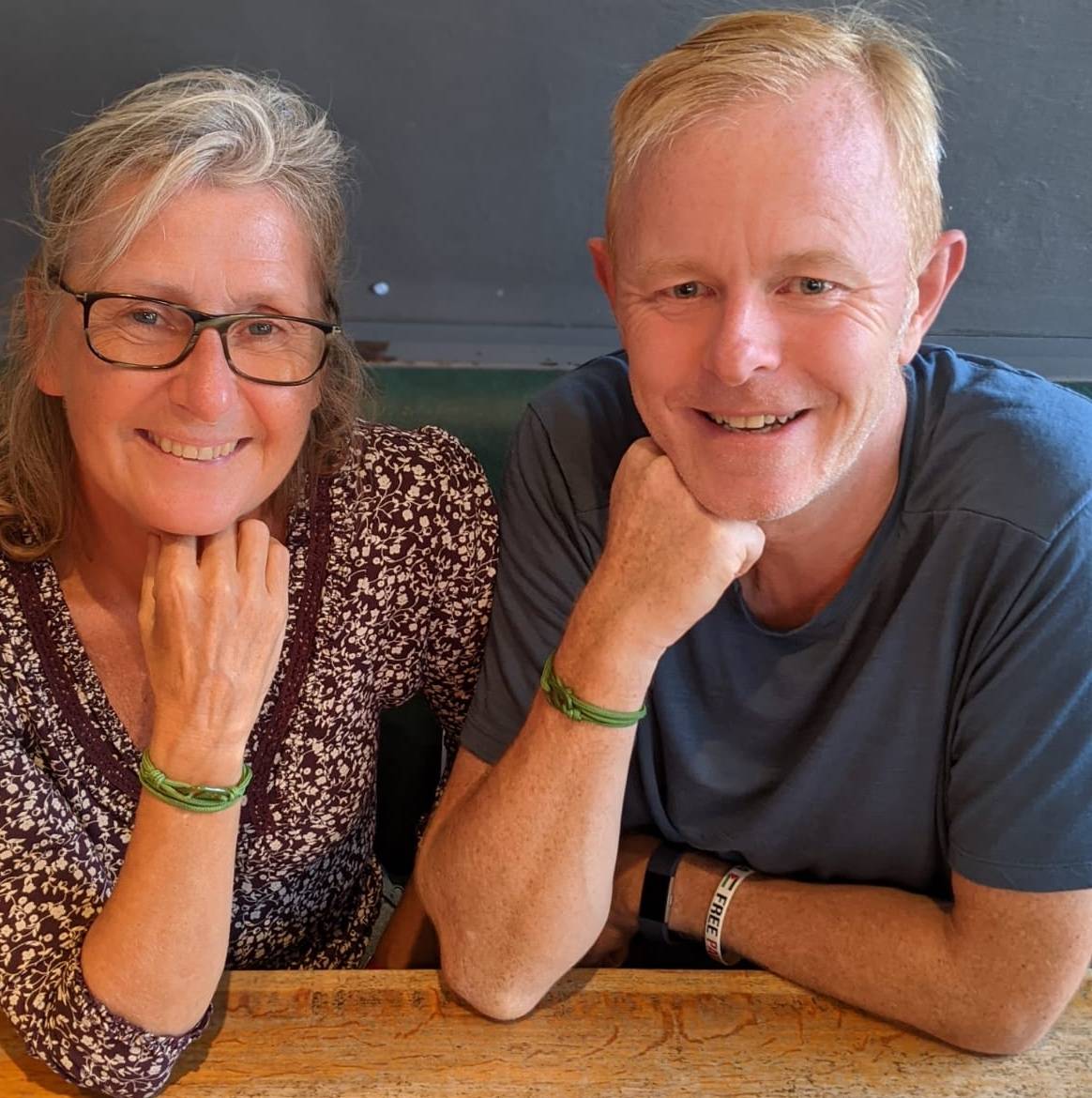 Extinction Rebellion campaigner
Andrew Medhurst with his
wife and fellow activist Kate
'i ditched my city job to join xr'
Andrew Medhurst had been a City high-flyer for 20 years. Here's why he quit to volunteer full-time for Extinction Rebellion
By EMMA ELMS
19 october 2020
#TOGETHERBAND ambassador Andrew Medhurst, 54, from London, had been a City high-flyer for 20 years, but in December 2018, he decided to quit his job to volunteer full-time for Extinction Rebellion, managing their finances. He is married to Kate, a psychotherapist and fellow activist, and has two children, Lottie, 20, and Henry, 25.

It was the oppressively hot summer of 2018 that my lightbulb moment came. I'd been reading a research paper by the sustainability professor Jem Bendell. In short, he basically said, 'I've looked at the climate science and whatever we do now, there's the possibility we can't stop the climate crisis. The situation ahead of us is terrifying…' His words came as a bleak revelation to me. Then the IPCC report came out in October, saying we have to cut our carbon emissions by 50% by 2030 and eliminate them completely by 2050. That made the urgency hit home.

I'd been passionate about climate issues for 10 years and was already doing my bit in my personal life – flying less; eating a mainly plant-based diet after watching Cowspiracy; buying less – but I realised it wasn't enough. I began to wonder what my legacy would be for my future grandchildren, if I didn't do more. Reading the facts, I decided that fighting for climate action was the most important thing I could do in my life right now. It was like going through the stages of grief, from anger through to acceptance. At times, I was driven by my anger towards our government for not doing enough.
Pledge your support for Goal 13: Climate Action

Fighting the climate crisis
That year the global environmental movement Extinction Rebellion (XR) was founded, so I decided to leave my 20-year career in the City to volunteer for them full-time. As a pension specialist, it struck me I'd been teaching young people to save money for the next 20, 30, 40 years, with no idea what kind of world they'd be living in by then, if we don't tackle the climate crisis.
When I handed in my notice, I wrote an email to around 60 of my colleagues explaining why I was leaving. I ended up tweeting an extract of it which received 100 times more interest than my previous 12,000 tweets over the past decade!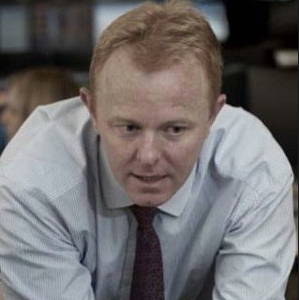 Andrew is in his 'old life' in the City

My colleagues were immensely supportive of my decision, though one gently warned me, 'If you end up getting arrested with XR you won't be able to work in the City again.' I didn't care - I wouldn't want to work for a company that didn't appreciate the importance of climate action anyway!
Luckily, my wife Kate agreed I should resign – she saw I'd been doubting the value of my job. She'd also worked in the City for many years, before retraining as a psychotherapist. I'm aware that I'm privileged to be able to give up work to focus on campaigning. It was an immense relief and I knew I was doing the right thing. My children thought it was a bit strange at first, but they're behind me now too.
Making an impact
The first time I took part in an XR protest was in November 2018 – our plan was to block the road across London's Waterloo Bridge. I'd been on anti-war marches before, but this was the first time I'd taken part in an organised act of 'civil disobedience' but the whole point is that we need to cause disruption to make our message heard.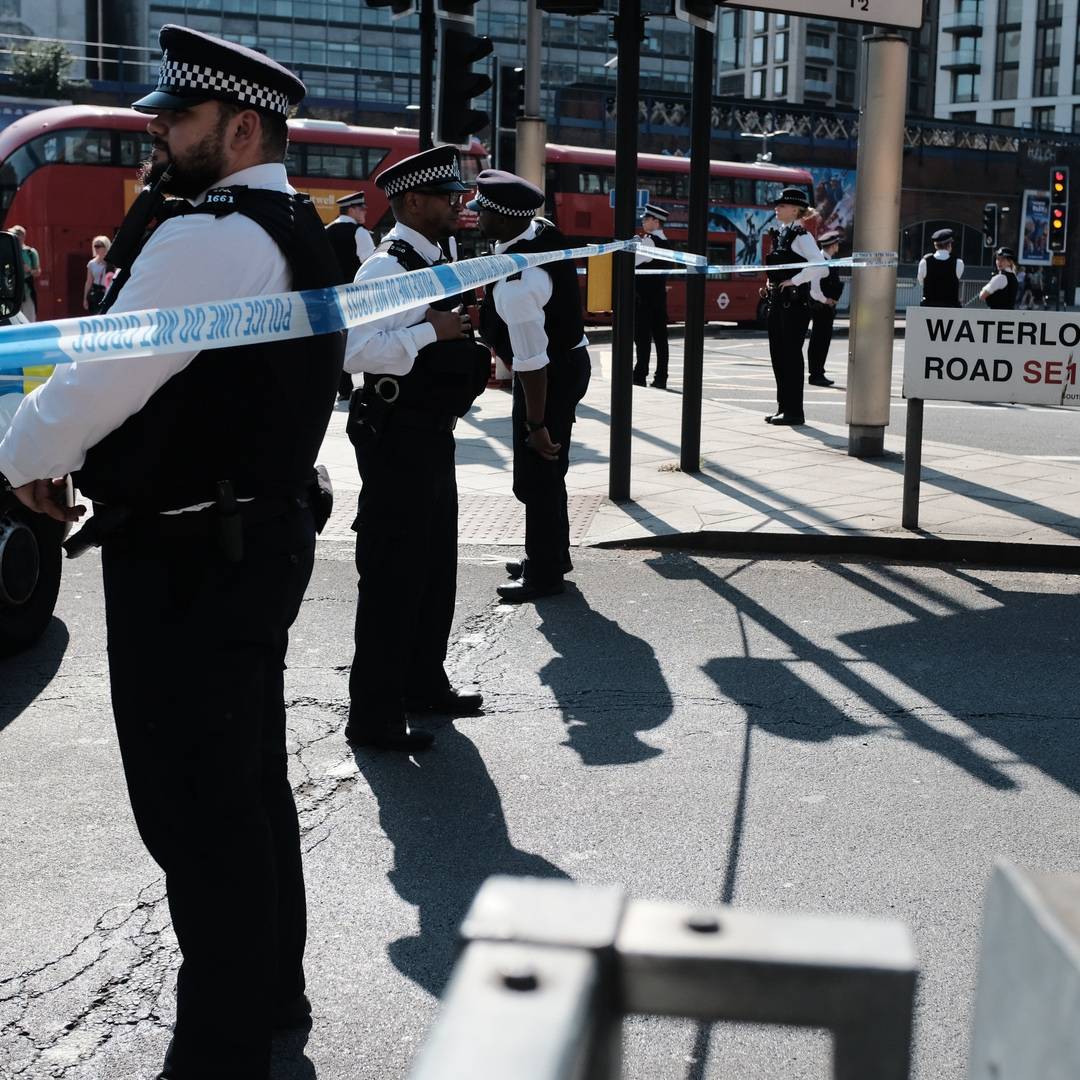 It was a sunny morning when Kate and I went down to the protest, with our dog in tow. Suddenly one guy walked out and sat down in the middle of the road with all the cars still driving to and fro around him – scary to watch! But then more and more people joined him, stepping over the barrier into the road. Kate was scared at first, but I told her not to worry. That's how it works – one or two people lead the way, then it encourages others to come forward and suddenly you're all blocking the road and the traffic has stopped! For maximum impact, we launched the same protest on all five London bridges at once.
I was there from 10am until 5pm and it felt like a joyous, empowering event to be part of. Eventually all five bridges started to march towards each other, cheering, shouting, drums and music playing, aiming to congregate in Parliament Square. It felt great to be doing something pro-active, especially as signing petitions and writing to our MP hadn't worked for 30 years.
Getting arrested
To be honest, I'm not the sort of person who doesn't follow orders when the police tell me to move! I've been a law-abiding citizen my whole life. I'm aware that for me as a white, middle-class man the relationship I have with the police is different from how some people might view them. I don't view the police as a threat to me.
The first time I was arrested was an emotional moment – it happened at another XR demonstration on Waterloo Bridge in April 2019 – known as the 'April rebellion', a 12-day series of events that got us widely noticed. Our group was messaging each other around 9pm that evening to say the police were starting to arrest people. I'd discussed the possibility with Kate beforehand and suddenly thought, 'OK, is this the moment I'm going to be arrested?' I called Kate on my mobile and told her, 'I think I'm going to do this'.
Andrew's arrest was captured on camera in the BBC documentary
The police began carrying people away, one by one and I told myself, 'OK, I know why I'm doing this'. We sat down in the road on Waterloo Bridge and I remember closing my eyes, putting my hand on my heart, as the policewoman warned me, I'd be arrested if I didn't move. She told me I could protest in Marble Arch, but I couldn't stay where I was.

About 20 of us were taken off in a police van, then put in a cell overnight. I was later found guilty of a 'Public Order' offence and fined £400. I've since been arrested twice more. I don't want to break the law, but I'm forced to because of my conscience.
The cost of climate change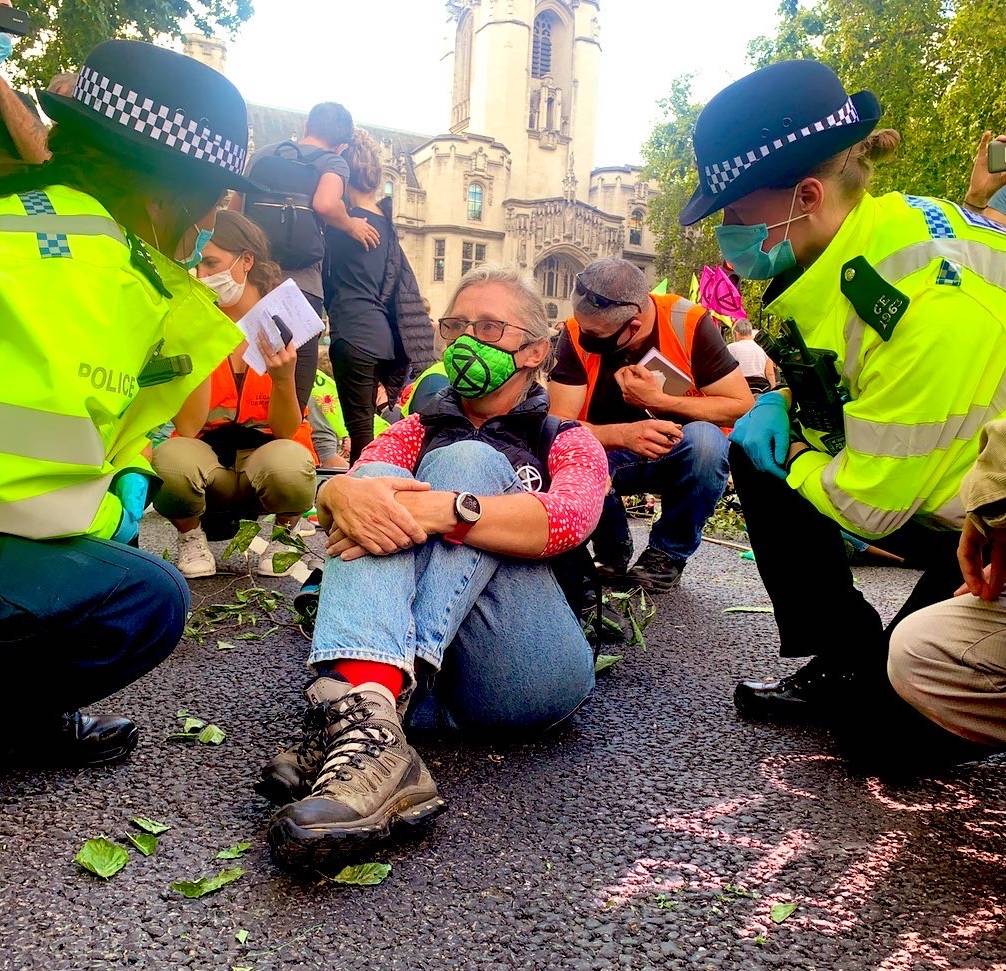 Andrew's wife Kate being recently arrested at an XR demonstration
One night over dinner Kate told me she was also prepared to be arrested for XR. There's an incredibly powerful photo of the moment it happened at a protest in September, with her wearing her XR face mask. My parents-in-law and father would rather we didn't go around getting arrested on the streets of London, but they understand our reasons.
I must point out that most XR campaigners don't want to be arrested, which is totally fine. I lead the finance team and we're very grateful to everyone who volunteers, even if that's office support behind the scenes.
As a group, of course XR regrets the public money spent on policing our protests, but we believe that's a relatively small sum, compared to the massive financial impact of climate change and the devastation that will cause across the world, for instance, with people going hungry and crop failure.
With XR, our theory is that non-violent civil disobedience is a way to get the climate crisis the attention it deserves. We're frustrated that the newspapers don't have the climate emergency on the front pages every day because everything else – war, gender rights, racism, the pandemic – will get worse if the ecological situation gets worse.
3 changes I'd like to see
1. HONESTY
The government needs to be more truthful about the extent of climate emergency.
2. WAR-TIME MOBILISATION
For our society to have a 'war-time' type mobilisation to deal with the climate crisis. We don't know all the solutions, but we have to act as if we're in an emergency right now and let that govern every decision we make.
3. A NEW PHILOSOPHY
We're now using over 1.7 times the Earth's resources every year – it's clearly unsustainable. I'd like us to find a way of leading happy, fulfilled lives that won't consume all our world's resources and leave nothing for future generations.
If you enjoyed Andrew's powerful story, read part 1 of our new series on inspiring climate campaigners below...
'I want to start a refill revolution'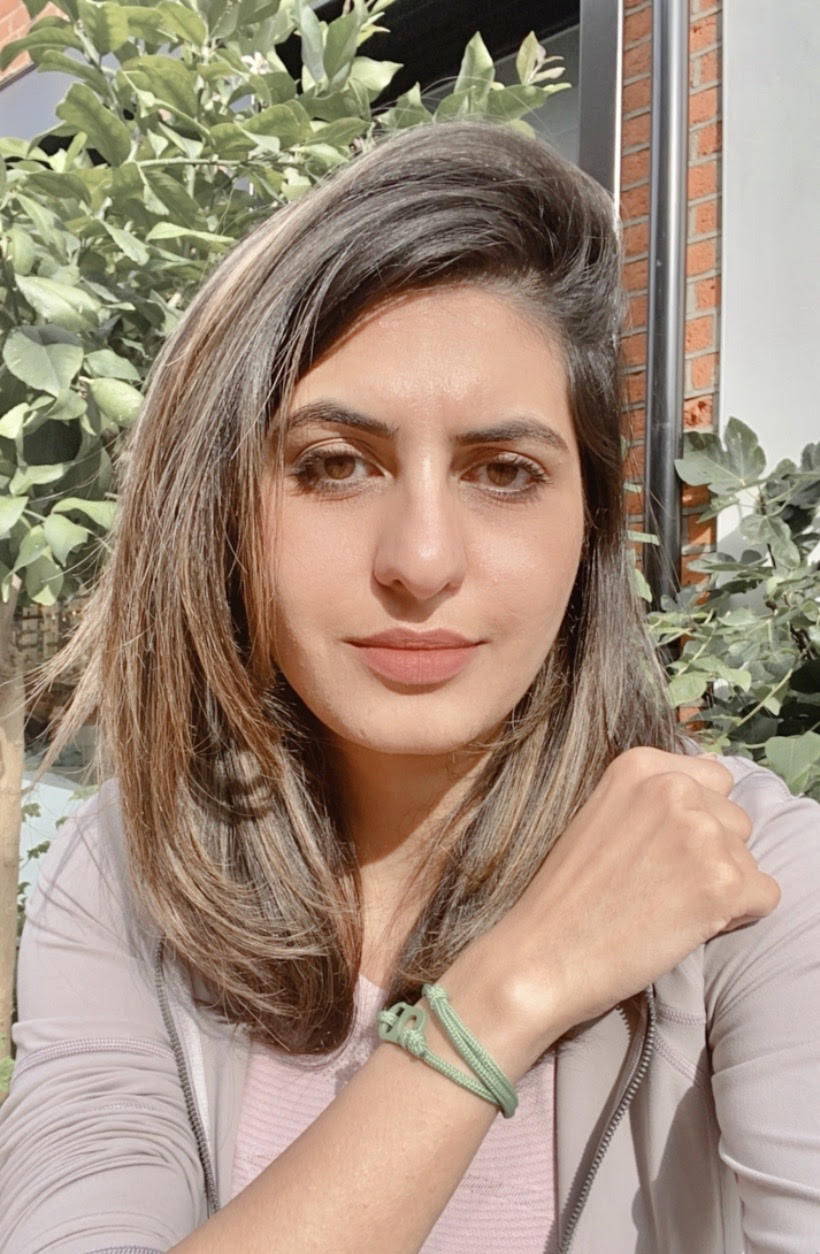 Entrepreneur Mahira Kalim, 36, founder of Spruce, a new eco-friendly cleaning range, shares her journey into a low-waste, plastic-free lifestyle. Mahira lives in London and is married with a son, aged four, and a daughter, aged 18 months.
The inspiration for Spruce first came ten years ago when both my husband and I were suffering from various health issues on and off. We re-evaluated our lifestyle and decided to cut out everything we classed as 'toxins' as part of a wider move towards 'clean' living. I was keen to purge our kitchen of all plastic products for the sake of the planet and our health. For instance, many people don't realise that plastic containers leach chemicals when you put them in the microwave.
I went on to switch to an organic diet and only using 'clean' beauty products. When I had my son in 2016, I realised I had to look at our whole family's lifestyle in a bid to become plastic-free. I fed him milk from a glass bottle when he was a baby and used bamboo bowls instead of plastic. Whenever we leave the house, he knows to take his aluminium water bottle and if we're going to a farmer's market, we'll all bring our own cutlery from home.
Fighting plastic pollution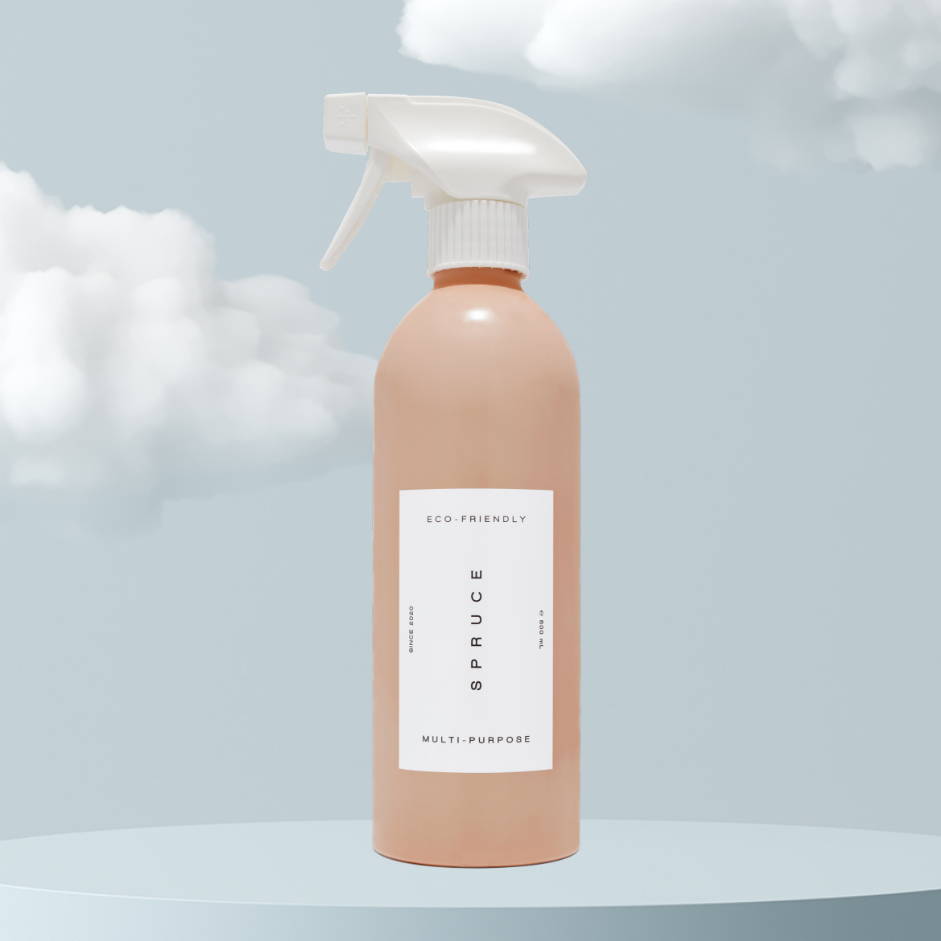 After I had my daughter last year, I took things one step further and decided to leave my job in marketing so I could have an even greater, direct impact on the environment as an entrepreneur.
In my previous role, I'd worked for major brands exploring ways to address the issue of plastic pollution and how to make their supply chains more sustainable. It was very enlightening and got me thinking about a range of possible solutions to the world's plastic-waste problem.
Despite being eco-conscious, I was still filling recycling bags with lots of plastic bottles each week from everyday items, like cleaning products, that don't come in plastic-free versions. It sparked the idea to develop my own range of eco-friendly cleaning products, Spruce, which I launched online last month. We sell reusable aluminium bottles for customers to buy once along with concentrated refill packs, which you simply add water to.
With this format, we are able to lower household single-use plastic waste and massively reduce our carbon footprint by not shipping water. Our refills weigh 140 times less than a typical 500ml cleaning spray. My aim is to move people away from single-use items and create a 'refill revolution'.
Pledge your support for Goal 13: Climate Action
A sustainable alternative
People are becoming more aware of the plastic pollution pandemic and understand that throwing everything away isn't the answer. For decades, our recycling waste has been sent to poorer countries, but they often don't have enough capabilities to manage their own country's plastic waste let alone ours too. In the UK we think we're recycling but often the waste ends up being incinerated instead, causing air pollution and further climate damage.
The packaging for Spruce refills is made of paper and fully compostable. Everything has been validated by sustainable packaging experts, who confirmed our products are low-impact with a long lifespan. We only use safe food and cosmetic-grade ingredients, along with 100% natural, organic essential oils.
Putting people and planet first
We're pending B-corporation status meaning we've made a legal commitment to put people and the planet over profit. That principle informs every decision we make.
If you buy two of our products – e.g. the multi-purpose cleaner and the bathroom cleaner - plus 12 refill packs you would save yourself buying the equivalent of 24 bottles of cleaning products. For every order we receive, we match that by removing 1kg of ocean-bound plastic waste (roughly the equivalent of another 24-25 plastic bottles) via our partner Plastic Bank.
My whole family has become passionate about leading a sustainable lifestyle – even my four-year-old son gets upset now when he sees plastic bottles lying on the street because he understands that it's bad for the environment.
I avoid buying new clothes unless I really need something and always check the label, even for my kids' clothing, to make sure it doesn't contain any hidden plastics such as acrylic, nylon etc. I've stopped buying fast fashion because if that top costs £5 it means someone somewhere in the chain isn't getting paid properly.
I've spent the past 10 years researching environmental issues and I'm still learning something new every day. My ultimate aim is for Spruce to inspire people to adopt a low-waste approach in all areas of their life.
3 changes I'd like to see
1. A REFILL REVOLUTION
For our society to move away from a convenience-driven, throw-away culture and for reusable and refillable products to become the norm.
2. A CARING MINDSET
For everyone to stop exploiting the world's resources and treating them as our property, without giving anything back to the planet.
3. CONSCIOUS CHOICES
For everyone to become conscious consumers by reading the label and asking questions about the ethical standards of the brands they choose.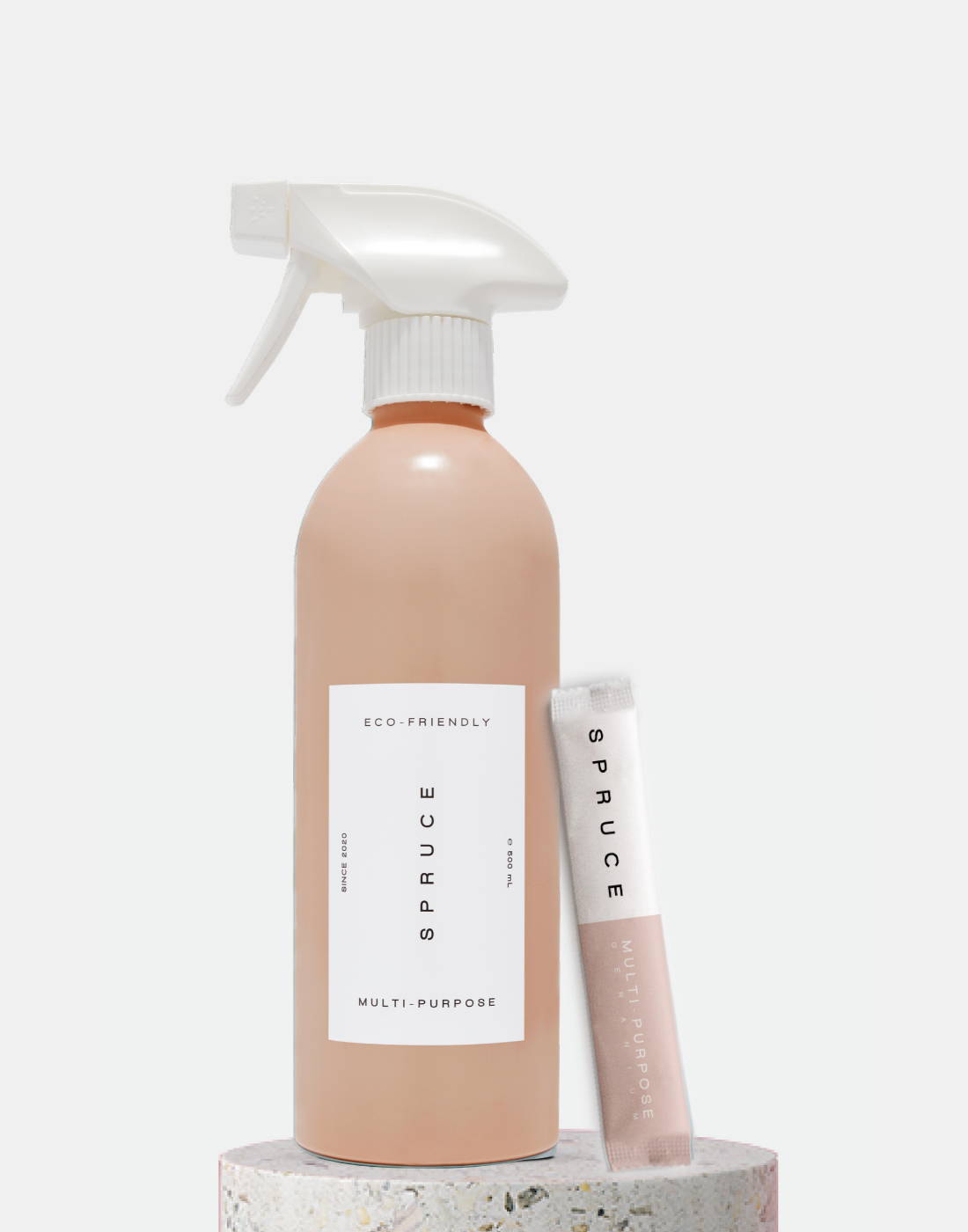 Spruce Starter kits above (including an Eternity bottle and refill pack) cost £12 each and individual refills are £3.50 each. Discount available with a regular subscription via the Spruce website.