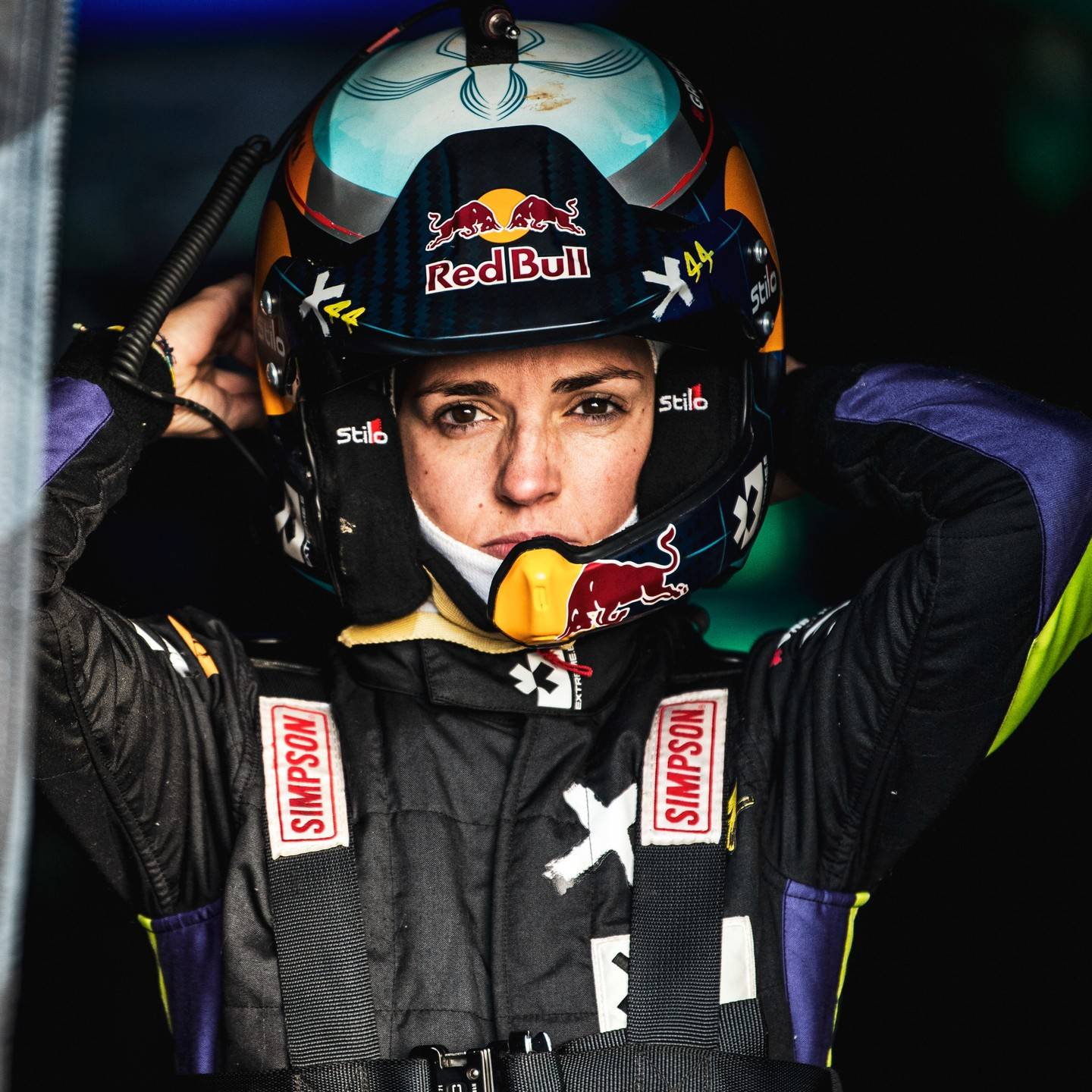 Goal 4: Quality Education
Why education, Equality And Electric Cars Go Hand-in-hand
Meet Cristina Gutiérrez, the Extreme E rally driver racing on Lewis Hamilton's Team X44
By hannah rochell
16 february 2022
What if you could champion gender equality, clean power and the climate crisis, all while enjoying an exciting off-road racing series? That's exactly the idea behind Extreme E, the electric SUV race that takes teams - which must all be made up of one male and one female driver with equal driving duties - to remote parts of the world in order to highlight the effects of the climate crisis in each location. The cars are shipped to each destination on the St Helena, which not only cuts down on carbon emissions, but also serves as a base for Extreme E's Scientific Committee, a group of leading academics from the Universities of Oxford and Cambridge that advise on the series' education and research programmes, event logistics and impact.
Now in its second year, the first stage of the race - Desert X Prix - took place in February in the Saudi Arabian desert, which faces the urgent environmental issues of desertification and plastic pollution. Teams will then compete in Sardinia, Chile, Uruguay and either Scotland or Senegal. The ten competitive teams include #TOGETHERBAND Ambassador Lewis Hamilton's Team X44, which is supporting Goal 4: Quality Education by wearing #TOGETHERBANDs for the whole series of races; Hamilton is taking a back seat for the races themselves, which will be expertly driven by Spanish driver Cristina Gutiérrez and Sébastien Loeb of France. Their inaugural season in Extreme E saw them achieve an unbeaten first place in qualifying at every race and secure a first-place podium at one of the stages, the Jurassic X Prix, and they were placed third in this season's Desert X Prix. We caught up with Cristina to find out more about planting mangroves in Senegal and how racing makes her feel calm.
What was the first car you ever drove?
The first car that I drove was my father's Ford Explorer and I think that I was six years old, so I was very little. I had always wanted to compete in racing but in Spain you need a driving licence to compete in the [racing] championship, so I needed to wait a long time.
What is it about racing cars that you love so much?
It is more about what I feel. It's strange, because I feel a lot of peace and calm when driving; it is something I have felt since I was little. So it's different really - I feel peace and a lot of calm inside the car.
What appeals to you about racing electric cars?
It's very important that motorsport takes steps to become more sustainable. And there is more environmental impact than just the cars we drive. For example, we also have to consider the emissions from the logistics side - things like car transport - so the rest of the industry will be able to learn from what we are doing and follow in our footsteps.
'Education plays a very important part in the fight to save the planet'
Extreme E also promotes gender equality - how does it feel like to be part of that?
It's incredible for me and an amazing opportunity to be part of a championship that works with female drivers in this way; to have a platform to race alongside legends like Sébastien Loeb or Carlos Sainz.
What advice would you give to women and girls that want to get into racing?
I like this question because when I started to drive I didn't have a lot of women drivers to reference. I would tell them to fight for their goals, to trust themselves and not to be frightened by comments. Today, there are many women who are role models and they can serve as an example of how to break down the barriers we have.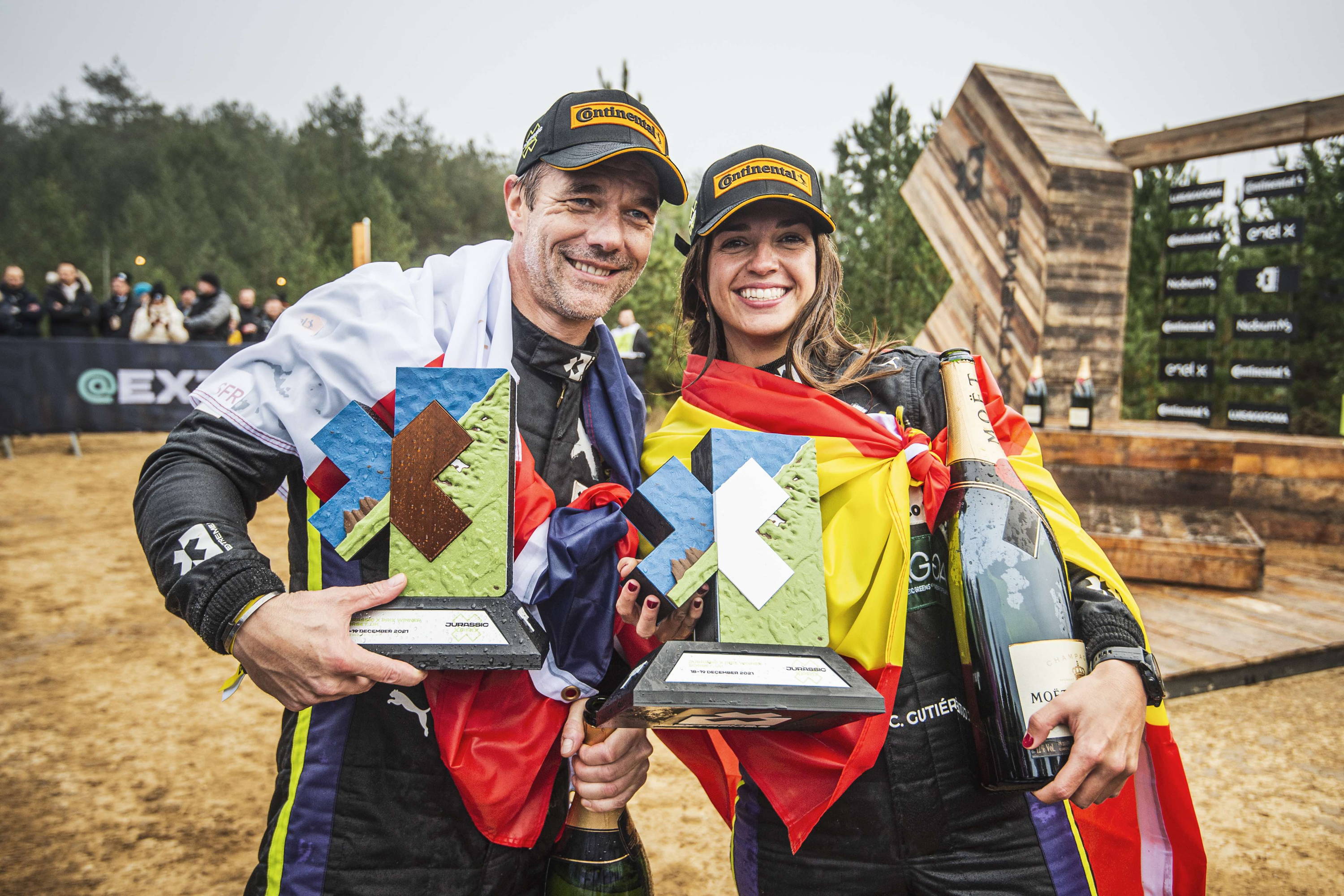 Cristina with her team mate Sébastien Loeb
Who are your racing heroes?
Of course, my teammate Sébastien Loeb because I have followed him for many years. Also, our team owner Lewis Hamilton, it's incredible to follow him in Formula 1. Between them they have 16 world championships and to be a part of their team is a dream come true. And it's important for me to have other role models outside of racing like Rafael Nadal. Not only has he been winning grand slams, but the way he conducts himself and gives back to his community is really inspiring for me. Rafael Nadal is more than a sportsman, he's a human with a lot of values and I like people who inspire me in more ways than just racing. Lewis Hamilton is another example of giving me values in other ways than driving.
What are you most looking forward to about the 2022 Extreme E season?
One of my favourite things about Extreme E is that I get to see remote parts of the world that I wouldn't otherwise be able to visit. This year we will compete in Senegal and Uruguay and we will take part in legacy programmes [community projects] in each place. The legacy programmes are an opportunity for us to give back to the places we visit, making sure that we leave them better than we found them.
Can you tell me about the community projects you took part in last year?
I really loved visiting Senegal because we visited a school that was right next to the race site and we talked to the kids about the planet. Also, we worked together with the community to plant mangroves, which was a very nice experience. I think it's important to show the problems that exist in these places because often people aren't aware of them.
Team X44 supports SDG 4: Quality Education - why is it important to you, personally?
I believe that education is what gives young people opportunities and without it, it becomes very difficult to succeed. I am a driver, but I also work as a dentist, so I spent a lot of time on my studies and it really made me who I am today. I know that I am so lucky to have the education that I did, but there are many children around the world who don't have that. I also believe that education plays a very important part in the fight to save the planet. People - not just children - need to know what is happening and how they can help.
And finally, do you drive an electric car in your day-to-day life?
I'm not lucky enough to have an electric car yet but I would love to! I think it's a step that we must all take.
100% of profits from the sales of #TOGETHER products go to charities that advance the Sustainable Development Goals. Find out more here.