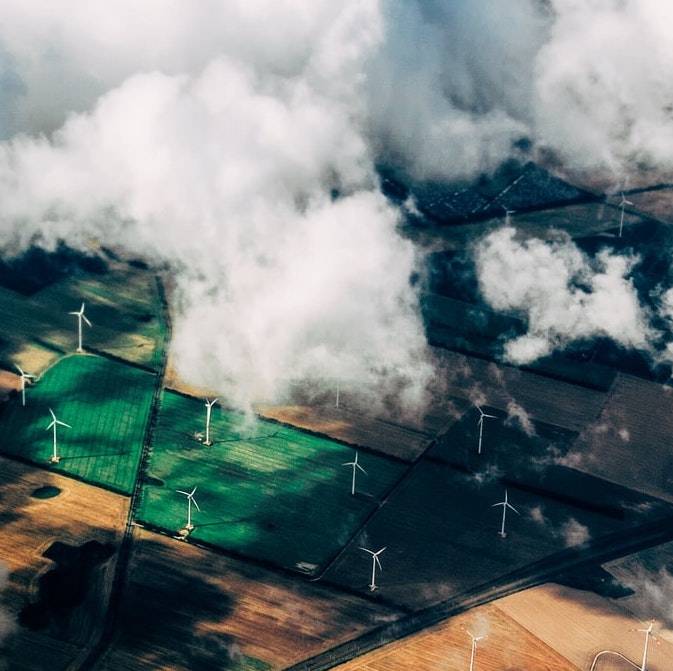 Goal 7: Affordable and Clean Energy
The brilliant innovators working towards Affordable and Clean Energy
From trapping microplastics to building schools using 3D printers, meet the incredible businesses helping create a greener future
By jessica jurkschat
22 april 2021
At #TOGETHERBAND, we're constantly striving to do more for our planet. From upcycling ocean plastic to create our bands to planting trees for every #TOGETHERBAND x Ecosia product sold, sustainability is at the heart of everything we do. Luckily, we're not alone. More and more businesses are also recognising the importance of sustainable practices and entrepreneurs are thinking outside the box in how to make the world a better place.
In part two of our special series, we've rounded up the brilliant brains who are working towards Goal 7: Affordable and Clean Energy. These whizz-kids are trapping microplastics, building schools using 3D printers and mining cryptocurrency using electricity produced with gas that would otherwise be wasted, just to name a few.
The microplastic campaigners
Fionn Ferreira, 20
Founder, Fionn
Fionn Ferreira is a 20-year-old student, scientist and anti-plastic activist. He's the founder and CEO of Fionn & Co., a company dedicated to removing microplastics from water. In 2019 he won the Google Science Fair with a new way to remove microplastics from water using oil and magnetic powder. Now he is working with engineers to scale up his invention.
Isabella Palmgren, 29
Founder, Mimbly
The Sweden-based founder created Mimbox, a patented water recycling device that connects to your washing machine and saves up to 90% of water and 30% of energy, whilst also preventing pesky microplastics from being released into the water system.
Siobhan Anderson, 26; Hanson Cheng, 28 and Hugo Richardson, 25
Co-founders, The Tyre Collective
We all know that passenger vehicles are major contributors to pollution, but one of the most surprising facts is that the second-largest source of microplastics is car tyres. They wear out every time we brake, accelerate or turn a corner and the tiny particles become airborne, affecting our lungs. More are swept into our waterways and oceans, eventually entering our food chain. That's where Cheng, Richardson and Anderson come in. Their company, Tyre Collective has developed a device that attaches to a car and collects the plastic and rubber microparticles.
The eco-friendly builders
Simon Klint Bergh, 29
Co-founder, COBOD
Bergh co-founded COBOD International in 2017, a Modular 3D Construction Printer that can produce buildings and building structures. These printers have been used to build schools in Africa, multi-storey family housing in Germany and even wind turbine towers. In 2019, the company produced and delivered the largest 3D printer in the world to Saudi Arabia.
Mihai Toader-Pasti, 29
Co-founder, Efden
Buildings are one of the world's biggest polluters, but EFdeN is looking to change that by designing more sustainable buildings and training the next generation of builders. Since the Romanian NGO was founded in 2013, the company has raised over £2.8 million to train students in sustainable building through solar decathlons, sustainable city prototypes and more. Additionally, Mihai has worked with the Romanian government to find solutions to make existing structures more environmentally friendly.
Elizabeth Gilligan, 29
Co-founder, Material Evolution
Gilligan is the co-founder of Material Evolution, which has developed 'algorithmic concrete'. The startup uses technology to transform the chemistry of the concrete material so that it can ideally fit any application that traditional concrete is used in. As a result, the 'smart' concrete is ten times stronger and five times more durable than existing concrete. Not to mention the product reduces the carbon footprint of production by 85%.
Amaury Hayat, 28
Assistant Professor, École Des Ponts Paristech
Amaury Hayat is an assistant professor at École des Ponts ParisTech. His research links mathematical theory with real life, and includes information on safer navigation of riverside cities and how to reduce vehicle CO2 emissions.
Charlotte Vogt, 29
Principal Investigator, Technion
Charlotte Vogt is a researcher who studies catalytic reactions that can help prevent climate change. She leads a research laboratory at The Technion, Israel Institute of Technology, to study CO2 reduction.
The clean energy advocates
Murray Schofield, 29
Head Of Battery Products, Arrival
Murray Schofield leads the battery group at Arrival, a UK-based electric vehicle start-up. From building the team to designing, testing and battery production, he is responsible for all battery products within the company.
Sergii Gerasymovych, 29
Co-founder, EZ Blockchain
Gerasymovych is the Co-founder and CEO of EZ Blockchain, which helps oil and gas producers utilise what would otherwise be wasted gas to produce electricity used to mine cryptocurrency. By doing so, they reduce emissions and generate revenue at the same time.
Sascha Koppe, 28

General Manager Europe, Sonnen
Sascha Koppe is the current Europe general manager at Sonnen, a renewable energy storage company recently acquired by Shell. Sonnen manufactures batteries for homes and buildings that are capable of storing the excess power generated by solar energy to serve as back-up power at other times.
David Meszaros, 29
Founder, Smarttkas
Meszaros is the founder of SMARTKAS, an agricultural technology business creating a new strategy for improving crop yields. Utilising AI, drones and clean energy, the company develops greenhouses and enables a pesticide-free production line. The Amsterdam-based business has already signed contracts with Royal families from Dubai, Sheiks and Princes from Saudi Arabia.
Helen Watts, 26
Senior Director, Student Energy
Watts is the senior director of global partnerships at Student Energy, a global youth-led organisation that empowers young people to accelerate the sustainable energy transition through a variety of initiatives.
View Forbes' full list of Europe's 30-under-30 here.
100% of profits from the sales of #TOGETHER products go to charities that advance the Sustainable Development Goals. Find out more here.