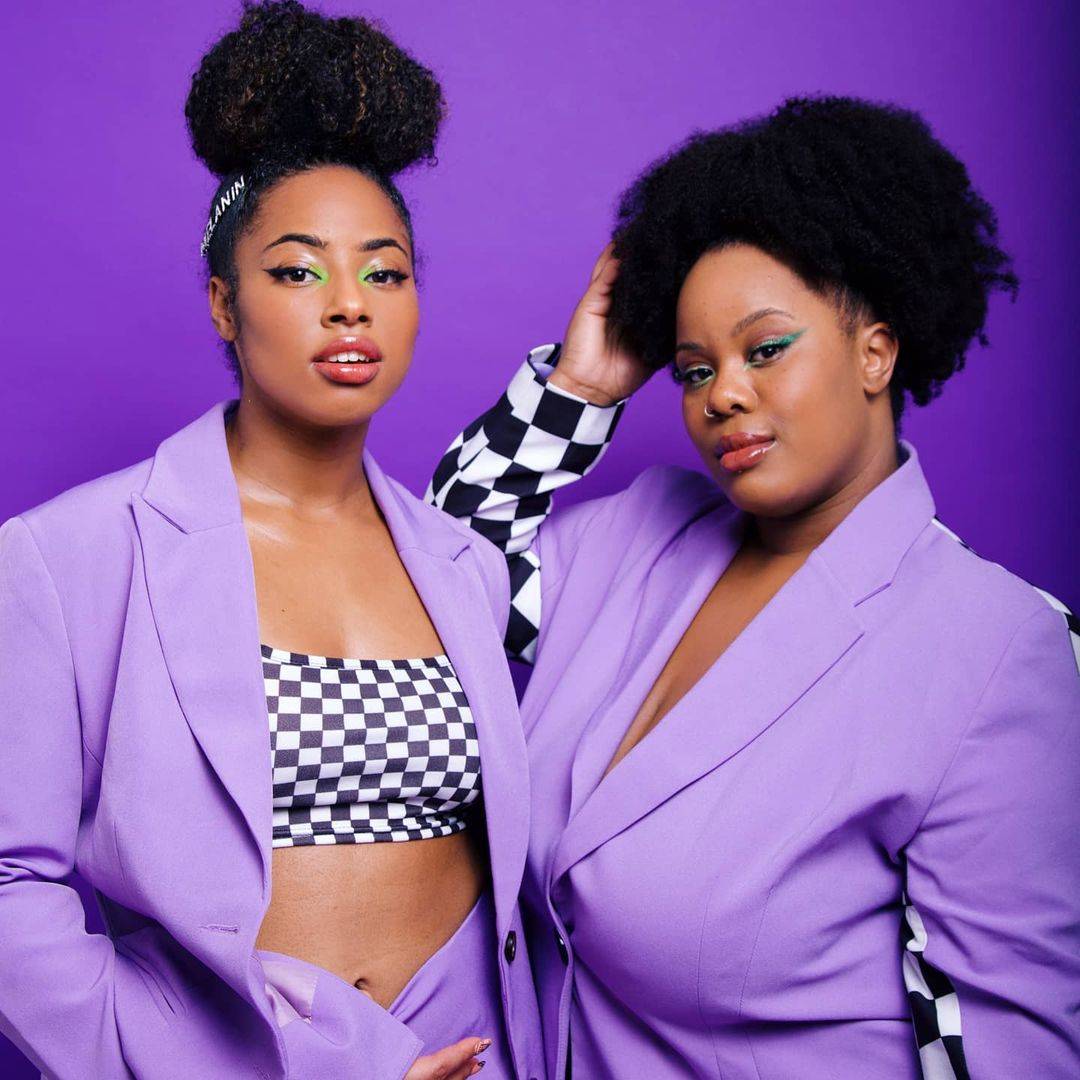 Image: Jay-Ann Lopez
and Trina Nicole @curlture
Goal 10: Reduced Inequalities
Frotober: Celebrating the afro
8 inspiring women shining the spotlight on natural hair
By Delphi bouchier hayes
1 october 2021
In 2021, we are still reading stories of Black children being sent home, excluded and humiliated for their natural hair. Black women are denied jobs. This summer, at the Tokyo Olympics, the International Swimming Federation banned the use of afro swimming caps. Hair discrimination is a real issue. Words like 'provocative', 'distracting', and 'unruly' continue to plague descriptions of Black hair. In fact, 93% of Black people in the UK have experienced hair discrimination in the form of microaggressions. That's why this Black History Month #FrOtober is back. And it is set to be bigger, better, and curlier than ever.
The 31-day campaign focuses on celebrating the natural hairstyles of Black and mixed-race people. It is a call to end #hairdiscrimination and encourage women to celebrate their natural hair. So with that in mind, here's a selection of just some of the women who dedicate their time to celebrating their hair and sharing their journey for us all to watch and learn from.
Emma Dabiri published Don't Touch My Hair in 2019 - the book which discusses slavery, cultural appropriation and decolonisation - all via hair. Her argument that Black women's hair is political pervades her book, as does her sense of pride in the beauty of her hair. Indeed, Dabiri explains, 'Over time, I moved away from tolerating my hair to enjoying it, to loving it.' Two years ago, Dabiri also started a petition to amend the 2010 Equality Act to include explicit protection for afro hair. The petition has received over 80,000 signatures, yet hair remains excluded, revealing the cultural bias at play in the law. Sign it here.
Demi Colleen @demicolleen
In July of this year, Demi Colleen went into Boots to find that most products for Black hair were not on the shelves. They had been replaced with 'dummy' products that instructed customers to request the real products at the till, while others had anti-theft security tags stuck on them. The post unfolded the frustrating stereotype that Black people are more likely to be criminals. She has also used her platform to speak about cultural appropriation of Black hairstyles. 'It is completely arrogant to take from a culture your own ancestors oppressed, who created a system that you still benefit from, you are all completely wild and have no one to tell you.'
Stephanie Yeboah @stephanieyeboah
With her various hairstyling and maintenance videos, blogger and author Stephanie Yeboah makes content that teaches you something while making you smile. As an advocate of self-love, Yeboah encourages Black women to constantly love and celebrate their hair in all its forms. Be 'confident' and 'unapologetic', she says, it's a 'liberating feeling'. But, she is not afraid to expose her own experiences of prejudice. 'As a child, I remember how alienating and othering it was when other kids would pull my braids and call my hair "dirty".'
Nathalie Emmanuel @nathalieemmanuel
As a #TOGETHERBAND ambassador for Goal 10: Reduced Inequalities, Nathalie Emmanuel is an active campaigner for issues surrounding racial bias, particularly within the TV and film industry. The Game of Thrones star is joining this year's #FrOtober campaign to understand and stand against natural hair prejudice, something which she herself has experienced. 'I have so many stories', says Emmanuel. 'Once on a job, they made me straighten my hair because there was another mixed-race woman actor and I was told no one would be able to tell us apart.'
Blogger, creator, and campaigner Zina Alfa has a passion for afro hair being respected and being seen as equal. Earlier this year she set up ub hair, to help create a society where managing different types of hair was easy and accessible to all. She also started a petition to ban hair discrimination in the UK, which has almost 100,000 signatures. But Alfa's activism does not stop here. She is just one of the talented activists behind the hugely successful Halo Collective campaign – an alliance of organisations and individuals working to create a future without hair discrimination. The group calls on schools and businesses to adopt the Halo Code, a pledge that promises members of the Black community that they have the freedom to wear all afro-hairstyles without judgment. Her passion comes from the trauma Alfa attached to her hair growing up. Aged 12, she remembers being told her braids were 'disgusting' and against 'school policy'.
Simone Williams @simonerellbess
Simone Williams' Guinness World Record for the largest Afro speaks volumes to her commitment to ending natural hair bias. Her hair has a circumference of nearly 1.5m! That is 4'9 of just free-flowing hair. She initially decided to grow out her hair to save money after leaving college and she hasn't turned back since. Williams' hair is something she is proud of, rightly so. For her, 'natural hair symbolises beauty. Also acceptance.' One quick scroll through her feed and you are captivated by the beautiful and unbreakable bond Simone has with her hair.
Jay and Trina @curltureuk
Founded by Jay and Trina, Curlture is a platform to celebrate Black culture and most importantly hair, hair and more hair. As one of the first UK-based pages celebrating natural hair, followers should expect lots of innovative hairstyles, product advice and sneaky tips, as well as a sprinkling of skincare and travel content. Birthed out of their desire for greater representation of Black women and their natural hair, the pair are passionate about rejecting straight hair as the epitome of beauty. 'Whether you wear it out, up or wrapped - never feel ashamed to flaunt what's naturally yours.'
Frédérique Harrel @freddieharrel
Frédérique Harrel is a London-based fashion blogger and proud owner of RadSwan, the conscious beauty brand, which aims to restore Black women's faith in synthetic wigs. Her constant smile and bright sense of confidence make it surprising to hear that she has not always been proud of her natural hair. As she entered the world of finance in her 20s, she felt that she 'had to wear a weave,' she says. Eventually, after leaving her job in banking she learnt to love experimenting with her hair again and she encourages her followers to do the same. 'Hair is where you get to be loud,' she says, 'where you can express your multiplicity.' From confidence workshops to adorable snaps of her two sons, Freddie will be a refreshing addition to your feed this #FrOtober.