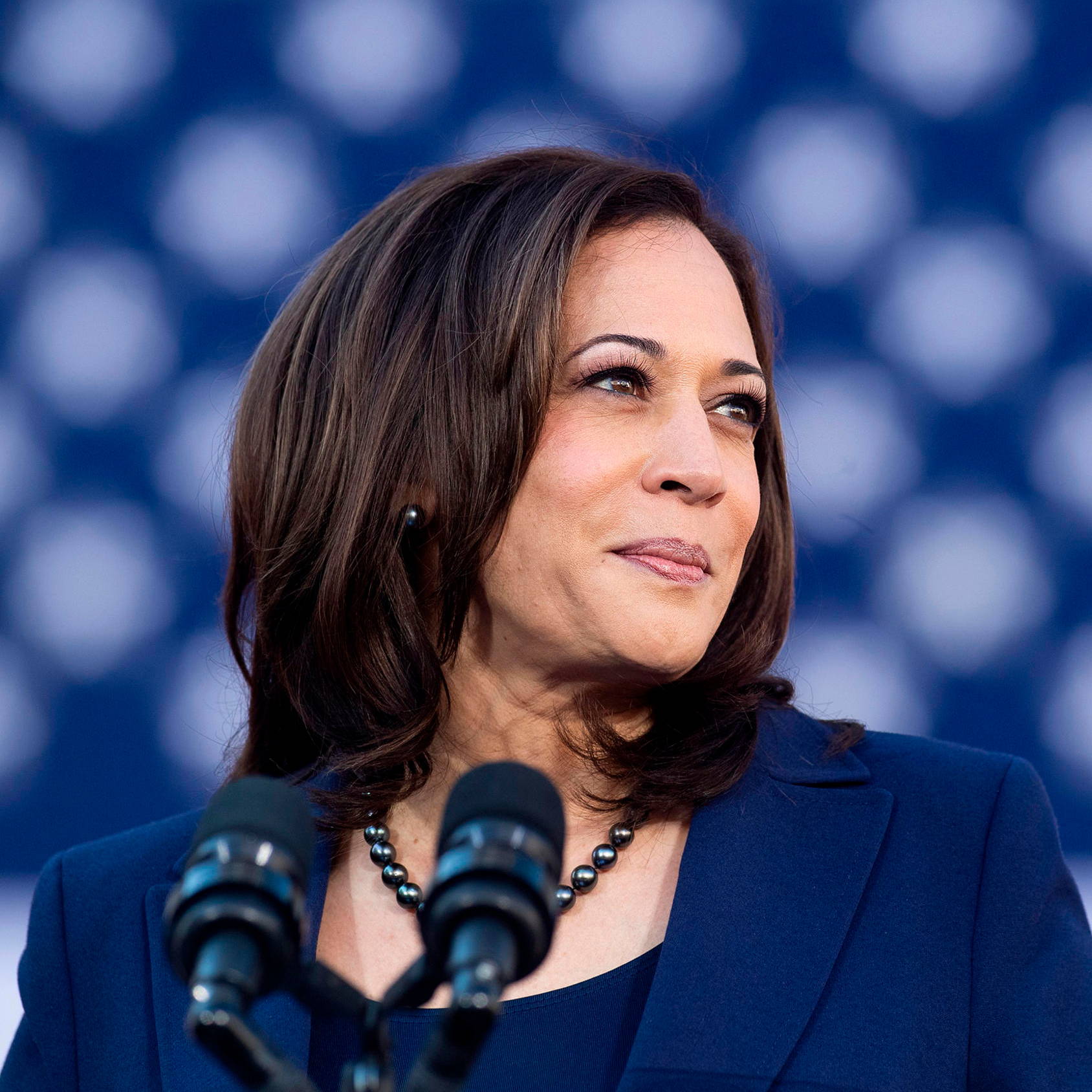 How Kamala Harris Is Making History (And Not For The First Time)
Everything you need to know about the Vice President
By hannah rochell
20 january 2021
'While I may be the first woman in this office, I won't be the last. Because every little girl watching tonight sees that this is a country of possibilities.'
These words from Vice President Kamala Harris resonated with women and girls all over the world in November as she became the first woman, the first African-American and the first person of South Asian descent to take the post in the White House. But this isn't the first time this trailblazer has broken barriers.
Here's everything you need to know about one of the most inspirational women in the world.
Her mother Shyamala Gopalan was south Indian, and after studying at the University of Delhi came to the U.S. to take a doctorate in endocrinology at the University of California, Berkeley. Here, she became involved in the American civil rights movement where she met a Jamaican immigrant, Donald Harris. When they married it was a bold move for Shyamala, whose family were expecting her to return to India after her studies for an arranged marriage.
She paid tribute to her mother in her victory speech, saying 'Shyamala Gopalan Harris, who is always in our hearts. When she came here from India at the age of 19, maybe she didn't quite imagine this moment. But she believed so deeply in an America where a moment like this is possible. So, I'm thinking about her and about the generations of women — Black women. Asian, White, Latina, and Native American women throughout our nation's history who have paved the way for this moment tonight.'
Her full name is Kamala Devi Harris, and is derived from Hindu mythology, which celebrates goddesses and strong women. In Sanskrit, Kamalā means lotus; it is also a name for Lakshmi, the Hindu goddess of wealth and good fortune. Devi is a general term used to describe a goddess in Hinduism. The goddess theme continued with the name of her younger sister, Maya Lakshmi Harris, who ran Kamala's presidential campaign in 2019 before she dropped out of the race to support Joe Biden.
Fighting for justice was ingrained in Kamala Harris from an early age. She has been quoted as saying she grew up with 'a stroller's eye view of the civil rights movement', referring to the fact that her parents would take her to demonstrations and rallies when she was a toddler growing up in the Bay Area of San Francisco.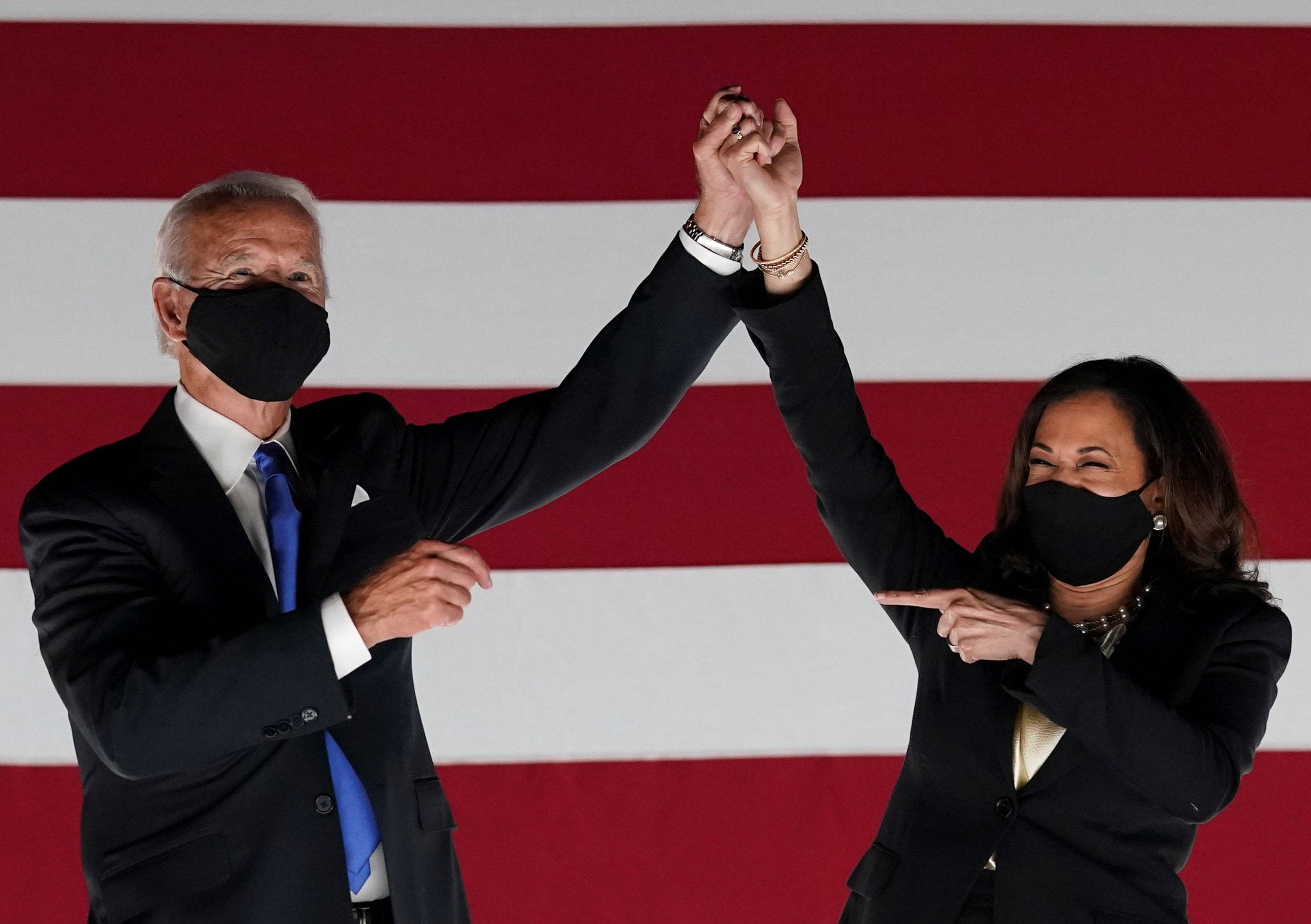 President Joe Biden and Vice President Kamala Harris celebrate their win
Kamala is married to Doug Emhoff, an entertainment litigator. He is set to become the first Second Gentleman of the United States, and the first Jewish spouse of a president or vice president. Kamala is step-mother to Doug's two children from his first marriage, Cole and Ella, who are named after the jazz legends John Coltrane and Ella Fitzgerald.
In 2017, she became the second African-American woman to serve in the senate, and the first person of South Asian descent to serve, when she became a Democratic senator for California. No stranger to firsts, as District Attorney of San Francisco she was the first woman to hold the post in 2004, and when she became Attorney General of California in 2011 she was the first woman, the first African-American and the first person of South Asian descent to do so.
While she was District Attorney, Kamala Harris and California attorney general Jerry Brown both opposed Prop 8 - a constitutional amendment passed by Californian voters in 2008 that made "only marriages between a man and a woman" valid. Once elected to Attorney General herself in 2011, she campaigned successfully for same-sex marriages to be reinstated in the state of California. She has also helped to pass legislation to protect people against hate crimes.
Back in November, she wasted no time in updating her Twitter bio to: 'Vice President-Elect of the United States. Senator, Wife, Momala, Auntie. Fighting for the people. She/her.' By adding her pronouns to the end of her bio, Harris is engaging in a simple act of solidarity with the trans community, normalising the sharing of pronouns without putting the onus on trans people.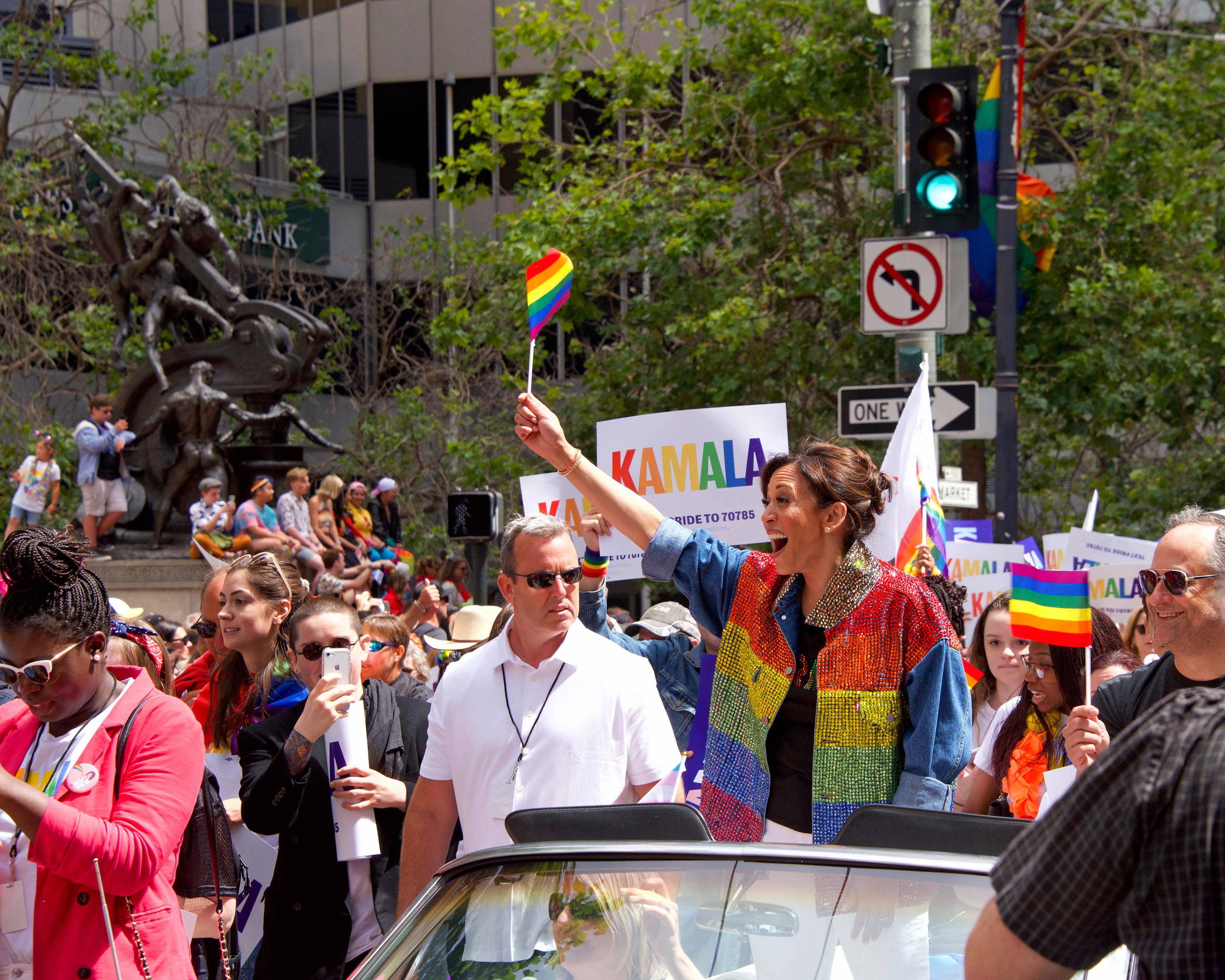 Kamala Harris attends a Pride celebration
Kamala Harris's ancestral village in India where her grandfather lived is called Thulasendrapuram, home to just 350 people. On hearing the news that she had been elected as Vice President of the United States, locals celebrated by setting off firecrackers, dancing and writing messages of congratulations on pavements. 'Kamala Harris is the daughter of our village', said one village councillor.
Meanwhile across the globe the Biden-Harris win was celebrated with fireworks in Edinburgh, church bells ringing in Germany and socially distanced street parties in Ireland.
Kamala Harris's appointment as Vice President offers hope to the next generation. As she said in her victory speech:
'To the children of our country, regardless of your gender, our country has sent you a clear message: Dream with ambition, lead with conviction, and see yourself in a way that others might not see you, simply because they've never seen it before. And we will applaud you every step of the way.'
This article was originally published in November 2020 and has been updated