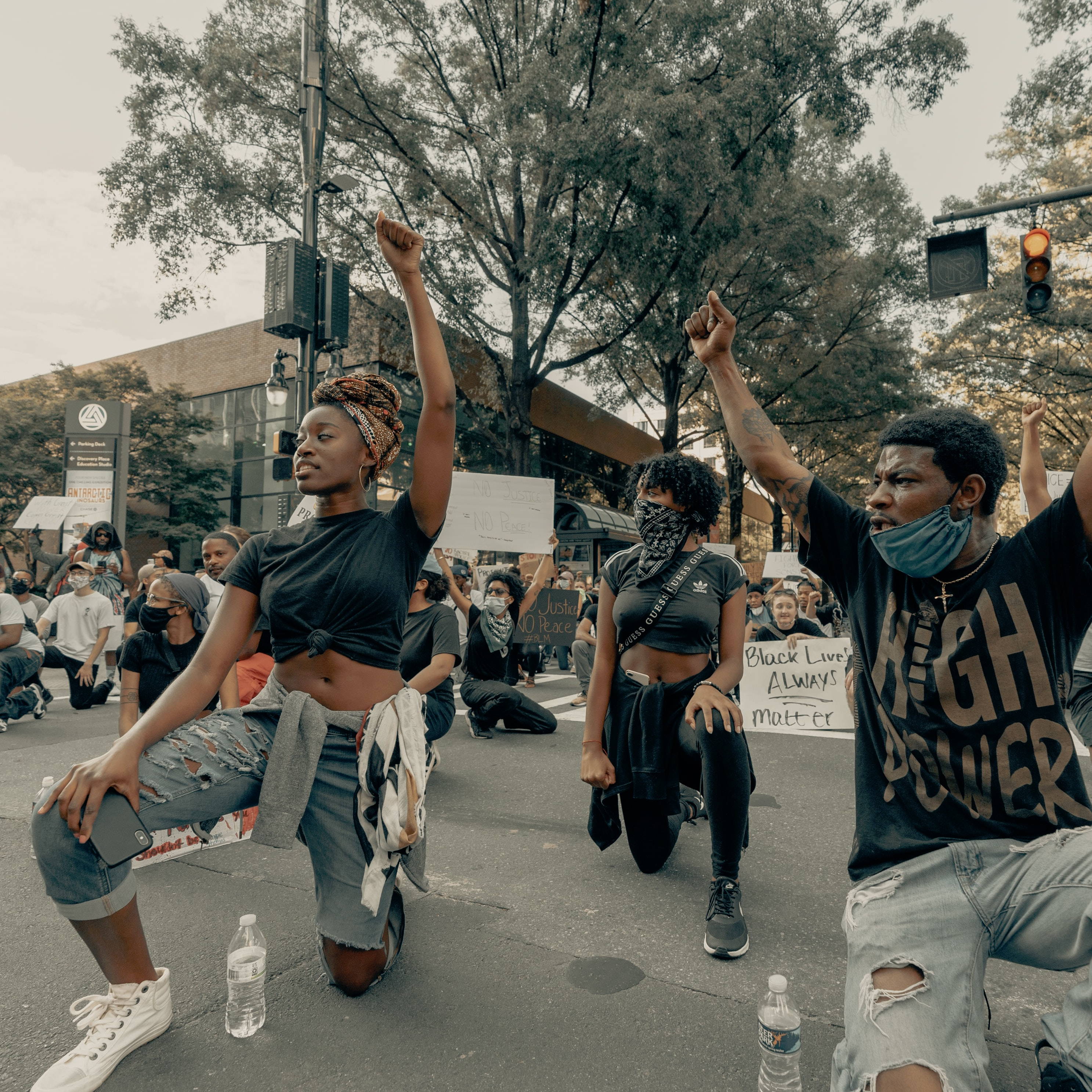 Goal 10: Reduced Inequalities
Practical Ways To Be Anti-racist
How to fight for racial equality
By hannah rochell
1 OCTOBER 2021
It shouldn't have taken the murder of George Floyd at the hands of a Minneapolis police officer to achieve the outpouring of support for anti-racism and racial justice we now see all over social media and elsewhere. So please remember that this is an ongoing fight.
Going forward, we must continue to do the work in our own lives. Challenge your workplace to do better. Turn your back on brands that are using race as tokenism right now while still exploiting their workers and not using Black faces in their campaigns. Take what you learn into everyday conversations with friends and family, even if that's awkward or difficult. If you're eager to learn (or unlearn unconscious white bias), to ally, and stand up to racism, here are some practical resources to refer to.
Protest in person if you can and feel safe doing so, or do it virtually by signing petitions. But either way, let your voice count and be heard.
If you are taking part in protests remember to exercise extra precautions because of the pandemic - equip yourself with a face mask, gloves and hand sanitiser, and be sure to stay 2m apart from other demonstrators. If you think you could have been exposed to COVID-19 or have symptoms, stay away and make your contribution a different way.
The Justice for George Floyd petition on change.org is the most signed in history. The officers in question have now been charged, but you can still add your name to it to keep a spotlight on ensuring that there is a fair judicial process for the conviction of George's killers.
Breonna Taylor, a 26 year-old emergency medical technician who was working at two hospitals during the pandemic, was shot dead by police in her Kentucky home on March 13th. The officers in questions have still not been charged. Sign this petition to demand justice for her.
If you can afford to use financial privilege, put your hand in your pocket and donate to these funds that really need your support to continue the amazing work that they do.
Donating to Black Lives Matter will help with the global movement's ongoing work to end state-sanctioned violence, liberate black people and end white supremacy forever.
In the UK you can donate to Stand Up To Racism UK.
People in the US are putting their lives on the line to protest. Help them by donating to one of numerous bail funds set up in the US to help protestors by the Community Justice Exchange.
There is so much reading material available to learn more about black history, being anti-racist, and dismantling white supremacy. Try to find a copy from an independent bookstore if you can. If you already have a copy, lend it to friends and family when you have finished reading.
Manchester United and England Footballer Marcus Rashford has used his platform to campaign for race and social issues, and now, his work is set to be included in the GCSE media studies course.
Although some schools are exemplary nowadays, there is a worrying lack of education on matters regarding race and Black history. Make up for what you didn't learn as a kid by educating yourself now, and campaigning for a better education for today's younger generation.
Sign the petition that calls on the British Department of Education to add Why I'm No Longer Talking To White People About Race by Reni Eddo-Lodge to the GCSE curriculum in the UK.
Use Layla F Saad's book Me and White Supremacy: A 28-Day Challenge to Combat Racism, Change the World and Become a Good Ancestor - which started life as a downloadable workbook - to understand white privilege and to stop (unconsciously or otherwise) inflicting damage on Black, indigenous and people of colour.
Read articles by Rachel Cargle, like this one which explains really clearly why no-one should be saying "All Lives Matter".
We all learn and retain information in different ways, and if reading isn't the best way for you, it's no excuse to not do the work. Try listening to a podcast instead.
1619. From the New York Times, this starts with the story of the White Lion, a ship that carried the first enslaved Africans to the English colony of Virginia in what we now call America, and continues to examine the Black history of the U.S.A.
Intersectionality Matters! Brought to you by Kimberlé Crenshaw, a scholar and civil rights activist, this podcast covers contemporary civil rights and race theory.
About Race with Reni Eddo-Lodge is a podcast series with special guests from the author of the best-selling book Why I'm No Longer Talking To White People About Race.
Documentaries and films are one of the most powerful tools to understand and empathise, and that's never more true than when learning about oppression. Add these to your watch-list.
13th. This 2016 Academy Award-nominated documentary by Ava DuVernay, whose drama series When They See Us is also a must-watch, explores how the US society is built on white supremacy. Available on Netflix.
The Black Power Mixtape 1967-75. A documentary examining the Black Power movement in the US, featuring archive footage of Angela Davis, Stokely Carmichael, Bobby Seale and Abiodun Oyewole. You can watch it on NOWNESS.
I Am Not Your Negro. This critically acclaimed documentary, based on the unfinished works of the novelist, playwright and activist James Baldwin, joins the dots between the Civil Rights movement and #BlackLivesMatter. Available on Google Play.
There will always be more to learn. More to read. Someone else's voice to hear. Commit yourself to continuing to be anti-racist and speaking out on issues regarding racial injustice. If your activism ends this week, then what was it really worth?
This article was originally published in June 2020 and has been updated.
100% of profits from the sales of #TOGETHER products go to charities that advance the Sustainable Development Goals. Find out more here.