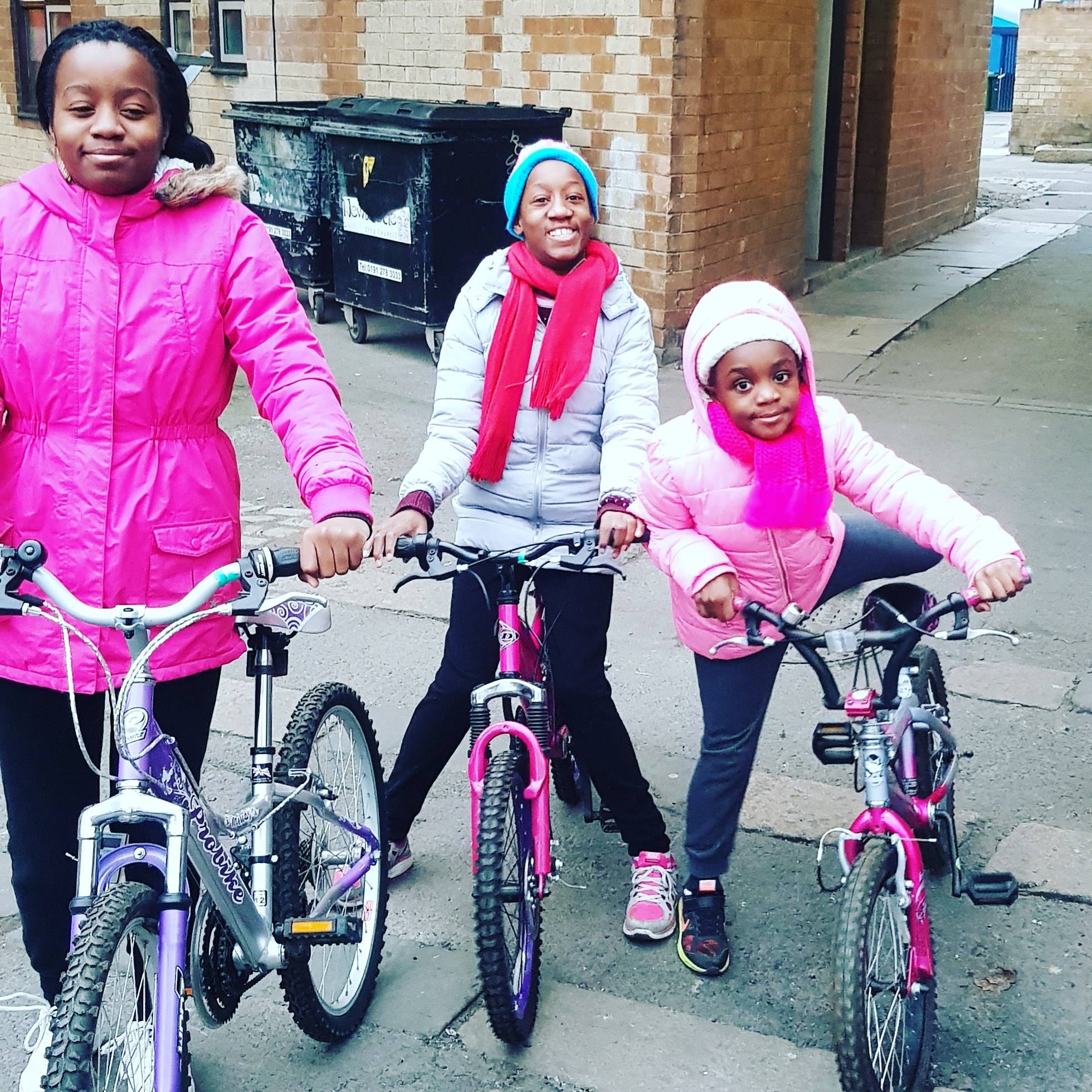 Recipients of the community bikes
Goal 11: Sustainable Cities and Communities
Why We Support: Recyke Y'Bike
If you can't afford train or bus fares, being given a bike can be life-changing. That's why we're helping the brilliant UK charity Recyke Y'Bike
By Emma Elms
7 December 2021
Recyke Y'Bike is a community bike recycling charity based in the aptly named district of Byker, Newcastle. This clever initiative was set up in 2006 by former primary school teacher Dorothy Claw and provides free, refurbished bikes to local people in need, especially refugees or those seeking asylum, who often end up walking for several miles a day, unable to afford travel fares. The charity also offers volunteering opportunities, as well as training in bike maintenance so that more people learn the skills to keep their bike in good condition. 'Bikes are a brilliant way to address a variety of health and social issues,' enthuses Sara Newson, General Manager of Recyke Y'Bike. 'Cycling is proven to have beneficial effects on physical and mental health, plus it's an affordable and environmentally-friendly form of transport.'
Dorothy Claw set up Recyke Y'Bike 15 years ago, after working for a refugee charity and discovering that in Newcastle, many refugees and people seeking asylum are housed on the opposite side of the city from where they need to register each week for asylum. 'It's an arduous 30-mile round trip and many people have no choice but to make the journey on foot each week because metro fares are so expensive,' explains Sara.
Nearly 15 million bikes are discarded by their owners a year, but roughly two-thirds of those could be reused and saved from landfill. 'In Newcastle when students finish the term at Uni, we noticed they often abandon their bikes around the city, leaving them chained up, or weirdly people catch a train and just leave their bike at the station and never come back for it. With all these bikes being left around and lots of people needing affordable transport, Dorothy put the two together and Recyke Y'Bike was born.'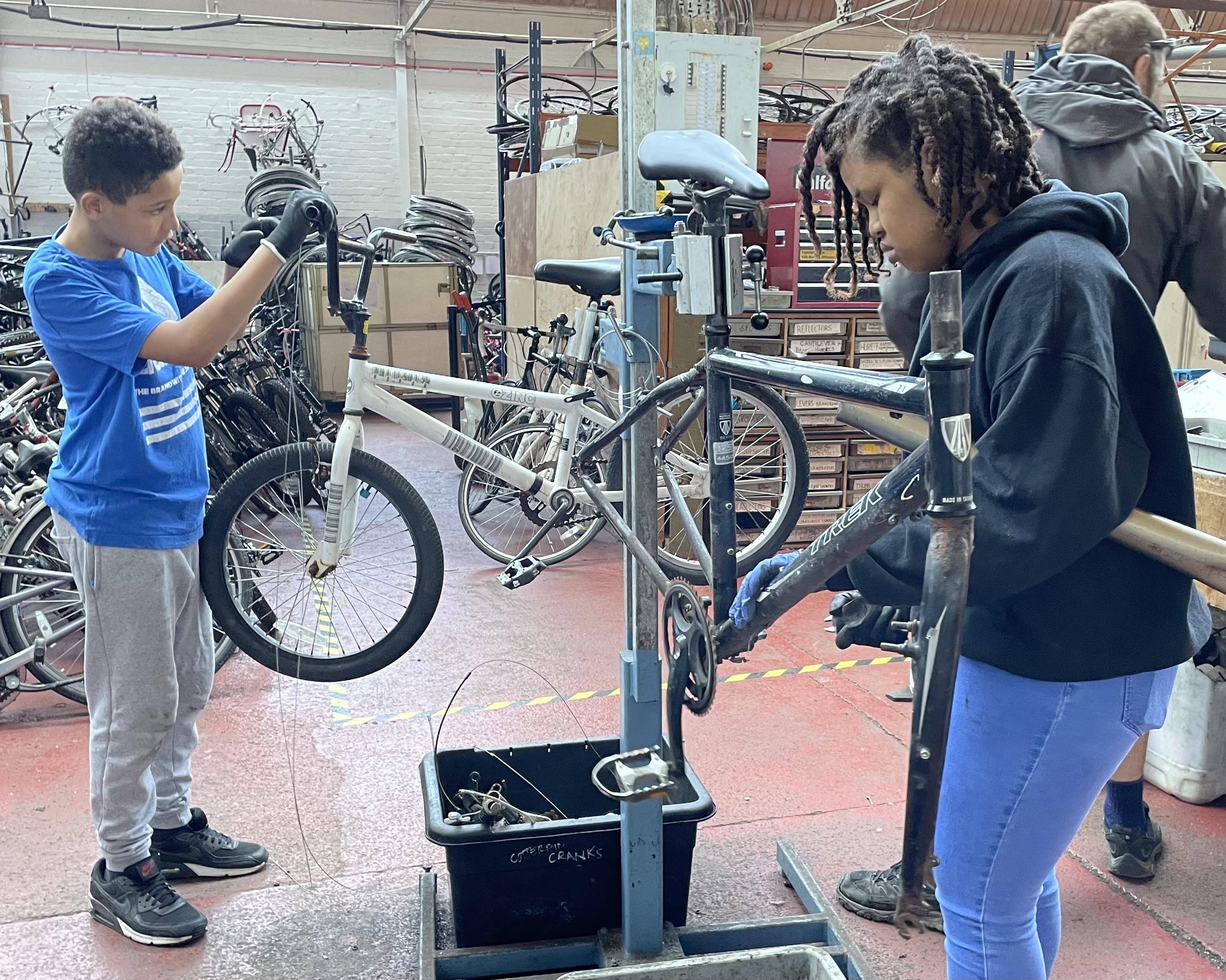 Young volunteers in a Recyke Y'Bike workshop
The donations from sales of Goal 11 #TOGETHERBANDs go towards processing the hundreds of referrals the charity receives every month, as well as paying for trained mechanics to teach the public and volunteers about bike maintenance. Anyone in need of a bike has to be referred either by another organisation, such as a refugee charity, or by their GP. For instance, doctors often refer people on a low income who are battling with mental health problems to the charity, so they can start a new cycling routine to boost their wellbeing.

For many, the results are transformative. 'I'll never forget this one lad, who was about 19,' says Sara. 'He was living in central Newcastle and had to travel across town to college every day. He volunteered for a homeless charity, so as someone seeking asylum, he was making a big effort to improve his English and help others. He only had £37 a week to live off, so didn't have money for bus fares. He was walking about 12 miles a day. When he came to us to collect his bike, he started taking his trainers off to show me his bleeding feet. He didn't speak much English but he was trying to show me what a massive difference the bike would make, because his feet were so sore from walking all the time in inadequate trainers. The worker who referred him wrote to us afterwards saying, "This bike will revolutionise his life."'
Pop-up community bike repair session
The charity receives around 5000 bikes a year. To meet the huge demand, more funding is urgently needed to pay mechanics to train volunteers how to repair and refurbish the bikes. Many volunteers are themselves refugees and people seeking asylum, so the charity gives them a unique opportunity to upskill, improve their English and help others, boosting self-esteem in the process. If you'd like to help change someone's life with a bike, please either donate direct to Recyke Y'Bike or support their work by buying a pair of Goal 11 #TOGETHERBANDs below.

100% of profits from the sales of #TOGETHER products go to charities that advance the Sustainable Development Goals. Find out more here.