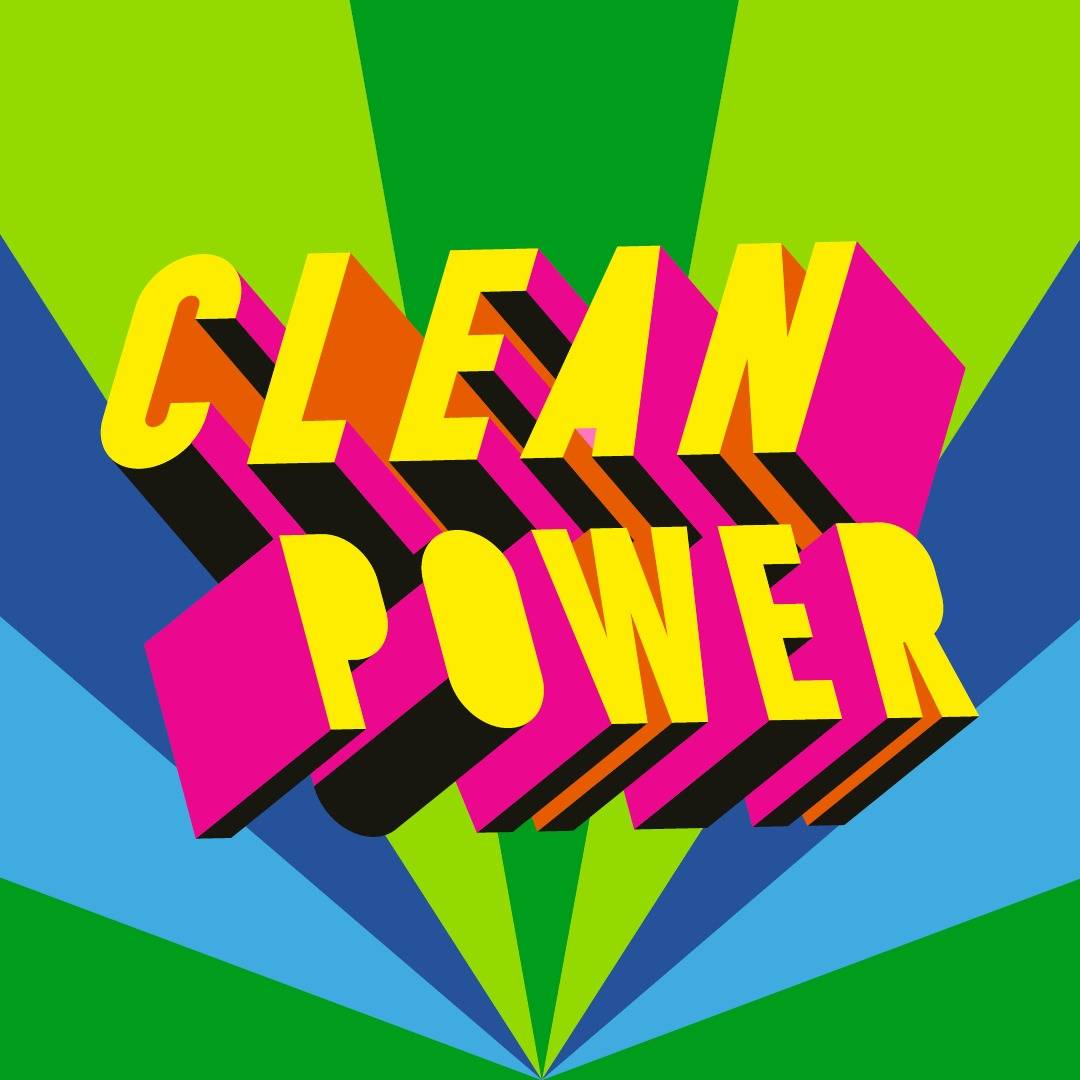 Goal 7: Affordable and Clean Energy
Find out more about the vital aims for our new #TOGETHERBAND campaign
By Emma Elms
28 october 2021
The climate crisis is one of the biggest challenges of our time, and fossil fuels are one of the biggest contributors. Nearly three quarters of greenhouse gases come from the energy we use to power our lives. Time is running out. We need to minimise our dependence on fossil fuels and find new renewable energy sources. We need more solar solutions, more electric cars and more wind-farms.
That's why we've teamed up with Ripple Energy for our Clean Power campaign. Ripple believes in the power of collectivity and wants thousands of people to come together and help own a wind-farm - ownership of a small part is as little as £25 per person. Our campaign will kick off in Glasgow at COP26 with a flag installation by graphic artist Morag Myerscough.
Our mission is to support the global drive to bring carbon dioxide emissions to net zero by 2050 and give our planet the best possible chance of limiting the global temperature rise to 1.5ºC.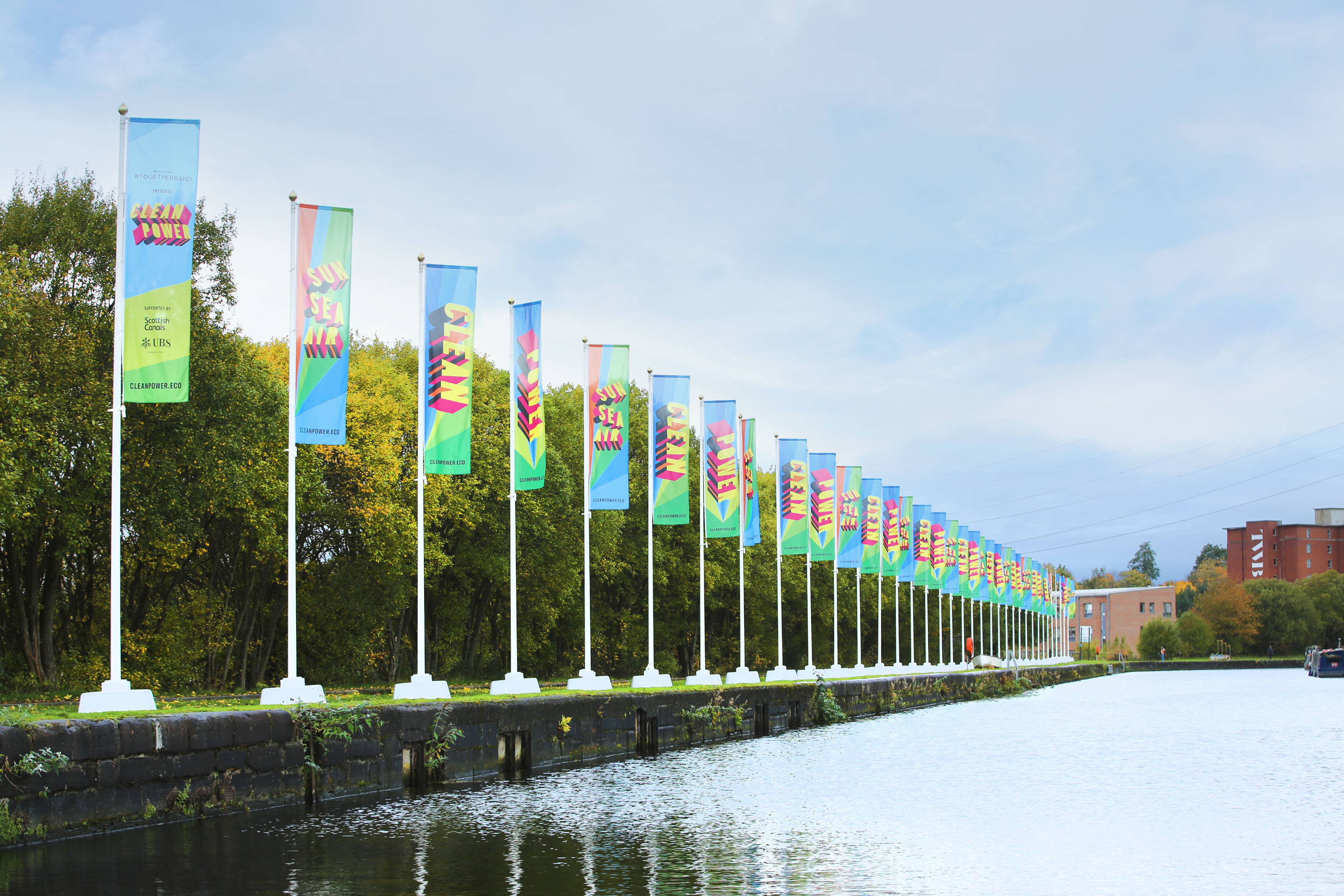 Our Scottish Canals activation
What will our campaign look like?
In line with #TOGETHERBAND's strong creative values, we're displaying 'art to inspire action' on flags along the canals of Glasgow and lining the so-called 'pathway of power' that world leaders will walk along to get to the climate conference. Created by graphic artist Morag Myerscough, a London-born designer renowned for her bold outdoor installations, the art carries a powerful message about renewable energy to inspire the local and global community alike.
'It'll be so wonderful to see the area filled with colour and hope,' says Morag. 'With this work I wanted to put out an optimistic approach towards our future. If we work together we can help make the changes we need to happen. The oranges, greens and blues represent the sun, sea and air that we need to power ourselves to a renewable future.'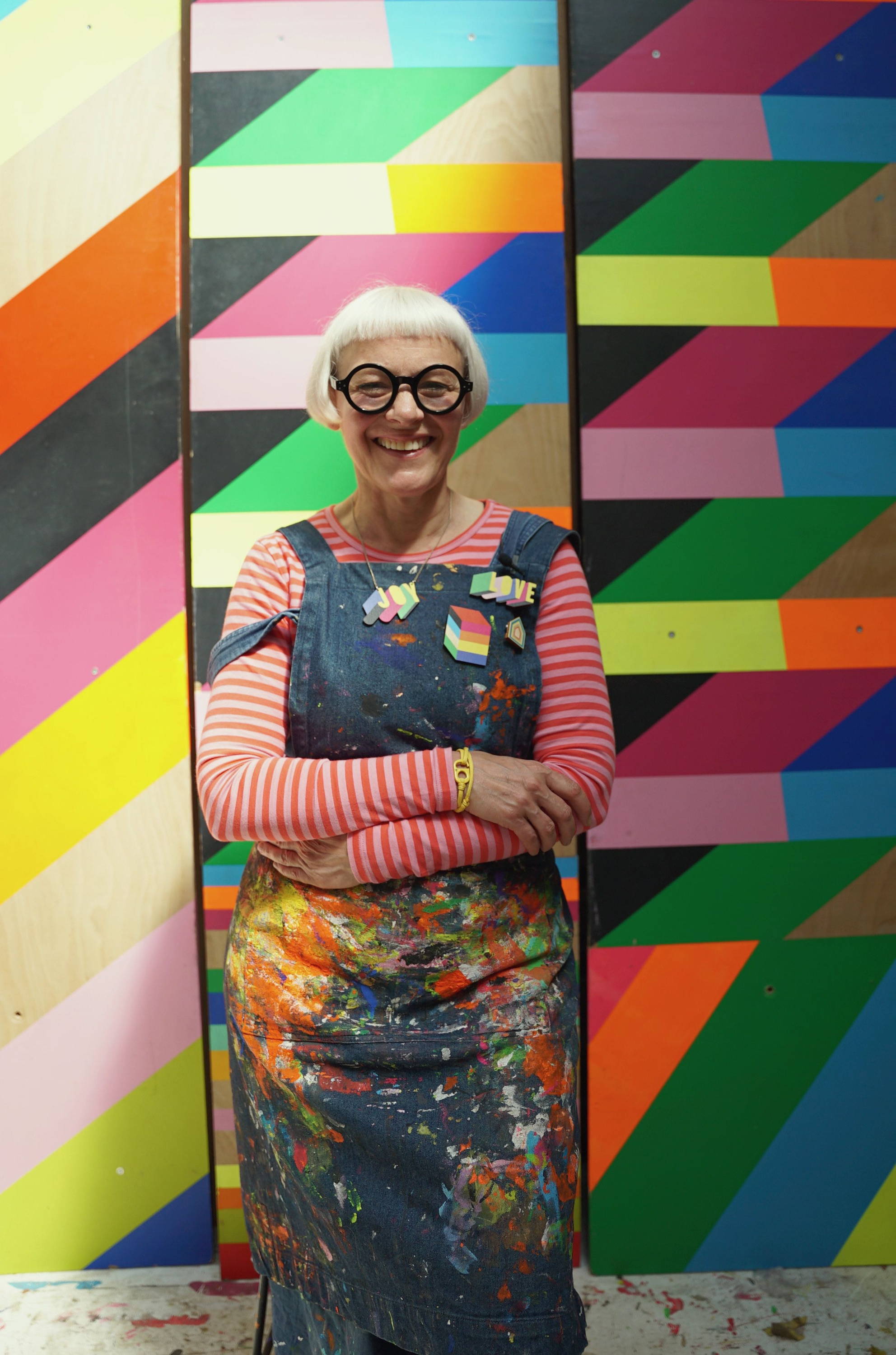 Artist Morag Myerscough
Photograph by Harvey Marcus
100% of profits from the sales of #TOGETHER products go to charities that advance the Sustainable Development Goals. Find out more here.
To mark the campaign, we're launching a new range of four colourful 100% recycled T-shirts too, also designed by Morag, bearing the words: Sun, Sea and Air – the three key renewable energy sources - and our Clean Power logo. 'I wanted them to be bold,' says Morag. 'I like the one with the wording on its side, because it's quite abstract, so you're not walking around trying to be an advert, you almost have to look twice before you read it. I asked for the wording: 'sun', 'sea' and 'air'. I mean, we can't exist without them, can we?! I'm not religious, but I think if I was alive a very long time ago, I would have worshipped the sun, sea and air.'
You can also pick up one of our brand new zero waste compostable phone cases featuring Morag's artwork as well as one (or both!) of two special edition #TOGETHERBANDs: Clean Power and Sun. By wearing one of our Clean Power products you can show your support for the campaign, while proceeds go to charities that support Goal 7: Affordable and Clean Energy.
Sign up for more information about Ripple's wind farms and resources about renewable energy on our dedicated Clean Power website.
Come and see us in store!
To celebrate our Clean Power campaign, we're opening a new interactive pop-up shop on London's Regent Street which will be packed with ideas and information about Goal 7: Affordable and Clean Energy. Do drop by if you're in the area and we'd love you to tag us @togetherbandofficial. Hope to see you soon!