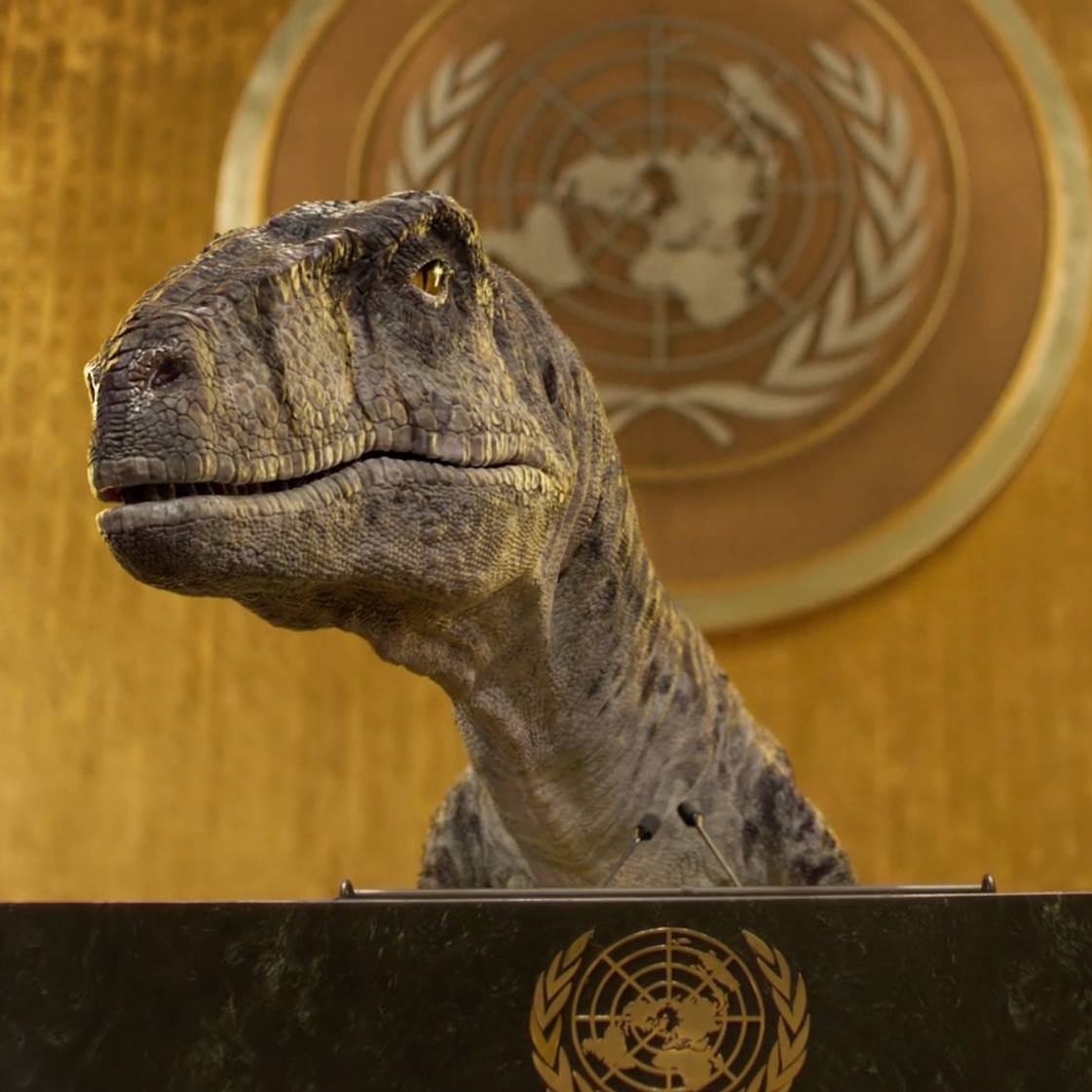 What Only Dinosaurs Can Tell Us About Extinction
Find out why we're joining the new campaign from UNDP starring Jack Black as an animated dinosaur
By hannah rochell
27 october 2021
Dinosaurs roamed the planet for around 165 million years and became extinct 65 million years ago. We humans have been around for just 300,000 years. To put that into perspective, if all of time on Earth since the birth of the dinosaurs was one calendar year, they became extinct on the third week of September; humans only appear for the first time on New Year's Eve. We may not have been dominating life on Earth for very long, but our impact on it - namely spending billions every year on fossil fuels - has been so great that unless we deal with the climate emergency, we're heading the same way as the dinosaurs. We too could become extinct.
Don't Choose Extinction is the United Nations Development Programme's response to the climate emergency and the fact that hundreds of millions of people live in poverty; it also acknowledges the opportunity to emerge from the pandemic with a positive plan for the future. UNDP is the leading United Nations organisation fighting to end the injustice of poverty, inequality, and climate change. Working in 170 countries around the world, it helps countries to develop policies, leadership skills, partnering abilities, institutional capabilities, and to build resilience to achieve the Sustainable Development Goals. It also undertakes important studies including the 'People's Climate Vote' which was the world's biggest ever opinion poll on climate change and found two thirds of people think it is a global
emergency.
So what exactly could we learn from the dinosaurs if they could come back and give humanity some advice about our fate? This is exactly the idea behind the Don't Choose Extinction film, which features an animated Utharaptor dinosaur giving a speech at the General Assembly hall and is brought to life by an Oscar winning animation team. In the speech, written by former Obama speechwriter David Litt, the dinosaurs say that they had an excuse - a giant asteroid hit them - but that humans don't have any excuse. The film ends with a clear message: Don't choose extinction. Stop the excuses. It is voiced by stars including Jack Black, Mexican actor Eiza González and French-Senegalese actor Aïssa Maïga.
We're super excited to collaborate with hairstylist guru, star of Queer Eye and our Goal 10: Reduced Inequalities Ambassador, Jonathan Van Ness and artist Speto to bring Frankie The Dino to life at the JVN pop-up in Miami Design District. Here, Speto has taken over the mezzanine floor with his incredible artwork.
We're thrilled to be working with UNDP on this campaign. You too can join Don't Choose Extinction with our new special edition merchandise. We're releasing a compostable phone case, a recycled #TOGETHERWEAR T-shirt, a limited edition #TOGETHERBAND Edition band and an engraved #TOGETHERBOTTLE (available soon), all featuring this amazing dinosaur artwork by celebrated Brazilian artist Speto (pictured in the tee below), who is considered to be a pioneer in Brazilian street art. His beautiful vibrant work draws influence from traditional folk-art and his Indigenous heritage, as well as graffiti.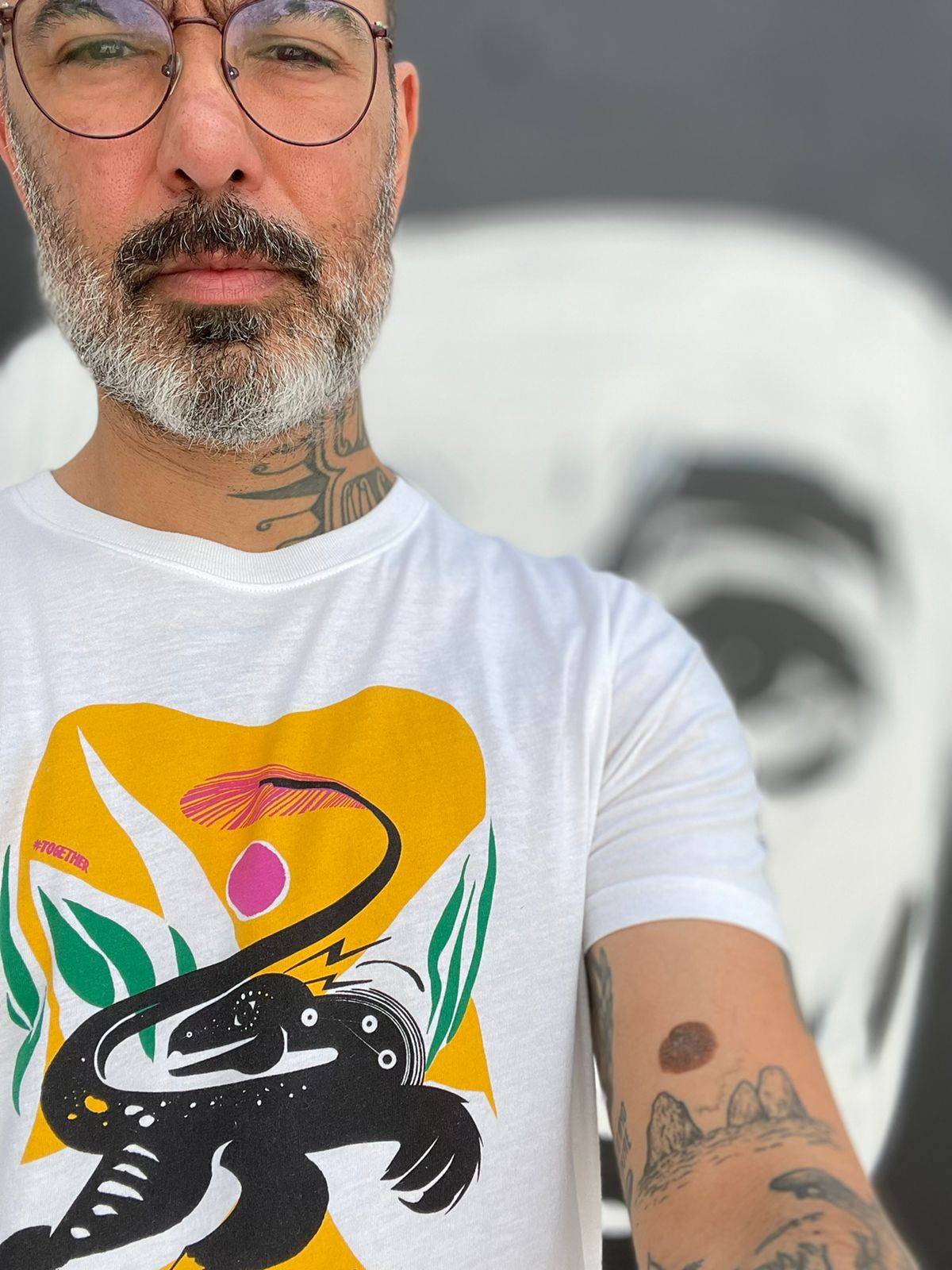 All of our #TOGETHER products have a positive impact on people and the planet. Our #TOGETHERBANDs are made from Parley Ocean Plastic® rope and a Humanium Metal clasp (melted down decommissioned fire arms) and are finished by artisans in Nepal who have been rescued from human trafficking, providing them with an income. Our #TOGETHERWEAR is made from 60% recycled cotton and 40% recycled polyester and uses eco-friendly dyes, protecting the waterways of the people who live near the facility that makes them. When you've finished with our #TOGETHER phone cases you can cut them up and put them on your compost heap or send them back to be made into new phone cases. And every for one of our #TOGETHERBOTTLEs sold, we can fund the collection of the equivalent of 1000 plastic bottles of ocean-bound plastic; the plastic collectors are paid above market rates for their work, too.
Together, we can make a difference and decide to have a different fate to the dinosaurs.
100% of profits from the sales of #TOGETHER products go to charities that advance the Sustainable Development Goals. Find out more here.