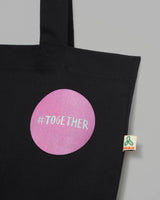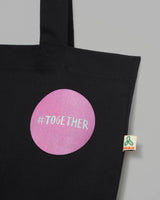 Goal 10: Reduced Inequalities
#TOGETHERWEAR Tote
Our #TOGETHER totes are made from 100% recycled materials. Show your support Show your support for Goal 10 ensuring equal opportunities and ending discrimination

#TOGETHERWEAR Tote
Goal 10: Reduced Inequalities
Our #TOGETHER totes are made from 100% recycled materials. Show your support Show your support for Goal 10 ensuring equal opportunities and ending discrimination

Recycled textiles
Salvaged threads
We use 60% recycled organic cotton from textile waste and 40% recycled polyester from locally sourced plastic bottles. Our #TOGETHERWEAR is certified under the Global Recycle Standard (GRS) and Organic Content Standard (OCS).
Responsibly made
Fair wears
Our #TOGETHERWEAR is made in India in a facility that is a member of the Fair Wear Foundation which works to improve labour conditions for garment workers all over the world. It is regularly audited and powered by green renewable energy. 
Eco-friendly dyes
Kind colours
We only use GOTS approved dyes on our garments, and when we're dying them we use less water, too. Our waste discharge processes are certified to OekoTex 100 Class I standard and conform to REACH, meaning they're kinder to the environment.