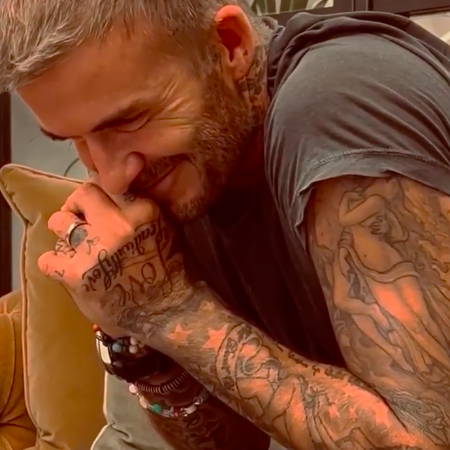 The #TOGETHERBAND Ambassador loves our new Yawa Bands
By hannah rochell
21 april 2022
David Beckham is a big fan of beaded bracelets, so we're thrilled that he's been sporting one of our brand new zero waste Yawa Bands on his wrist. They're made from açaí seeds by the Yawanawá, an Indigenous community who live in the heart of the Amazon rainforest. Proceeds from sales of the bands will help build a dedicated Rainforest Workshop and Atelier for the Yawanawá, which will in turn help them protect the rainforest, so the ex-footballer and UN ambassador is supporting a brilliant cause as well as adding to his arm candy.
David, who first joined #TOGETHERBAND to support Goal 3: Good Health and Well-being, is well-known for the way he stacks multiple bracelets for his own individual style. And because Yawa Bands come in six different colourways, you can easily recreate the look yourself. Our Classic bands come in natural - the undyed colour of the açaí seeds - and black, as well as three colours that represent the UN's Sustainable Development Goals 4, 13 and 17. Meanwhile, our eye-catching Multi Yawa Band - which David is wearing - is multicoloured, and each bead is carved by hand into different shapes by the Yawanawá.
David Beckham isn't the only celebrity who loves beaded jewellery - here are five of our favourites. Oh and did we mention? We also do Yawa Necklaces…
Neutral tones like Gigi Hadid
The model and superstar loves multicoloured beaded necklaces, but we're particularly into the way she's styled these more muted tones. Get the look by stacking two or three of our Classic Yawa Necklaces in natural or black.
We don't know whether David Beckham went to the Brad Pitt school of bracelet stacking or if it was the other way around, but either way, we approve. Just add a chunky watch.
With a bikini like Dua Lipa
Check back on the singer's Insta and you'll see how much she loves colourful beaded jewellery when she's poolside. We think our Multi Yawa Necklace would look great paired with a Classic Yawa Band in a single colour for a boho holiday vibe.
This rapper and actor is also into a whole lotta necklace. Try stacking some Classic Yawa Necklaces and adding in a pendant or two for a similar look.
90s-style like Damon Albarn
Go authentic 90s by teaming a Multi Yawa Necklace with some vintage sportswear. The Blur frontman's necklace was made by his mum; he was wearing it as late as 2018 at a gig in Barcelona when he stage dived and it was ripped off (he loved it so much he stopped the gig to try and retrieve all the beads).
How will you wear your Yawas?
100% of profits from the sales of Yawa #TOGETHER products go to the Yawanawá community