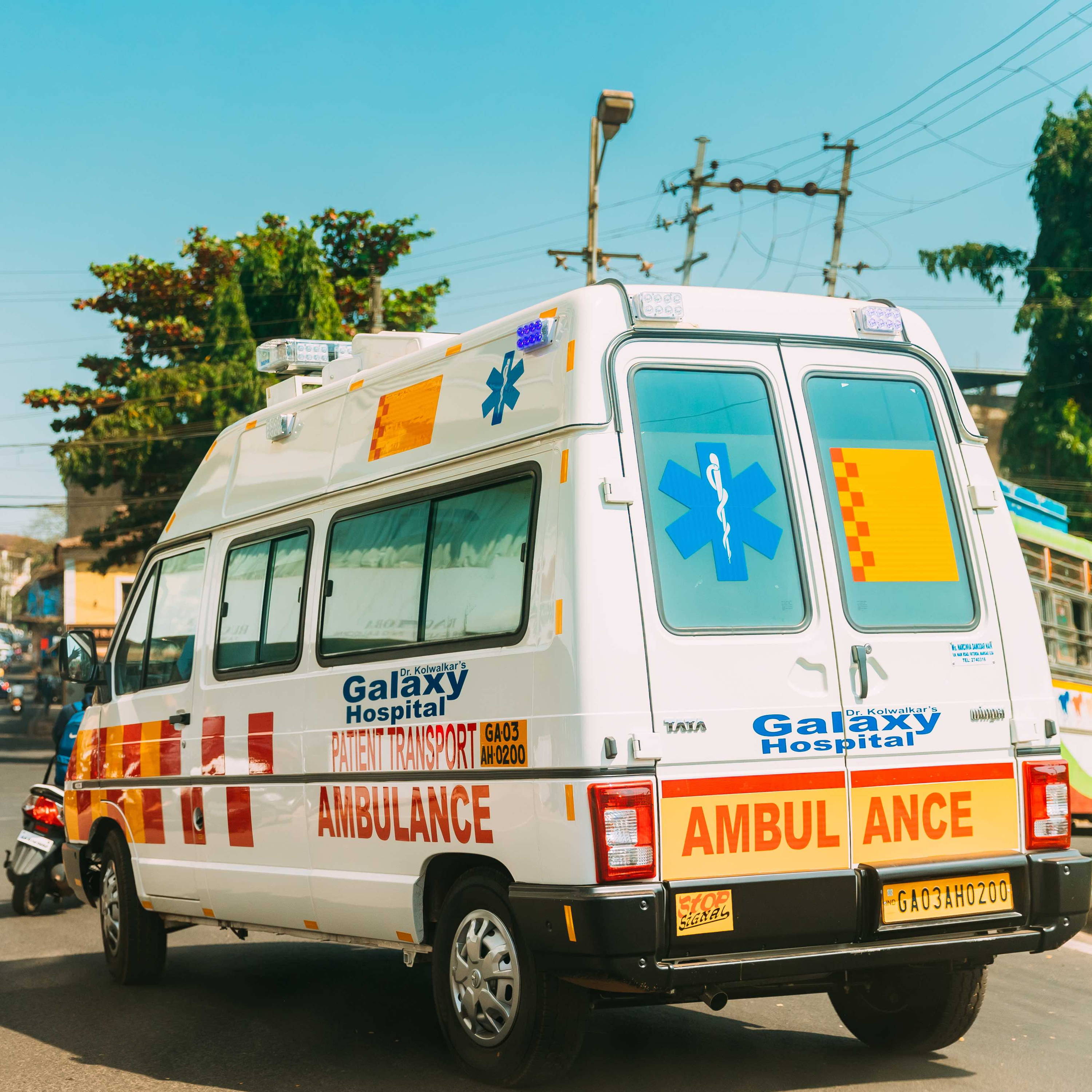 Goal 3: Good Health and Well-being
india's covid-19 crisis – how can we help?
As India struggles with surging cases, we ask the WHO about the challenges and solutions
Hospitals are overflowing, oxygen supplies are running out and people are dying. Over 200,000 people have now lost their lives to the virus in India and the number of cases has topped 20 million, making it the second worst-affected country in the world, after the US.
But the crisis doesn't only impact India, which has a population of 1.3 billion – it's a global emergency. Unless the outbreak is slowed, it could lead to a catastrophic third wave of COVID-19 around the world. However, as the World Health Organisation (WHO) told us, 'India has the support of the entire world to get out of this situation and it will. The priority is to control widespread transmission, reinforce health systems and save lives.' Here we explore the challenges India is facing and how to address them…
1. Challenge: a shortage of oxygen and drugs
Hospitals across India have been struggling with oxygen supplies. A week ago, in Delhi 25 families were given the bleak news that a loved one had died in the city's Sir Ganga Ram hospital, reportedly because there wasn't enough oxygen available. After warnings that another 60 patients were critically ill, an emergency oxygen tanker was dispatched, arriving at midnight.
A sign outside another hospital read ominously: 'We regret we are stopping admission in hospital because oxygen supply are not coming' [sic]. Several others bore similar signs: 'Oxygen out of stock.'
'If oxygen runs out there is no leeway for many patients,' Dr Sumit Ray from the Holy Family Hospital in Delhi told BBC reporter Yogita Limaye. 'There is no leeway, they will die.'
So far, as least 17 countries have stepped in to help, according to The Indian Express, ranging from those nearby, to the UK and the US. America has pledged to send 10,000 oxygen concentrators and according to WHO, 'These devices can be deployed wherever oxygen is needed and don't require any pre-existing infrastructure other than an energy source.'
The UK is sending nearly 500 oxygen concentrators and 140 ventilators this week, and EU members are also expected to start sending supplies. The Indian government has started an 'oxygen express' with trains carrying tankers to wherever needed, the Indian Air Force is airlifting oxygen from military bases and a Sikh temple in the Indian state of Uttar Pradesh has begun providing drive-by oxygen supplies to patients. Over 1000 people have used the service so far.
To address the shortage of the antiviral drug Remdesivir, used to treat the seriously ill, Indian authorities have started importing it from other countries, with the first delivery of 75,000 vials expected to arrive shortly, according to The Times of India.
Several major businesses have offered their support including, Google, Apple, Amazon and Microsoft, among others. Amazon and a coalition of partners plan to airlift over 8000 oxygen concentrators and 500 ventilators from Singapore. Locally, Amazon India is supplying 1500 oxygen concentrators too and other vital medical equipment.
An awareness-raising campaign is also needed to prevent mass panic, according to WHO. 'We need to engage with communities and appeal to their compassion and solidarity, so they don't become frozen by fear or stockpile essential supplies like oxygen cylinders and drugs,' the organisation told us.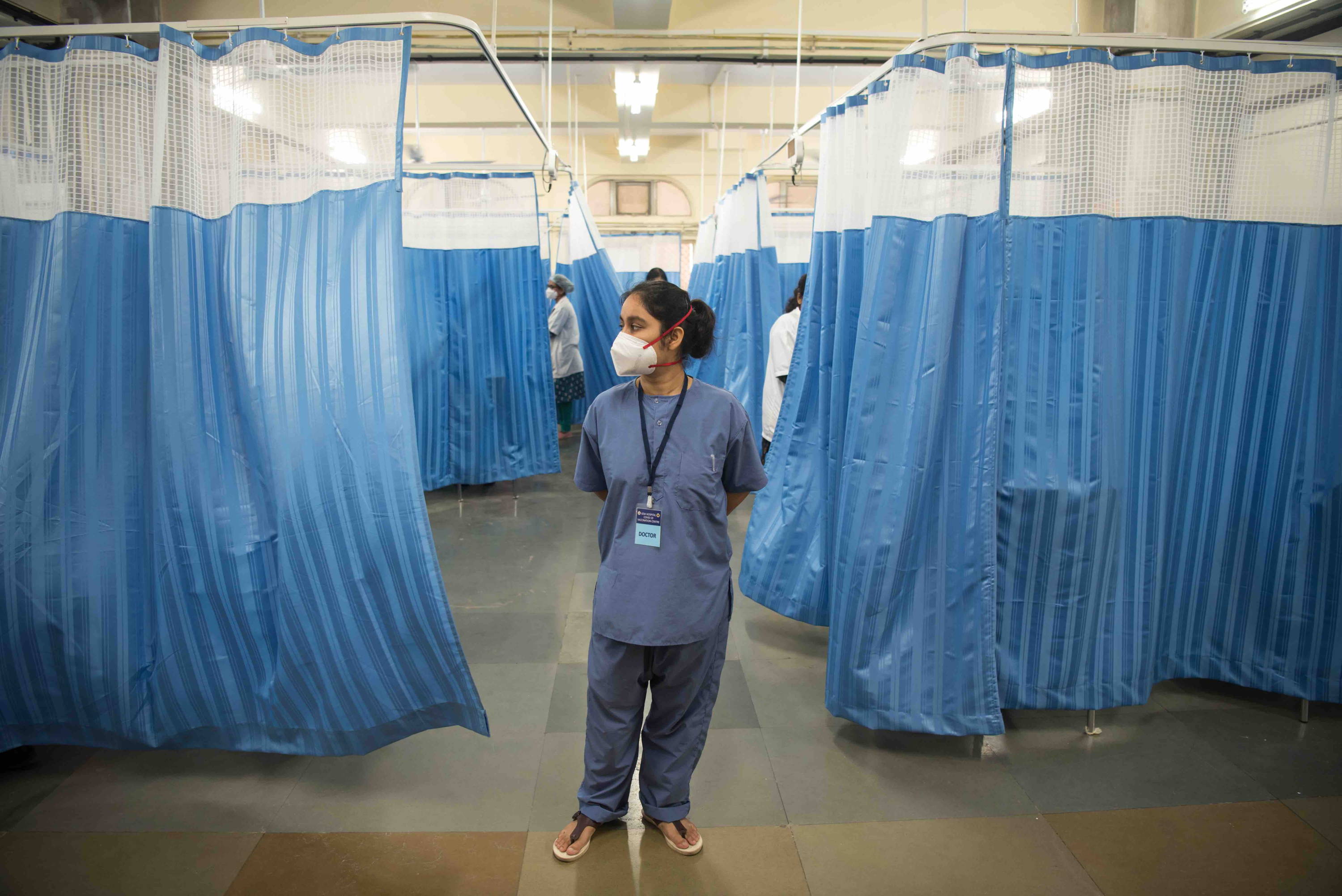 Member of staff at a hospital in Mumbai, India, Jan 2021
2. Challenge: overcrowded hospitals
Hospitals have been forced to turn away seriously ill patients, as they simply don't have enough beds. We've seen horrific footage of people outside hospitals, struggling to breathe, unable to get the help they need. In one powerful film, a female doctor in Delhi told BBC reporter Yogita Limaye, 'People in an ICU [Intensive Care Unit] have won the first battle to be here.'
To tackle the shortage of beds, around 4000 Indian Railways carriages are being converted into isolation wards, to treat those with mild to moderate COVID symptoms. The converted trains will provide over 60,000 temporary beds.
The World Health Organisation (WHO) is setting up mobile field hospitals in the worst affected areas of India. Each medically equipped tent will have a capacity of 20-50 beds. WHO also recommends that a 'dashboard' should be established to show availability of beds in local hospitals, so people know where to go for urgent care.
3. Challenge: a shortage of vaccines
In World Immunisation Week, the importance of rolling out the COVID-19 vaccine has never been clearer. So far, under 10% of India's population has been vaccinated.
In a press briefing this week, a WHO spokesperson told reporters, '…the situation in India is beyond heartbreaking' before adding, 'Never before has the value of vaccination been so apparent.'
With immediate effect, the White House has said it will provide raw materials for vaccines to Indian manufacturers, having lifted an export ban. President Joe Biden announced, 'Just as India sent assistance to the United States as our hospitals were strained early in the pandemic, we are determined to help India in its time of need.'
The US is also expected to share millions of doses of the AstraZeneca vaccine, which has not yet been approved for use in the States. Dr Anthony Fauci, the US's leading infectious diseases expert, confirmed the option of sending them to India was being considered.
The WHO Foundation has launched a new global COVID-19 fundraising campaign called Go Give One, to allow everyone to play their part in helping to vaccinate the world. Go Give One is aiming to engage 15 million people to contribute. The money raised will go to an international fund called COVAX AMC to buy vaccines for the world, prioritising those who need them the most in the countries that can't afford them. You can donate here.
4. Challenge: more contagious variants
A new variant has been detected in India (the B.1.617 strain) which scientists suspect may be transmitted more easily. Known as the 'double mutant' because of two key mutations on the spike of the virus, initial research suggests that antibodies might find it harder to block this variant.
All viruses mutate over time, producing different versions or variants of themselves, including SARS-CoV-2, the virus that causes COVID-19. According to the Public Health England website, 'Most of the time the changes are so small that they will have little impact on the virus. But every so often a virus mutates in a way that benefits it, for example, allowing it to spread more quickly…'
The more COVID cases a country has, the higher the chances that new variants will emerge. 'The further worry is that an even more deadly variant may now emerge from this perfect set of circumstances for virus mutation – the mixing of existing variants and under 10% of the population being vaccinated,' explains Andrew Howell, a global expert on PPE and MD of BCB International, which provides life-saving, protective equipment in hostile environments around the world.
Over 2600 WHO experts from various programmes (polio, TB etc) have been redeployed to work on the ground with health authorities in India, providing support, advice and help with vaccination efforts.
In the UK, India's B.1.617 strain is categorised as a 'Variant Under Investigation' (VUI) and is currently being tracked, along with several other new strains.
5. Challenge: large gatherings
The Indian government has faced some criticism on social media for its handling of the crisis, for instance, for allowing election rallies to take place in West Bengal and permitting the large Hindu festival Kumbh Mela to go ahead, which saw over three million people gather on the banks of the Ganges.
The claim is that a drop in cases at the start of the year may have led India to relax restrictions too soon and sparked a second wave. However Indian authorities reportedly asked Facebook, Twitter and Instagram to take down several posts, which were critical of the government's response.
'As is true in any country [we] have said the combination of relaxing of personal protective measures, mass gatherings and more contagious variants while vaccine coverage is still low can create the perfect storm,' WHO told us. 'Newly emerging variants are a threat to our progress against the pandemic, as is vaccine inequity.'
'India's local lockdowns need to be made nationwide and India's borders need to be closed,' says Howell. But experts in India are torn as to whether a national lockdown is necessary. Virologist Dr Shaid Jameel, CEO of DBT/Wellcome Trust India Alliance in New Delhi told India Today, 'A nationwide lockdown isn't going to serve the purpose. We need more lockdowns in areas of high transmissions. We saw what a disaster the last national lockdown caused to livelihoods. It's essential to maintain a balance.'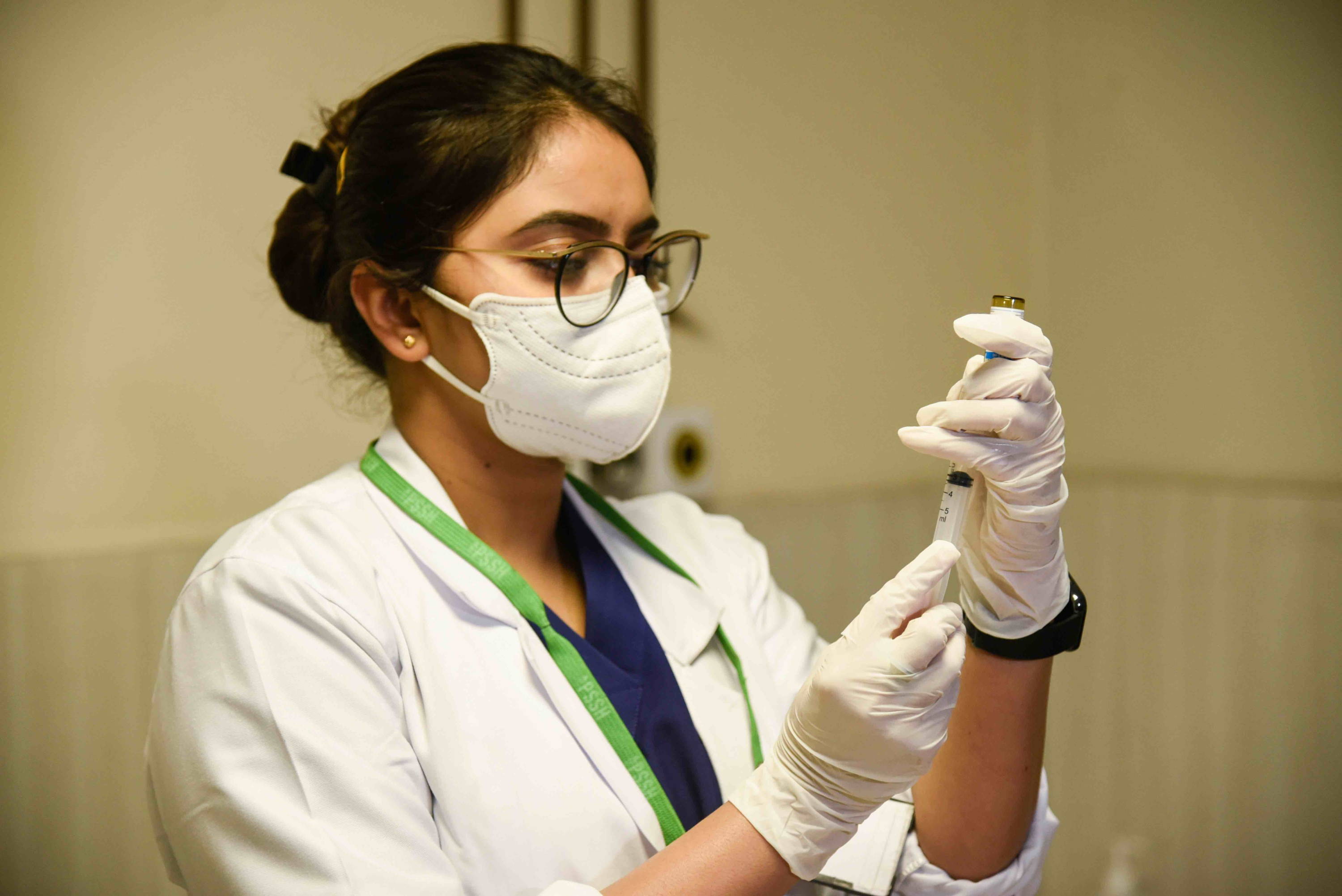 6. Challenge: lack of awareness
'Another difficulty in India is education,' believes Howell. 'Some of the population do not have access to the news or social media and ignorance can kill.' He claims that key prevention methods such as social distancing and handwashing measures aren't as widely known across India, as they should be.
Last August Pooja Iyer, who was working for Médecins sans Frontières (MSF) at a purpose-built treatment centre for COVID in Northeast India, told us that part of her role was to teach patients how to manage COVID in the community. 'People are susceptible to any information without checking the facts,' she told us.
Widespread fears over COVID being a 'deadly' virus can cause further chaos. According to WHO, 'Less than 15% of people who have the infection need hospital care and even fewer will need oxygen. Currently part of the problem is that many people rush to hospital (because they do not have access to information/advice) even though [often] care at home can be safely managed.'
'Part of the education issue could be solved by mass leafleting,' says Howell. 'Those worst affected by COVID are the lower income groups, especially those without access to up-to-date news and information. They need to be targeted by leaflets in clear, pictorial form.'
WHO recommends a multi-pronged approach, including:
1. Community screening centres: to triage patients, monitor basics (such as oxygen levels) and provide advice on safe homecare.
2. Hotlines and 24/7 call centres: to provide information on what to do if feeling unwell, as well as arrange and co-ordinate ambulances.
3. Large isolation centres: where people who can't isolate at home can be supported, monitored and transported to hospital if needed.
'Most of the masks used in India are cotton, which offer very little protection, especially if they aren't regularly washed,' says Howell, a global expert on PPE. 'Medical filtration masks should be their primary defence especially with the more transmittable strains now circulating in India.'
'The mask challenge is the best way to reduce the spread going forwards,' asserts Howell. 'High quality surgical masks are readily and cheaply available for under £1. They actually filter the air rather than the cotton masks many are wearing.'
How you can help

· Donate to the COVID-19 Solidarity Response Fund, powered by the UN and WHO.

· Donate to Médecins sans Frontières (MSF) whose emergency teams are delivering life-saving care to COVID patients in over 70 different countries.

· Via Give India you can support specific COVID-related missions, including donating to boost oxygen supplies, giving money for food for families in need and donating funds for period products.

· Donate to Action Aid to fund their work in India, which includes arranging vaccination and testing camps, as well as providing help desks to connect people with relevant health services.