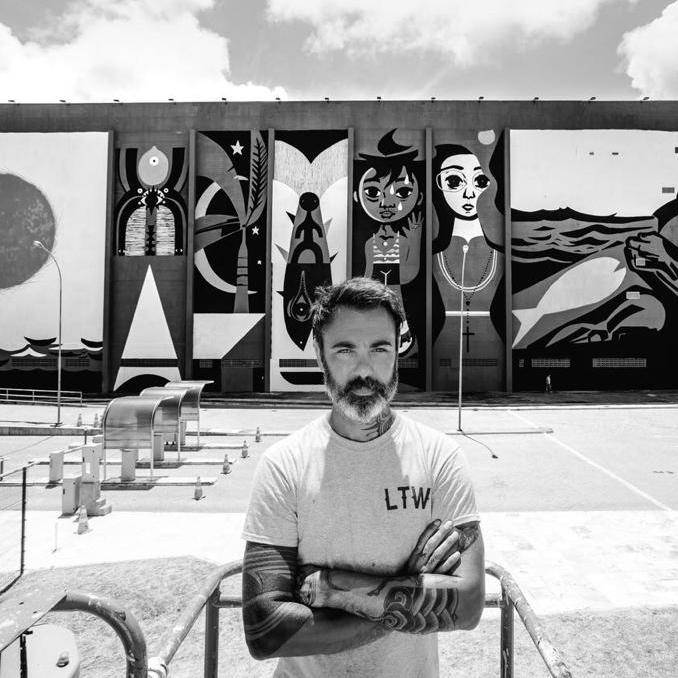 Meet Brazilian Street Artist, Speto
We caught up with this street art pioneer to talk about his inspiration, hopes for the future and #DontChooseExtinction artwork
By Jessica Jurkschat
2 december 2021
Paul Cesar Silva, also known as Speto, is considered one of Brazil's leading street art pioneers. Known for his signature detail in eyes, he takes inspiration from free spirited folk art and his bold murals are much loved for their simplicity and playfulness. We're honoured to collaborate with Speto on two special projects: a specially commissioned piece titled Maiwa, which means 'Earth' in Yawanawá, for our Yawa #TOGETHER Kickstarter; and 'Frankie the Utahraptor dinosaur', reimagined, in support of the UNDP Don't Choose Extinction campaign. We spoke to Speto about his work and his strong belief in the importance of the Amazon and protecting our environment.
Why did you choose the artist name 'Speto'?
'Speto' actually means sticks in Portuguese and the name was influenced by Sid Vicious. I loved punk records back in the day, and was crazy for him. I tried to copy his style, including his stick straight hair… I'd use bars of soap to get it to look like that!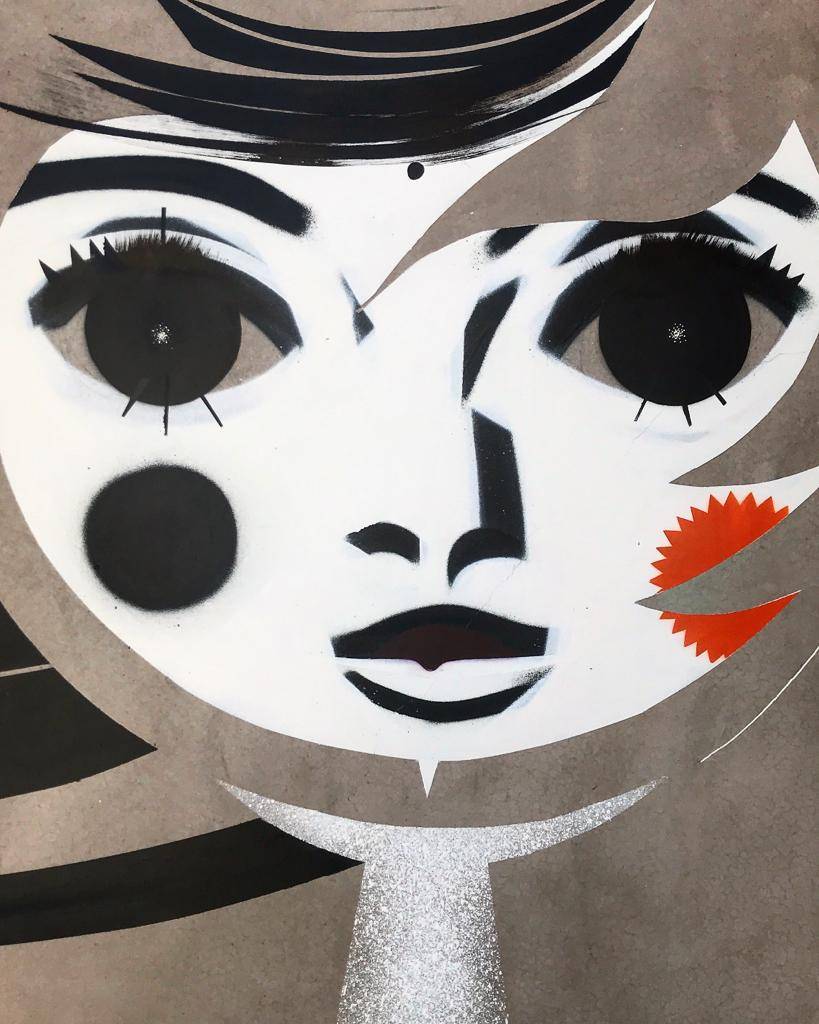 Speto's signature details are in the eyes
Tell us about your background and how it's inspired your work
I grew up in the city of São Paulo to a very Brazilian family with a very beautiful mix of entities – African, Indigenous, Spanish and Portuguese. On my father's side, they valued kindness over everything. They didn't have much money but loved bringing people together over food and conversation. My mother's side was very serious, and very religious. The two sides were a complete contrast from one another, and in a way, completely complementary. My family had a strong influence on my work and the way I see life. They were the inspiration behind my approach to art – putting opposites together, in harmony.
Did you always want to be an artist growing up?
Actually, no! Funnily enough, my dream was to be a pilot. I started at the age of three as a way to spend time and bond with my two older brothers, and now I've been doing it for 36 years. It was something that I started to do for fun and it became my profession. I love art, but it's not my passion. I'm passionate about life and art is a way for me to express myself. I love being able to share that with everyone.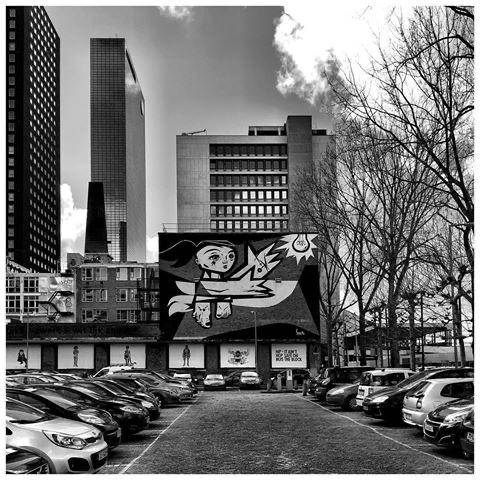 Speto's urban art in Rotterdam, Netherlands
Why did you choose street art as your medium?
I watched the movie Beat Street when I was a teenager in 1985, and found my love for graffiti. We watched the movie over and over and learned everything we know about graffiti from it. It became my first passion, for sure. A week after watching it, I grabbed a can of spray paint and started painting my street. There were six guys and we were actually the first generation in Brazil to do graffiti, hip-hop style. We would jump on the bus with our bags full of spray cans and paint our neighbourhood to start, and then when we built up the confidence, we went downtown and painted there. And since then I just haven't stopped.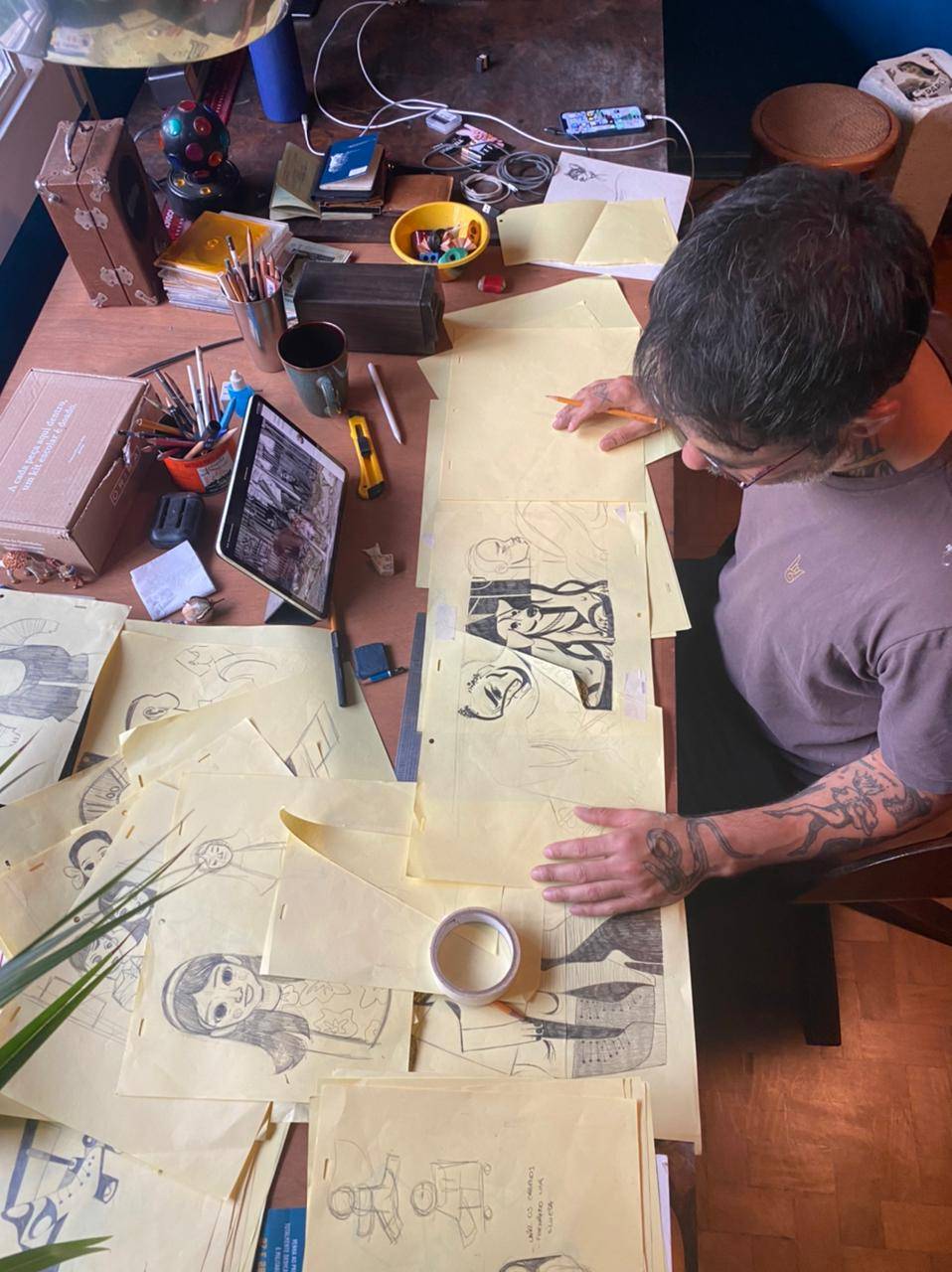 Speto brainstorming in his studio
Tell us about your work behind the Don't Choose Extinction campaign
I believe that how we consume products is so important for the future of the whole world. It's something that we have to change fast. I feel like we live in a world where everything is about profit, and this is killing our planet and our human side. Instead, we need to talk about climate change and our energy sources. I don't usually draw animals and I've never drawn a dinosaur before, so that was really challenging but I am really proud to work on the Don't Choose Extinction campaign to address all these critical issues.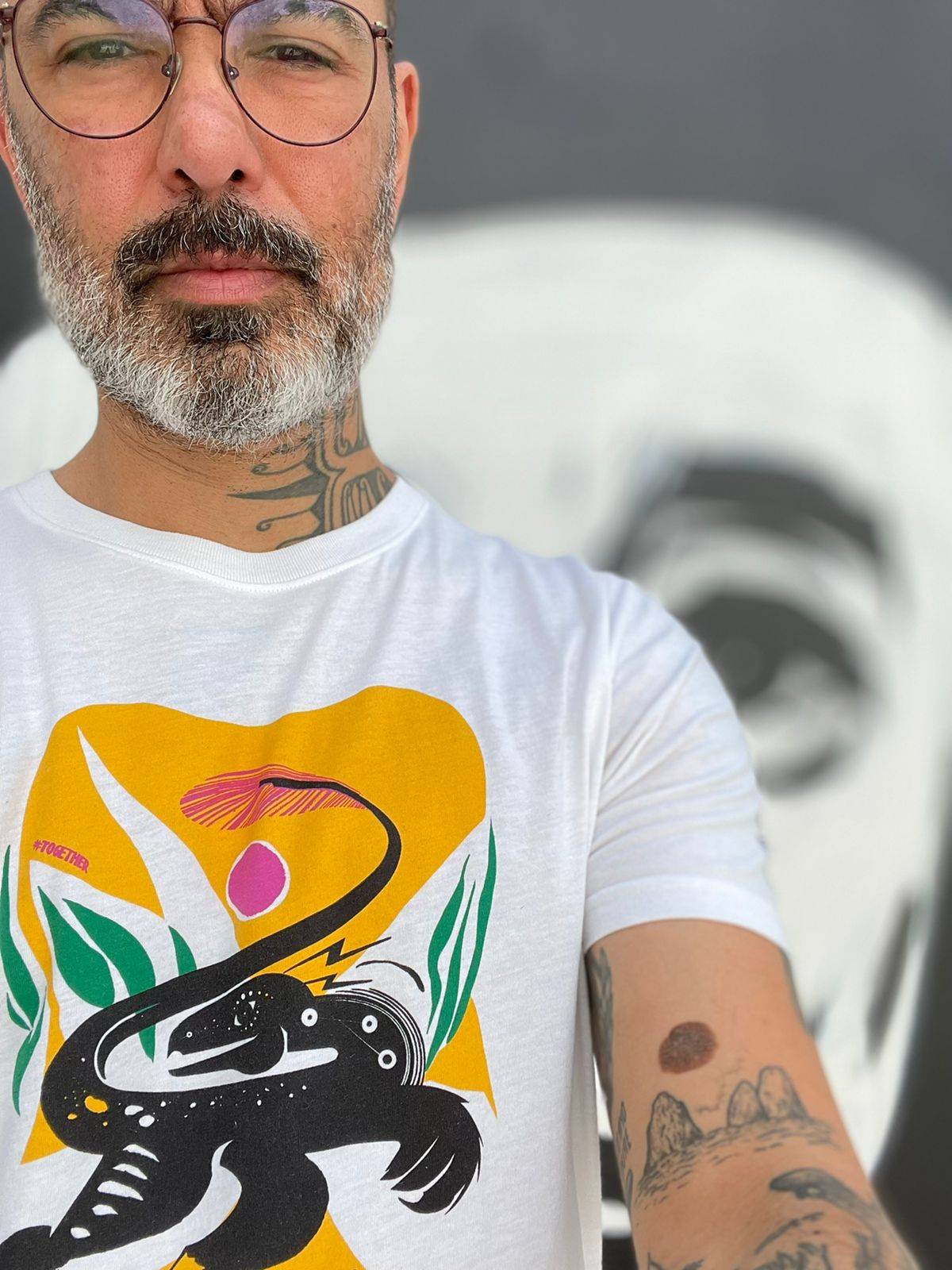 Speto wearing his #TOGETHER x Don't Choose Extinction Tee (shop now)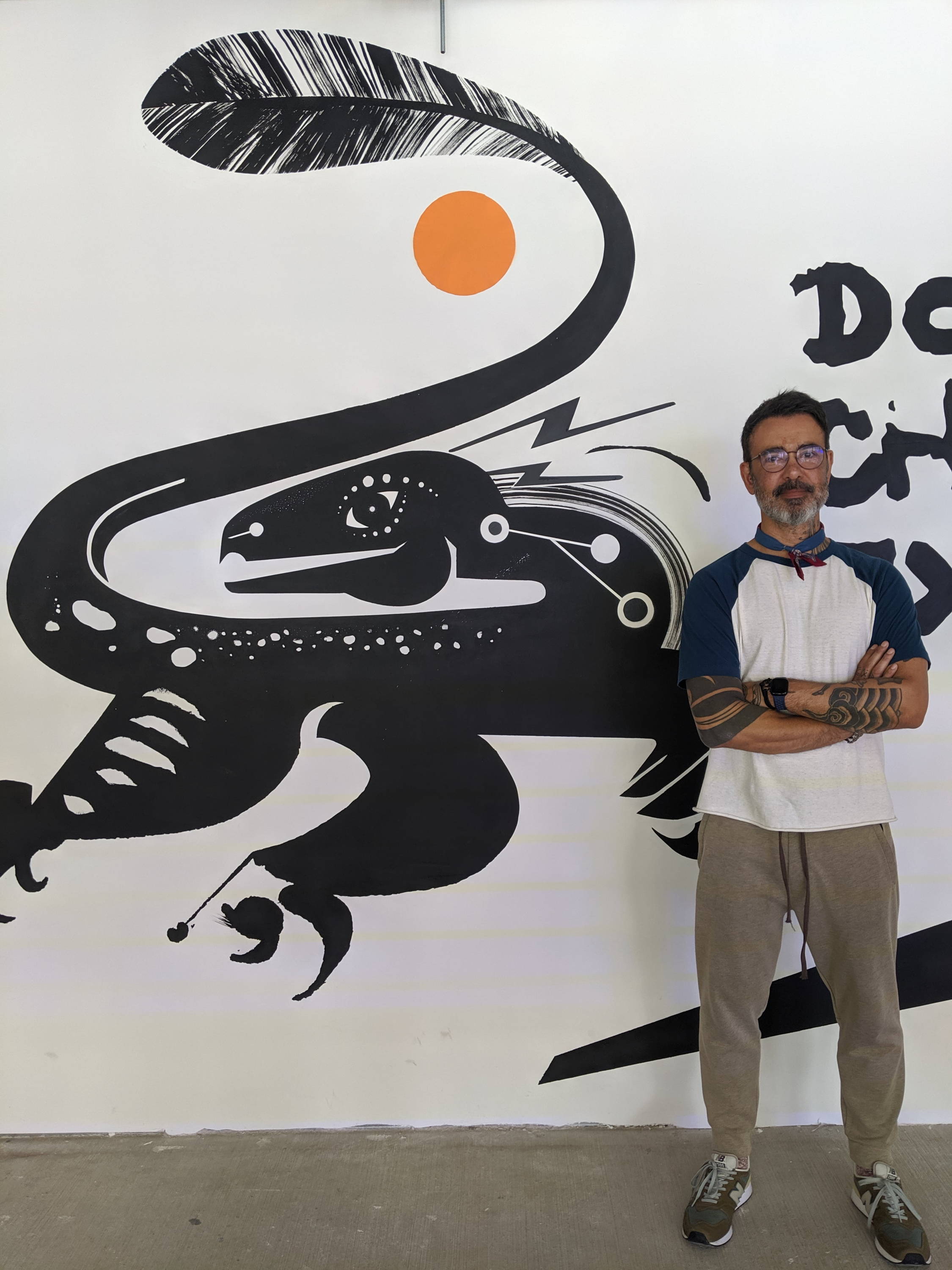 And the piece that you created for the Yawanawá campaign...
I created a very simple piece of art that portrays Indigenous peoples, in my style, wearing the açaí Yawa Band that represents the 17 Sustainable Development Goals. The piece is titled Maiwa, which means 'Earth' in Yawanawá. My great grandmother is Indigenous and so I've always tried to represent and pay homage to the Indigenous community. They were here before us and in many aspects they are our culture; they are Brazil. It was an honour to create this and support the Yawanawá.

Which Sustainable Development Goal is most important to you?
I think we all need to take action to meet the 17 Goals. We have to think about what we consume and remember that there are consequences for the way we live. It's so hard to choose one Goal because they are all very important, we need to meet them all. But I believe that Goal 13: Climate Action is the most urgent. It's so interconnected to Goal 7: Affordable and Clean Energy, as well as Goal 10: Reduced Inequalities.

100% of profits from the sales of #TOGETHER products go to charities that advance the Sustainable Development Goals. Find out more here.