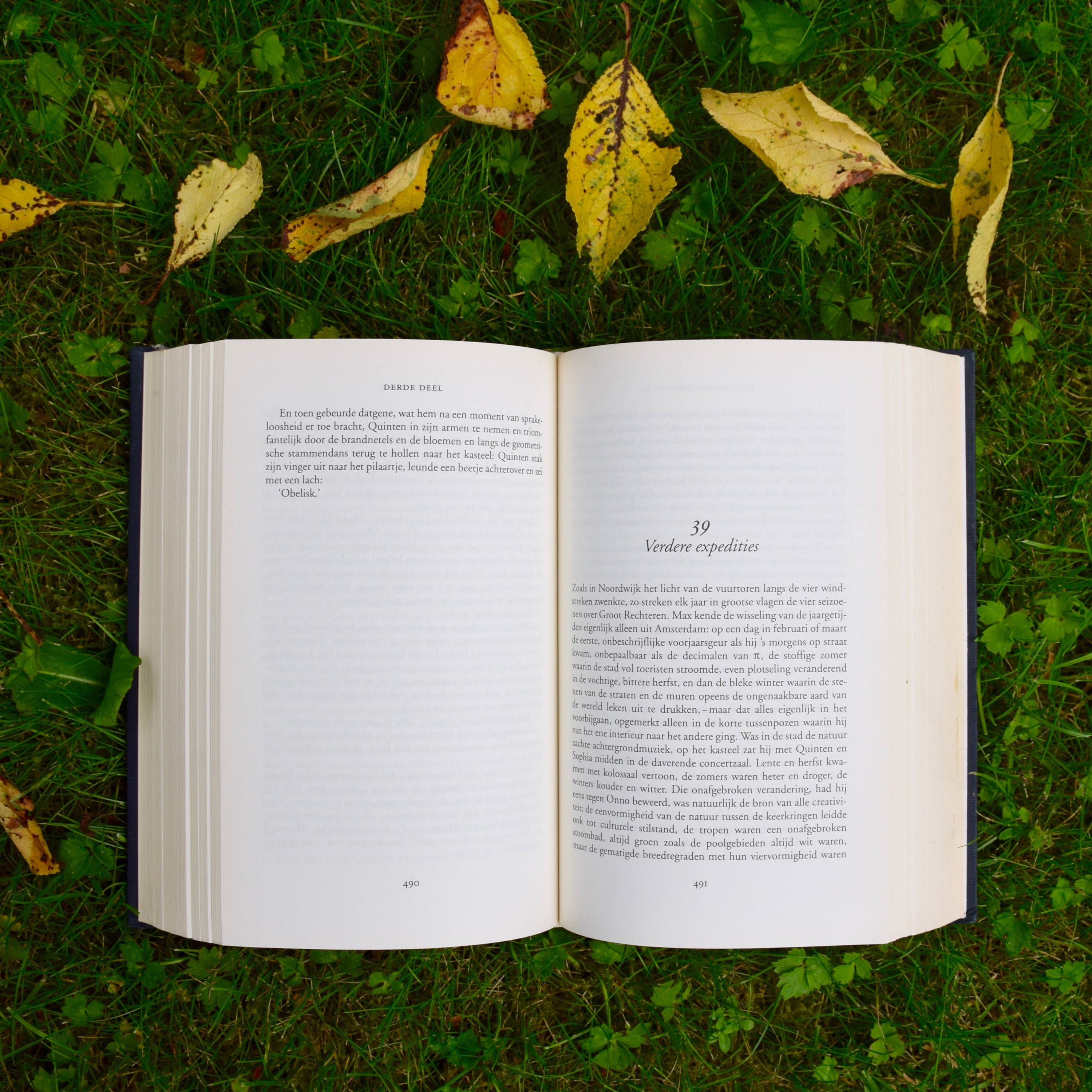 #TOGETHERBAND Book Club: Life on Land
The top titles for reading up about Life on Land.
By Jessica Jurkschat and charlotte brohier
13 october 2021
We share our home with some incredible animals and plants, but as well as appreciating them, it's also our job to protect them. Learn all about Goal 15: Life on Land and what we can do to protect our planet with these top titles:
Author:
Tamsin Omond
Why you'll love it:
A founding member and activist in the climate protest movement Extinction Rebellion, Tamsin Omond has been on the frontline of climate change for over a decade. Do Earth is thought-provoking and provides an optimistic view of the future – but only if we work together. Omond reiterates that climate change is terrifying and the climate crisis is real, but we can all do our part to become part of the solution.
What you'll learn:
Do Earth is a mighty guide to reviving our planet. It provides tangible lessons for how individuals can reduce our environmental impact. From how we eat to how we invest and re-evaluating our relationship with fashion and starting the climate conversation with those around us, there are little things we can do to get us in the right direction.
Top excerpts:
"When we change our habits, our beliefs change too. Instead of having to be a successful individual, I've begun to ask how I can be part of a thriving human story. It will be possible to transition from a climate-changing, extractive economy to one that is circular and prioritises care, but we don't get to this future alone. Throughout history, human progress has happened when we come together and fight injustice. It's when we overcome exclusive and self-serving elites. The many gather and we fight impossible odds."
£8.99, bookshop.org
2: Half Earth: Our Planet's Fight for Life
Author:
Edward O. Wilson
Why you'll love it:
Name the greatest love poet you know? Perhaps you're thinking Keats, Dickinson, maybe Byron. Well, prepare to add biologist, theorist and two times Pulitzer Prize winner, Edward O. Wilson to the list. His impassioned 2016 portrait, Half Earth, is an ode to the biosphere, paying tribute to all creatures great and small that make up our vast and intricate ecosystem. Both melancholic and moving, Wilson documents our planet's increasing list of imminent extinctions, from the captive Sumatran rhinos he encounters to the minute, golden coloured Kihansi spray toad, whose Tanzanian homelands have dried up; their wet forest floors now arid with the water appropriated for use in a giant reservoir."Have we no shame?" Wilson asks as he outlines the human-made biological crisis hanging over planet Earth. Listing a shocking parade of homo-sapien crimes including global warming, unrestrained population growth, pollution, overhunting and deforestation, humans emerge as one of the most damaging and unrepentant species to have ever existed. But like all great poets, Wilson's elegy is not a one-dimensional note on despair. It is a meditation on hope. Hope, that Wilson argues is entirely tangible, but only if we set aside 50% of the earth for reserves protecting wild animals and plants. Only then will we have true hope of saving 80% of species still alive today.
What you'll learn:
From Wilson's lucid prose, we're invited into a vivid and palpable adventure. We take in descriptions of star species as well as overlooked microorganisms that form our cyclical foundations, with the fine tooth-combed detail akin to coming face-to-face with each species ourselves. Enveloped in Wilson's expeditions and knowledge bank, we gain a grasp of the finite time we have left and the exhaustive efforts we need to make to save our extraordinary planet.
Top excerpts:
"The biosphere compared with the immense bulk of the planet as a whole is razor thin and negligible in weight. Plastered on the surface like a membrane, it cannot be seen sideways with unaided vision from a vehicle orbiting outside Earth's atmosphere. Deeming ourselves rulers of the biosphere and its supreme achievement, we believe ourselves entitled to do anything to the rest of life we wish. Here on Earth, our name is Power.Yet we ourselves, our physical bodies have stayed as vulnerable as when we evolved millions of years ago. We remain organisms absolutely dependent on other organisms. People can live unaided by our artefacts only in bits and slivers of of the biosphere, and even there we are severely constrained. There can be no exception to our extreme flesh-bound fragility."
£12.99, bookshop.org
Author:
Jane Goodall
Why you'll love it:
Naturalist Jane Goodall's vivid introduction to the wild wonders of chimpanzees is a covetable classic for every eco-bookshelf. Originally published in 1971, Goodall's research into apes in Tanzania's Gombe National Park presents a world where complex animals live intricate social lives, much like our own. This landmark title armed the world with a new way of looking at the great ape, holding out the idea that chimps, our closest genealogical cousins, are a mirror of our own human behaviours and instincts.
What you'll learn:
Today Goodall is widely recognised as a longtime champion of chimpanzee conservation, helping to stop trading and experimenting on chimps and discourage their use in the entertainment world. In the Shadow of Man is a gripping portal into Goodall's visionary mission to protect endangered species. Ultimately this powerful read is a timeless testament to the prevailing powers of the animal kingdom.
Top excerpts:
"All at once my heart missed several beats. Less than twenty yards away from me two male chimpanzees were sitting on the ground staring at me intently. Scarcely breathing, I waited for the sudden panic-stricken flight that normally followed a surprise encounter between myself and the chimpanzees at close quarters. But nothing of the sort happened. The two large chimps simply continued to gaze at me. Very slowly I sat down, and after a few more moments, the two calmly began to groom one another."
£9.99, bookshop.org
Author:
Lawrence Anthony
Why you'll love it:
Dubbed the 'Indiana Jones of conservation', this is Lawrence Anthony's last and most incisive account of his plight to save animals on the brink of extinction. Having learnt of the threat faced by northern white rhinos living in a war-torn area of Congo controlled by the infamous Lord Resistance Army, Anthony attempts everything in his power to stop their loss. Against a backdrop fraught with vicious political tension, his perilous plight ripples with danger, excitement and levity as he ventures deep into the jungle to negotiate with rebel forces. Highly desirable in the Far East, these rare beasts are all too often killed for the magical powers believed to be brought from their horns. Anthony's unforgettable mission sees him battle against all odds to stop black market poachers from causing the loss of what would be the largest land mammal to go extinct since the wooly mammoth.What you'll learn:
Posthumously published one month after Anthony's death in 2012, the book is a balm for everything life throws our way, particularly the possibilities that are achievable in the face of adversity. A poignant tribute to Anthony's fearless endeavours, The Last Rhinos is made more pertinent in light of the death of the last male northern white rhino in Kenya last year. Foretelling the fateful consequences of dropping the ball when it comes to our planet, this title ultimately reminds us of the importance of fighting to the end to save our earth and its inhabitants.
Top excerpts:
"Dread froze my blood. I looked up at the sky above the distant Hlaza Hill, the highest point on the new community game reserve that abuts Thula Thula, my own reserve and my home in Zululand, South Africa. There were no vultures and no gunshots had been reported, a sound that echoes like a thunderbolt across the African wilderness when the wind is right.'Cause of death?' I asked, fearing the worst.'Poachers. Both horns are gone. There's blood all over the place. Professional job. Looks like they used an AK-47, or maybe an old military-issue R1.'I could feel my fists clenching. Rhino poachers - the disease of the wild that was now becoming a pandemic."
£9.99, bookshop.org
This article was originally published in May 2019 and has been updated

100% of profits from the sales of #TOGETHER products go to charities that advance the Sustainable Development Goals. Find out more here.