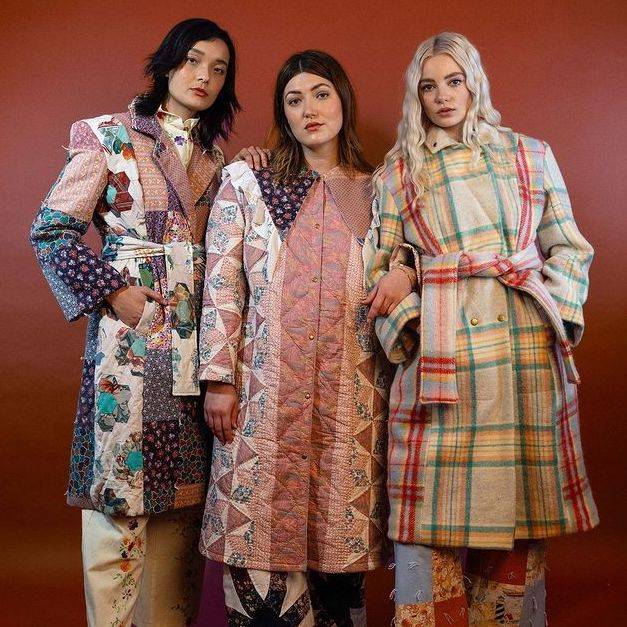 image: Magpie Vintage/Instagram
From patchwork jumpsuits and quilted puffers to wearable works of reclaimed art, we round up the best new fashion made from once-forgotten thrifted fabrics
By hannah rochell
18 january 2022
Over 300,000 tonnes of unwanted clothing is sent to landfill each year. What a waste! And while there is good news about shopping preloved for the sake of the planet - the secondhand clothing market is set to be twice the size of fast fashion by 2030 - what about those items that are past their best? Or how about the unloved fabrics that weren't even clothes in the first place, like 1980s floral bedspreads, retro curtains and wool blankets?
Thankfully there is an army of talented designers, fixers and makers upcycling unwanted textiles into beautiful new planet-friendly pieces for our wardrobes. So whether you're after some second hand cashmere, want a fabulous one-off frock or need some tablecloth trousers in your life, we've got you covered.
Freya Simonne
For ex-ASOS designer Freya, the upcycle journey started two years ago when she transformed a vintage sleeping bag into a puffer coat in her spare time. Her zero waste brand, which she now works on full-time, has since gone from strength to strength, with pop-up shops at Selfridges and Coal Drop's Yard in London, as well as a collaboration with US vintage brand Love Shack Fancy.
Made Rebekah Peters
With a penchant for 80s blousy florals and abstract painterly prints, Rebekah sees the potential in the kind of pre-loved bedspreads and curtains your Auntie Pam might have recently donated to the charity shop. By splicing patterns with block colours and using contemporary oversized shapes, she cleverly creates desirable, comfortable dresses fit for any Instagram feed. Colour-matched beret optional.
AFF&JAM

Friends Kelesi Anim and Jaymie Johnson met when they were both studying illustration at the London College of Fashion, which they combined with their love of second-hand clothes to create their sustainable fashion label AFF&JAM. Think preloved silk shirts and wide trousers in muted colours, all adorned with the pair's distinctive art.
Nearly New Cashmere
Cashmere's a nightmare, right? An expensive investment, and one that moths are just waiting to get their teeth around. Nearly New Cashmere rescues thousands of cashmere pieces every year, before reconditioning them to sell as 'nearly new'. Anything that isn't good enough to be saved in its original state is used to make elbow patches on other garments, as well as smaller items like hats.
Mad Brown Knitwear
At Mad Brown Knitwear, bright embroidery is added to the intricate Aran patterns once the jumpers have been repaired to create colourful one-of-a-kind pieces. The brainchild of Madeline Brown, a fashion textiles graduate, all pieces are reworked by hand in Norfolk, England.
Lydia Bolton
Lydia uses reclaimed knitwear to construct her signature patchwork sweater vests, which she finishes with a chunky blanket stitch on the sleeves. With a delightfully retro aesthetic, you can also head here for shirts and shorts made from vintage tablecloths, seersucker frilled collar blouses and deadstock trackie bottoms.
Magpie Vintage
Just when you didn't think you needed a patchwork jumpsuit made from vintage quilts and hand embroidered tea towels, along comes Magpie Vintage to prove you wrong. This delightful emporium also boasts beautiful pieces made from embroidered tablecloths, crochet blankets and tapestries, as well as a great selection of vintage pieces.
The Wild Folk Studio
Katie began The Wild Folk Studio because of her love of vintage quilts. You can choose from pieces she has already made, or you can pick your quilt while it's still in its original form and have it made to order. You can also donate a quilt of your own for Katie to transform at her studio in Yorkshire.
Sunday At The Villa
Sunday At The Villa is headed up by Jo, who has previously worked at Chloe, Paul Smith and Laura Ashley, as well as pioneering Fatface's sustainable fashion. Her snuggly duvet coats feature pretty cottage garden-style prints with the modern twist of a hood.
E.L.V. Denim
It takes 10,000 litres of water to make a new pair of jeans, but E.L.V. Denim only uses 7 litres to wash the post-consumer denim waste it makes into its new signature half-and-half pieces. The brand works with Blackhorse Lane Atelier, an East London atelier, and all pieces have a minimal carbon footprint and support local communities.
White Weft
Denim really lends itself to being reworked into something new, a point not lost on London brand White Weft, which makes accessories including baseball caps, slippers and bags from indigo offcuts. As White Weft also offers a denim repair service, you can also pick up a repair voucher as the perfect gift for the denim enthusiast in your life.
The Well Worn
Visible mending is a big trend in upcycling - if you're passionate about sustainable fashion, why not wear it on your sleeve? We love the use of visible Sashiko topstitch mending on the Well Worn's denim jackets, shorts and jeans. And denim isn't the only thing you'll find being remade at here - see also Snoopy sweatshirts, wool shackets and gingham galore.
100% of profits from the sales of #TOGETHER products go to charities that advance the Sustainable Development Goals. Find out more here.