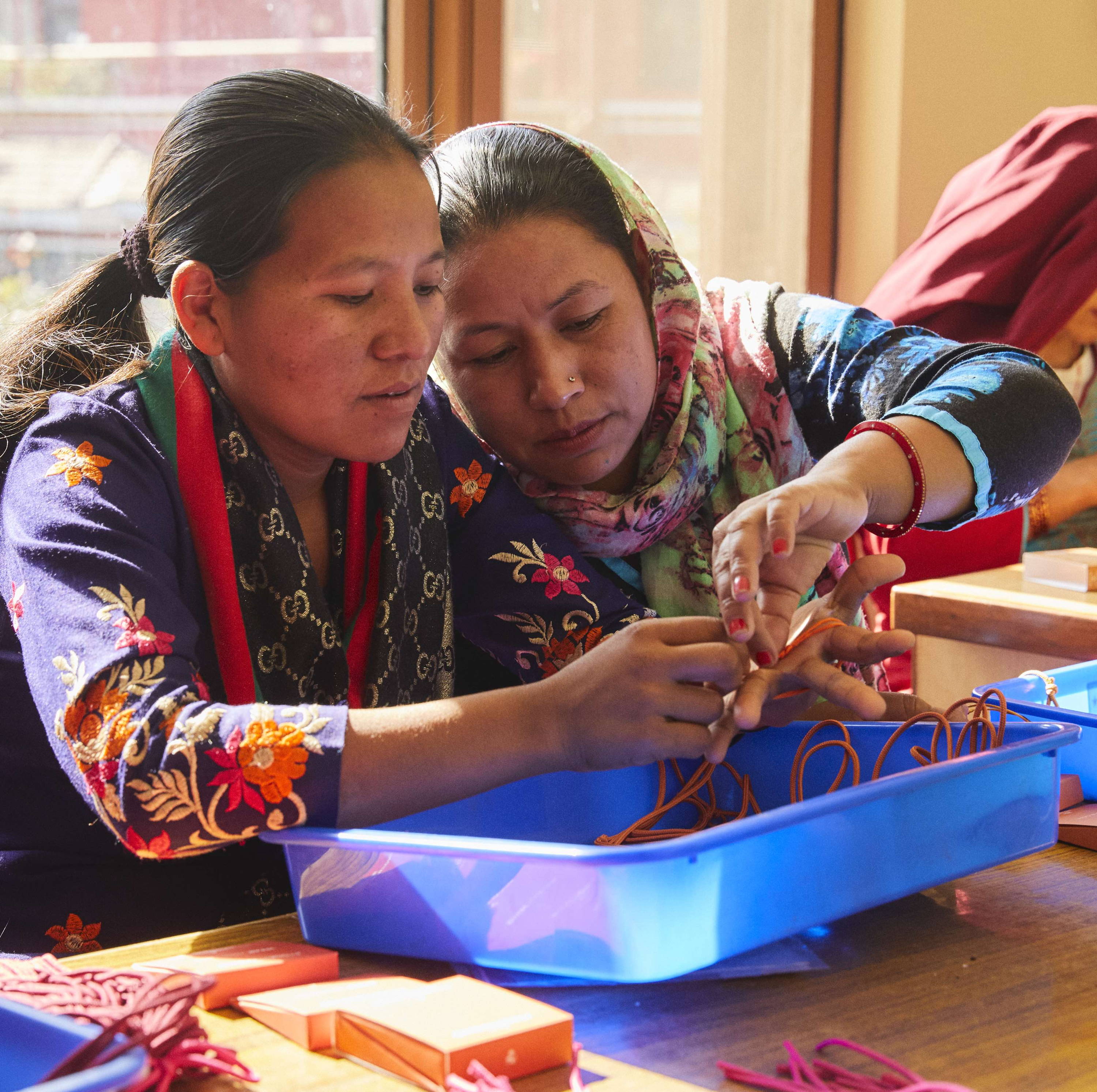 Dhan Maya Tamang and Urmila Rai making
#TOGETHERBANDs
Providing children's homes, soup kitchens and employment for vulnerable women, our partnership with ROKPA in Nepal offers life-changing opportunities
By Emma Elms
ADDITIONAL INTERVIEWs: KRISHNA HARI
13 January 2021
ROKPA is an international relief organisation that helps people in need in Nepal, South Africa and Zimbabwe. 'ROKPA' is the Tibetan word for 'help' and 'friend' and it's a charity very close to our hearts at #TOGETHERBAND. Through ROKPA's innovative training programmes, we've been able to establish a large female team in Nepal who create our classic #TOGETHERBANDs. Many are single mothers desperate to escape the cycle of poverty and create a brighter future for their children. We provide them with good working conditions, above average salaries and an empowering opportunity to regain control of their lives.
With a core belief in the power of self-help through education, ROKPA offers training for women facing poverty, followed by ongoing work. In this way, behind every #TOGETHERBAND there's a person with a story. We asked just one of many women we work with to explain what the band and your support has meant to her and her family.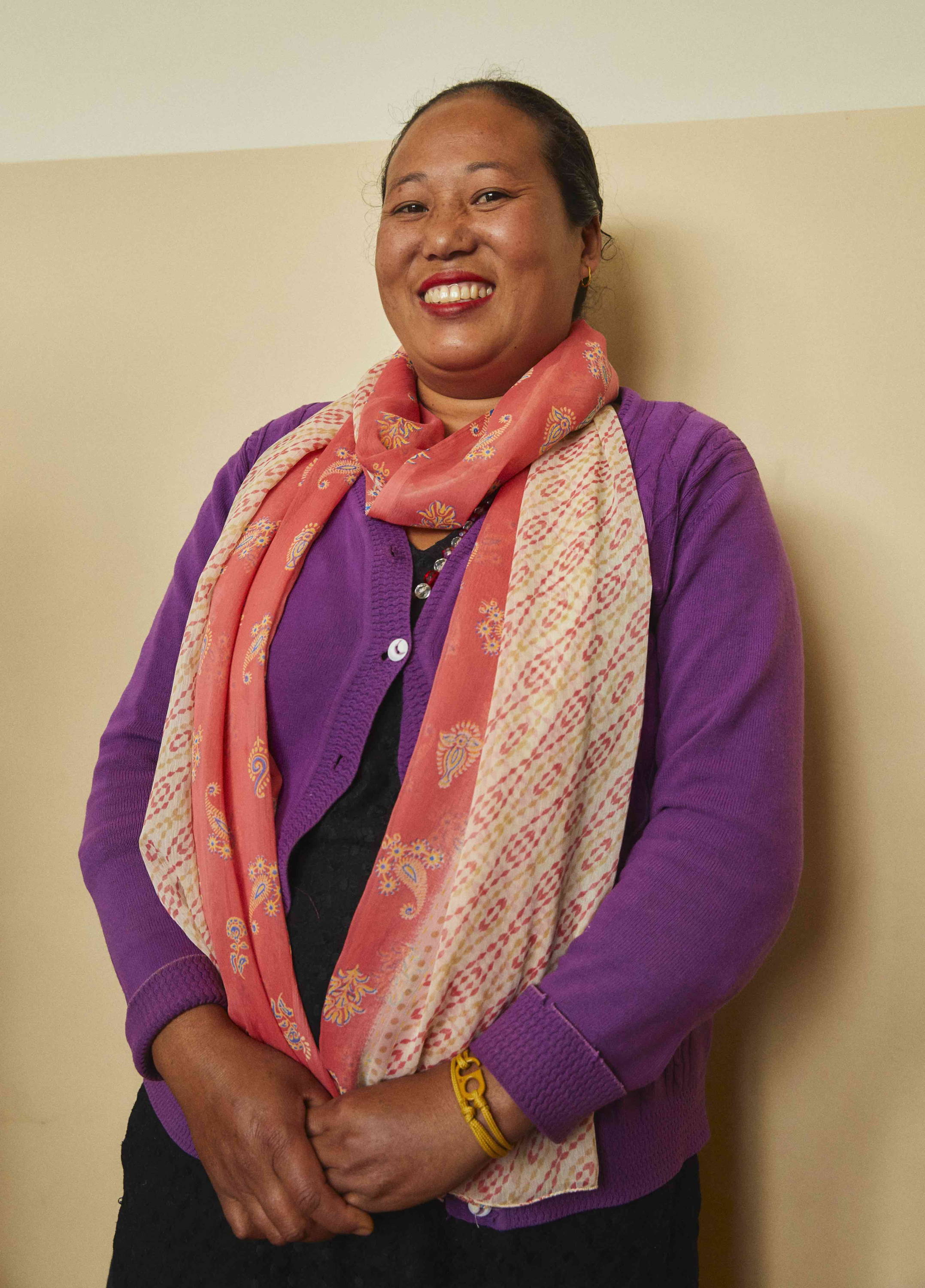 Pari Maya Tamang says the work she does for
#TOGETHERBAND has made her a role model for her children
Pari Maya Tamang (above), from Kathmandu, used to be a labourer on construction sites, but poor health made her work impossible. Pari, her husband and her two children used to rely on ROKPA's soup kitchens, but after joining ROKPA's seamstress training programme, their lives improved dramatically. 'Getting this training and this job making #TOGETHERBANDs is one of the best things that's ever happened to me,' she says. 'This job is easier and can be done in a peaceful environment, with less physical movement than working on construction sites.'

The bond with her co-workers has also given her great strength. 'Meeting different women during the training at ROKPA helped me learn tailoring more easily and faster. Working with the other women for #TOGETHERBAND is amazing as it's helped change all our lives in a positive way.'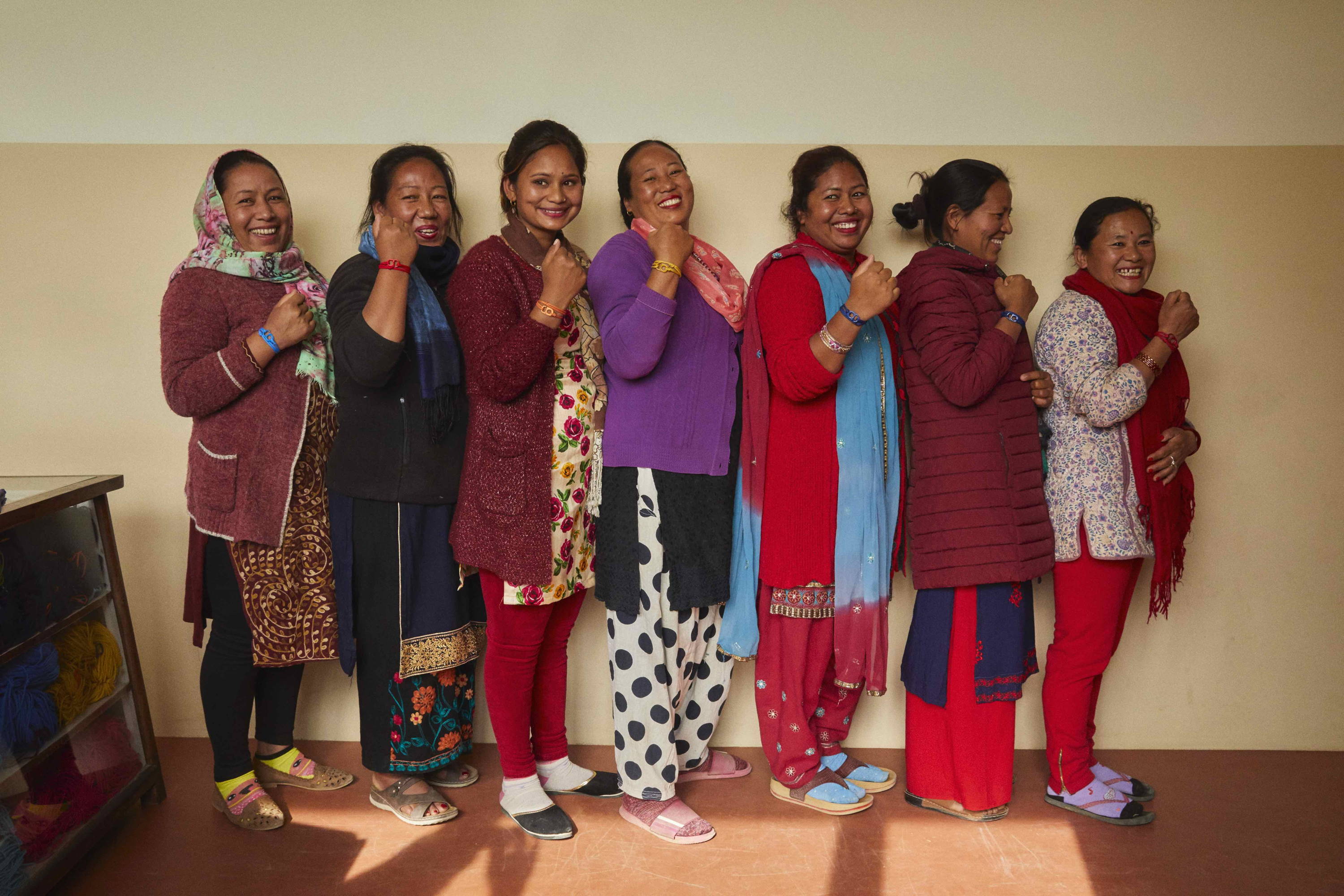 The #TOGETHERBAND team in Nepal,
who trained via ROKPA
Pari's whole family has benefited too. 'I never got the chance to go to school as a child,' explains Pari. 'I married at an early age, couldn't learn any skills and was always struggling as my husband has alcohol issues. Now getting this job has helped my family and I can fulfil our basic needs. My children are able to go to school and get a proper education and I've been able to work, setting a good example to my husband as well as my children.'

Providing meals to families in need
ROKPA's training programmes for vulnerable women are just one of many long-term sources of support that the organisation provides. Their life-changing work also includes running children's homes and soup kitchens, as part of an emergency food invention programme. For those living on the streets, this has been vital. The soup kitchens were first established in 1990, but extended during the pandemic.
'The COVID-19 crisis hit Nepal hard,' says Lea Wyler, Co-Founder and President of ROKPA INTERNATIONAL. 'We've seen so many people on the streets begging for food. The homeless community, those with disabilities, families and all those who lost their jobs because of the long lockdowns have been struggling the most.'
Finding homes for children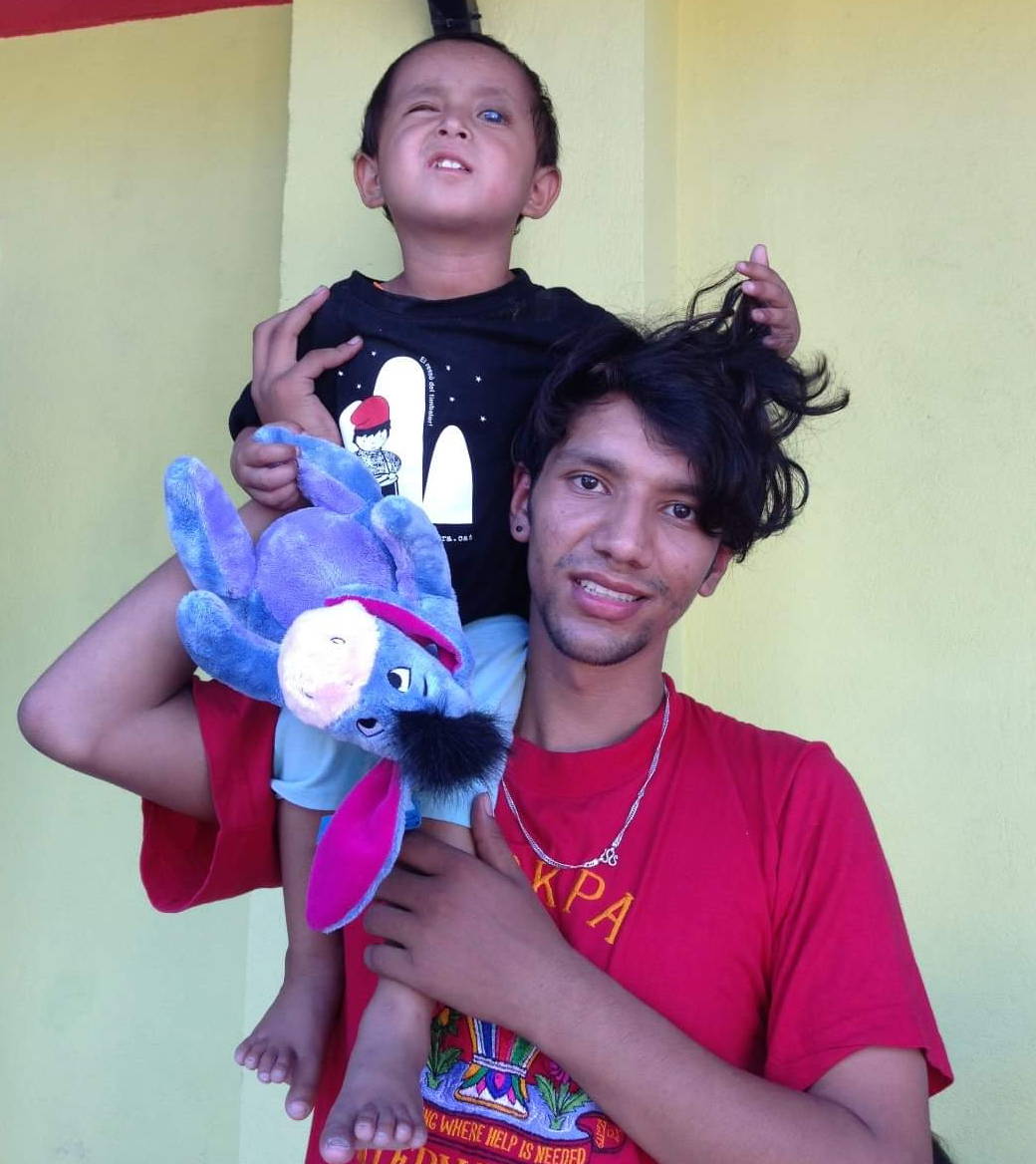 Krishna Hari grew up in a ROKPA children's
home and now works for ROKPA
ROKPA's children's homes also help change the lives of vulnerable children in Nepal. One of those is Krishna Hari (pictured above) who now works for ROKPA and is a long-term friend and colleague of #TOGETHERBAND's. Krishna grew up in a ROKPA children's home after he, his mother and sister were thrown out of their village and stigmatised for his mother's health conditions. 'My mother used to have epileptic fits. She would tremble, pull at her own hair and beat herself,' says Krishna. 'No one understood it was epilepsy. They thought she was possessed by evil spirits.'
Krishna and his sister went to live in a ROKPA children's home and were looked after by a member of staff they called 'Mum' who helped raise them as her own. It changed the entire course of his life. His father, who took a second wife, was also eventually reunited with him. Krishna achieved record grades at secondary school, went to university to pursue a degree in Development Studies and now works at ROKPA himself, as an administrator for the women's workshop and a volunteer teacher in the children's home. He's also a talented photographer.
Krishna feels enormous love and gratitude for the children's home that changed his life. 'Now I'm respected in my home village and have a good relationship with my own mother and father. Through ROKPA, my mother got the medical help she needed to manage her condition and now runs a small hotel.'
If you would like to support the work of ROKPA, please either donate directly to ROKPA or choose the #TOGETHERBAND that most resonates with you. Your support will help empower more women like Pari to achieve the life they deserve.
100% of profits from the sales of #TOGETHER products go to charities that advance the Sustainable Development Goals. Find out more here.