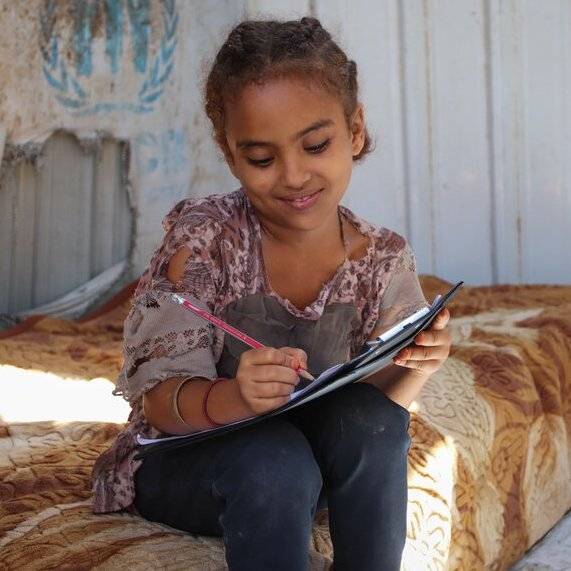 image: WFP/Saleh Bin Hayyen
'The pain of hunger made me cry'
Two children share their powerful accounts of life in famine-stricken Yemen
By Jessica Jurkschat
27 May 2021
There are few places in the world where the link between hunger and conflict are as clear as in Yemen. Today, over half the population – 16.2 million people – are food insecure. Of those, nearly 50,000 are already facing famine-like conditions and a further five million are only one step away.
Simply put, the country is in disarray. Yemen has already suffered through six years of man-made war and is on the brink of famine – food prices are up 140%, hunger has increased and conflict has intensified.
The World Food Programme's (WFP) operation is the largest in the world, reaching nearly 13 million people. So far, the humanitarian response, alongside WFP food assistance, has prevented Yemenis' from falling further into starvation. But the country's situation is urgent and there is still so much work to be done.
Here, two children share their powerful stories of life in Yemen...
'I felt hunger. It was a pain in my stomach that made me cry'
Elaf, a 10-year-old girl from Yemen, has three sisters and a brother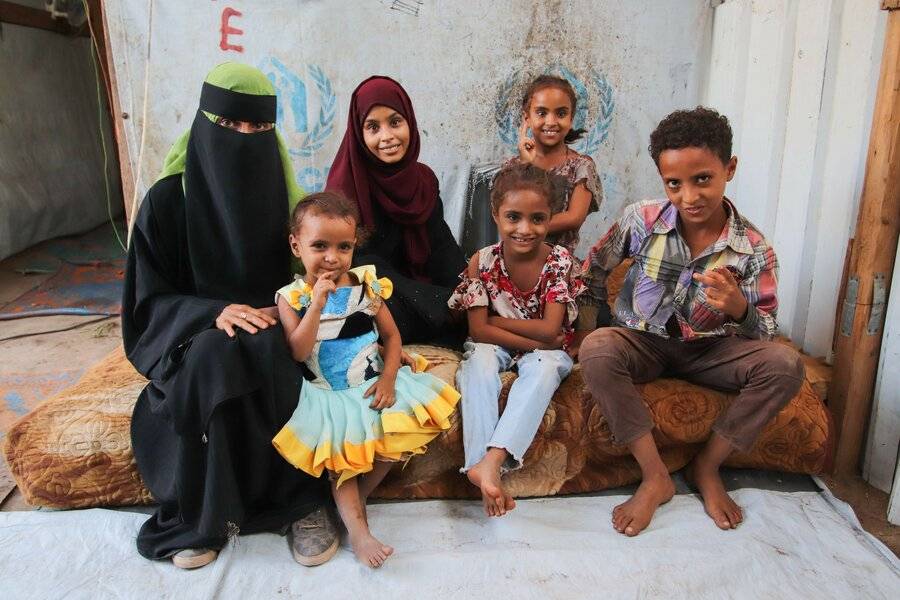 image: WFP/Saleh Bin Hayyen
'When the war started, I was nearly six years old. I didn't know that the fear we were living through was called war. I remember hiding in our house from the sound of bullets and missiles. We saw many people dying every day, but I didn't understand why.
We ran from Hodeidah, leaving all our stuff behind — our home, our clothes, our toys – and we came to Aden where we have no house and electricity. We only have a tent. I felt hunger. It was a pain in my stomach that made me cry.
Before the war, my life was normal and everything around was pretty. I used to have pretty things but I couldn't bring them with me when we fled and we can't buy them again now. WFP assistance is the main food source for me and my family. With that, we can also buy some other things such as school uniforms and stationery. We can pay the school bus fees and medicines if anyone gets sick. My favourite food is roast chicken but it's too expensive so we can't have it anymore.
I would love for the people outside of Yemen to hear from me about my life so that they understand our situation. My dreams have changed a lot since the war. I used to have a house, went to private school, and everything was available for me. Now I worry that harm will come to my family or that I will not complete my education. Being educated is what will make me able to build my life and my future. I wish in the future that the war ends and I can return to my home. But I am afraid that the war will get bigger and that we will have to move again.'
'I dream that the war ends and Yemen is peaceful again'
Amina, a 12-year-old girl from Yemen, has three sisters and a brother.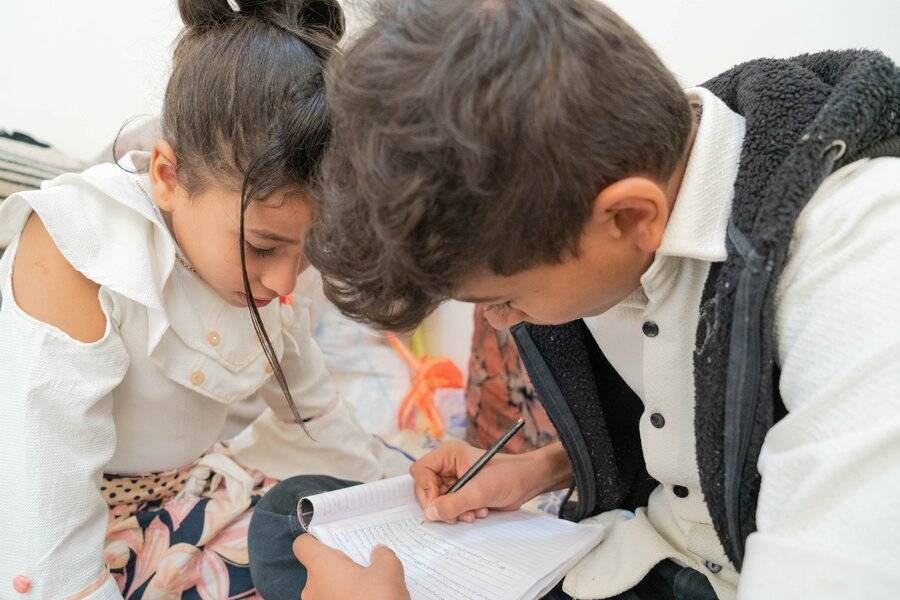 image: WFP/Mohammed Awadh
'My family used to live in Hodeidah. I remember going to school there. After school, my friends and I would sit together and review what we had learned that day. Then we would go out together to play until sunset. Life was beautiful. But then the war came. I was seven years old when it started. I wasn't expecting that to happen. Everything changed. We felt fear – terrible fear. The bombing was so close to our house. I would run to my parents' arms when the bombing started.
When they hit, my father let anyone who needed shelter into our home. He would call the children's parents and tell them that their children were safe with us. I am so proud of my father. He is a hero. My father made them feel like we are all one family.
I remember the time one of my classmates was injured. Her name was Nada. She was hit by shrapnel and her hand was amputated. I asked my teacher about her and she told me what had happened. I felt so sad. I don't know why this happened to Nada. She is not responsible for the war.
The bombing didn't stop. People started leaving my neighbourhood. And then, one day, my father said that there were only two families left. That's when we decided to leave, too. We fled to Sana'a [Yemen's capital]. When we arrived there, we moved many times to many places until we found a house away from the city. It is very quiet here. It is better not to be in Hodeidah.
My favourite meal when I was in Hodeidah was chicken and makhlouta [a vegetarian broth], which is a famous dish in Hodeidah. We used to eat it a lot. Here in Sana'a, I remember the last time we ate chicken was last month.
Sometimes I feel hungry. I go to the kitchen and find nothing. I have to wait. When coronavirus came, my father told us not to leave our home. It's been hard to stay at home. We tried to buy extra food so we wouldn't have to go out. I missed my classmates. Now, I just want to go back to school.
The thing that worries me most is that the war will go on and on. It will be my future. War scares me more than coronavirus. You can take preventive measures and protect yourself from coronavirus. But war, where can you go? It can always get you — in many ways.
It is not only the bombings. People suffer when their homes are taken away. People die of hunger because they don't have enough food for themselves and their children. I dream that the war ends and Yemen is peaceful again. I dream that Yemen is happy again.
Disclaimer: WFP does not endorse any product or service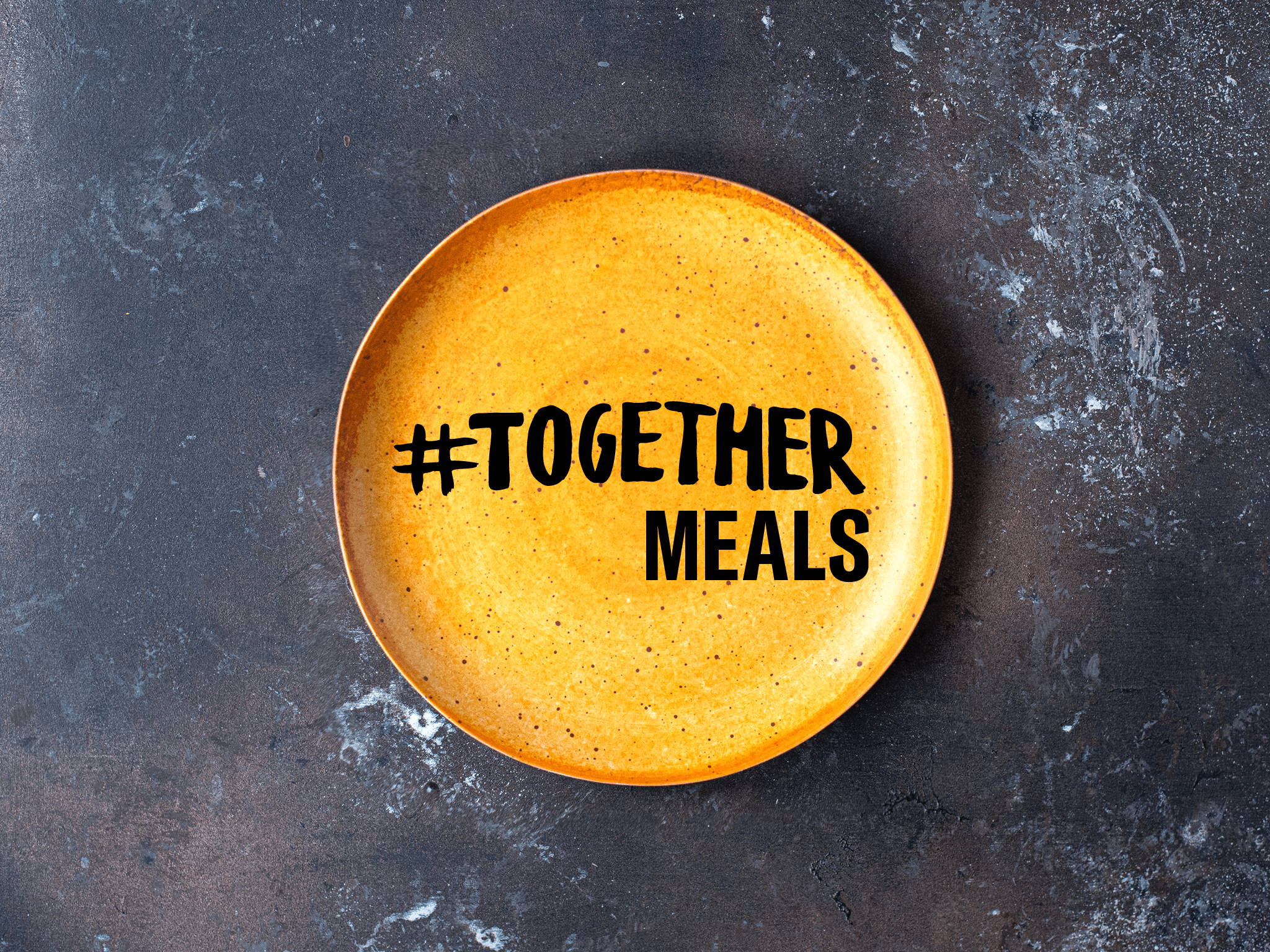 Giving the gift of food couldn't be easier. Simply download WFP's ShareTheMeal app, then choose the donation amount and frequency that suits you. By pledging just 65p you can feed a child for a day, or for £4.55 you could donate seven meals.

If you liked that, you might like these...