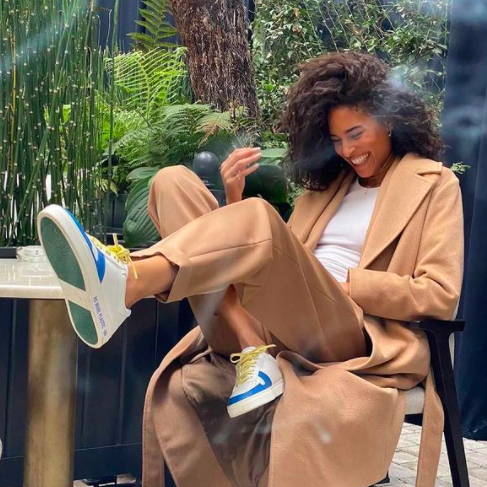 Image: Yatay vegan trainers
Goal 12: Responsible Consumption and Production
Are Vegan Trainers Actually Good For The Environment?
The answer? It's complicated. Sustainable sneakers specialist and #TOGETHERBAND's Deputy Head of Content Hannah Rochell investigates and picks out her favourites.
By hannah rochell
24 june 2021
With everyone from Gucci to Gola jumping on the vegan trainers bandwagon, it seems there's an ever-insatiable appetite for animal-free footwear. But while cutting down the number of cattle that roam our planet is undoubtedly a good thing - livestock accounts for 14% of all greenhouse gas emissions and is the single biggest cause of deforestation globally - vegan leather definitely doesn't automatically tick the eco box when it comes to the environment.
As with everything in the responsible consumption conversation, sustainable sneakers are a complicated and nuanced subject. Footwear is made from more multiple parts and materials than most fashion items, which convolutes the issue even further, so it's often it's a case of choosing the thing that's most important to you (eg animal welfare or plastic-free), because few brands hit the mark in every area, and you might have to compromise. But from big hitters like Veja and Pangaia, to smaller indies including WAES and Elliott Footwear, there are brands doing it well, and with style.
With that in mind, here are some top tips on what to look out for when shopping for vegan trainers that are good for animals and the environment. Then, get stuck into my pick of the best on the market.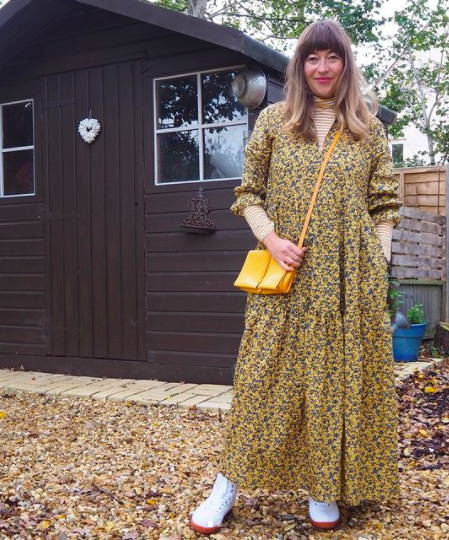 Image: Hannah Rochell wearing vegan compostable trainers from WAES
What is vegan leather made from?
Many vegan leathers are made from 100% virgin plastic, and plastic is made from fossil fuels. Neither of these things are good for the environment. Fossil fuels are responsible for releasing greenhouse gases which cause global warming, and plastic takes hundreds of years to decompose. Not only that, but because of their multiple parts - uppers, soles, laces, eyelets, glue - shoes are notoriously difficult to recycle at the end of their life. Plus, with every step you take on a synthetic rubber sole (synthetic rubber: also plastic), you leave microplastics littering the ground which can easily get washed with the rain into our water systems and the ocean.
Is recycled plastic vegan leather a better option?
Yes! Recycled plastic is always better than virgin plastic. It still comes with the problem of not decomposing quickly and releasing microplastics, but it takes far less energy and no new petrochemicals to produce it (if it's made using renewable energy like solar or wind). The best brands will also run a returns scheme - you send back the trainers when they've worn out and the brand takes responsibility for recycling them. This usually means that they design them from the outset with recycling in mind, using fewer component parts and fewer types of plastic. This is called circular design.
So what is plant-based leather?
Plant-based leathers are becoming increasingly popular. You've probably heard of Piñatex, which is made using pineapple, but you can also achieve a leather-like material using apples, grapes and cactus. The catch? Most plant-based leather requires a synthetic material such as polyurethane (PU; a type of plastic) to bond it together and achieve a high quality finish. Look for brands that combine recycled synthetic content with their plant materials, or use bio-based PU which is made from vegetable oils rather than petroleum.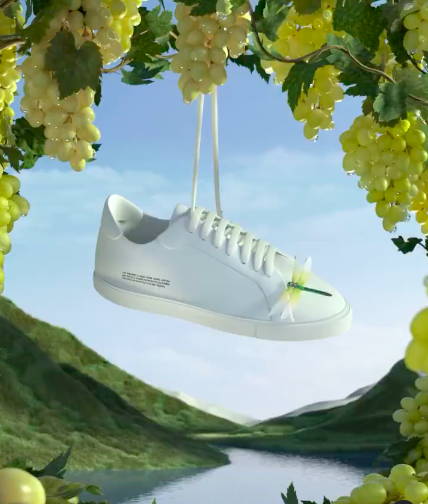 Image: Pangaia "grape' leather sneakers
Are canvas trainers better for the environment?
Canvas is a natural material, which means it decomposes quickly, in as little as just a year if the conditions are correct. It's also easy to recycle, and many brands now use recycled canvas to make the uppers of their trainers. Look for a natural rubber sole for the full sustainable package, and make sure the glue used is vegan, too. Of course, canvas isn't waterproof like leather alternatives, so is a better option for the summer months.
What's the future of vegan trainers?
Many high end brands are investing in a really exciting development in plant-based leather: mushrooms. Using mycelium, which is derived from the root structure of mushrooms, it's possible to produce a lab-grown leather alternative, which can be grown to exact shapes and sizes, reducing waste as well as being eco-friendly. And it's a really convincing texture, too. Stella McCartney, adidas and Gucci have all committed to releasing products using a material called Mylo, while Hermès has partnered with a company called Mycoworks; both use mycelium technology.
How can I spot greenwashing?
Greenwashing - when a brand promotes its sustainable credentials to be better than they actually are - is everywhere. Even if a brand releases a vegan or sustainable style, if they sell large amounts of trend-led fashion made from manmade materials like polyester, they can't be a sustainable brand (fast fashion cannot be sustainable: the clue's in the name). When you're not sure, ask some questions. If it's a shoe brand that also still uses leather, where do they source the leather from? How many items in the brand's output are sustainable? Who makes the shoes, and are they in safe conditions? The best brands will be eco-friendly in every aspect of their business, from making timeless designs and producing fewer products, to using certified dyes and recycled packaging to send their goods out in.
Here are some of my favourite vegan sneakers. (NB all styles pictured and linked here are vegan, but some featured brands have non-vegan styles in their wider ranges so please check the small print when browsing!)
The Scientifically Reviewed Ones: Aspect Climate Projects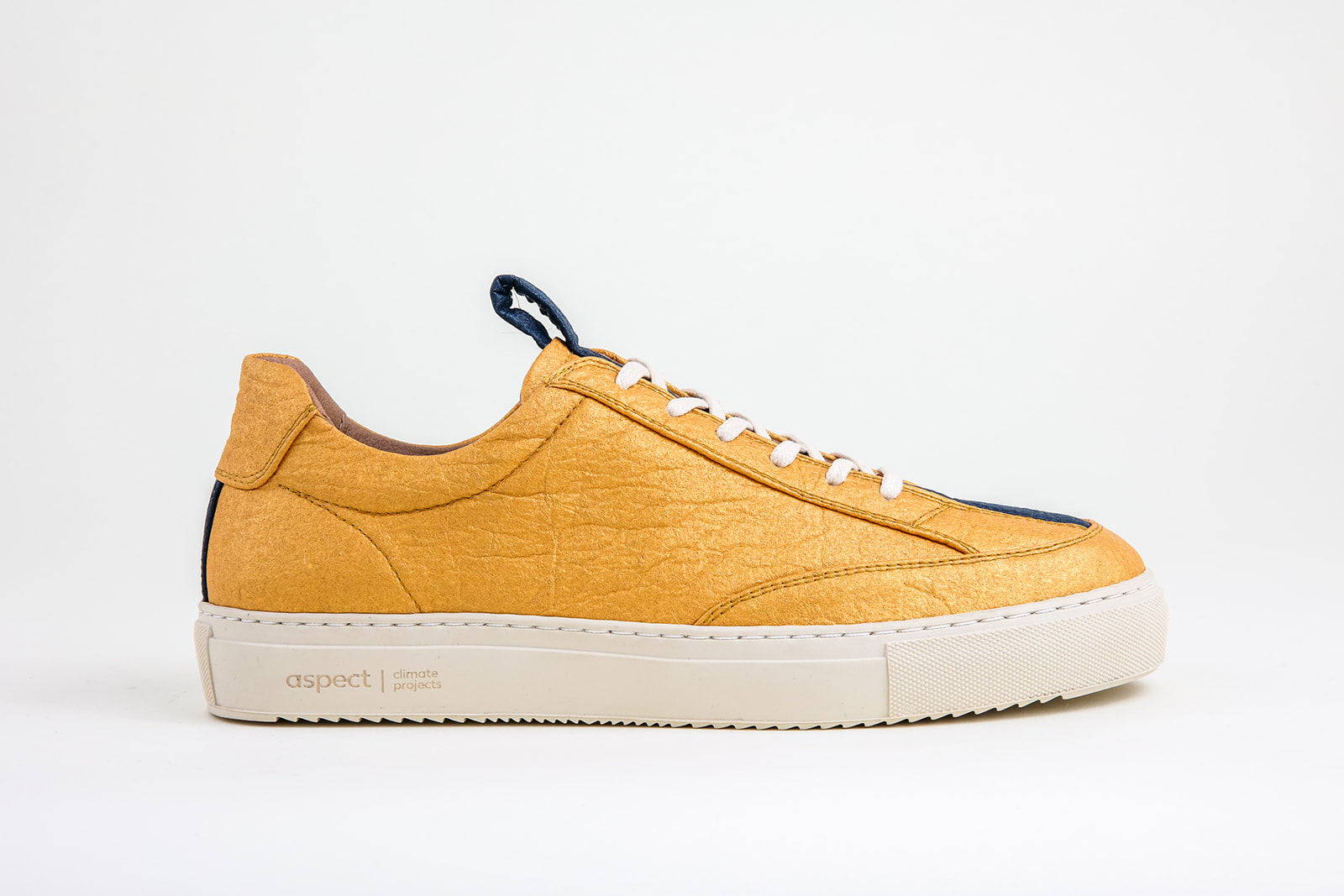 Looking for the ultimate in vegan trainers? These tick all the boxes. Made from 68 pineapple leaves (we love the specifics!), cork, coconut and natural rubber, they're only available on pre-order, which means they don't get made until someone says they really want them, eliminating waste. The development of these trainers has science at its core, with every step of the process and supply chain independently scientifically reviewed. Oh, and they look great too - available in white, black, navy and gold (pictured).
The Compostable Ones: WAES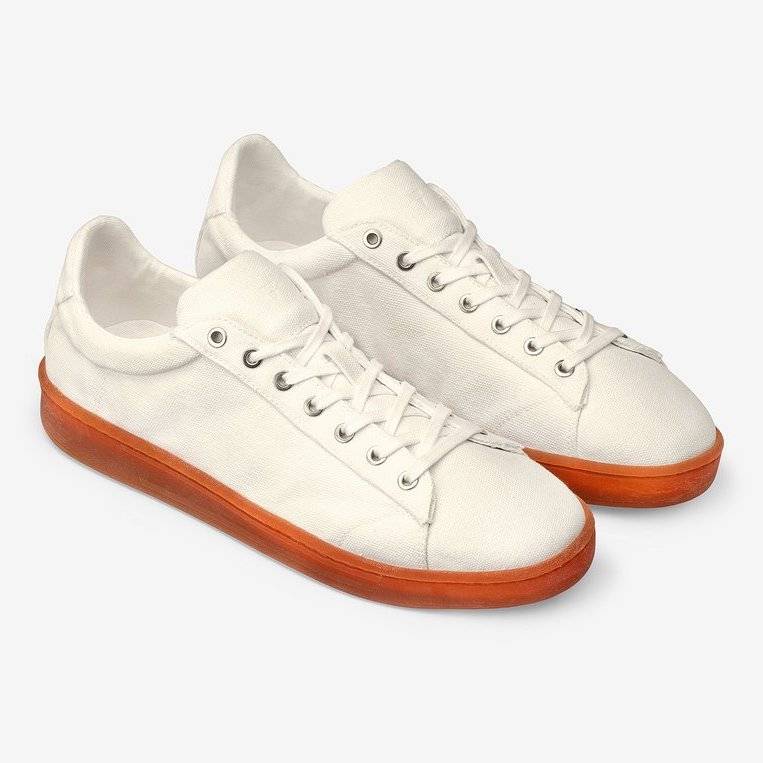 Keen gardeners will be particularly interested to discover WAES, a range of plastic-free and completely compostable trainers. Yep, that means you can literally throw them on your compost heap in the garden when you're done with them. They're made from organic cotton and natural rubber; when you need to throw them away, remove the metal eyelets and cut the shoes up before adding them to the compost. Oh, and they are INSANELY comfy, too.
£160, waes.co
The Recyclable Ones: Vivo Barefoot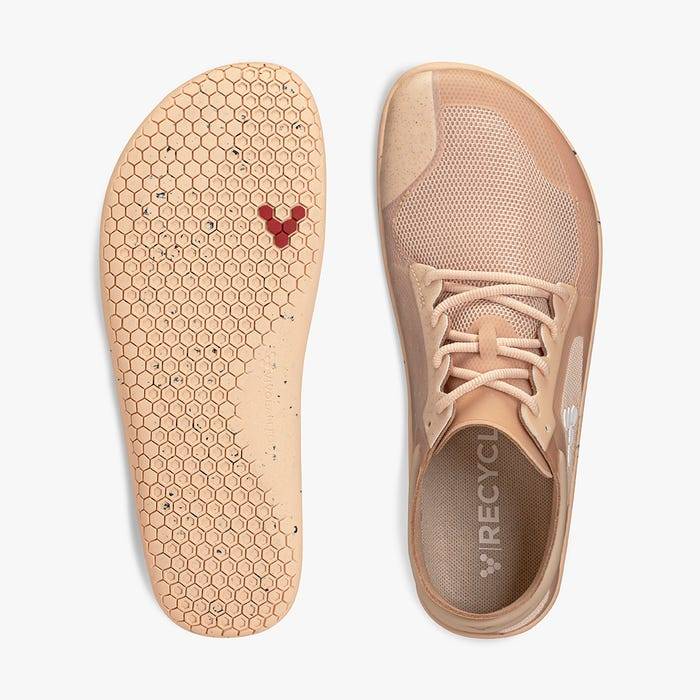 As well as being designed for comfort, with an accommodating wide fit and flexible sole, Vivo Barefoot's trainers are also designed to be reconditioned and repaired at the end of their life. According to Vivo's ReVivo scheme, 24 billion pairs of shoes are produced every year, and 90% of them end up in landfill, often within a year of purchase. ReVivo will breathe new life into old trainers - simply send them to ReVivo when you're done with them for a revamp. You can also buy shoes once they've been reconditioned for a fraction of their original price.
£115, vivobarefoot.com
The Bio-Leather Ones: Yatay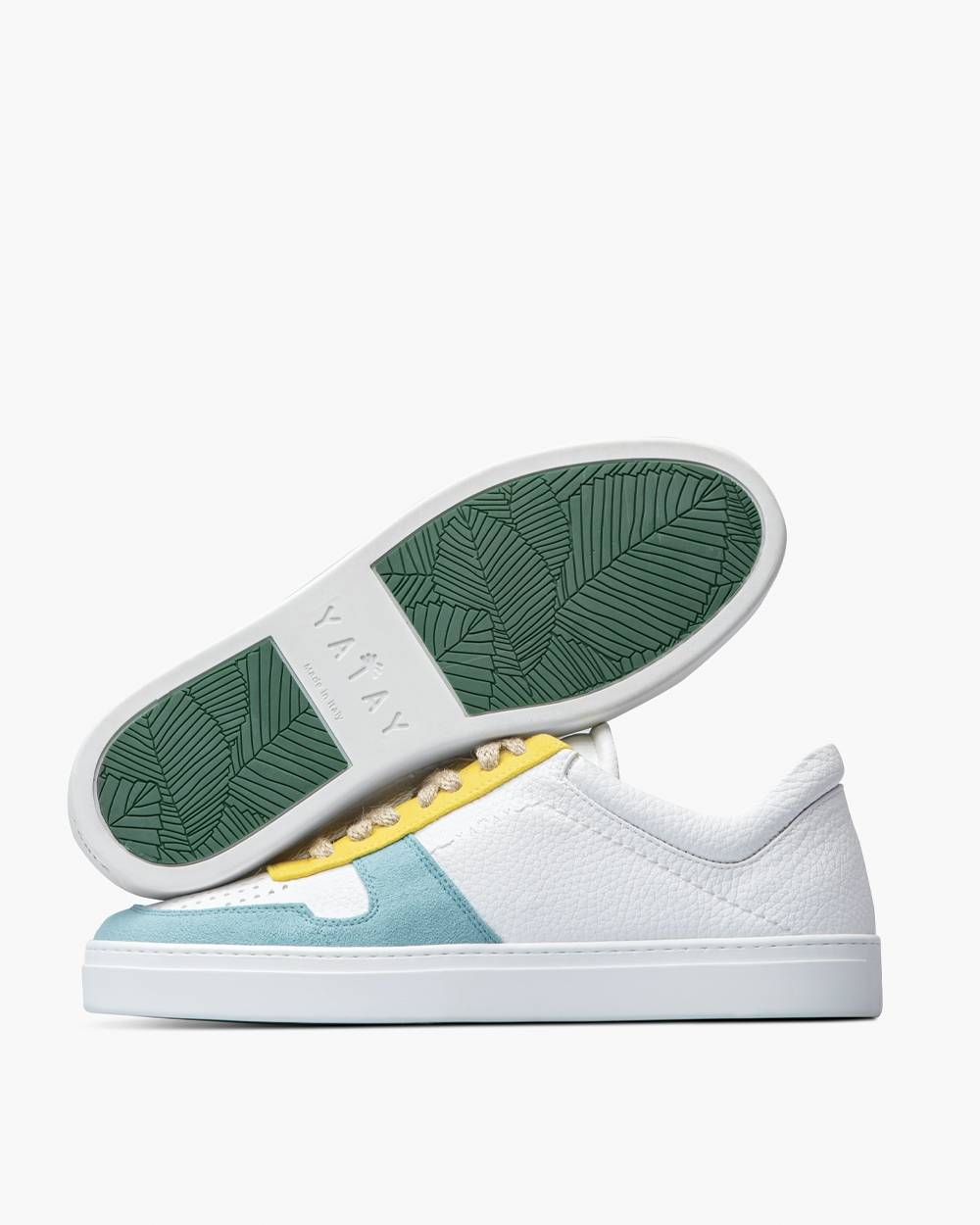 Yatay uses a variety of sustainable materials to make its sneakers, including a vegan leather made from bio-polyols - this means the leather-like synthetic material is made from oil derived from corn, rather than petrol, and one of the advantages is that the crop absorbs CO2 while it's growing. The soles are made from recycled tyres, and you can send your old Yatays back to the brand to be recycled when you've finished with them.
£192, yatayatay.com
The Grape Leather Ones: Pangaia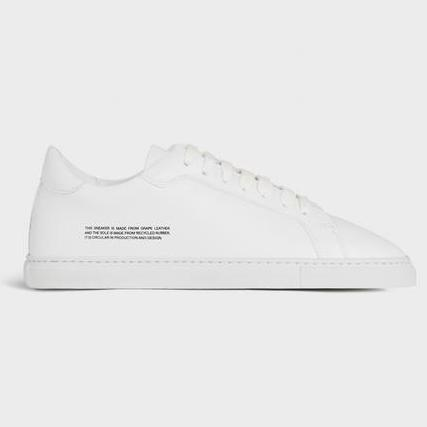 Fabrication pioneer Pangaia, which makes T-shirts from seaweed and puffer jackets from petals, now has a footwear range featuring these classic tennis shoe-style kicks made from grape leather. It's made by repurposing waste from the wine industry in Italy and is lightweight and breathable. Plus, the soles are made from recycled rubber. Just add a glass of sauvignon and you're good to go.
£170, pangaia.com
The Tree Planting Ones: Saye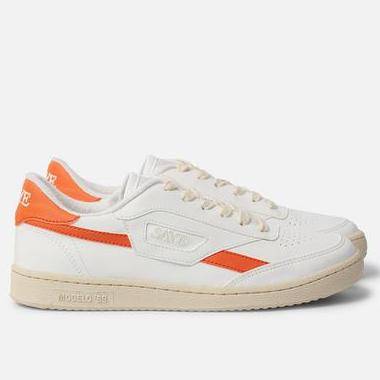 These trainers cover all bases when it comes to sustainable materials, with everything from insoles made from 60% recycled thermoplastics recovered from automotive factories and toe reinforcements created from wood chips, a waste product from carpentry. Saye also plants two trees for every pair of trainers sold.
£120, sayebrand.com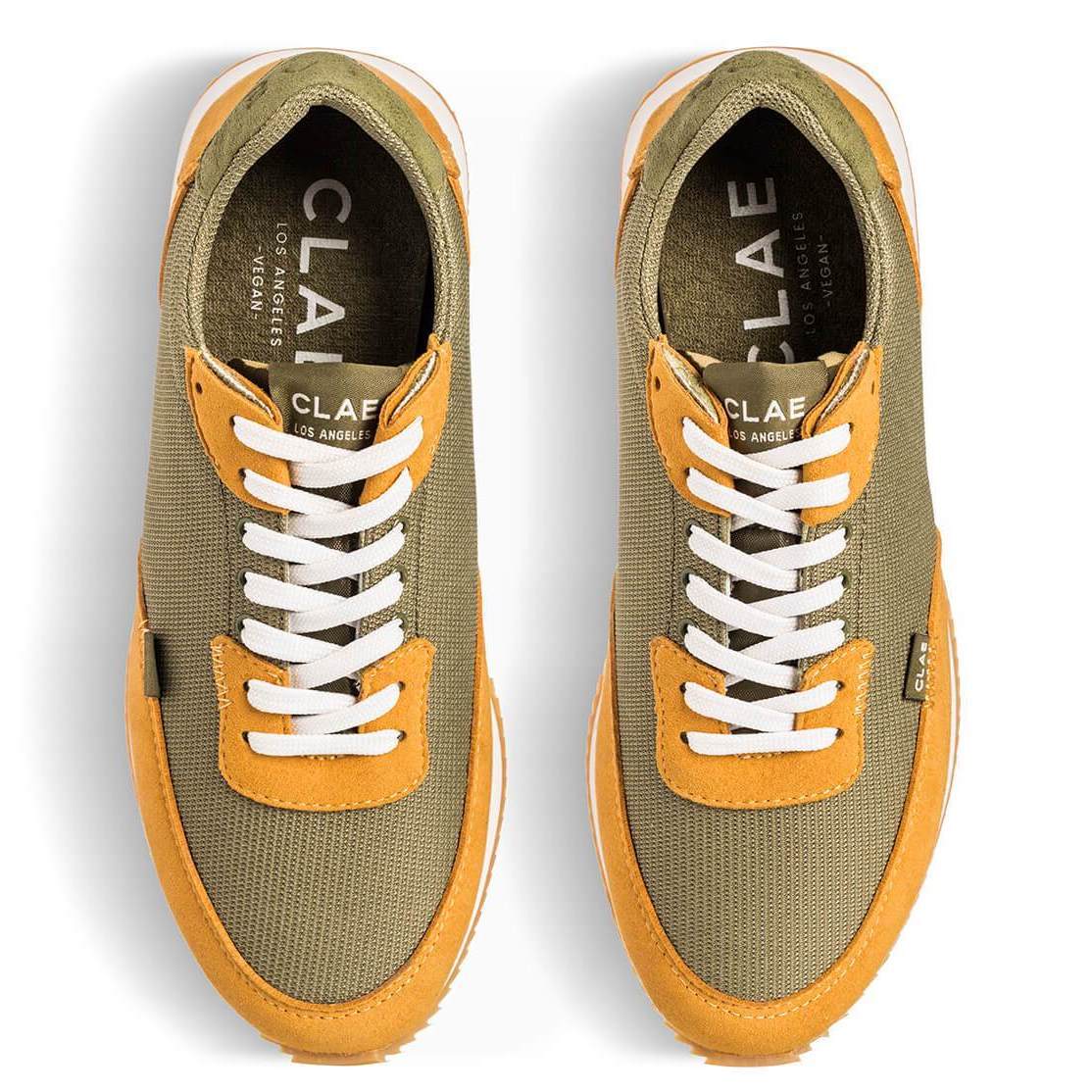 This L.A. brand now boasts ⅓ of its entire collection to be vegan. It also has a massive focus on using recycled materials. This retro-style pair is a lovely combination of the two, with a recycled mesh and vegan suede panels (the shoes are 100% vegan, though). Even the laces are recycled. Win win.
£63, clae.eu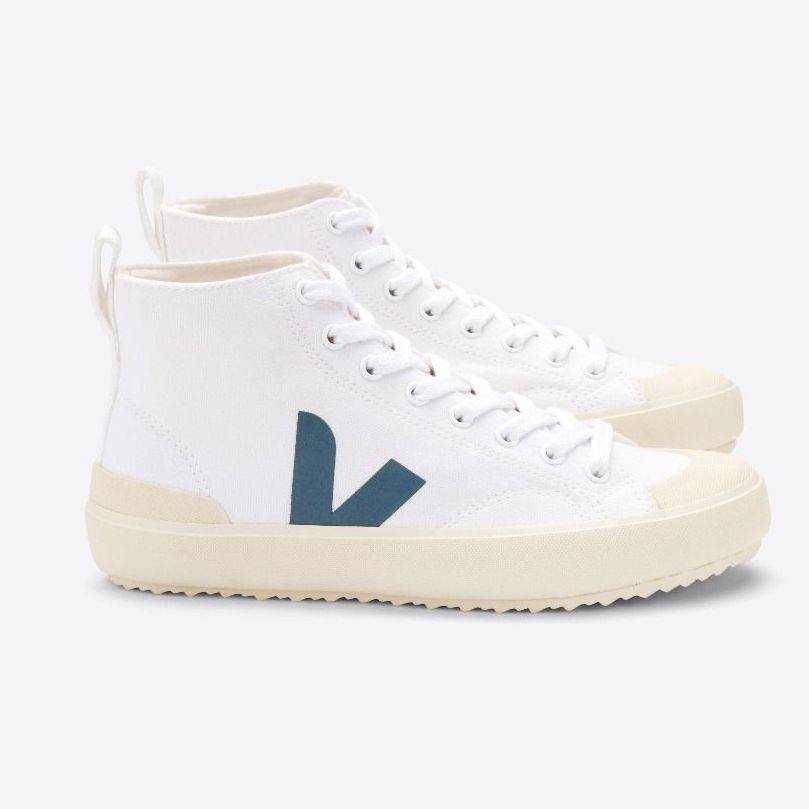 Loved by tastemakers the world over, Veja trainers are now a mainstay in many wardrobes. This pair is made with organic cotton and natural rubber from the Amazon rainforest which it buys at twice the market price. This gives local rubber harvesters a great income and also protects the forests around where they live from being cleared.
£90, veja-store.com
The Climate Positive Ones: Elliott Footwear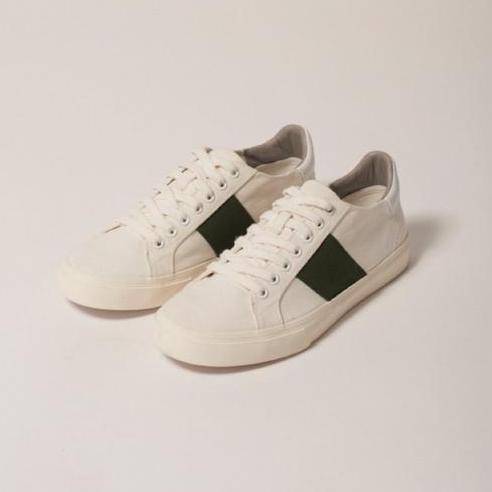 Elliott's vegan trainers can boast more eco-friendly credentials than just being made from recycled canvas. Since its launch in 2018, Elliott has been committed to supporting carbon reduction projects. To this end, every pair of Elliotts has its carbon footprint reversed with a climate positive offset of 1 tonne of CO2.
£109.99, elliottfootwear.com
100% of profits from the sales of #TOGETHER products go to charities that advance the Sustainable Development Goals. Find out more here.