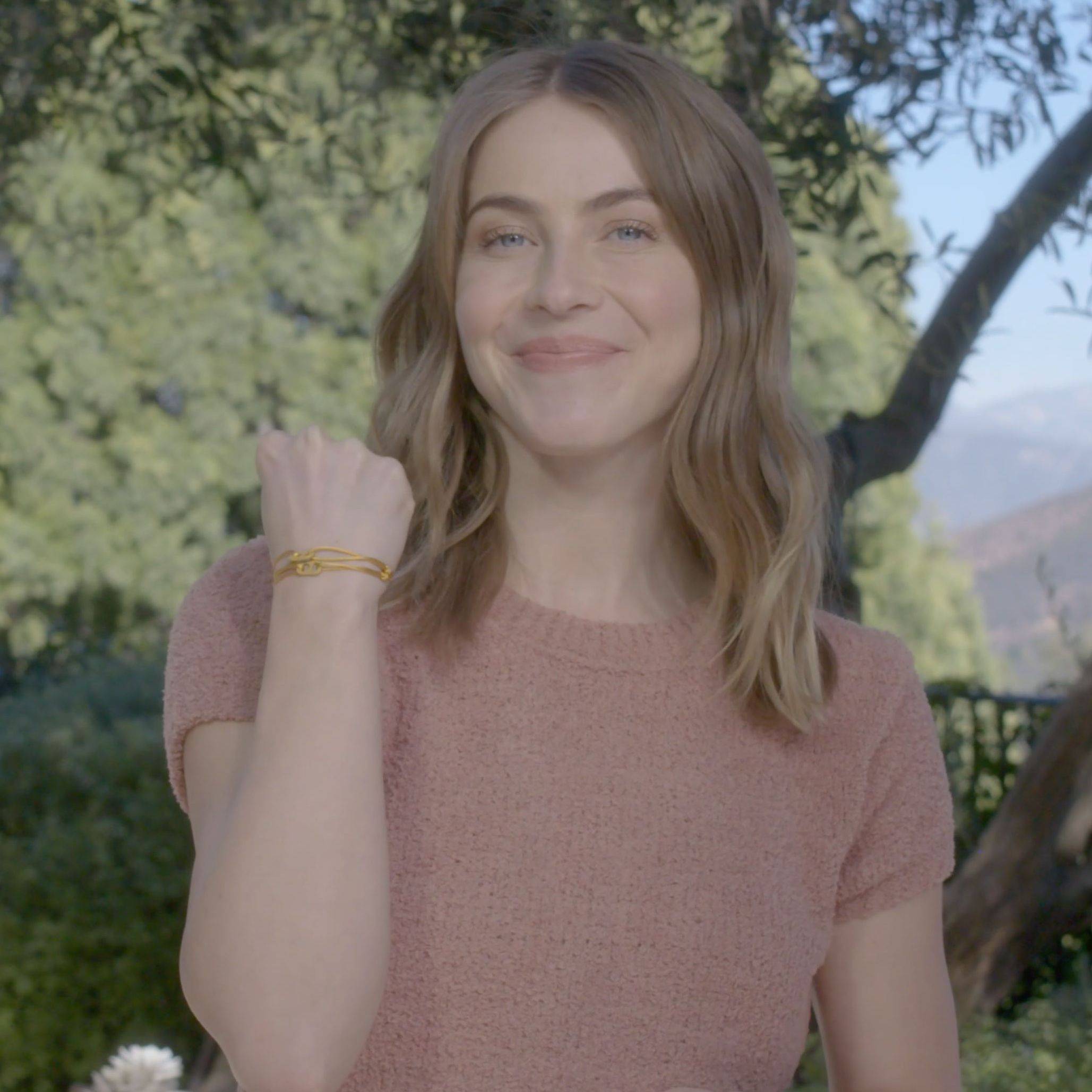 U.S. Dancer Julianne Hough Joins Us
Everything you need to know about Julianne Hough – the dancing queen and #TOGETHERBAND's newest Ambassador
By Jessica Jurkschat
28 may 2021
If you're a fan of dancing or country music, you're probably already familiar with Julianne Hough. The triple-threat – dancer, singer and actor – is our newest #TOGETHERBAND Ambassador joining in support of Goal 2: Zero Hunger. Here's everything you need to know about the dancing queen.
100% of profits from the sales of #TOGETHER products go to charities that advance the Sustainable Development Goals. Find out more here.

Dancing is in her blood
Literally. All four of Julianne's grandparents were dancers and her parents even met on a ballroom dance team. Julianne was encouraged to start dancing at an early age, beginning formal training in Latin Ballroom dancing at the Center Stage Performing Arts Studio in Orem, Utah and dancing competitively by the age of nine.
She danced... then judged
Julianne was just 18 years old when she joined Dancing With the Stars as a professional dancer in 2007. Her and her partner, Olympic gold medal-winning speed skater Apolo Ohno, won the season, making her the youngest professional dancer to win the program. She continued to dance on the show for five seasons and in 2014, she returned to the show as a permanent judge on the panel before eventually leaving the show three years later.
She can sing
In 2008, Julianne released her debut country album and even snagged the top spot on the Billboard Country Albums chart the week of its release. She won the Top New Artist award at the Academy of Country Music Awards and attracted the likes of country superstar Brad Paisley - so much so that she opened up his tour alongside singer-songwriter Jewel.
...and act
Julianne made her big acting debut in the 2010 musical film Burlesque, starring alongside musical icons Cher and Christina Aguilera. The film was nominated for the Golden Globe Award in the Best Motion Picture – Musical or Comedy category and has been called 'an inspiration for everything, from drag queen revues to viral internet moments' by Entertainment Weekly's Joey Nolfi. Since then, she's been cast in leading roles in Footloose, Rock of Ages, andSafe Haven.
'Hunger is unacceptable.'
She was an extra in Harry Potter
Credited as 'Hogwarts schoolgirl', Julianne and her older brother Derek appeared as extras in the 2001 Harry Potter and the Sorcerer's Stone film – a perk of attending Italia Conti Academy of Theatre Arts, one of London's top performing arts schools – all the students were chosen to be extras!
She's a survivor of endometriosis
Julianne became an ambassador for the Get in the Know About ME in EndoMEtriosis campaign in 2017 to increase awareness for endometriosis. She was first diagnosed in 2008, after years and years of suffering through chronic pains. 'It was sort of a relief to know that I actually had a name to the pain and that it wasn't just part of being a woman, and that I had to tough it out', she said of the experience. Now she's part of a growing list of public figures using their voices and platforms to raise awareness for the disease, including Lena Dunham, Padma Lakshmi and Halsey – in hopes that by speaking out, she can help more women identify symptoms of endometriosis and visit their doctor for a diagnosis and proper treatment.
She has her own line of wine
Julianne started her own line of health-conscious wines along with her best friend, Nina Dobrev. The two met through a mutual friend and bonded through their love of fitness and wine, eventually deciding to combine the two and create their own brand, Fresh Vine – a collection of premium low-carb, low-calorie, gluten-free wines.
If you liked that, you might like these...