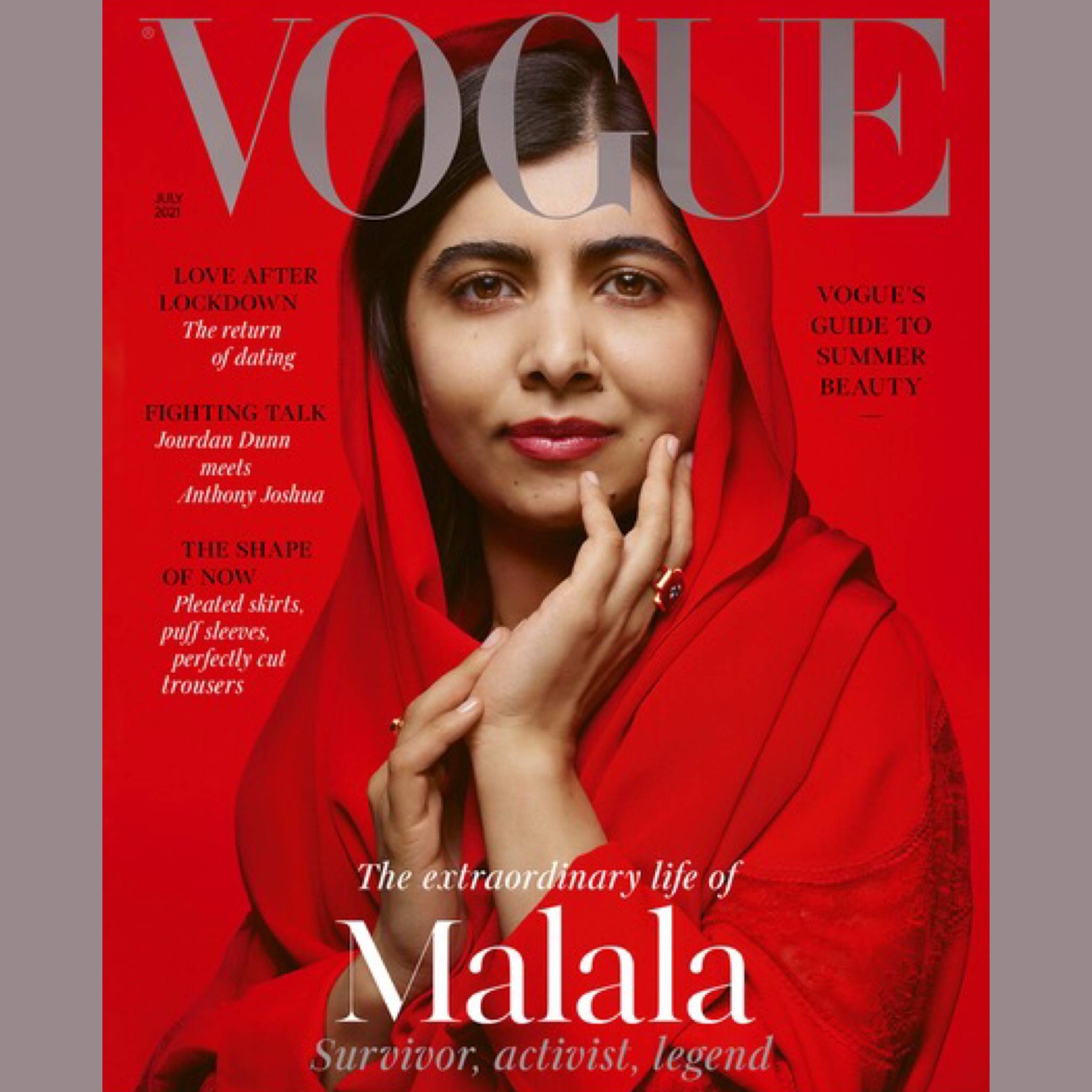 Nick Knight/British Vogue
'every country has a role and responsibility right now'
Malala: how this inspiring young woman became one of the most important voices in the modern world
By hannah rochell
18 august 2021
She's a girl's education activist, Nobel Prize winner, survivor and author, and even a Vogue cover star. And Malala Yousafzai is still just 24 years old.
This week, she gave an interview to the BBC's Newsnight about the current plight of Afghanistan, an issue she has personal experience of having been shot by the Taliban when she was just 15. 'I have been trying to reach out to many global leaders,' she said in the interview. 'I think every country has a role and responsibility right now. Countries need to open their borders to Afghan refugees, to the displaced people.'
The women's rights campaigner went on to speak up for the women of Afghanistan. 'The women are brave, they're strong, and they keep raising their voices. And we must give more opportunities and time to them to tell us what it is that needs to be done for them, for the peace in Afghanistan.'
Here's everything you need to know about how this inspiring young woman became one of the most important voices in the modern world.
1. Malala was a blogger at age 11
In 2009, Malala was just 11 years old when she began blogging for the BBC under the pseudonym Gul Makai. She wrote about what it was like living under Taliban rule in Pakistan, and you can still read her incredible diaries on the BBC news website.
2. Advocating for girls' education
The Taliban took control of the town that Malala lived in, which meant that the extremists didn't want girls going to school there. Malala's father previously ran the school that Malala attended, and was himself active when it came to educational issues in the area. Malala wasn't scared to speak out publicly about her own and other girls' right to learn, but on October 9th 2012, while on the bus home from school, she was shot in the head and neck by a masked gunman. She was 15. The Taliban's assassination attempt ultimately failed, but initially Malala was not expected to survive her injuries.
3. Malala moved to Birmingham in the UK
Following the attack, Malala underwent several operations in the United Kingdom. She and her family then relocated to Birmingham, where she was able to freely continue her education at the Edgbaston High School for Girls. She is still based in the UK.
When she woke up from her injuries in a new country, Malala made a decision. 'I could live a quiet life or I could make the most of this new life I had been given. I determined to continue my fight until every girl could go to school,' she says on her website. The first step was to establish the Malala Fund with the help of her father, which challenges systems, policies and practices to fight for all girls to have access to twelve years of free, safe, quality education and is currently active in eight countries across the world.
6. Malala is the youngest ever recipient of the Nobel Peace Prize
Almost two years to the day after she was shot, in 2014 Malala was awarded the Nobel Peace Prize jointly with Kailash Satyarthi, who is another children's rights activist. The Nobel Peace Prize cited their award motivation as being 'for their struggle against the suppression of children and young people and for the right of all children to education.' Malala was just 17 at the time, which made her the youngest ever recipient.
7. Malala is an Oxford University graduate
In 2018, Malala started studying Philosophy, Politics and Economics at the University of Oxford, graduating in 2020, and it's only made her more determined in her fight. 'With more than 130 million girls out of school today, there is more work to be done. I hope you will join my fight for education and equality,' she said after graduating. 'Together, we can create a world where all girls can learn and lead.'
8. She counts Greta Thunberg as a friend
Malala is friends with other Gen-Z activists, including the gun control campaigner Emma González and climate activist Greta Thunberg, who visited her at Oxford University.
In March 2021, Malala announced a partnership with the streaming platform Apple TV+, as well as her new production company, Extracurricular, which she intends to use to make documentaries about girls' education and women's rights, as well as, perhaps surprisingly, comedies (she's a big fan of Ted Lasso).
100% of profits from the sales of #TOGETHER products go to charities that advance the Sustainable Development Goals. Find out more here.
This was originally published in June 2021 and has since been updated