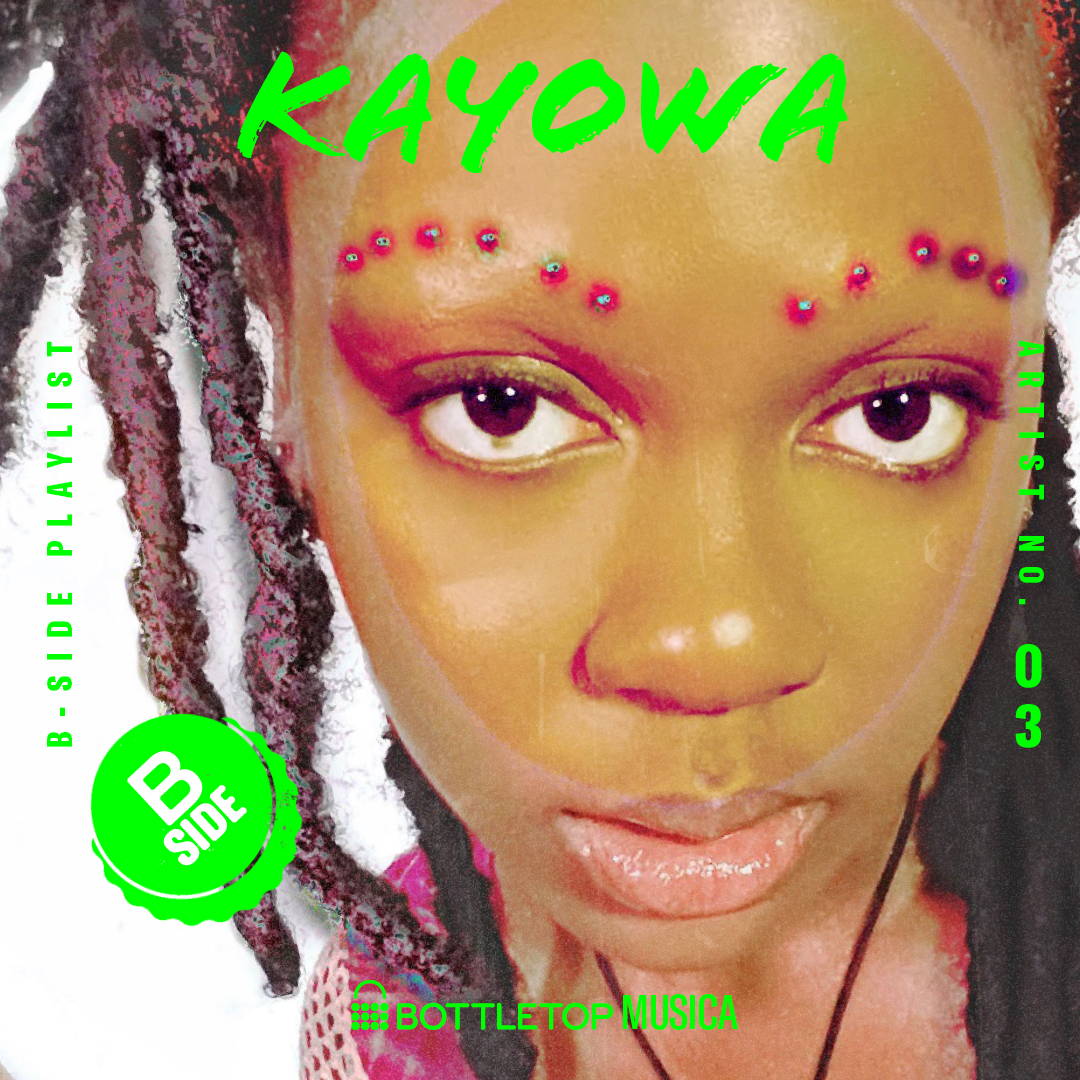 Goal 11: Sustainable Cities and Communities
Music, Sustainability And Living In The Moment: B-SIDE With Kayowa
We chatted with south London's up-and-coming music star to talk about her creative process, inspirations and the importance of staying present
By Jessica Jurkschat
12 April 2022
Born and raised in south London, Kayowa's electric energy and fierce femininity has put her on course for big things. She played an intimate gig in BOTTLETOP's flagship store on Regent Street in March and we were lucky enough to catch up with her pre-show to discuss her work, influences and creative process…
Tell us how you started making your own music
My family literally raised me on Michael Jackson as a kid. I was really young – I must have been three at the time – and I learnt how to play the piano by listening to Human Nature over and over again. Since that time I've just been writing my own music, humming and doing different things. And when I was 12 or 13, my mum got her first MacBook - I used GarageBand and it went from there.
Where do you draw your inspiration from?
I love this question. I literally listen to like, 300 artists and I draw inspiration from everyone I listen to. I'm constantly listening to new music, constantly filling myself with new sounds. I'm a HUGE Björk fan and have been getting a lot of inspiration from her recently.
How would you describe your sound?
Explosive, vibrant, electronic – but not the genre. I have a song called berserk and it's a very explosive way of expressing myself, my art, who I am and what I do. I'm a very explosive person – I'm dynamic, I'm multifaceted, I do everything myself, I'm very cultured and with culture there are so many avenues and so many different ways to go about it.
Is there a specific message you try to convey with your work?
Just be yourself, honestly. Life is short. Just live and do what you want to do. I feel like being in the moment and in the present is everything and I really try to convey that in my music. I just want to kick back, relax, let loose and encourage everyone to do the same.
How did growing up in south London influence your work?
I'm a bad bitch, and I think it's because I'm from south London. I was actually thinking about this the other day – if I was from anywhere else in London, I don't know if I'd be who I am today. I feel like being from south London has really helped me be street smart, be savvy – no one can take me for an idiot, no one can take me for a fool – and that's all props to my hometown and how I've been raised by my parents as well. I'd say that that reflects in my music because I'm very nonchalant – I don't really care about opinions or how others perceive me. I do what I want.
How does it feel to play your music to other people?
It feels good, I'm not gonna lie. I've really put myself into my music, so hearing the other people like it as well when I play it for them, is such a bonus. I don't care anyway – but it's the fact that they actually do resonate with something so personal to me. I think it's very heartwarming.
What is your favourite part of the entire process?
Performing. I do love hearing my voice as I record, and hearing the blend… everything raw. It's a really beautiful process to see what it can turn into. But honestly, I'd say it's performing. It's the best ever – just getting on stage and letting loose.
What has been the highlight of your career so far?
Getting signed – it gave me the assurance that I'm doing the right thing. I started making music in 2020 and I've never really had a plan, but it's nice to see the direction that I'm headed in.
At #TOGETHERBAND we always strive to protect people and the planet. Why is this important to you?
Because we're all stewards of the Earth – period. We're all here to protect the planet. Before us, other species were here and nothing bad happened until we came. So it's definitely our responsibility to sort it out and to make sure that there actually is an Earth for the future generations. It's not fair if it goes just because of our selfishness. It's definitely our responsibility if we really care about our lives, you know?
Which of the 17 Sustainable Development Goals is closest to your heart?
Oh this is so hard. But I think Goal 9: Sustainable Cities and Communities. Obviously, home is where everything starts – and if a city or town or community isn't sustainable, then the kids growing up there aren't going to have hope and they're going to be very close-minded and they're not going to understand the true meaning of life – which is to do unto others as you want them to do unto you. Kids go to school everyday and they learn everything they know from there so if the school foundation isn't sustainable and isn't the best.
100% of profits from the sales of #TOGETHER products go to charities that advance the Sustainable Development Goals. Find out more here.