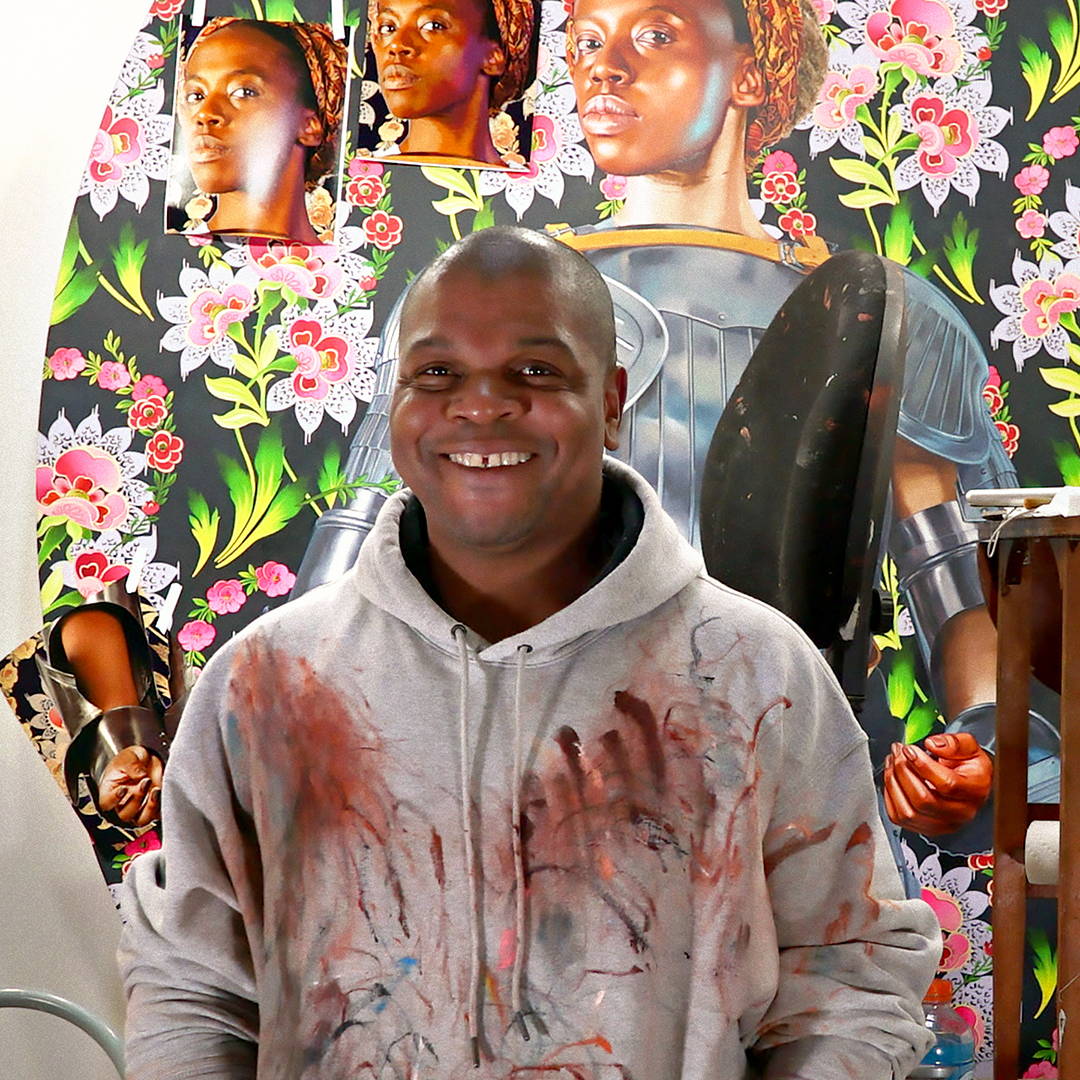 Goal 10: Reduced Inequalities
Need to know facts about this artist and #TOGETHERBAND ambassador
By HANNAH ROCHELL
18 July 2020
Kehinde Wiley shot to global fame when he was commissioned to paint a portrait of former President Barack Obama in 2017. Here's everything you need to know about our latest ambassador for Goal 10: Reduced Inequalities.
His talent was shaped by his childhood
Born in 1977, Wiley grew up in the notorious South Central area of Los Angeles in the 1980s, which exposed him to violence, poverty and inequality from a young age. One of six children - he is also a twin - he was raised in a strict home environment by his mother, who enrolled him in free art classes as a way to keep him off the streets. He was doing self-portraits as early as the age of 11.
He studied hard for his art
Teachers at Wiley's school spotted his talent, and in 1989 recommended him for a programme run by the Centre for U.S./U.S.S.R. Initiatives, where he would travel to Russia with 50 American students to study murals, the Russian language and culture, alongside students from the then U.S.S.R. 'It was a strange and magical time,' he told The Atlantic in an interview. In 1999, he earned his Bachelor of Fine Arts degree from San Francisco Art Institute, and graduated from his Masters at Yale University School of Art in 2001. He then went on to become an artist-in-residence at the Studio Museum in Harlem.
'I know I'm doing my best work when I feel uncomfortable'
He loves painting unknown muses as well as icons
In 2017, he was commissioned to paint one of the most famous men on Earth: Barack Obama. It was the former president's official portrait, to appear in the Smithsonian National Portrait Gallery. But Wiley is perhaps best known for his love of street casting, where he finds unknown Black muses on the streets of cities, from New York to Nigeria. They include Adewale Adekanbi, who was homeless prior to sitting for Wiley, and Ena Johnson, a student nurse.
His painting style is instantly recognisable
Wiley is known for painting Black subjects in contemporary clothing set against brightly coloured patterned backgrounds, which often look like intricate Rococo or Baroque wallpaper that becomes entwined with the person in the painting. He is also a fan of making references to classic art history; his painting of Michael Jackson sees the singer in armour riding a white stallion, after Jackson chose to have his portrait created in the image of King Philip II of Spain in a Rubens painting from the 15th Century. Many have noted the correlation between the excess of Italian renaissance art and hip hop culture, as well as the tool of painting marginalised youths - Wiley's street casting muses - as kings and queens, and how this is a commentary on modern society.
There is meaning hidden everywhere
The flowers in the background of his portrait of Barack Obama were carefully chosen. They're from Indonesia, Kenya, Hawaii, and the state flower of Chicago also makes an appearance. 'It all kind of gives you a sense of space and place and his trajectory,' he told the New Yorker in 2018. 'I think for many people it was a little bit jarring to see his image peering through this field of flora. But there was a method to the madness.'
His work has starred on TV, too
The hit Fox TV series Empire had a somewhat surprise star in the form of Wiley's paintings, which were seen adorning the walls of the fictional Lyon's family home. Caroline Perzan, Empire's set designer, worked closely with the show's creator, Lee Daniels, as well as gallery curators to choose the artwork that would appear in the series; Jean-Michel Basquiat, Vincent van Gogh and Claude Monet are amongst the other artists whose work appears in the show, but none as frequently as Wiley.
100% of profits from the sales of #TOGETHER products go to charities that advance the Sustainable Development Goals. Find out more here.