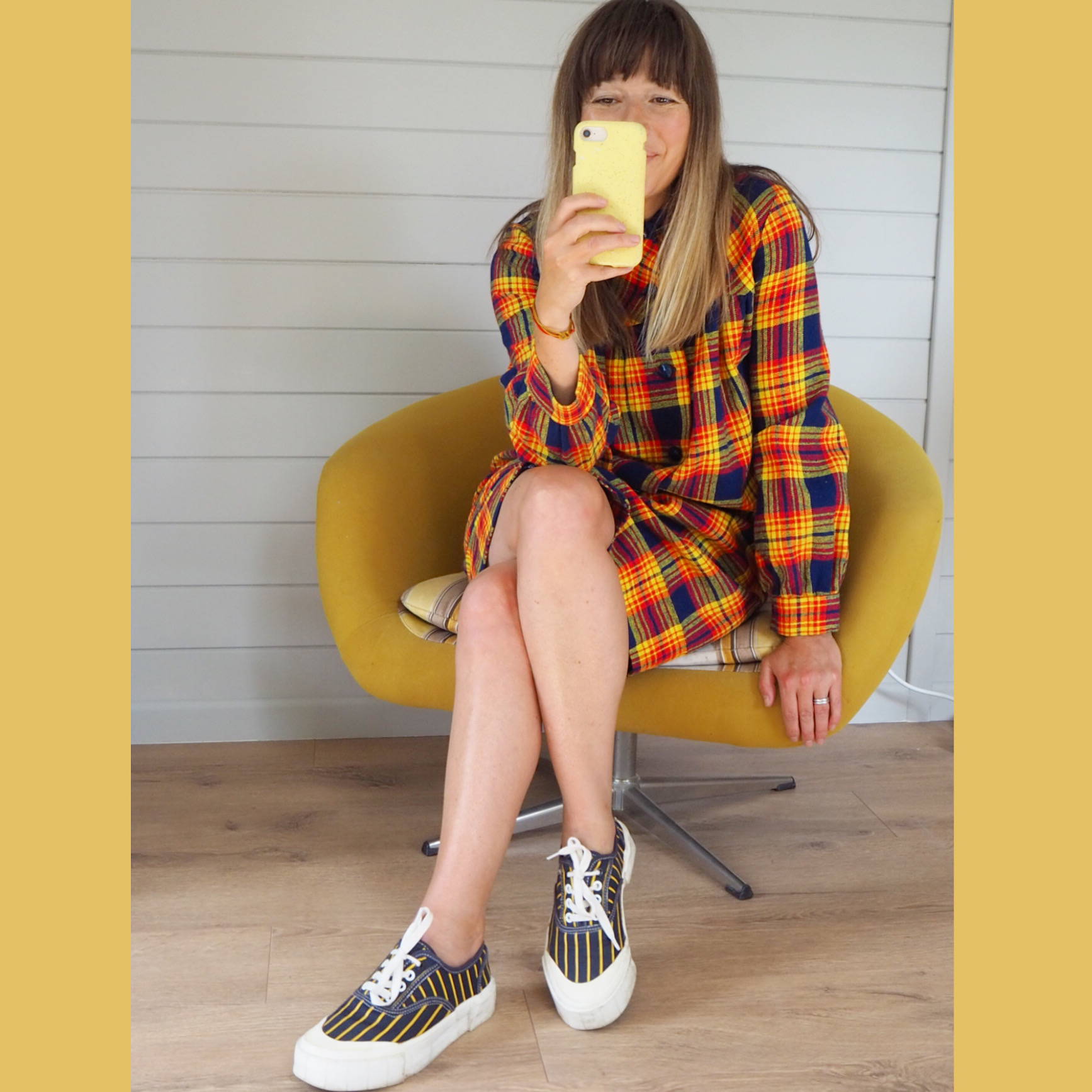 6 Second hand shopping tips from an ex-fashion editor
To celebrate Second Hand September, our deputy head of content looks at the virtues of vintage and pre-loved
By hannah rochell
1 september 2020
I spent over 10 years as a fashion editor for glossy magazines and national newspapers, during which time I mostly advised people on what new clothes to buy and where to get them. Not the best career choice when you are, as I am now, invested in protecting both people and the planet from being exploited beyond our limited means. In the UK alone, 13 million - yes MILLION - items of clothing end up in landfill each week. Put simply, we need to slow down our fast fashion addiction and find a new (or rather, old) way to enjoy clothes.
So I welcome Oxfam's Second Hand September initiative with open arms, a time when the charity encourages people to not buy anything new for at least a month and instead try shopping in the booming sectors of vintage stores, second hand websites and charity shops. I still love fashion, but I very rarely buy anything new since I banned myself from shopping for a year. Second hand was my first love, and now that I am allowing myself to shop again, it's the most sustainable way to get an injection of something new in my wardrobe. Not only that, as lockdown has given many people the time to have a good wardrobe clear out, there is plenty of fresh stock to choose from!
Here are my 6 top tips on what to look for and what to avoid when shopping second hand.
If you're lucky enough to live in a big city, the chances are you have some amazing charity shops right on your doorstep. For example in London, Oxfam in Dalston is well-known for its treasures, while Lewisham's newly opened Traid is a welcome addition. But don't assume that smaller towns and villages aren't well stocked too - I live on the Isle of Wight and the charity shops here have always been amazing, and I'm now a regular in my local vintage store - The Velvet Pig - so it's nice to go in for a chat (behind masks, of course) as well as a browse.
2. Curation is key (for me)
You're either a rummager or you're not, and I fall into the latter category. I like to shop by colour or style, so I prefer a curated experience when I shop second hand. I love the Brick Lane Vintage Market - arranged by era or style it's much easier to find what you like - and bigger stores like Rokit that have enough stock to feel like you're actually in a very sustainable version of a high street store. Alternatively, find pre-loved boutiques with a similar taste to your own to save time - I like One Scoop Store, Retold Vintage and Manifesto Woman.
One massive advantage of not shopping fast fashion is that the quality of clothes I choose to buy is so much better now, and this absolutely includes the items I pick up second hand. It gives me the opportunity to buy into labels I wouldn't otherwise be able to afford, but the thing I enjoy most is finding vintage pieces from eras pre-mass production when clothes were made beautifully and built to last. Checking for simple signs like pattern matching, natural fabrics like wool and well-made seams is always advisable. (I avoid polyester AKA plastic even when shopping second hand as it's so unpleasant to wear and releases micro-plastics every time you wash it)
Hannah wearing 1970s corduroy trousers
4. Depop without the drama
You might associate Depop with teenagers, but more and more of us have become savvy to this treasure trove of second hand fashion, and this includes brands. Whether it's Anna Sui's archive or past season stock from Rodarte, there's plenty to choose from. Supporting a more circular fashion economy and taking responsibility for often wasted items like samples and dead stock is not lost on sustainable designers like Christopher Raeburn, who also sells on the site.
It's wise to have a good handle of what you like and what suits you before you start thrifting. You might fall in love with a 1970s floral prairie dress just like the one you saw someone on Instagram wearing, but that doesn't mean it will fit into your own style (I speak from personal experience. How I wish it had suited me!). I also like to have a bit of an idea what I'm looking for - for example, if I was after a tweed jacket, I'd check the men's rails first, and if I wanted a decent pair of jeans I'd go to a big store like Pop Boutique for a better selection.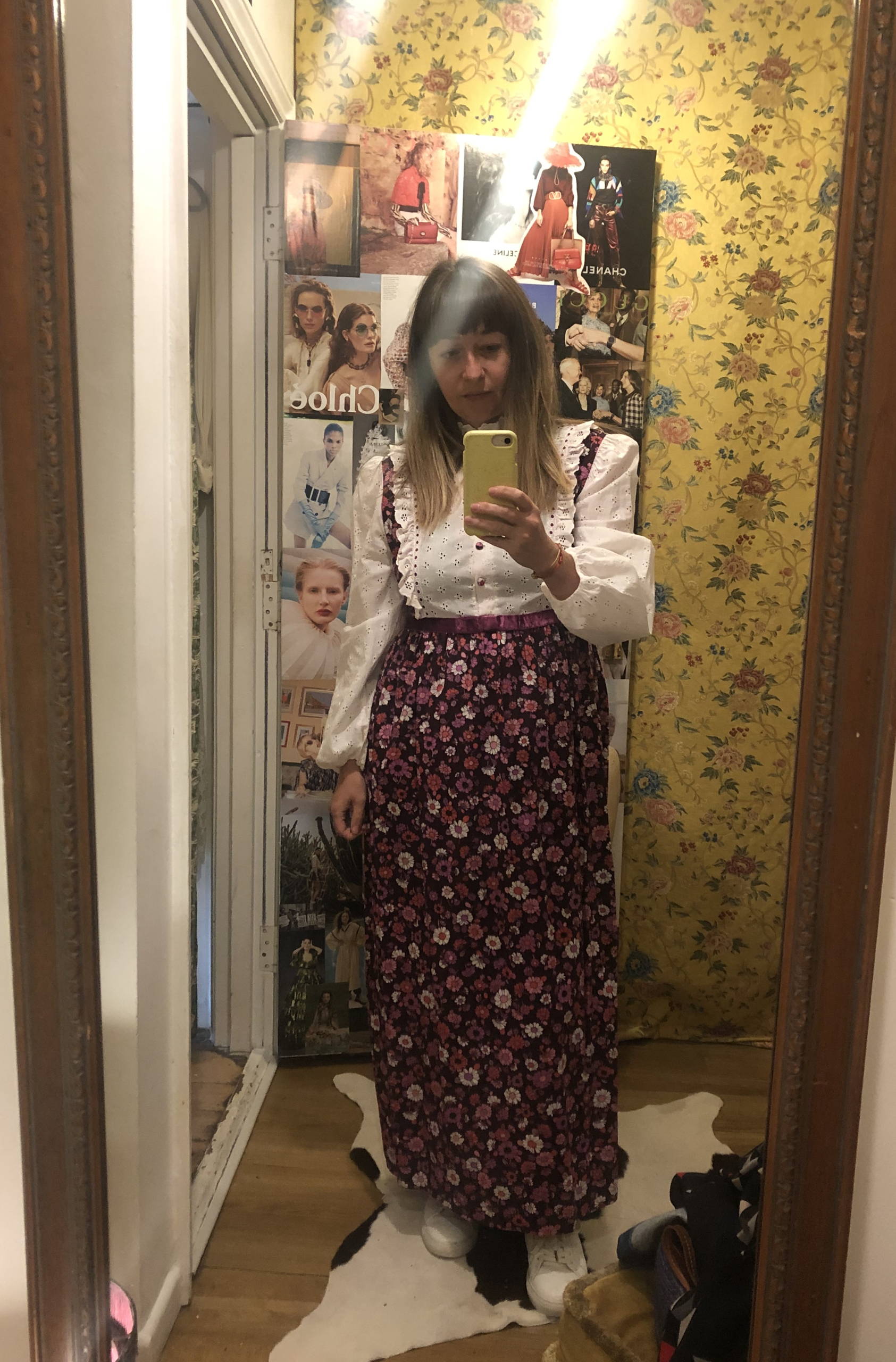 Hannah in a changing room coming to terms with the fact
that this amazing 1970s prairie dress really doesn't suit her vibe
Fashion is cyclical - when I used to write about trends it was invariably to discuss a silhouette or aesthetic that had been borrowed from another era, which in turn means there's nothing to stop you from being bang on trend with your second hand clobber.
100% of profits from the sales of #TOGETHER products go to charities that advance the Sustainable Development Goals. Find out more here.