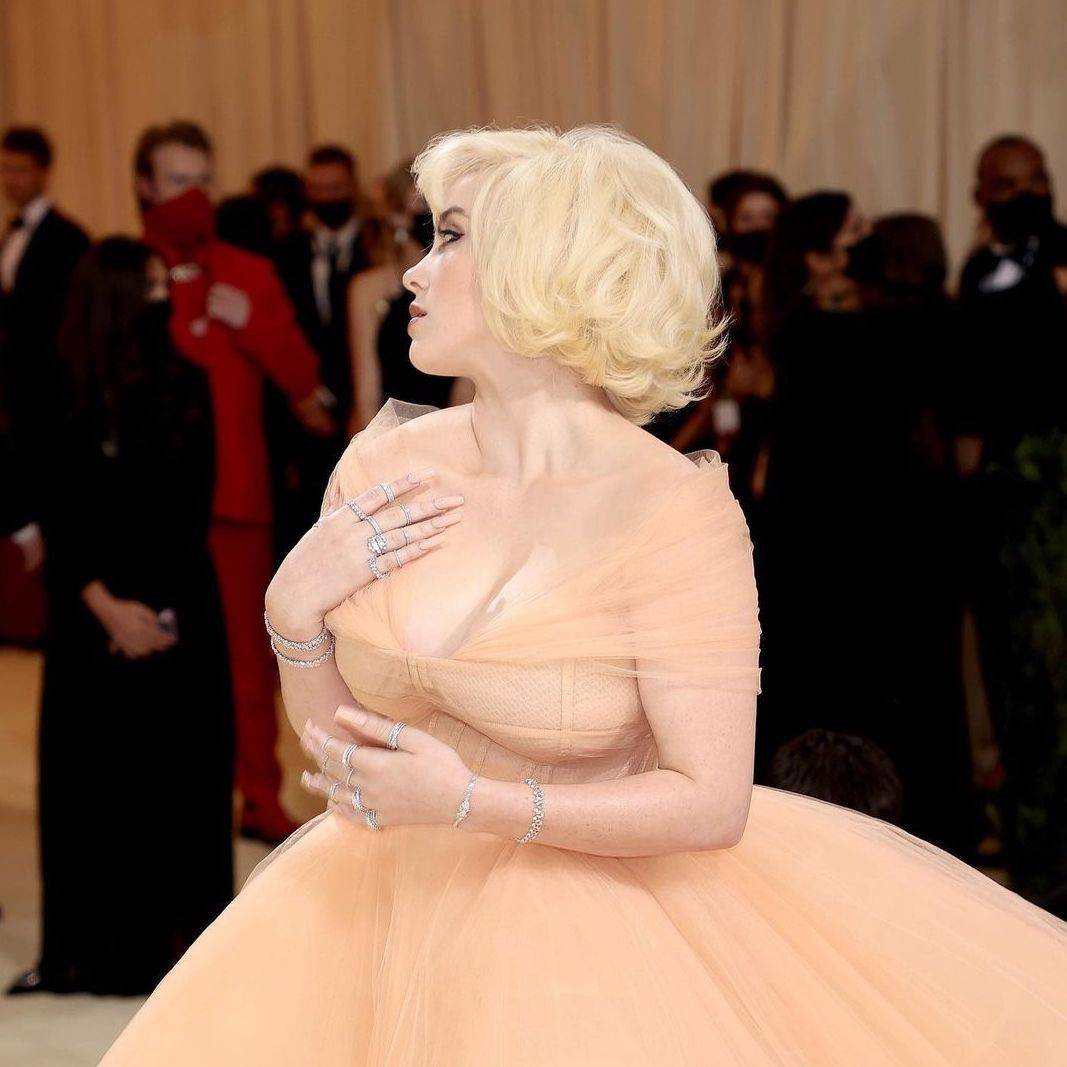 Image: @billieeilish Instagram
Goal 10: Reduced Inequalities
Red Carpet Protest Looks At The Met Gala
Billie Eilish wears Oscar de la Renta on the condition that the fashion house stops using fur; Dan Levy's outfit features two men kissing
By hannah rochell
14 september 2021
The Met Gala, renowned for being fashion's biggest, glitziest event, finally took place in New York on Monday after being postponed last year, and as well as celebrities including Elliot Page, Lewis Hamilton and newly crowned US Open champion Emma Raducanu, politics took centre stage on the red carpet. The theme for the Costume Institute Gala fundraiser this year, which continues to the annual exhibition at the Metropolitan Museum of Fine Arts, was 'American Independence' - a subject that curator Andrew Bolton told The Guardian 'very much came out of the Black Lives Matter movement', and one that some attendees used to make statements about racial and gender equality, animal rights, and economic justice.
Stealing the show was the event's youngest ever co-chair, Billie Eilish, who wore an homage to Marylin Monroe's Oscar gown from 1951. The singer and activist only agreed to wear the frothy blush tulle design by Oscar de la Renta on the condition that the fashion house stops using fur. For good. According to the brand's CEO Alex Bolen, although it stopped using fur in runway collections years ago, it still made up a 'meaningful amount of sales and profit' in Oscar de la Renta stores, so this negotiation will make a huge difference, perfectly demonstrating how someone with a huge platform like Eilish can make real, lasting change by sticking to their principles. Her fellow chairs were Gen-Z darlings Amanda Gorman, Timotheeé Chalamet and Naomi Osaka.
Dan Levy, the creator and director of hit comedy series Schitt's Creek, wore a look designed by Jonathan Anderson for Loewe that featured ruched puff sleeves and an image of two men kissing on a map of the United States which was an homage to the late multimedia artist and LGBTQ+ activist David Wojnarovicz. 'To mark the collaboration, Loewe has made a donation to Visual AIDS, an organization Wojnorovicz supported, that continues to promote AIDS awareness and education,' he said. Meanwhile, Lil Nas X had a fabulous Lady Gaga moment, with a flamboyant Versace three-outfit extravaganza that the musician cited as being symbolic of 'coming out of his shell' over the past year, and American soccer player Megan Rapinoe teamed her star spangled banner-inspired suit with a clutch sporting the message 'In Gay We Trust'.
Whether it's making statements about reducing inequalities or spearheading a tangible difference within the industry itself, it's clear that fashion, particularly in the hands of those with influence, has the power to initiate change.
100% of profits from the sales of #TOGETHER products go to charities that advance the Sustainable Development Goals. Find out more here.