Goal 12: Responsible Consumption and Production
How to shop second hand furniture on a budget
The ultimate guide to sustainable tables, sofas and storage
By LEANNE WALSTOW
12 MaY 2021
Like many London-dwellers who are nearing the end of their tenancy contracts, myself and my fiancé have decided to seek pastures greener, taking advantage of the new remote working normal and signing the lease for a cottage in the Peak District. The snag? The house comes completely unfurnished - no fridge, no washing machine, not even a bed. As renters this was something we had never experienced. Our current one bed flat came equipped with all the basics - the only things we own in there are bookshelves, bedside tables and a coffee table. So unless we plan to sleep in a bookcase, it's time to get moving.
Working with a very limited budget and with sustainability at the forefront of our minds, it seems there's only one way to go for our furniture: secondhand. A survey by British Heart Foundation shops in 2019 revealed that we still have a long way to go when it comes to our throw-away attitudes to homeware, with 30% of people surveyed admitting to throwing away furniture that could have been reused, resold or donated. What's more, only 41% of UK adults have bought second hand furniture - there's clearly a gap to be closed. Retail Director of BHF, Allison Swaine-Hughes explained the impact that British Heart Foundation Stores alone have on reducing the carbon footprint of home furnishings: 'In one year, BHF shops and stores saved 71,000 tonnes of items from going to waste - this includes 180,000 sofas, which helps prevent 135,000 tonnes of carbon dioxide emissions being released into the atmosphere'.
Much like fashion, interior design is subject to rapidly changing trends, so as an industry it has historically produced a lot of waste. But attitudes are changing; sourcing sustainably and shopping second hand have become more common. 'Sustainability is increasingly important in many aspects of our lives, and interior design is no different,' say James Arkoulis and Saskia Howard, who run Howark Design in West London. 'As a practice we're committed to protecting the environment and it's also important to many of our clients - it is encouraging that supply is meeting the increasing demand in the design world'.
Happy to follow the advice of such tastemakers, I have begun my sustainable second hand furniture hunt in earnest. Here's the essential guide so you can do the same:
Shop second hand furniture online
Freecycle
Whether you're after something in particular or just browsing, online is a great place to commence the hunt, simply because there is so much choice. Freecycle is a great place to start. This website might look like it was built in the 90s but it's updated every day with things that people no longer need and are willing to donate for free to a good home (we got our aforementioned bookcases from Freecycle and everyone we collected from was lovely). Be aware that you have to move quickly on things that you want, so be sure to keep a keen eye on your local group.
Facebook
Next up are the Facebook options: local buy/sell groups and Facebook Marketplace. Local groups are best if you're limited on transport options, as people may be more willing to deliver and lighter items can be carried home or taken on public transport - our coffee table was carried home by yours truly on the 94 bus from Shepherd's Bush. A word of caution that Facebook Marketplace can be a bit more of a wild west, but spam listings are fortunately quite easy to spot.
eBay and Gumtree
Finally there are the classics - eBay and Gumtree. Gumtree focuses on local items, whereas you might find yourself tempted by more unique pieces further afield on eBay. James and Saskia recommend making the most of eBay's search functionality to zone in on what you're after, having had considerable success themselves on the auction site. 'We have recently moved to a larger office space and sourced a beautiful, original Uzbeck suzani fabric on eBay, which we hung from a beam in the vaulted ceiling. It is the first thing you see when you walk in the door, and its bright, embroidered design brings joy to the space!' Although eBay is unique in having the built-in bidding mechanism, don't be afraid to haggle on any of the other sites, sellers are often very receptive and the worst that happens is they say no!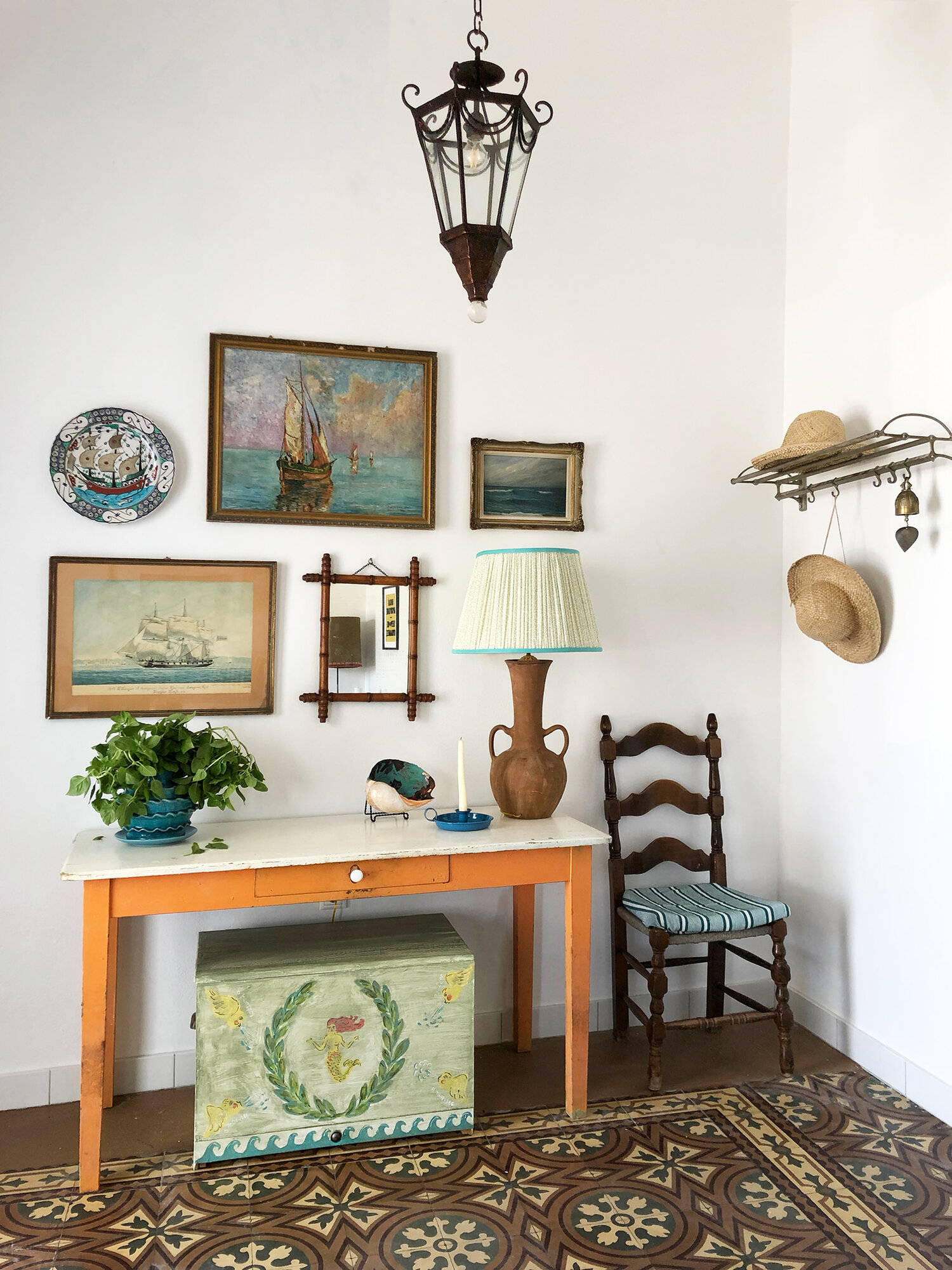 Buy pre-loved interiors in person
Charity shops
Prefer trying before you buy? Or maybe you love the thrill of rummaging in person? Then charity shops and car boots are your best bet. For larger items such as sofas, check out your local British Heart Foundation Home Store or Red Cross Furniture and Electrical Shop - these larger establishments are often packed with bargains, and with money also going to a great cause it's a double win. 'Our sofas and armchairs are extremely popular and bedroom furniture is also a big seller at the BHF,' continues Allison Swaine-Hughes, 'with items such as beds, side tables and wardrobes selling fast'.
Car boot sales
If you're willing to put in some miles and you're after more unique or antique pieces, car boot sales can be a great shout so long as you do your research beforehand so you know what is generally sold there - if you're in London, Chiswick car boot is a good one for homeware.
Furniture fairs
Specialist fairs can be a bit more pricey but there's usually less tat to shift through to find the gold. James and Saskia from Howark Design recommend Sunbury Antiques Market, held at Kempton racecourse: 'We have sourced some real treasures from Kempton Antiques market for a couple of our projects. You need to get there early to beat the crowds, but it is well worth it and you can't beat being able to see and touch the pieces to know when you've found the perfect piece.'
Quality is king when it comes to getting the most out of your secondhand salvage. If you're looking to take on an upcycling project or want to paint a piece to match the rest of your decor, prioritise solid wood pieces in your search. Not only will they last forever, it's also super easy to get wood looking like new again with a bit of sanding and a lick of paint.
When considering soft furnishings, bear in mind that if you find a lovely sofa or chair with great shape and a well-built frame, you could potentially get the piece reupholstered - a little more expensive but still likely to be cheaper than going fully new. If you're struggling with where to begin with your shopping, James and Saskia suggest 'exploring the character of the property and considering the look you are planning to achieve' before diving in.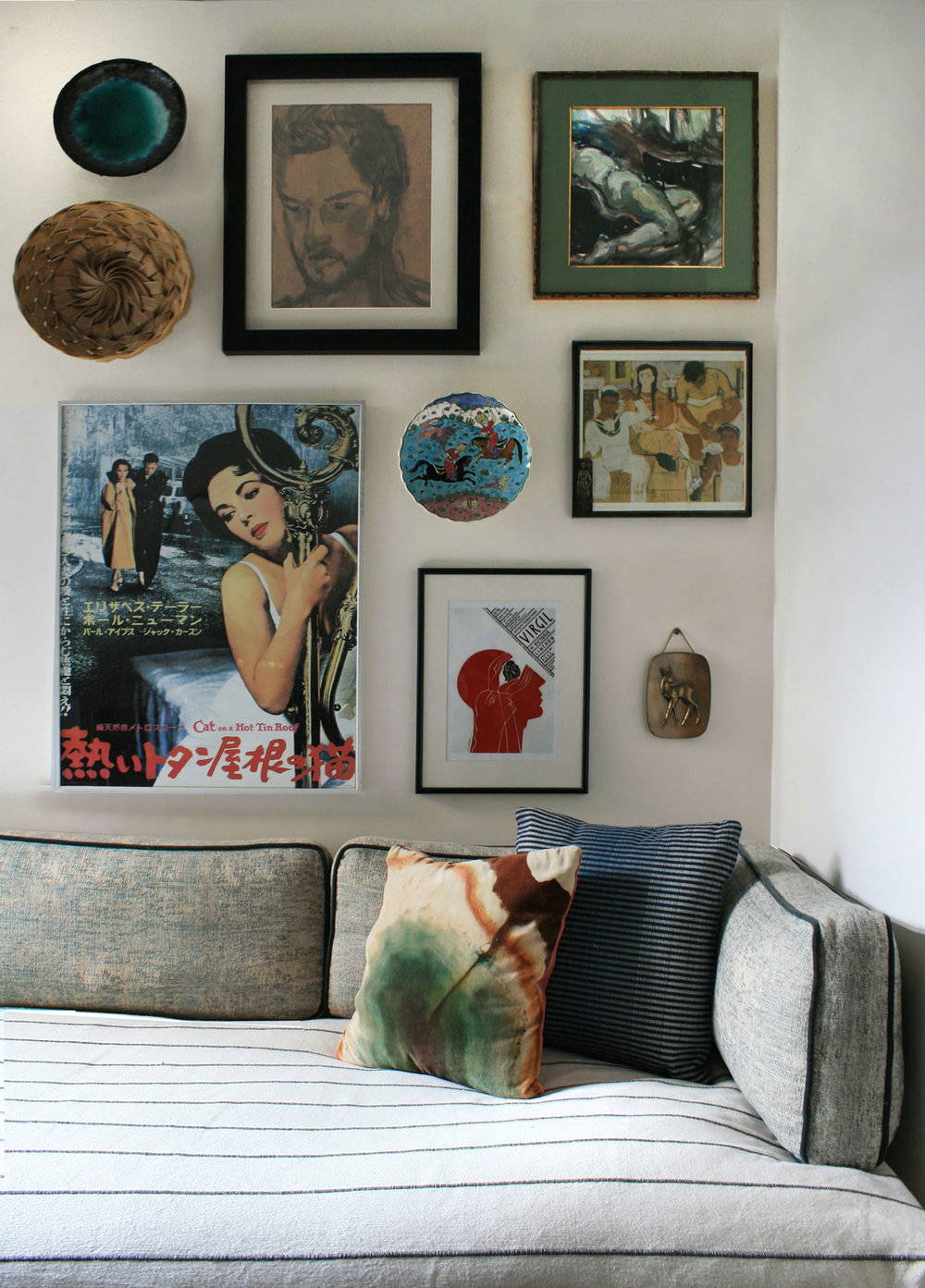 Sometimes it simply isn't possible to find what you're looking for secondhand. If you've exhausted all avenues and you have to buy new, there are still ways that you can manage it sustainably. As with anything that you buy, quality is an important consideration - go for the highest quality that you can afford and it will probably save you money (and carbon emissions) in the long run. If you do end up in the aisles of IKEA, James and Saskia suggest looking at pieces with a creative eye; 'it's always worth considering how a piece can be personalised, either by painting, using inlaid wallpaper, such as on a dresser or wardrobe doors, or updating handles for a more unique look, creating something that you'll love forever'. IKEA have also recently started a buyback scheme, moving one step closer to circularity - the scheme allows customers to fill out a request form online to which IKEA will respond with an offer and subsequently sell the repurchased furniture secondhand in-store.
Another option for new furniture is to check out what's on offer at your local discount furniture shop - these places, though often unglamorous, can be home to some great finds that have been cast off by bigger retailers - look for ex-display or end of the line pieces which would otherwise have ended up being scrapped.
100% of profits from the sales of #TOGETHER products go to charities that advance the Sustainable Development Goals. Find out more here.