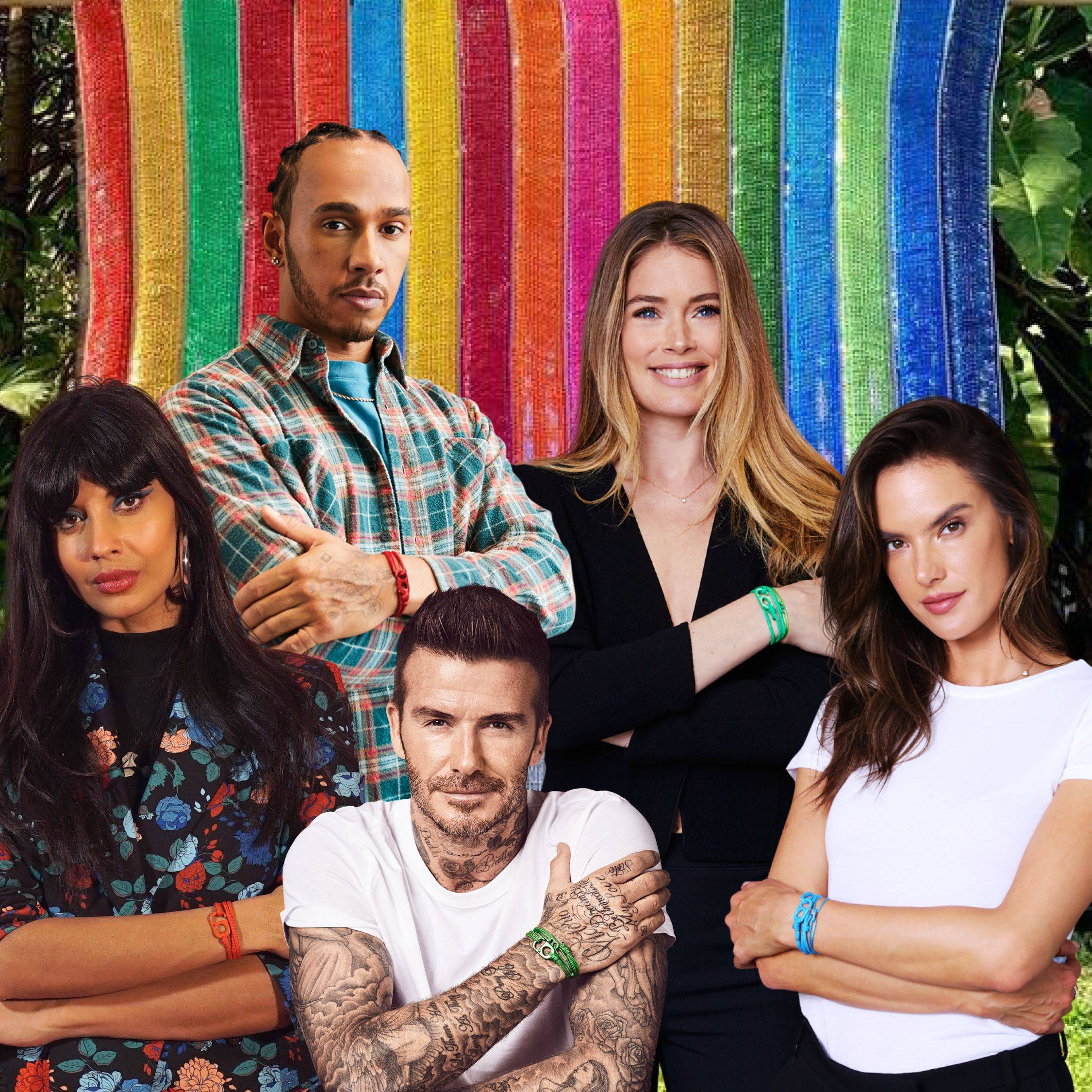 From Doutzen Kroes' fundraising for elephants to David Beckham's dive into the electric car industry, here's how our #TOGETHERBAND Ambassadors are striving to build a better world
By Jessica Jurkschat
17 June 2021
On Earth Day 2019, we launched the #TOGETHERBAND campaign and since then, we've had hundreds of Ambassadors join in support of the UN's 17 Sustainable Development Goals. All of our Ambassadors joined the campaign to create a better future for us, and to raise awareness for the SDG closest to their heart. Since our launch just over two years ago, #TOGETHERBAND has removed 125 tonnes of ocean plastic, planted thousands of trees and even donated thousands of meals to those in need. But what have our incredible Ambassadors been up to?
Goal 3: Good Health and Well-Being
He's been hailed as one of the greatest football players of his generation so it's no surprise that David chose to support Goal 3: Good Health and Well-Being. Whilst he continues to venture in the sport (he's the current President and co-owner of Inter Miami CF), he's also recently found another business venture that ties in with Goal 7: Affordable and Clean Energy. David's interest in cars has led him to invest in Lunaz, a company that is part of a growing trend of the new battery economy: ripping out polluting engines and replacing them with batteries and electric motors with zero exhaust emissions. The two Goals are fundamentally linked – by reducing carbon emissions, clean energy improves public health and aids in the health impacts from pollution.
Goal 4: Quality Education
Since 2018, Jameela and her I Weigh campaign have advocated for radical inclusivity, so it made sense for her to campaign for Goal 5: Gender Equality. Since joining #TOGETHERBAND, she's continued to challenge societal norms through conversations with thought-leaders, activists, performers and influencers. She started the 'I Weigh with Jameela Jamil' podcast to discuss important, hard-hitting topics like mental health, body image and sexuality. The podcast's goal is to amplify diverse voices in an accessible way and to celebrate progress, not perfection. You can have a listen on Spotify or Apple Podcasts.
Goal 6: Clean Water and Sanitation
Brazilian superstar Seu Jorge joined us for the launch of #TOGETHERLIVE and Goal 6: Clean Water and Sanitation. Since our first virtual concert, Seu Jorge has been using his voice in a different way. He narrated a short documentary, Nando, which premiered at the 2021 Tribeca Film Festival and is the story of a ten-year-old boy who lives in the favelas of Rio de Janeiro. It highlights Brazil's growing wealth gap and shows the stark contrast and disconnects between the country's richest and those living in poverty.
Goal 8: Decent Work and Economic Growth
A lot has changed for Halima since she joined #TOGETHERBAND to champion Goal 8: Decent Work and Economic Growth. She is known as the first hijab-wearing supermodel and has now walked away from the fashion industry, saying that it clashed with her Muslim background. As time went on in the modelling industry, Halima had less and less control over the clothes that she wore and felt more and more pressured to compromise her religious beliefs. 'I eventually drifted away and got into the confusing grey area of letting the team on-set style my hijab', she told BBC. Staying true to Goal 8, Halima is now using her voice to encourage the inclusivity of hijab-wearing models by ensuring they are treated with respect and won't have to go against their beliefs.
Goal 10: Reduced Inequalities
As a Goal 10: Reduced Inequalities Ambassador, Nathalie has continued to be an ally in the fight for both racial and gender equality. She has spoken about the lack of diversity in TV and film and been open about being the 'only long-running woman of colour' on Game of Thrones. More recently, she has expressed her frustration about how her previous role in the series has impacted future work opportunities, including the expectation to go nude. 'What people didn't realise is I agreed [to] terms and specific things for that one particular project, and that doesn't necessarily apply to all projects,' she told journalist Josh Smith on his 'Make It Reign' podcast. The conversation touches on the importance of intimacy directors and ensuring that women are able to set boundaries in the workplace. Catch the episode here.
Goal 14: Life Below Water
Alessandra grew up in Brazil and before becoming a model, was an avid scuba diver who wanted to be an oceanographer. So it made perfect sense when she joined as an Ambassador for Goal 14: Life Below Water because of her love for our oceans and marine life. Staying true to that passion, she recently joined the United Nation's second-annual virtual World Oceans Day Event as a speaker. Alessandra spoke about the importance of oceans in her own life and why now, more than ever, it's important that we work to protect coastal communities around the world. Also at the event were several other #TOGETHERBAND Ambassadors, including Dr Sylvia Earle, Nathalie Kelley and Dona Bertarelli.
Cody Simpson joined us for Goal 14: Life Below Water and is taking his love for the water to a whole new level. Growing up surrounded by the oceans in Australia, he was raised as an avid surfer and swimmer. And now, he's training to represent Australia in the Olympics in competitive swimming. You can catch his journey to the Olympics in the new four-part Amazon Prime Original series, Head Above Water.
Doutzen's love of elephants was at the forefront of why she campaigned for Goal 15: Life On Land. She partnered with the Elephant Crisis Fund to launch the #KnotOnMyPlanet campaign, which was designed to unite fashion brands and influencers to support the ECF and help end the slaughter of elephants for ivory. Since joining #TOGETHERBAND, Doutzen's campaign has collaborated with brands like Tiffany & Co. and LOEWE to raise over £7 million for the cause.
100% of profits from the sales of #TOGETHER products go to charities that advance the Sustainable Development Goals. Find out more here.