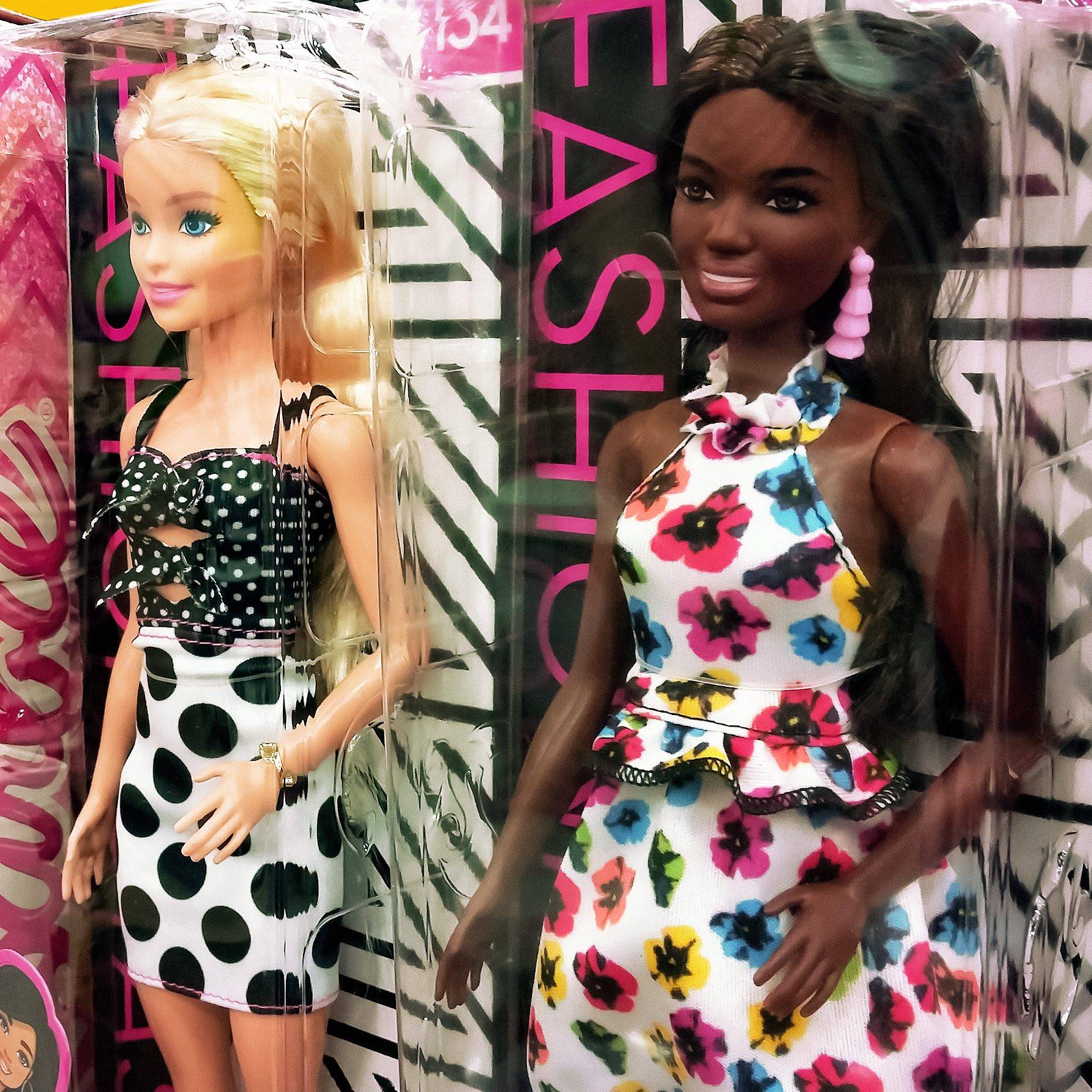 'Why I'm Glad Barbie's Had A Wokeover'
Vaccinologist Barbie has just launched, in honour of Prof Sarah Gilbert. Mum-of-three Emma Elms thinks inspiring role models like these are vital for young girls
By Emma Elms
5 August 2021
Professor Sarah Gilbert may not be an obvious choice for a Barbie doll, but the co-creator of the Oxford/AstraZeneca jab has just been immortalised by the toy manufacturer Mattel. Gilbert, who led the development of the COVID vaccine at Oxford University, modestly admits she found the idea 'very strange' at first but liked the fact it might inspire young girls to work in the male-dominated fields of science, technology, engineering and maths (Stem). Less than 30% of the world's researchers are women and at school, boys are more likely to choose Stem subjects and to later opt for Stem degrees.
'I am passionate about inspiring the next generation of girls into Stem careers and hope that children who see my Barbie will realise how vital careers in science are to help the world around us,' says Gilbert. 'My wish is that my doll will show children careers they may not be aware of, like a vaccinologist.'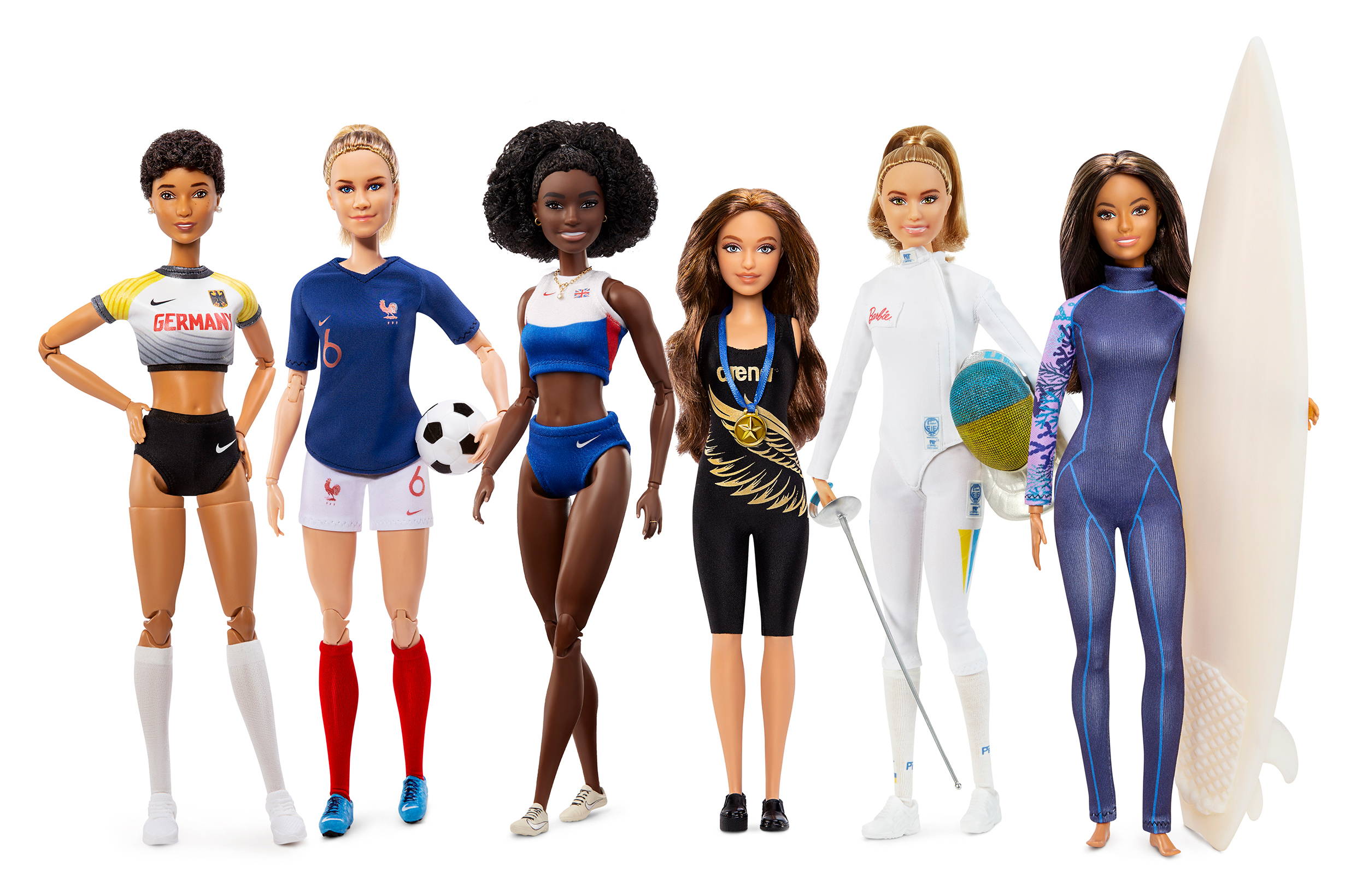 Barbie's 2020 sports role models
image: Mattel, Inc
As a mum of three girls and someone obsessed with Barbie dolls as a child, I feel it's brilliant news that the company has briefly moved away from brassy blondes with gigantic chests and waists so tiny that periods would be biologically impossible. But it's not just Gilbert who's earned the unusual accolade of becoming a doll – up there I'm sure with her being made a Dame, being given a powerful standing ovation at Wimbledon and inventing a life-saving vaccine, of course.
The company has also created five other dolls to celebrate women working in Stem around the world – a sign of how the pandemic has sparked a new appreciation for heroes of the medical world. The inspirational new cast of Barbies includes: US healthcare workers Amy O'Sullivan and Dr Audrey Cruz, Canadian doctor and campaigner Dr Chika Stacy Oriuwa, Brazilian biomedical researcher Dr Jaqueline Goes de Jesus and Dr Kirby White, the Australian medic who co-created a reusable gown for frontline staff.
To be fair, it's not the first time Mattel has sought to modernise and diversify their dolls – a move some have dubbed the 'woke-ification' of Barbie. (Yes, Piers Morgan, even Barbie has woken up to the real world…) Last year, stylist Shiona Turini collaborated with the brand to produce a new collection of Black dolls in honour of Black History Month. As a child, like many Black girls, Turini remembers being surrounded by dolls who despite having a variety of hair shades, never had any variation of skin tone. Then finally in 1980, to her relief, came the first Black Barbie with an afro.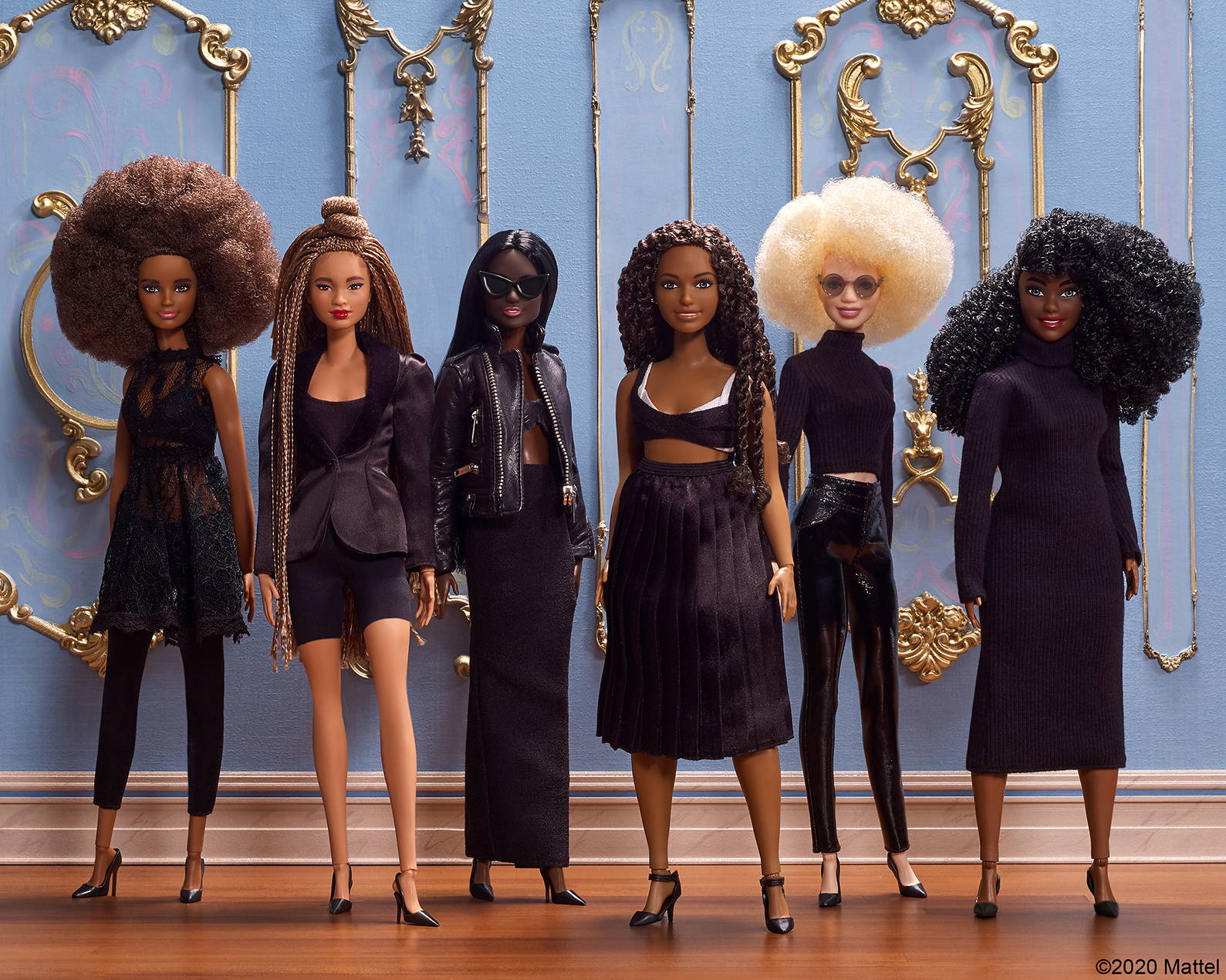 Stylist Shiona Turini's 2020 collection of Black Barbie dolls
image: Mattel, Inc
'It was important for me to reflect Barbie as an icon through the lens of black culture during Black History Month,' Turini said, on launching her own range. 'I drew inspiration from the first Black Barbie, who debuted her all-red look in 1980. My vision was to style diverse dolls in bold looks with themes seen throughout my work, like contrasting snakeskin and leopard, challenging traditional uniformity.' Her collection featured 10 models with different skin tones and different sizes, including a doll in a wheelchair, challenging our ableist world.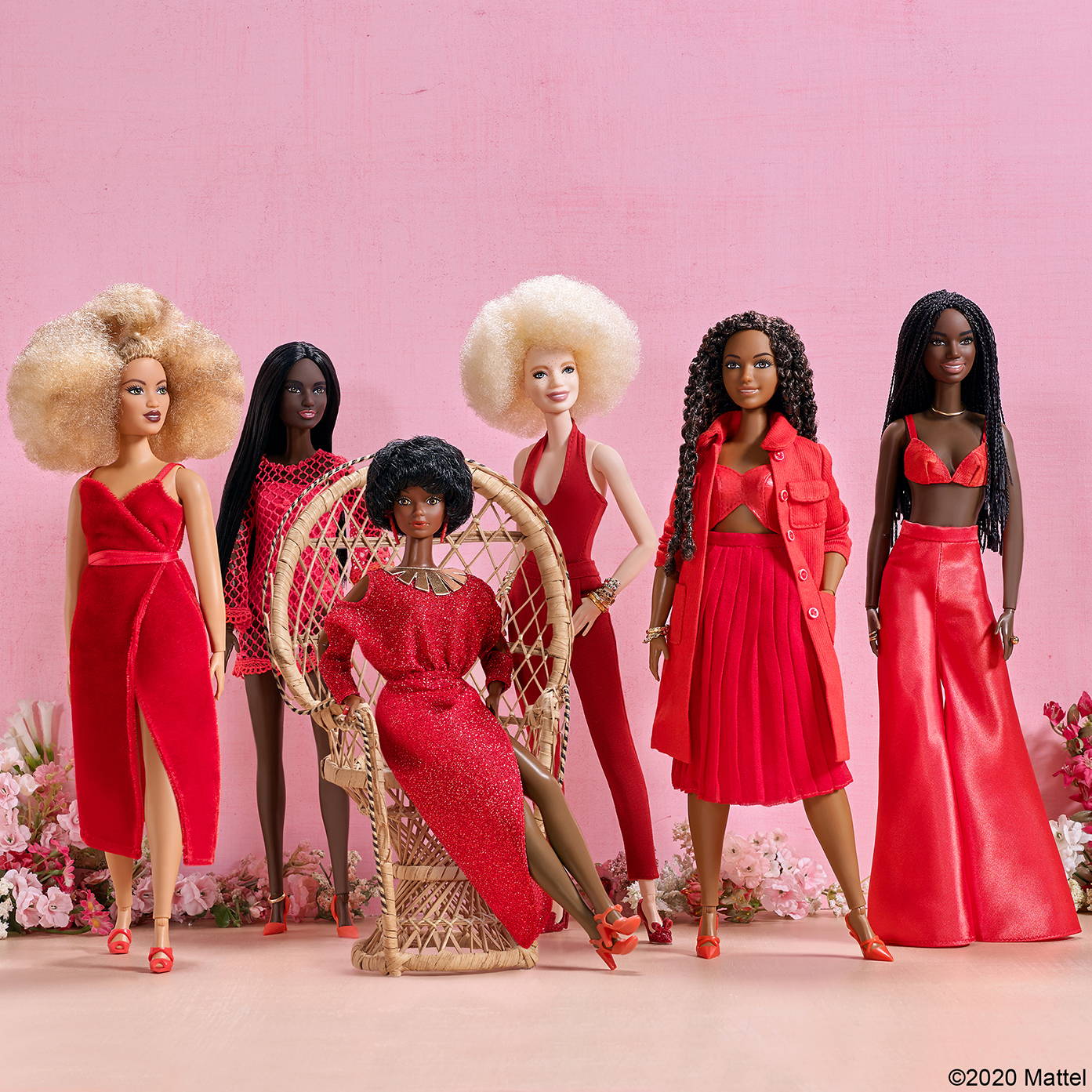 Stylist Shiona Turini's 2020 collection of Black Barbie dolls
image: Mattel, Inc
My own daughters are now aged four, nine and 13 so we have a long history of Barbie-buying. At one point the terrifying pile invading our lounge reached over 80 dolls – plus numerous pieces of flimsy pink equipment. But before you deem me environmentally irresponsible, I'd like to add that over half of those were from charity shops or cast-offs from well-meaning friends, eager to purge their own homes, as no one apart from me is brave enough to have a third child at 42. Plus, each Barbie has had her hair hacked, face drawn on and been dunked in the bath by three different kids, so I figure the cost-per-play partly exonerates me.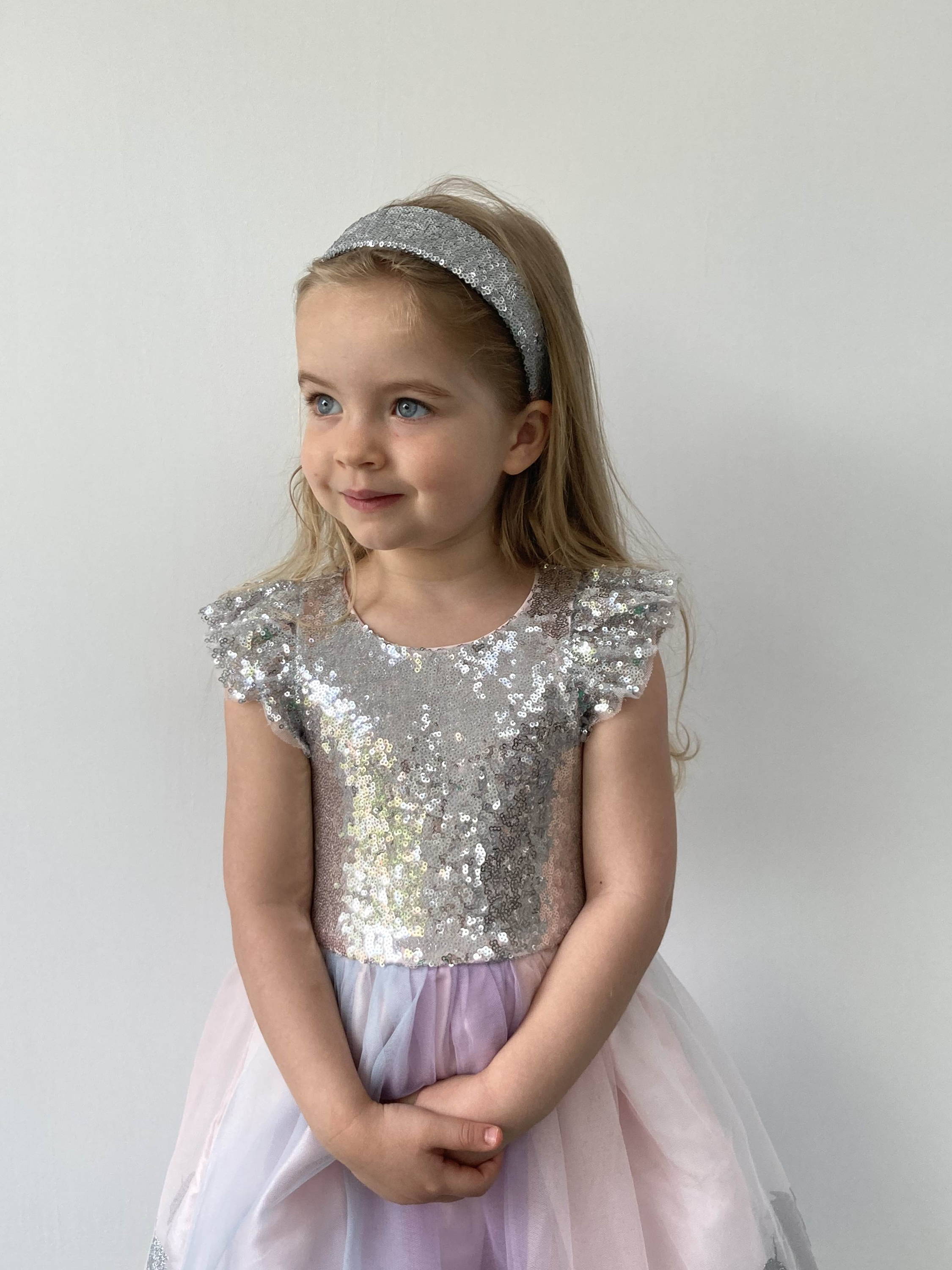 Emma's four-year-old daughter, proud owner of London's largest Barbie collection
Living in South London, their school is attended by mostly BAME children, so I want their dolls to look like the culturally diverse friends they're surrounded by. I've consciously tried to source a broad range of Barbies including those with afros, braids, even an Indian Barbie sporting a red and gold sari – but this isn't meant to seem like tokenism. This is what the girls have put on their Christmas lists – children want to reflect the world they live in.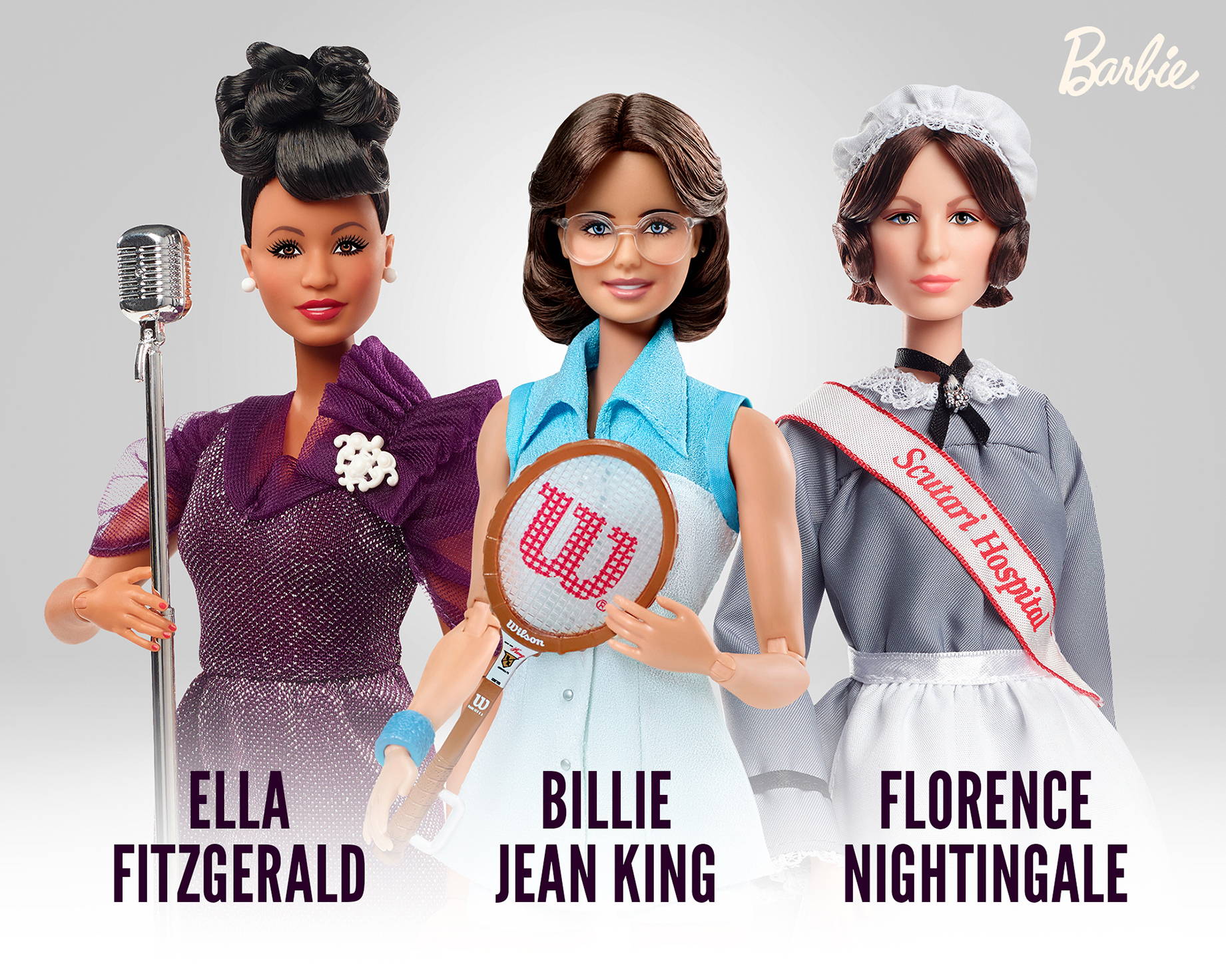 Barbie's 2020 Inspiring Women Collection: Ella Fitzgerald, Billie Jean King and Florence Nightingale
image: Mattel, Inc
I'm sure I've had my fair share of #parentingfails, but I've worked hard to instil body confidence in my clan, being careful to emphasise the importance of being 'strong, healthy and sporty', never hinting at the goal of 'slimness'. Having interviewed over 20 women with anorexia over the years for various magazines, I'm all too aware that it's often the throwaway comment from a parent that can trigger an eating disorder. In keeping with this body-positive ethos, I've also made sure several of our dolls are Barbies With Normal-Sized Thighs, though my search is still on for Barbie With A Normal Belly. For now, she's gone AWOL. Perhaps she's sweating away down the gym…
100% of profits from the sales of #TOGETHER products go to charities that advance the Sustainable Development Goals. Find out more here.